The Best Scenic Drives In Australia
Published 01st May, 2020


The Great Ocean Road
The Great Ocean Road is an Australian National Heritage listed 243-kilometre (151 mi) stretch of road along the south-eastern coast of Australia between the Victorian cities of Torquay and Allansford. Built by returned soldiers between 1919 and 1932, and dedicated to soldiers killed during World War I, the road is the world's largest war memorial. Winding through varying terrain along the coast, it provides access to several prominent landmarks and great insta-spots. The road is two lanes (one in each direction) and is covered by a speed limit alternating between 50km/hr and 100km/hr. 
Due to the number of landmarks it has to offer, this is considered one of the best coastal drives in the world. The biggest highlight is definitely the the Twelve Apostles, located off the shore of Port Campbell National Park. The Twelve Apostles are a set of limestone stacks believed to be around 20 million years old. They were created by cliffs being eroded over millions of years leaving arches which eventually collapsed to form the stacks that are there today, some as high as 65m. You can only actually see seven of the Twelve Apostles from the main viewpoint facing West, whilst the others are obscured by headlands and other stacks. The best time to visit the site would be at dawn or dusk since the fleeting sunlight casts a gorgeous vivid orange glow to the limestone stacks. At 9:18 am on July 3, 2005, one of the Apostles had its last supper. Onlookers reported that the stack shimmied and shuddered a bit, fractured and then imploded before sliding into the ocean. The 12th Apostle (known as Judas) went from a magnificent 50-metre stack to a pile of rubble in seconds. Pretty dramatic!
A few of the other must-do spots along the Great Ocean Road are:
Bells Beach – located near Torquay, this beach is paradise for surfers. It's where the Ripcurl Pro Championships are held each year. Bells Beach is a Marine Protected Area providing a safe-haven for thousands of marine creatures.
The Otways National Park – between Apollo Bay and the Twelve Apostles lies dense array of ferns and temperate rainforest. It contains high biodiversity, home to many of Australia's unique flora and fauna. Within a few kilometres, you can also find Hopetoun Falls, Beauchamp Falls and Triplet Falls - bring your hiking shoes! 
Cape Otway – located around an hour away from Apollo Bay. If you are yet to witness the magical phenomena of the native Australian koala, drop into Cape Otway, one of the best places to see them in the wild! Koalas spend all day eating eucalyptus leaves, stopping only to nap. What a life! An easy way to find them is to gaze up into the trees alongside the road as you drive slowly to the lighthouse. If that fails start searching for a group of tourists stopped on the side of the road instead, and you're bound to see a koala or two.
Loch Ard Gorge – located only a 10-minute drive from the 12 Apostles. Loch Ard Gorge is a history geek's heaven! It's not only a beautiful bay with paths that wind with the shape of the cliffs, but it's the home of the most infamous shipwreck in Australia. In 1878 the Loch Ard ship was on a three-month journey from England to Melbourne when it ran aground off the coast of Port Campbell. Out of the 54 passengers and crew, there were only two survivors: Tom Pearce - a 15yr old ship's apprentice - and Eva Carmichael - a 17yr old Irish woman immigrating with her family. According to stories, Pearce rescued Carmichael from the water and then climbed up the steep cliffs to find help from local pastoralists. Once you see the powerful ocean currents and high cliffs with your own eyes, you will realise how terrifying this ordeal must have been!
London Bridge and the Grotto – located 30 mins from the Twelve Apostles. A 5-minute drive from Port Campbell, London Bridge is a stunning lookout and an insight into this continuously changing coastline. It was once a limestone structure that bridged to the mainland, making it a popular tourist attraction for people to walk across it. This was until 15 January 1990 when the bridge collapsed, leaving 2 tourists stranded on the nearly formed island until they could be rescued by helicopter. Fortunately, no one was injured... and it's now one of the most popular photo opportunities on the Great Ocean Road and home to a little penguin colony.
There are plenty of other places to visit on the Great Ocean Road to visit, and the Grampians National Park is only a couple of hours away and definitely worth exploring if you have the time!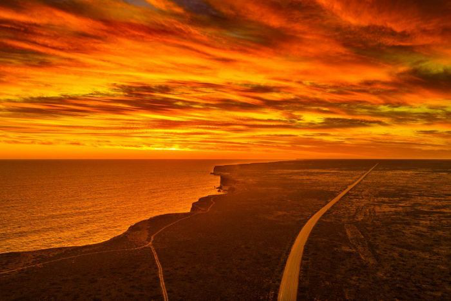 The Nullarbor Plain
The Nullarbor Plain, famously known as the longest stretch of straight road in the world, is a journey that stretches from Norseman in Western Australia all the way to Ceduna in South Australia and is around 1200km long.
Nullarbor means "no trees" in Latin, but in reality, the Nullarbor is covered with blue bush and mulga scrub, even wildflowers after rain. You'll see plenty of wildlife, including wild camels, kangaroos, and emus, meet eccentric outback characters and even discover space junk that's fallen to earth. Go whale watching on a cliff-top lookout, visit vast cattle stations, and play the world's longest golf course – an unbelievable 1,365 kilometres (848 miles) long, with a hole at each town or roadhouse along the way. 
The main road to drive along is called the Eyre Highway, named after John Eyre who made the journey all the way back in 1841. This drive isn't for the faint-hearted as it can take anywhere from 2 to 6 days depending on how many stops you take. It's the ultimate road trip! However, it'll take a little more planning than the Great Ocean Road, and you'll need a reliable vehicle capable of long distances and plans of where to stop. 
Nature on the Nullarbor is second to none for road trips. Just of the town of Esperance in Western Australia is Cape Le Grand National Park, home to a very special beach called Lucky Bay. It is here where wild kangaroos roam the beach, could it get more Australian!? 
You can also get up close and personal with marine life on the Nullarbor plain. The best place to do this is on Baird Bay in South Australia. This is your chance to swim up close with sea lions and dolphins and is an opportunity to definitely not miss. It is best to do a tour here as locals have been taking tourists to this hotspot for decades and this is your safest and best way to swim with these wild creatures.
The Nullarbor Plain is home to the majority of Australians native animals, you'll be driving down the road and see emus, kangaroos, wombats, koalas, and even camels! Australia actually has one of the largest populations of camels in the world and they are well known to roam the Nullarbor plain.
The Great Australian Bight is also a must-visit. It is an open bay made special by towering cliffs overlooking the most beautiful ocean. The iconic curve is part of the longest uninterrupted line of sea cliffs in the world. This stretch of ocean harbour also hosts precious marine life which makes it truly special, giving you the chance to spot whales, great white sharks, and sea lions.
As well as the wildlife the Nullarbor National park is truly breathtaking, from gorgeous clifftop views to nature lit bush walks it truly is a chance to immerse yourself in the traditional Australian wilderness. The sunsets and sunrises are something to marvel at, and you can guarantee great insta-shots!
---
Itching to jump in a car and drive yourself to some of the most beautiful spots on earth? We sure are! If you need any more Aussie inspiration or help planning a trip to Australia, check out our Aussie tours & packages here. 
For more information about Australia, including tips on where to go, when to go, how much money to save, and what to bring, check out our Ultimate Guide to Backpacking Oz here!


RETURN TO BLOG
NEXT ARTICLE