Top Ten Things To Do In The Philippines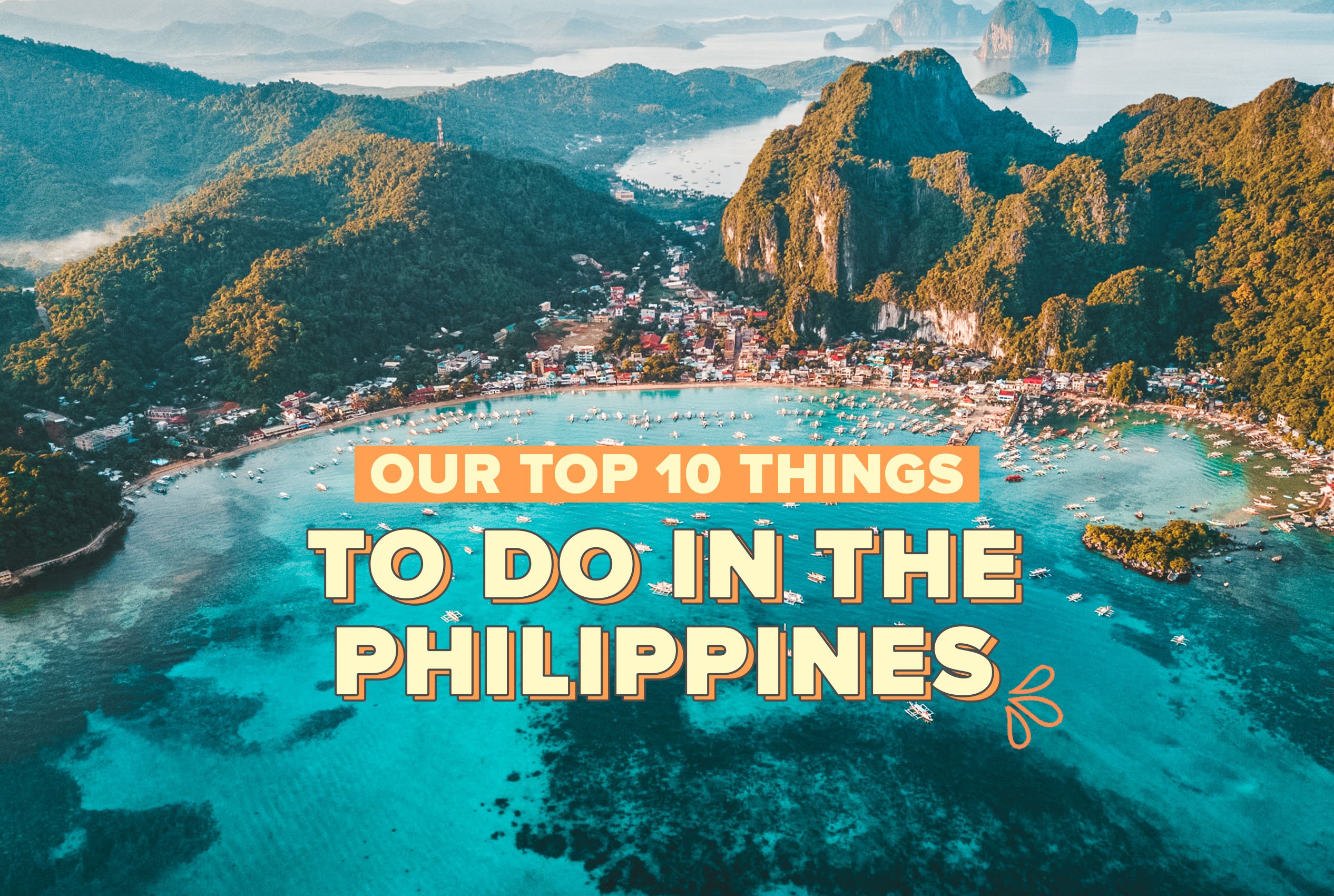 Published 13th September, 2020
Craving to travel somewhere new? From bustling cities to tropical beaches, the Philippines is a vast country with diverse geography, untouched nature, and an intriguing culture. Despite good tourism infrastructure and a large English-speaking population, the Philippines doesn't receive anywhere near the number of visitors as neighbouring Thailand or Vietnam, making now the perfect time to visit before it gets overcrowded. If you're ready to hop around paradise, get your adrenaline pumping and immerse yourself in a new place, here we've gathered our top ten things to do in the Philippines!
1) Experience bustling Manila
The best word to describe the capital of the Philippines is chaotic, but it's a fun kind of chaos. Shaped by the unique ethnic influences of the Spanish, Chinese, and Americans who've inhabited the city alongside native Filipinos, Manila is the country's cultural centre. With eclectic markets, great museums and theatres, and plenty of bars and nightclubs, Manila has something for everyone! To soak up the city's buzzing atmosphere, we recommend checking out Rizal Park, Fort Santiago, San Augustin Church, and the Manila Baywalk.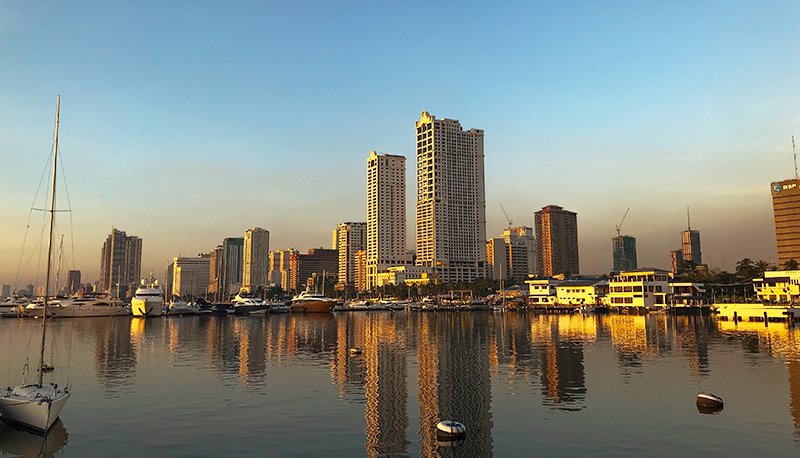 2) Try Filipino food
Tired of the same old meals? Filipino cooking involves a unique mix of influences from China (rice, noodles, stir fry), Spain (stews, potatoes), Malaysia (shrimp paste, tamarind, banana leaves), India, and the US. Filipino food isn't nearly as widespread or understood as other South-East Asian cuisines, so trying it for yourself is a must! From delicious marinated meats to flavourful pork dishes, fish soups to Pancit - the Filipino version of Pad Thai - this country's cuisine is rich in sweet, sour, and salty flavours to appease all tastebuds.

3) Explore Siquijor Island 
This island in the Sulu Sea just south of Cebu is known for its mystical mountains and magical shamans (aka healing men) who brew traditional ointments for modern ailments. Just about every stretch of coastline hosts world-class snorkelling in coral-filled waters, and other attractions include waterfalls, diving spots, caves, and relaxed beach bars where you can watch the sunset with a cool drink in hand. 
4) Check out Kawasan Falls
Kawasan Falls is made up of three waterfalls, with the largest plummeting 15 metres into a huge swimming hole. The bright turquoise colour of the falls, created due to the high amounts of limestone deposits in the area, makes for great Insta-shots. The adventurous can even go canyoneering, scrambling over rocks to jump into the refreshing pools from above. 
5) Dive into an Underwater Wonderland
Moalboal's famous sardine run is a natural phenomenon where you can swim crystal clear water surrounded by literally millions of sardines. The fish also attract dolphins, sea turtles, and even whale sharks, so if you want to get up close and personal with wildlife, this marine sanctuary is the place to be!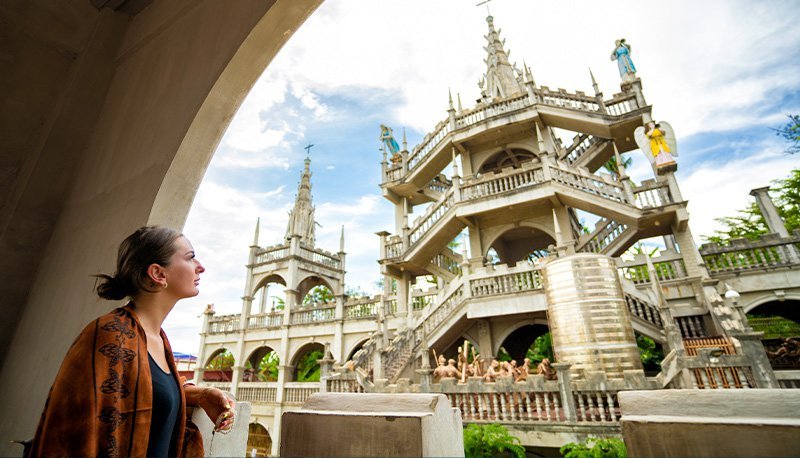 6) Relax in Natural Hot Springs 
A leftover from Busuanga Island's geothermal activity, Maquinit is one of the very few saltwater hot springs in the world. Surrounded by a beach and mangrove forests, these pools are a famed site for therapeutic relaxation alternating between 37 and 40 degrees Celcius. Jump in and let the hot waters soak your troubles away! 
7) Go Island-Hopping
The best way to lap up the laid-back lifestyle and stunning scenery of the Philippines is definitely on an island-hopping trip. Traversing the seas via boat is the ultimate way to sightsee, swim, and snorkel to your heart's content! With over 7000 islands, it's not hard to find your own secluded spot off the beaten track. Let island time take over as you watch the sunset over your camp, feast al fresco on the catch of the day, then spend the night sleeping under the stars.
8) Visit El Nido
Meaning 'nest' in Spanish, this town on Palawan gets its name from the edible nests that birds make high on the cliffs surrounding the town. El Nido is suited to backpackers with plenty of bars and restaurants and is a popular gateway to the islands of the Bauit archipelago. Surrounded by jade-tinted lagoons, weathered limestone landscapes, and powdery beaches, Mother Nature really gave it her all here! 
9) Ride on a traditional Jeepney
Colourful Jeepneys are icons of the road in the Philippines, and you have to ride like a local at least once! Originally made from US Military Jeeps left over from WWII, these minibuses are famed for their kitsch decorations and have become a staple feature of Philippine culture. Cramped? Possibly. Fun? Definitely. 
10) Relax on Nacpan Beach 
Nacpan Beach on Palawan Island is a golden stretch of coastline with a mellow atmosphere. With a few kilometres of creamy sand, coconut palms, gentle waves, blue water, and palm-thatched huts, this is the kind of beach you'd imagine when asked to picture paradise. Without the crowds and resorts of other spots in the Philippines, it's the perfect place to kick back and relax after adventuring around the country. Nacpan's sunsets are known for being incredibly picturesque, so we recommend sticking around until the evening for the full experience.  
Has the Philippines got your attention yet? With so much on offer, this island paradise has something for every traveller. If you're keen on seeing this beautiful part of the world, we've just launched a brand new trip that will have you exploring the very best of the Philippines. On INTRO's Philippines Island Explorer, you'll be doing everything on this list and plenty more - all with an experienced Group Leader and instant crew of mates. Check out our 13 Day Philippines Island Explorer here!

RETURN TO BLOG
NEXT ARTICLE