6 Authentic Thai Foods That You Have to Try!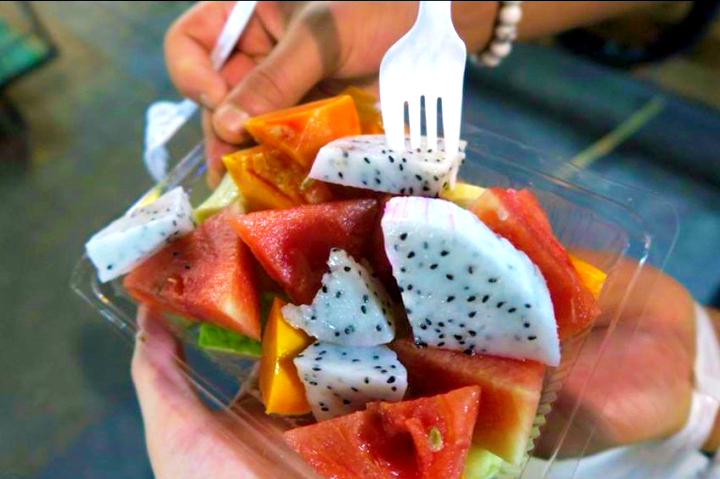 Published 23rd August, 2017
1. Pad Thai
Created in the 1930s, this hot dish consists of thin rice noodles stir fried with egg and tofu with the choice of three options: shrimp, chicken or vegetarian. It can be garnished with a range of ingredients including dried chilli, peanuts, coriander, bean spouts and shallots to name a few. It is widely sold on probably every street in Thailand, so it would be hard for you to miss!
Recommendation – Thip Sama, Bangkok.
2. Thai Green Curry
The most worldwide known Thai dish which is enjoyed in many Thai restaurants around the globe. I enjoy its refreshing taste in the UK, so I was excited to try it from its origin, and I found that it was pretty similar in Thailand but with a tiny amount of spice, which for me, was just in my limit (I am not the biggest spice fan!). If you enjoy a more spicy dish, I'd recommend a Thai Red Curry instead.
Recommendation – Grand PP Arcade, Koh Phi Phi
3. Bua Loi Phuak (Taro Balls in Coconut Milk)
I did not come across this in my research before I travelled to Thailand, so it was a beautiful (and very sweet) surprise for us. We asked the waiter what his favourite desert was and 15 minutes later this wonderful bowl of soft, squidgy purpleness came in a bowl with coconut milk. It is hard to explain its unique taste and texture, so my best advice is to just order it for yourself!
Recommendation – Grand PP Arcade, Koh Phi Phi
4. Roti (Thai Pancake)
Rotis are like pancakes but more oily and crispy than the fluffy ones Westerners are more familiar with. Costing around 50 THB each, rotis are available with many different toppings such as strawberries, mango, pineapple, peanut butter, honey, lemon and sugar. My personal favourite is banana and Nutella, as I must have at least one each day we were here in Thailand.
Recommendation – A street stand, Rambuttri Alley (just off Khao San Road) Bangkok.
5. Toasted Bread (Steamed Buns)
'Toasted Bread' may sound a little boring, but when you taste this in real life, you will be so grateful that you read this post! This steamed bread is lightly toasted to perfection and can be smothered or dipped in your choice. I'd suggest either the bright green 'Pandan' custard, the purple 'Taro' custard or the 'orange' Steamed Egg custard. I'd class this as every sweet tooth's dream snack!
Recommendation – Mont Nom Sod, Bangkok.
6. Pineapple Fried Rice
For the not so adventurous or the picky eaters, this is a great option if you desire to eat some of the country's food as a local would do. Pineapple fried rice is pretty straight forward and explains it in the name – fried rice with pineapple. You can usually find it with shrimp or chicken in it too but the vegetarian option is just as popular. It is usually served in the pineapple which also makes this dish worthy for an Instagram picture!
Recommendation – Grand PP Arcade, Koh Phi Phi.
This article was written by Rhiannah Horne, read more about her travels on her blog here!
RETURN TO BLOG
NEXT ARTICLE