10 Wild Restaurants You Must Try in Japan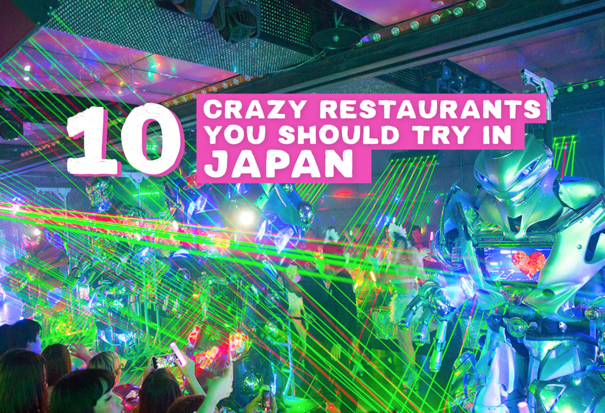 Published 29th August, 2019
Japan is home to some of the quirkiest restaurants in the world. Wholly committing to their themes, you'll find dining out in Japan is not just about the food but is an event in itself. Here are ten wild restaurants you need to get yourself to when you travel Japan! 
1.     Kawaii Monster Café
This restaurant's "monster" girls, who look more like cartoon characters than monsters, will put on a show while you enjoy your dinner. There are four sections of the restaurant divided up into different themes: Milk Stand, Bar Experiment, the Mel-Tea Room, and the Mushroom Disco. If you're a sucker for sweet things, you'll love their menu that consists mostly of tasty cakes and sodas.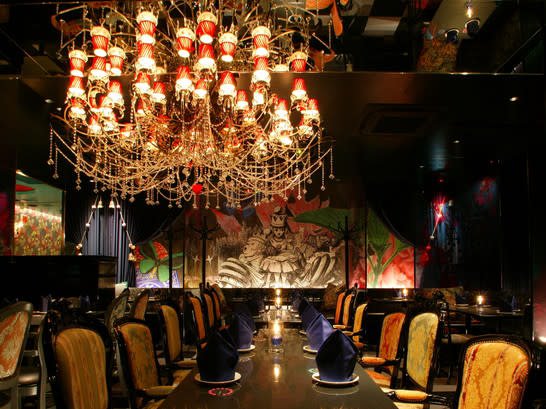 2.     Alice's Fantasy Restaurant 
This restaurant is one of many Alice in Wonderland themed cafés throughout Japan. The wait staff are dressed like Alice, and other characters will lead you through a magical atmosphere where you'll find entrees resembling caterpillars and the Cheshire Cat. This restaurant is particularly known for its Cheshire Cat special dessert, of which only five are baked daily. Scarcity creates demand!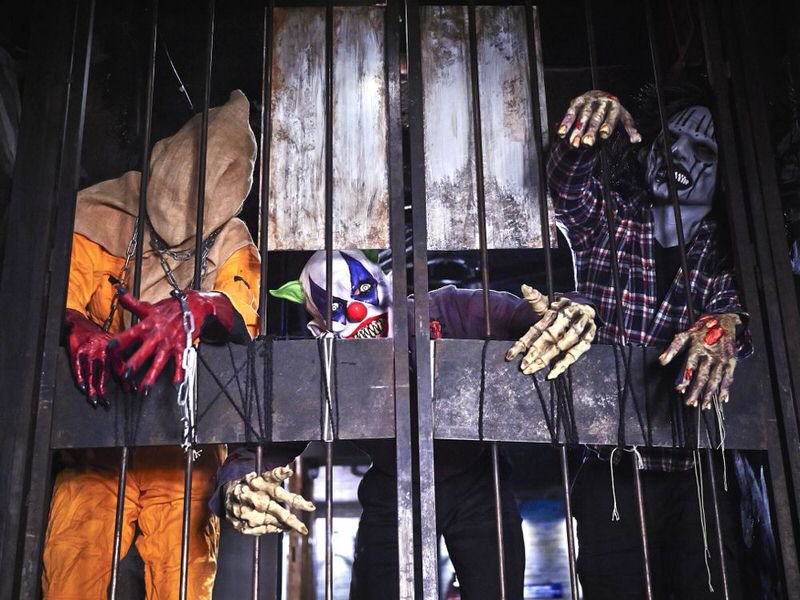 3.     The Lockup Restaurant
If you're looking for a terrifying twist to your dining experience, this is the restaurant for you. At each party, at least one member is handcuffed and then led down to prison cell to their table. A blackout occurs three times throughout the night, and there's also a spooky monster performance!  
4.     Alcatraz ER 
This prison/hospital-themed restaurant is also quite disturbing... but fun! Similar to the Lockup, guests are handcuffed and led to their cell. To get the attention of the wait staff, they must bang a metal pipe against the cell bars. During your visit the lights will sporadically go off and sirens sound, alerting guests that insane prisoners are on the loose. Keep your wits about you!
5.     Vampire Cafe
Dark red blood cells are printed on the carpet, blood is smeared onto mirrors and paintings, a large coffin is displayed in the middle of the dark restaurant... here it is as if you are dining in the middle of Dracula's lair! You can expect the waitstaff to speak in a Dracula-like tone, and your meal to come served in the shape of a cross, with a stake through the middle of it, or something similarly creepy.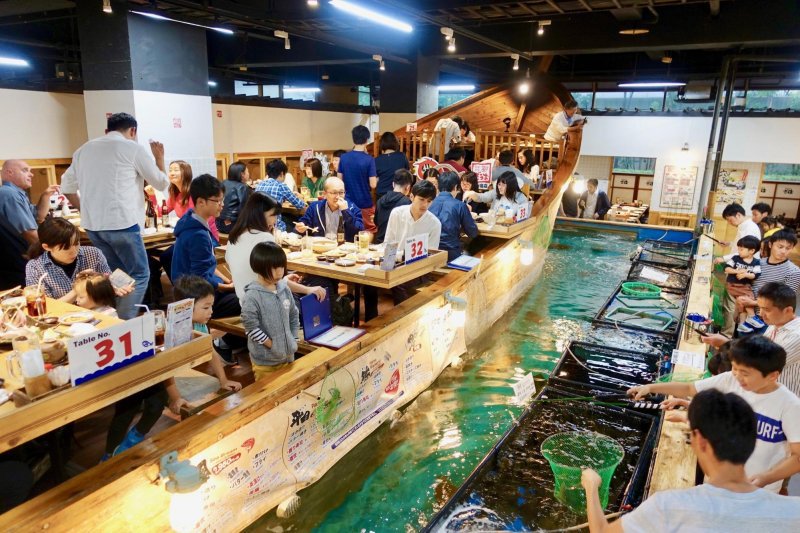 6.     Zauo Fishing Restaurant 
Now to something a bit more lighthearted. Here guests can dine in the center of the restaurant in a giant wooden boat, or on the other side of the moat that surrounds it. Filled with fish, guests must catch their dinner from the moat using a fishing rod. What catch is what you end up eating, you can't throw it back! It's the ultimate test of your fishing skills.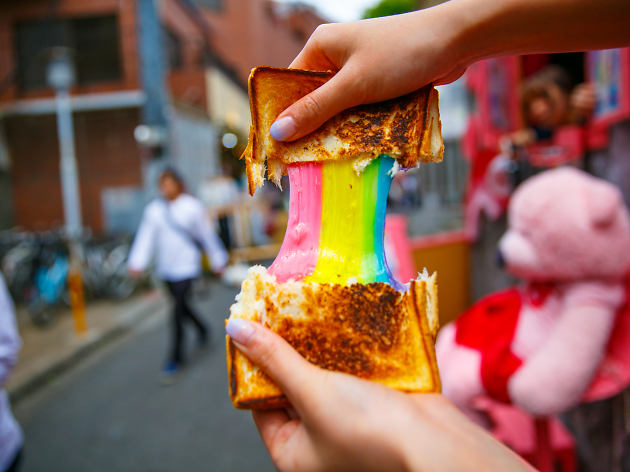 7.     The Shiner
If you're looking for some casual and fun street food, The Shiner is perfect for you! Home of the rainbow grilled cheese sandwich and rainbow ice cream, this is where you can enjoy a colorful snack! Make sure to take a photo of it first for the 'gram. 
8.     Robot Restaurant 
Metallic, reflective walls on all sides, bright colorful lights bouncing all over the room, and J-pop music blaring, this restaurant is a a sensory overload. Performers dressed as ninjas, dragons, and robots will put on an energetic show filled with dancing and singing while you eat. If you're planning to pay a visit, it is a good idea to reserve tickets ahead of time as it's incredibly popular!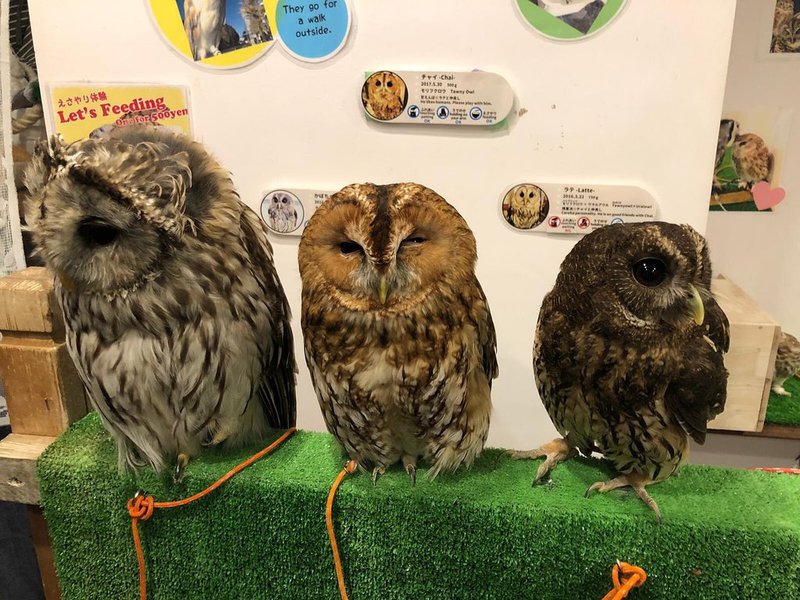 9.     Animal Cafes
Are you an animal lover? In Japan you are in luck! There is a wide array of animal cafes throughoutthe country, from cats to dogs to birds. Enjoy sitting back and enjoying a drink or meal while you pet or hold some cute creatures. Just make sure you do your research and avoid cafes that exploit the animals, look instead for animal cafes with rescued animals with a good reputation.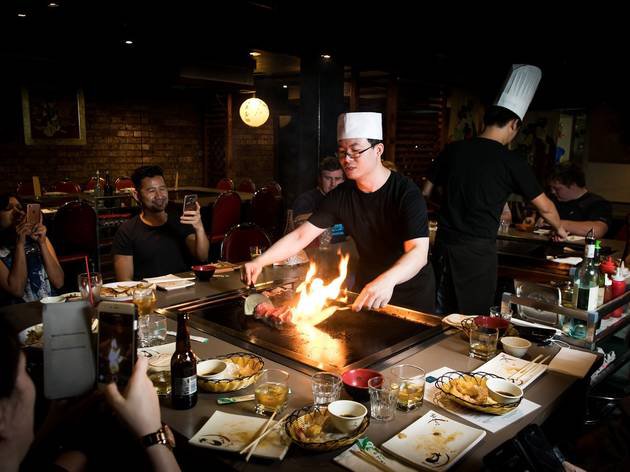 10.  Try Teppanyaki 
Teppanyaki is a Japanese style of cooking where chefs cook on grills in front of guests. This is where you can have your food thrown at you, then you catch it with your bowl! The food is delicious, but be careful not to get it all over you! You can try Teppanyaki on INTRO Travel's Japan Adventure Tour!
---
For the adventurous eater, Japan is the perfect destination! With so many strange restaurants to try, it will be hard to sit down to a normal boring meal ever again. If all this talk of Japan has you eager to explore, check out INTRO's Japan tours here.

RETURN TO BLOG
NEXT ARTICLE