7 Travel Essentials You Should Always Pack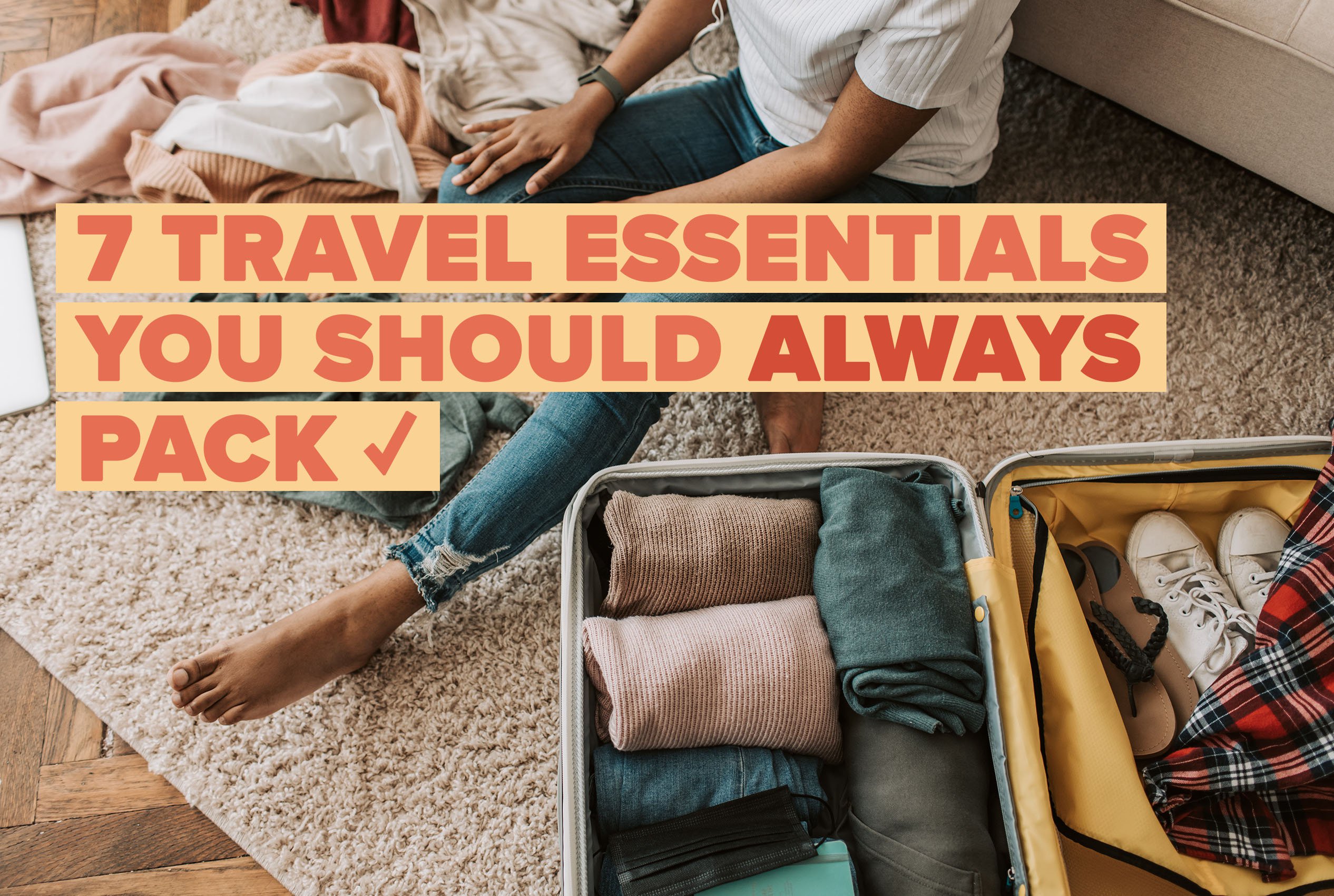 Published 24th November, 2021
2022 travel? Booked. 
Time off from work? Sorted. 
Luggage? Hold up… how do we pack again?
Packing mishaps range from inconvenient (travelling to Mexico without a swimsuit) to tragic (realising you left home without your wallet), but thankfully most are preventable. If you've forgotten what to squish into the bag abandoned under your bed right now, never fear. Packing for a long haul trip is something we haven't done in a while, but with international tourism making a major comeback in 2022, it's time to brush up on our skills.
In this travel blog, we've got your back with our top 7 travel essentials. Whether your weapon of choice is a backpack or suitcase, these are the things to pack that will save you time, money and frustration when you head off overseas. 
1) Packing cubes
At the top of your packing list should be something that helps you pack more with less space. While it's tempting to stuff your bag as full as possible, we recommend your bag weighs somewhere between 10kg - 20kg. Less than 10 and you might not have enough, more than 20 and you'll be over some airline weight restrictions and risk paying the overweight fee. Plus you want to save space for anything you pickup on your travels.
Clothes take up about 80% of our bag, which is why packing cubes are game-changing. Be ruthless when deciding what to bring with you on holiday! If you never wear that turtleneck at home, don't kid yourself, you're not going to wear it travelling in Japan. If you love it, you'll wear it, but it's probably best to leave anything super nice or valuable in your wardrobe. 
When packing clothes, the key is versatility. Think anything comfy, neutral and layer-able that you can wear anywhere — for a variety of occasions, in warmer or cooler weather, in sickness and in health, until death do you part, etc. If you're travelling to a tropical destination, plenty of swimmers, shorts and t-shirts can squish into a single packing cube. Also, try to find a raincoat that can be rolled up tightly at the bottom of your bag. If you get caught in a Southeast Asian monsoon, you'll be pleased with yourself for thinking ahead.
2) Portable charger
Island-hopping in the Philippines, staying with remote hill tribes in Thailand, camping in South Africa - depending on your destination you may not have access to a power outlet when you need to charge your precious devices. Areas with poor signal and network fluctuations can also cause your phone battery to drain faster than usual, as cellular data uses more power in trying to find reception. A portable travel charger will save you from the dilemma of a dead battery when you need to find directions, retrieve your flight info, look up an address, power up your camera, or call for a taxi. Investing in a good-quality one will give you peace of mind knowing you can charge your phone, camera, laptop, kindle, *insert device here* anywhere and at any time when you're backpacking.
3) Reusable water bottle
Millions of plastic bottles are regularly discarded, and so many of these end up in landfill or the ocean. While drinking tap water in some countries is not recommended; hostels, hotels, airports, bars and other public spaces tend to have water stations to fill your bottle with clean, safe drinking water. Be eco-conscious and reduce your plastic footprint by opting for a reusable bottle, or if you're on an INTRO group tour you can pick up a branded bottle from us on Day 1 of the trip!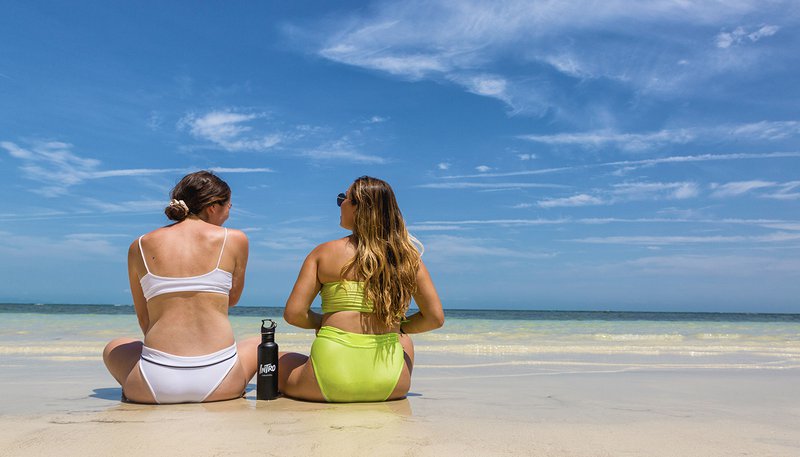 4) SPF & sunglasses
Sunscreen and sunglasses are absolute musts when travelling, no matter the season or country. First and foremost, they protect you from the sun's damaging ultraviolet (UV) rays. Even though we love a bit of holiday glow, saving yourself from cancer and wrinkle-causing elements is crucial! Australia and New Zealand are especially notorious for strong sun due to a hole in the ozone layer above them. Sunglasses are also great for hiding the fact that you necked eight cocktail buckets the previous night. 
While you can find sunscreen in other countries, it's sometimes tinted with 'whitening' products or is quite expensive, so bring your favourite brand from home and remember to slather it on everyday. If you're prone to losing or breaking sunglasses, pack a cheap pair or pick some up at the local markets in your destination. 
5) Prescription medication
The last thing anyone wants on their backpacking trip is to be hunting down a pharmacy. Whether you're travelling through coastal Cambodia or the jungles of Bali, they can be few and far between. If there are any meds you know you'll need - be they drugstore (i.e. paracetamol, antihistamines), or personal prescriptions, prioritise them on your travel packing list. Also in your first aid kit make sure to pack a few face masks and some hand sanitiser for travel in the post-pandemic 'new normal'. 
While it's unlikely you will face issues when flying with medication, it is handy to keep your pills in the original bottle—complete with your name and your Doctor's name, just for safety. It's also best to keep medications in your carry-on so if your checked baggage gets lost you'll still have your prescriptions with you. Some aircraft cargo holds are not temperature controlled, which can also affect sensitive medications.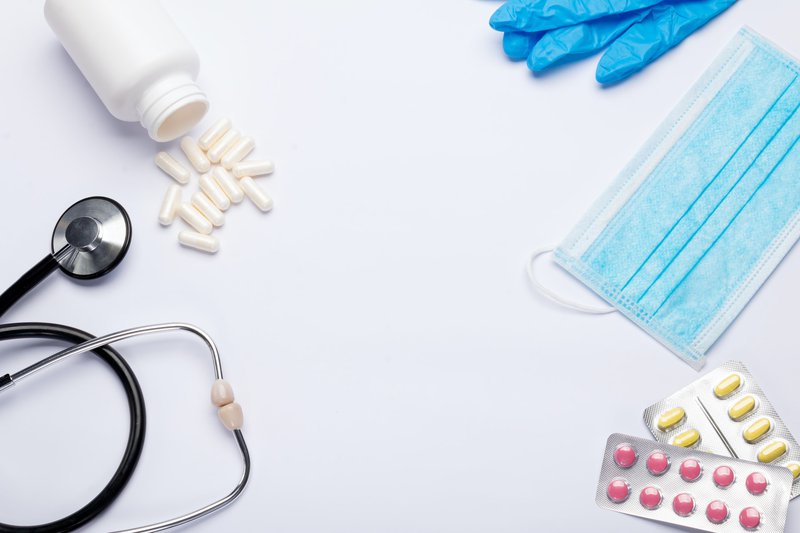 6) Copy of your passport & an extra photo
Your passport is - of course - the most important item to pack, but we also recommend bringing along at least one passport photo and a colour photocopy of the main passport pages with your info. On the off chance you lose your passport this will make the process of getting an emergency one much easier. 
7) Headphones
A good pair of headphones - in our humble opinion - is up there with your passport when it comes to essential travel items. Headphones make or break a trip, especially on long haul flights, bus rides in Sri Lanka, overnight trains in Vietnam, or when you just need to block out the snores of your backpacking buddy. Bonus points if they are noise cancelling! 
Listening to music, podcasts and audiobooks will entertain you, calm you down and distract you during the mundane moments of travelling, i.e. waiting at baggage claim. Arm yourself with a good selection of Spotify playlists and you'll be ready for anything.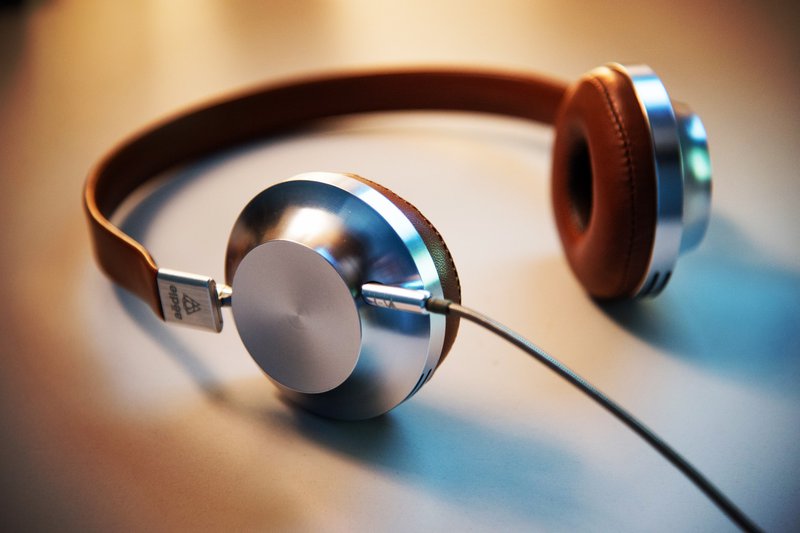 ---
Now you've had a refresher on the packing essentials, you're all set to travel in 2022! Don't have anything planned yet? Tourism is returning with a surge in demand, so if you want to travel with peace of mind, check out our range of award-winning small group tours. With expertly crafted itineraries, the guidance of a knowledgable group leader, full end-to-end support, and a new group of friends to make memories with, our trips are the ultimate way to discover a new country.
RETURN TO BLOG
NEXT ARTICLE