Backpacking Australia: An Ultimate Guide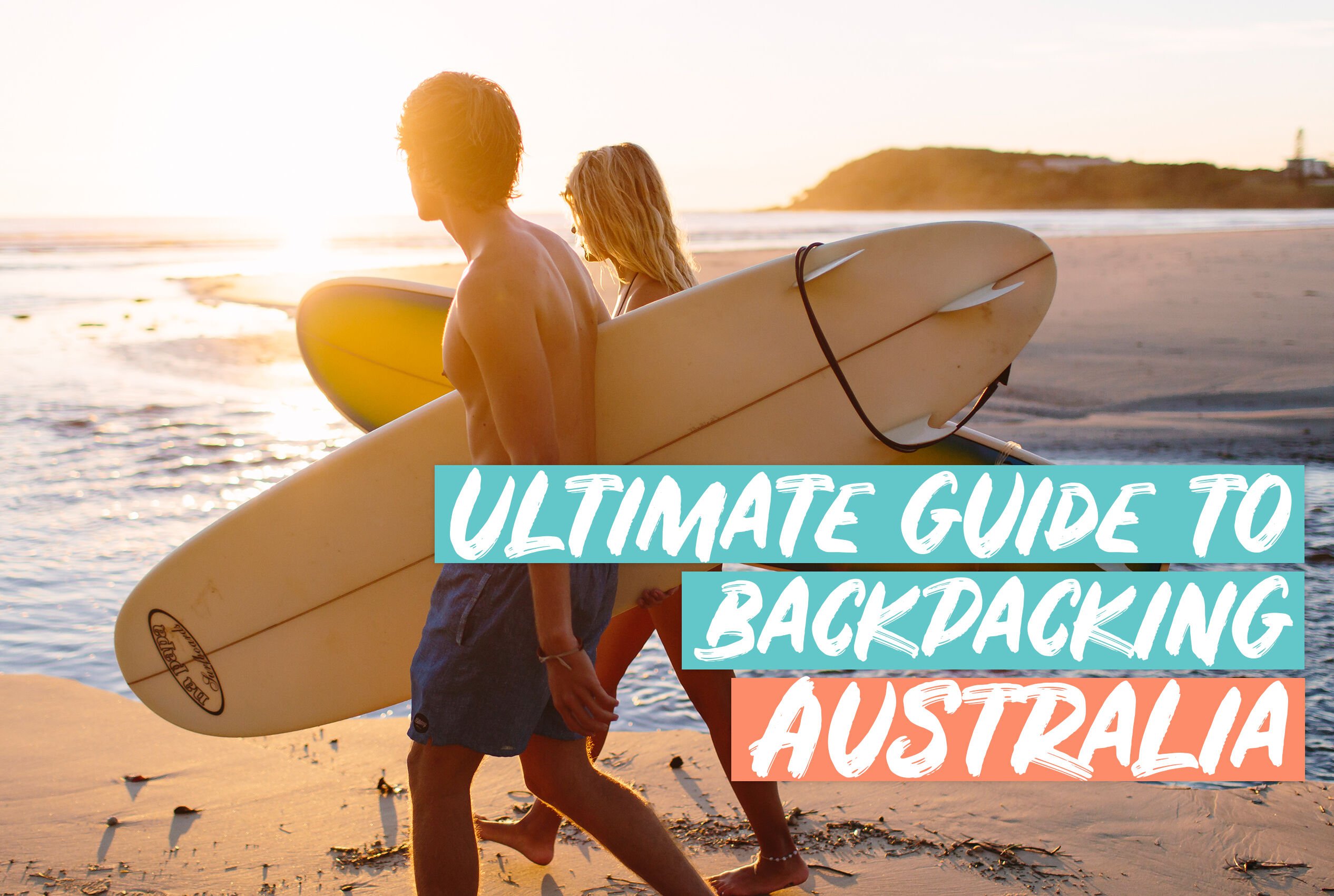 Published 30th June, 2023
If pictures of the stunning beaches keep catching your eye, cuddly koalas are melting your heart, and the accent has you drooling… sounds like it's perfect time plan a backpacking trip to Australia! Worried about spiders? Concerned about 'thongs'? No idea how much to budget? As the Aussies say, no worries. In this ultimate backpacking guide to Australia, we have all your questions covered.  
Skip to Section: 
Where to go backpacking in Australia?
Australian Backpacker Itineraries
How Much Money Will I Need to Backpack Australia?
Flights To and Around Australia
Australian Backpacking Checklist
When is the Best Time to Visit Australia?
How To Get a Working Holiday Visa For Australia?
Where to go backpacking in Australia?
Australia truly is one of the most spectacular, beautiful, and diverse countries in the world. With over 10,000 gorgeous beaches, the incredible beauty of the Outback, hundreds of tropical islands, vibrant cities, friendly people, and weird, wonderful creatures, there's no place on Earth quite like it! Backpacking Australia is a 'must do' for travellers around the world, and we guarantee it you will fall in love with this country. 
So whether you're heading out to Australia for a holiday on a group tour, or you're planning to work and travel in Australia, our ultimate guide updated for 2021 has your back. 
Wondering where to go backpacking in Australia? Here are some of our top picks to get the ball rolling.

CITIES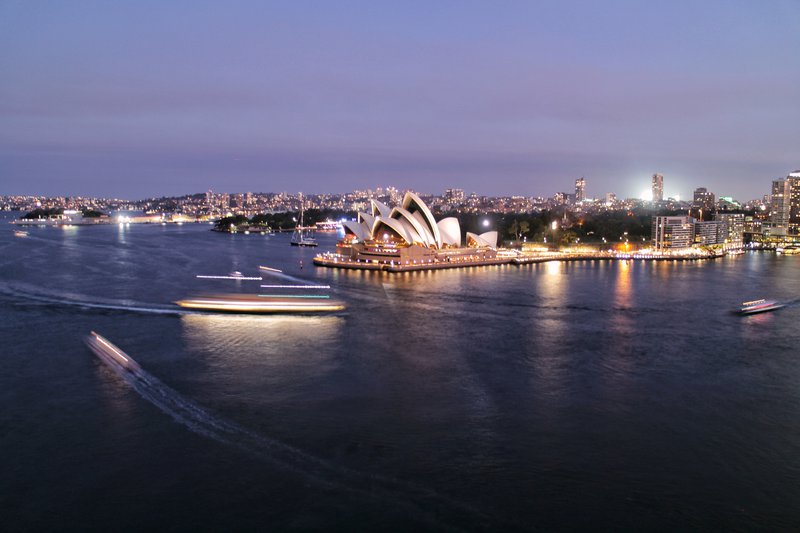 Sydney
Whether you're travelling on a group tour or going it solo, you should definitely start your Australian adventure in Sydney! Nestled on a beautiful harbour, Sydney is Australia's biggest city, home to iconic sights like the Harbour Bridge, Opera House, and the Royal Botanic Gardens. You'll find unique neighbourhoods and locales, including the world-famous Bondi Beach and it's surrounding stunning coastal walks. If you're more into the party scene, you can catch a varied nightlife from bustling cocktail bars to cozy pubs to rooftop terraces. Checkout Time Out's 50 things to do in Sydney at least once in your life.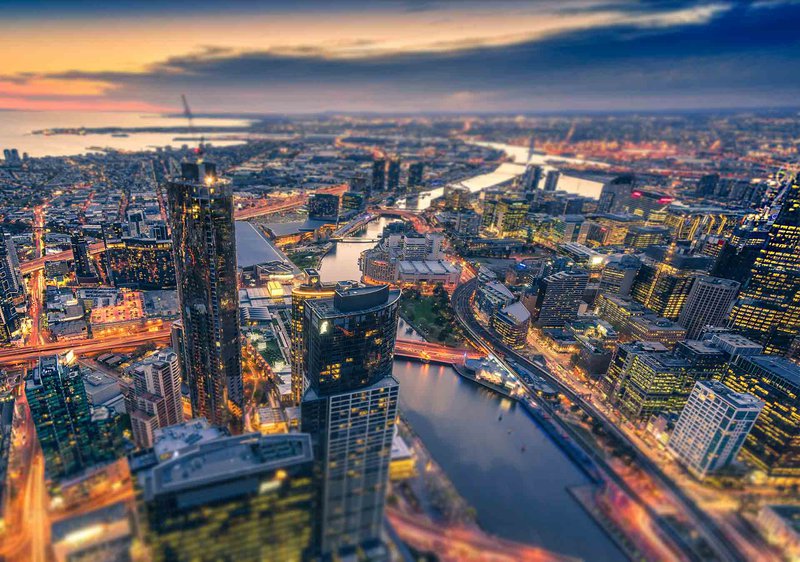 Melbourne
Located on the southern coast is the modern, multi-cultural city of Melbourne. Whether you are keen to see a sporting event at the MCG Stadium, grab a fancy coffee, or stroll through an exquisite art museum, there is plenty to do in Australia's cultural capital. Every January the city hosts the Australian Open Tennis Tournament, as well as the Formula 1 Racing Australian Grand Prix in March. The city is commonly identified by the iconic Federation Square, a host to beautifully designed buildings including Flinders Street Station. Just a short trolley ride from the city lies Melbourne's iconic beach suburbs - St. Kilda, home to an adorable penguin colony, and Brighton, home to the colourful beach boxes. Check out what to do in Melbourne here!  
Brisbane
In the middle of Australia's east coast lies Brisbane, the gateway to beautiful Queensland. A bit smaller and more relaxed than Sydney and Melbourne, the city offers stunning scenic hikes in Somerset, Scenic Rim, and Locklayer Valley. The city is home to the famous Lone Pine Koala Sanctuary and the iconic Australia Zoo made famous by Steve Irwin. Brisbane also offers a bunch of museums to enjoy in the South Bank area. Looking for cheap things to do in Brisbane? Check out this article!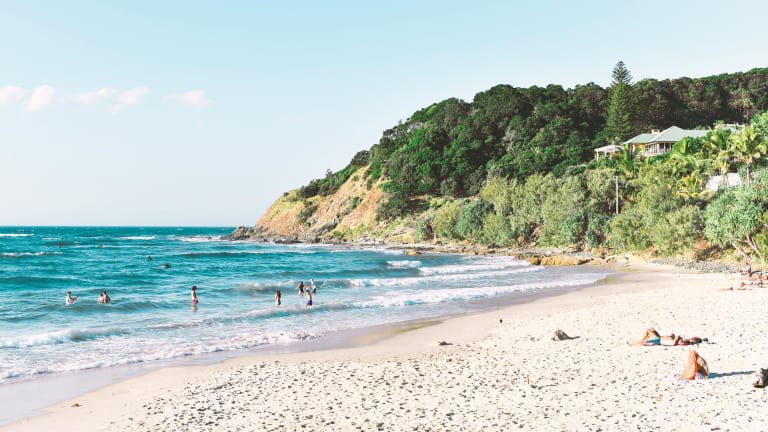 STATES 
New South Wales
This Australian State is nestled on the southeast coast of Australia, boasting Sydney as its capital. Sydney is not short of wildlife experiences, wine tasting experiences, national parks, and some of the most stunning beaches in the world. 
For the outdoor-oriented traveller, the Blue Mountains National Park is located in Katoomba, an easy train ride from Sydney. Here you can experience the mountainous region of inland Australia. North of the capital you can find the Hunter Valley wine region, home to the cities of Port Stephens and Newcastle. Highlights of this area are wine tours and great surf breaks. Uniquely, Port Stephens is home to the Stockton Sand Dunes, the largest sand dunes in the Southern Hemisphere. If you prefer laid back Aussie culture, the bohemian town of Byron Bay is an absolute delight. Check out Australia Tourism's guide to the best locations in NSW.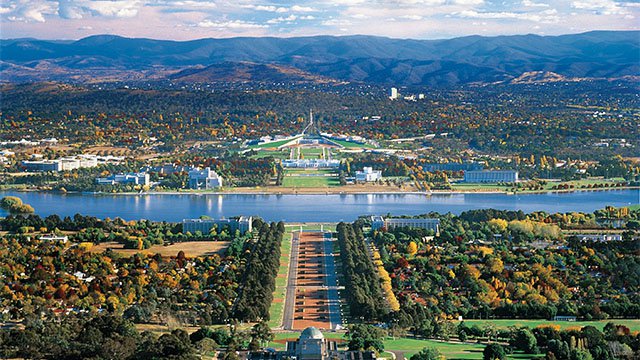 Australian Capital Territory
Inbetween Sydney and Melbourne lies the Australian Capital Territory. The Australia's capital is the tiny city of Canberra, home to the Australian Parliament. For those interested in Australia's history, there are plenty of historic buildings and museums to visit. In addition, the ACT has a section of land on the east coast for the Australian Navy. This area is also home to Jervis Bay, where you'll find Hyams Beach, renowned for having the whitest sand in the world! This region has lower population densities, perfect for the laid back traveller. Check out the best things to do in Canberra.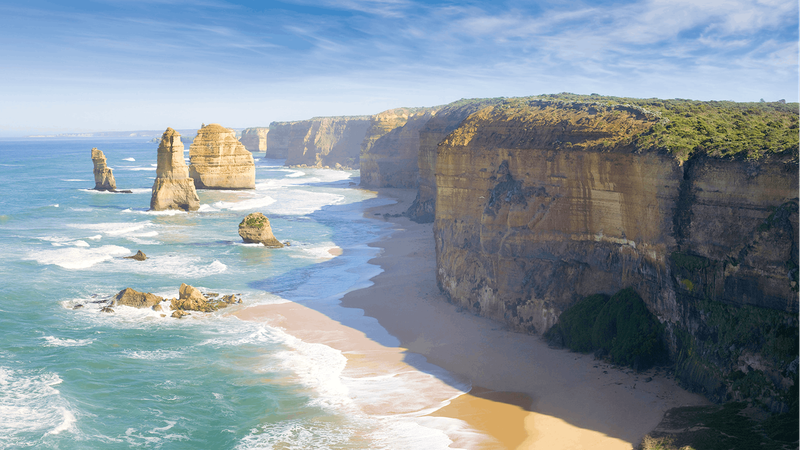 Victoria
Located south of New South Wales you'll find the state of Victoria. It's especially famous for one of Australia's most epic road trips, the Great Ocean Road.  Most visitors leave from Melbourne, making stops in the coastal cities of Lorne and Apollo Bay. These charming little surf towns offer breathtaking views of the southern coast of Australia. The Great Ocean Road is a highlight of Victoria, with the Twelve Apostles, Gibson's Steps, and other unique landforms dotted along the route.  The state has a lot to offer whether you want to get off the beaten path or cuddle up in a speakeasy with a pint in Melbourne. Find out the top 10 things to do in Victoria!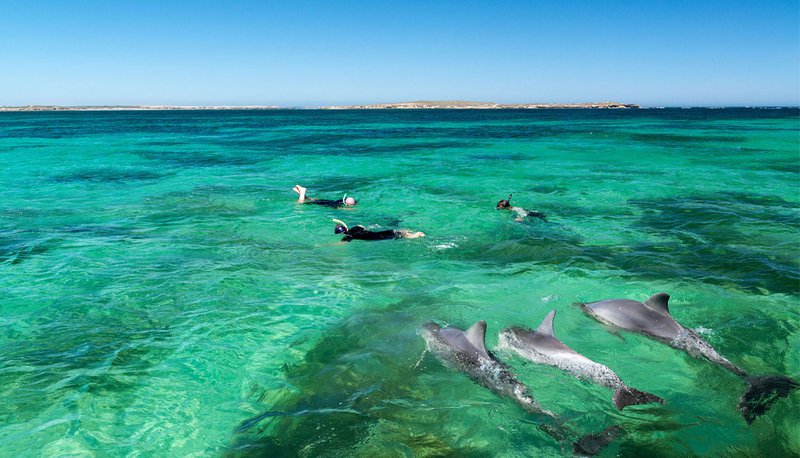 South Australia
If you're looking to wine and dine, visit South Australia! With its award-winning vineyards and coastal shark dives, this Australian state is sure to wow you. The capital city is Adelaide, home of stunning architecture and history. Just outside of the city lies Waterfall Gully, a great place to hike and experience some of Australia's most epic waterfalls. Right off the coast of Adelaide is Kangaroo Island, home to protected lands and diverse animal species including sea lions and koalas. For the real thrill-seekers, South Australia is also home to Port Lincoln, the Australian home of shark diving.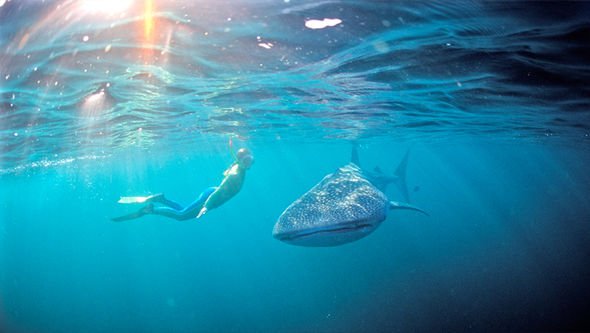 Western Australia
For the traveller hoping to get off the beaten path, this huge region is perfect to explore. The most famous city is Perth, the fourth most populous city in Australia is close to Wave Rock and the Pinnacles. This region of Australia is home to the adorable Quokka. Many people visit these adorable creatures on Rottnest Island, complete with gorgeous white sand beaches and reefs. If you're interested in being more remote, Broome is home to the stunning Cable Beach. Whether you seek adventure, insane sunsets, or adorable Quokkas, Western Australia has something to offer you. Check out 50 amazing things to do in Western Australia for a little more inspiration!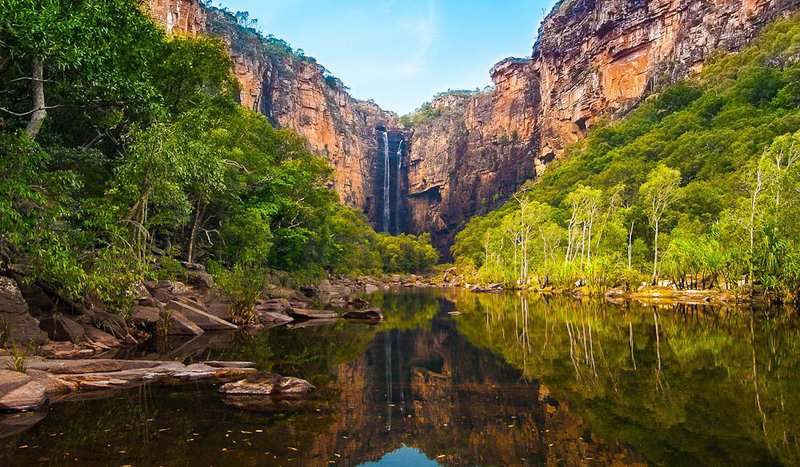 Northern Territory
Australia's Northern Territory is home to the heart of the Outback! Alice Springs is the main hub, home to the Kangaroo Sanctuary, and a starting point for many tours to the Red Centre. With the remoteness of this part of the country, group tours and campsites can be a great authentic experience. Uluru is a beautiful, sacred site for the Aboriginal tribes that populate the area. On the northern coast lies Darwin, a quaint city just outside of the stunning Kakadu National Park. The park is famous for its beautiful landscapes and saltwater crocs. With a lush region and desert alike, the Northern Territory embodies the diversity of the Australian landscape. Learn more about what to do in the Northern Territory.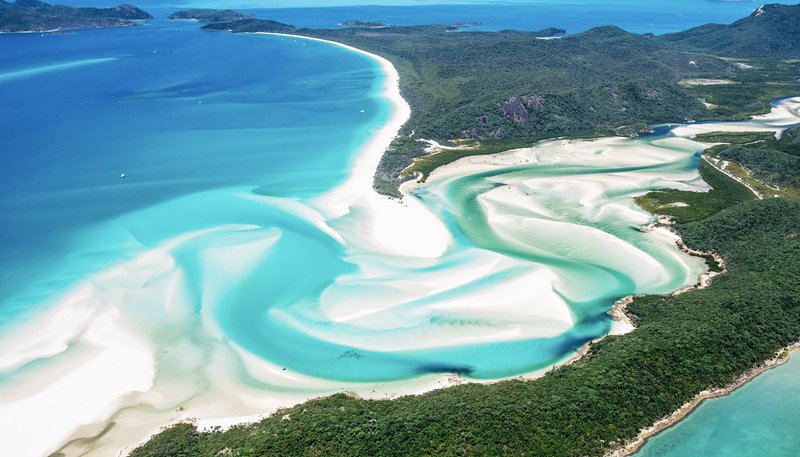 Queensland
Affectionately called the "Sunshine State" of Australia, Queensland is home to stunning beach towns, rainforests, and the Great Barrier Reef. Port Douglas and Cairns allow you to explore their ecological diversity.  Further south is Airlie Beach and the Whitsunday Islands. Within the Whitsundays, there is Whitehaven Beach - voted the best beach in the entire country. Worth checking out to see what all the fuss is about! Closer to Brisbane is Fraser Island, where you can camp and spot dingos. Home to the most famous beaches in the country, Queensland is a beautiful place to venture through. Find out more about what to do in Queensland.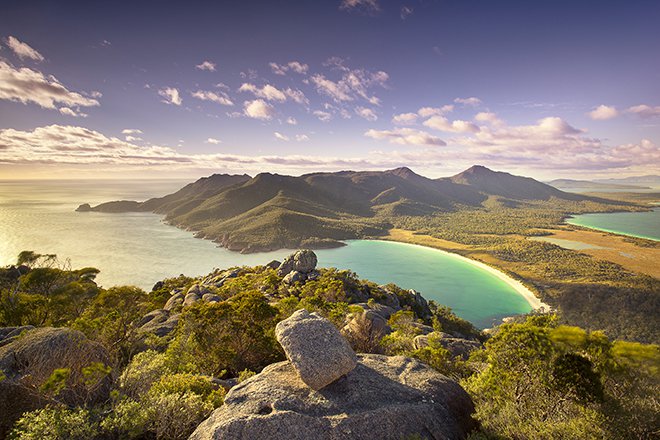 Tasmania
The stunning island state of Tasmania is a hidden gem off the southern coast of Australia. There are plenty of lush landscapes and stunning bays and treks. The capital city is Hobart, home to museums and city life, while Launceston is more remote and known for the Bay of Fires. For the adventurous traveller and outdoor enthusiasts, Tasmania is a secluded paradise you must visit. An abundance of kangaroos, wombats, and the famous Tasmanian Devil call Tassie home. Check out the best things to do in Tasmania!
SMALLER CITIES / TOWNS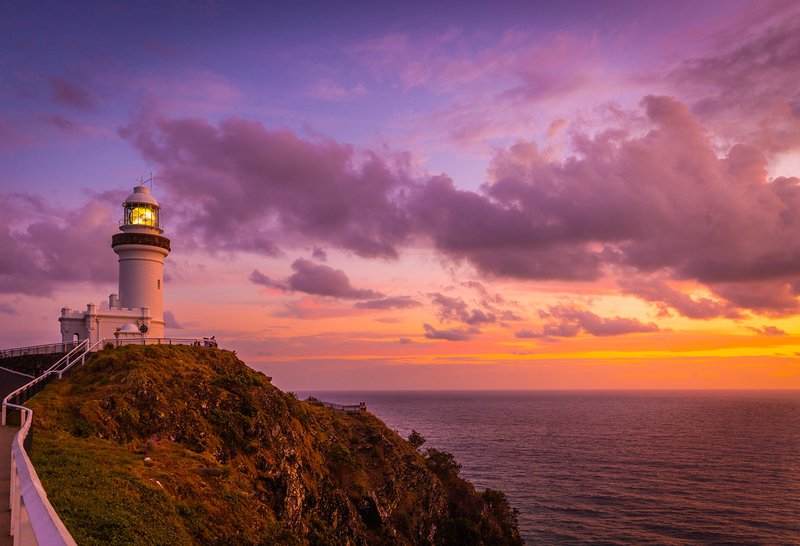 Byron Bay 

Right on the edge of New South Wales, south of Brisbane, lies Byron Bay. Known for its incredible surfing hubs and beautiful beaches, Byron Bay offers a little bit of everything. Watch the sunset at the Byron Bay Lighthouse or enjoy the company of dolphins surrounding you as you kayak, and even see a whale along the way. Byron Bay is a little explosion of endless activities, from tropical rainforests to bustling nightlife and stunning lookouts that you do not want to miss! It's also home to a few celebrities, keep your eyes out for a Hemsworth.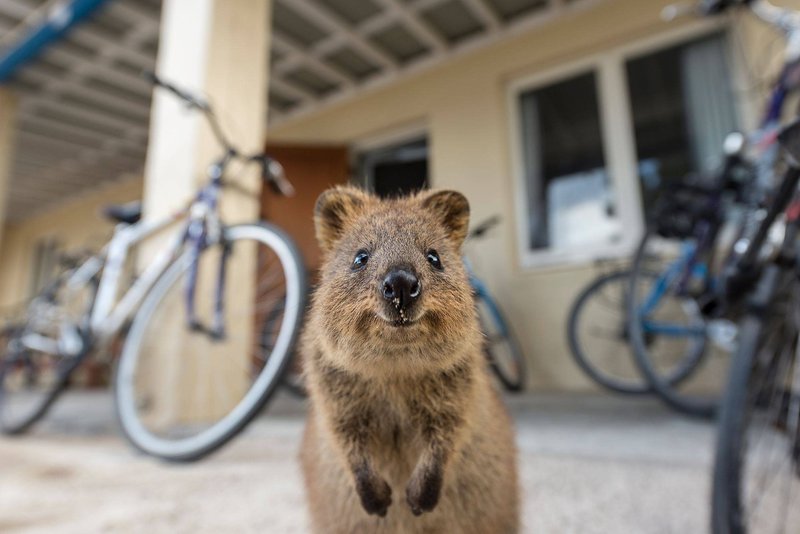 Perth 
Perth is the capital and largest city of the Australian state of Western Australia. Throughout Perth, nature and urban life exist in harmony. There is plenty to explore, venture off to leafy King's park, and experience Swan Valley's vineyards, Aboriginal art, food, history or just soak up the sun and visit Rottnest Island, famous for the smiling quokkas. Discover laneway bars in multicultural Northbridge or take a dip in the Indian Ocean at Cottesloe Beach. Perth is perfect for its sunny weather, beautiful beaches, and laid-back atmosphere.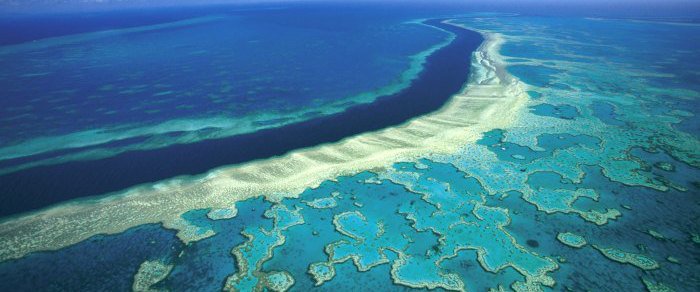 Cairns
Located on the east coast of North Queensland is the city of Cairns. The city has a bunch of activities that are perfect for passionate divers and adrenaline junkies. There's great nightlife and heart-pounding adventures amid a vibrant tropical setting. The world-famous Great Barrier Reef is also located in Cairns, where you can snorkel or scuba dive. Adjacent to the reef is Cape Tribulation in the Daintree Forest, home to some of the oldest sections of rainforest in the world. 
Australian Backpacker Itineraries
Backpacking is a very common way to travel Australia, and there are a few main routes that backpackers commonly travel.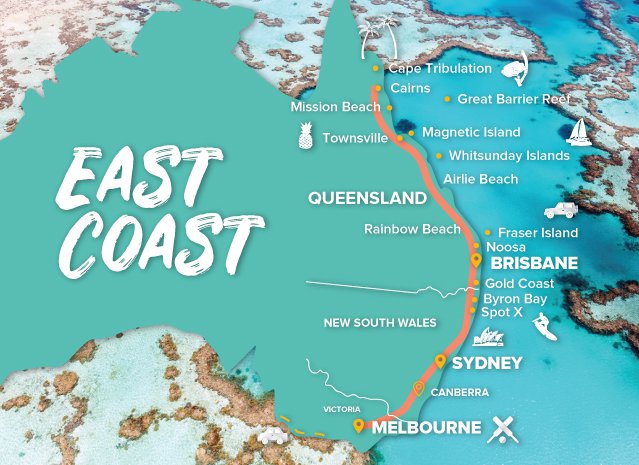 The East Coast
The most common of the backpacker routes is the trail up the East Coast. Most people kick off their journey in Sydney and work their way up the East Coast to the Cairns and Port Douglas region in Queensland. In addition, some choose to extend their experience by swinging down to Melbourne to experience the Great Ocean Road. Most of this journey exposes the magical beaches of the east coast of Australia. To make the most of this trip you really need at least 3 weeks, but some take it much slower. While you can commit to purchasing or renting a vehicle, hop on hop off buses make the trip easier to navigate. Plus, you'll meet plenty of mates on your journey up or down the coast together!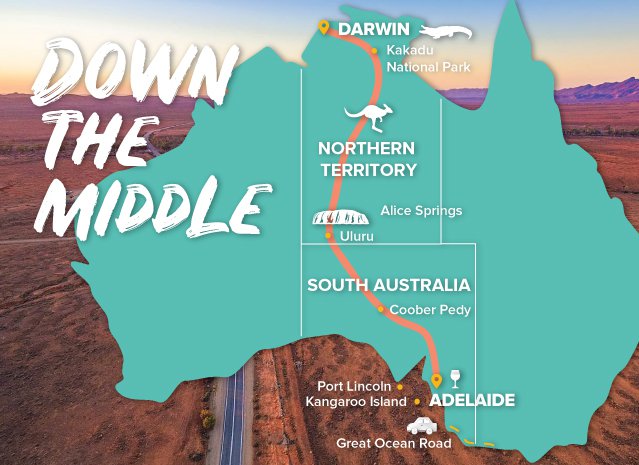 Through the Middle
The journey from Darwin to Adelaide will take you through the heart of Oz, an absolutely amazing backpacking Australia route. Those starting in Darwin will go from experiencing the tropics to the heat of the Red Centre and back out through wine country in South Australia. This journey can be done a bit quicker, with at least 2 weeks recommended. The most convenient way to experience the Red Centre is to book a tour, as travel needs to be strategic as towns are sparse. Using personal transportation is also practical with additional planning.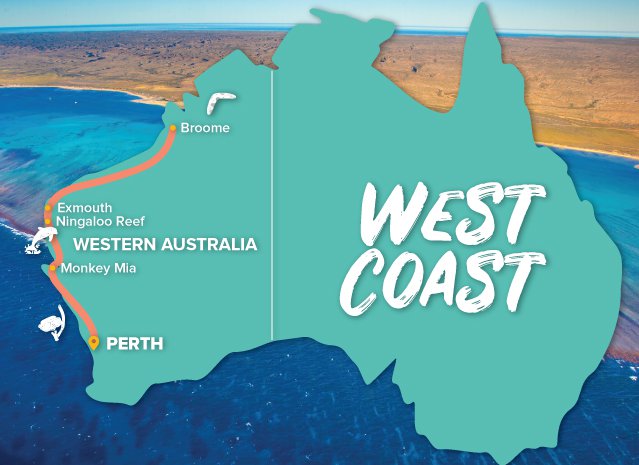 The West Coast
For the off-the-beaten-path traveller, a West Coast road trip may be just the right journey. Many trips extend from Perth to Broome or vice versa, adventuring through the diverse and untouched landscapes of the west coast of Australia. This backpacking Australia route will require at least 2 weeks. Hop on hop off service is not offered on this route, so self-driving or finding a group tour are the most advisable options. 
If you want more info, send us an email at hello@introtravel.com and we can help you plan your travel in Oz! 


Australian Culture 
Aussies are famous for their laid-back lifestyle. Probably because the weather is so good and nearly everyone lives near the beach. Australia is a diverse place, but some common attributes among Aussies is that they like watching sport, having BBQ's, drinking beer and spending time in nature. They're not big on formalities and don't take life too seriously. So if you can travel to Australia with a relaxed attitude and a good sense of humour you'll be making local mates in no time!

Good Stuff to Know
Understand Aussie road (and sidewalk) rules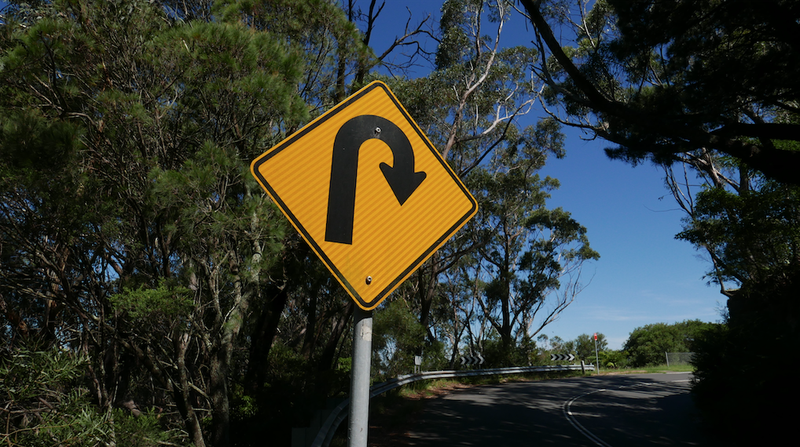 Australia drives, and walks, on the left side of the road. This is critically important on the road and will keep you from bumping into people on the sidewalk.
Aussies like to swear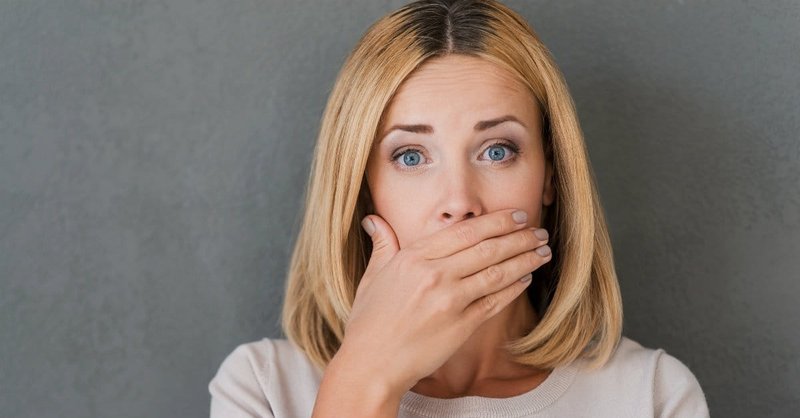 Australians tend to have more fruitful language than people do in other countries, specifically America. The "C yoU Next Tuesday" word is often used affectionately and not in the derogatory way it is used in other countries.
The sun will burn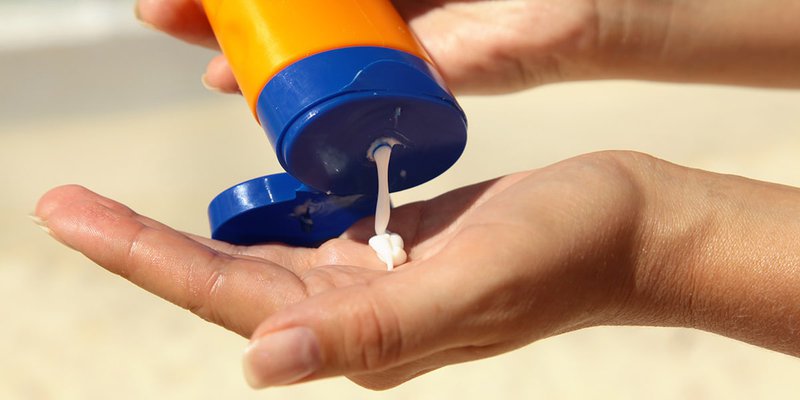 The Australian sun is POWERFUL. The country boasts some of the highest UV indexes in the world, meaning the sun is extremely strong. Australia also has the highest sun cancer rates of anywhere in the world, so make sure you slap on that sunscreen! Seriously.
There's no need to tip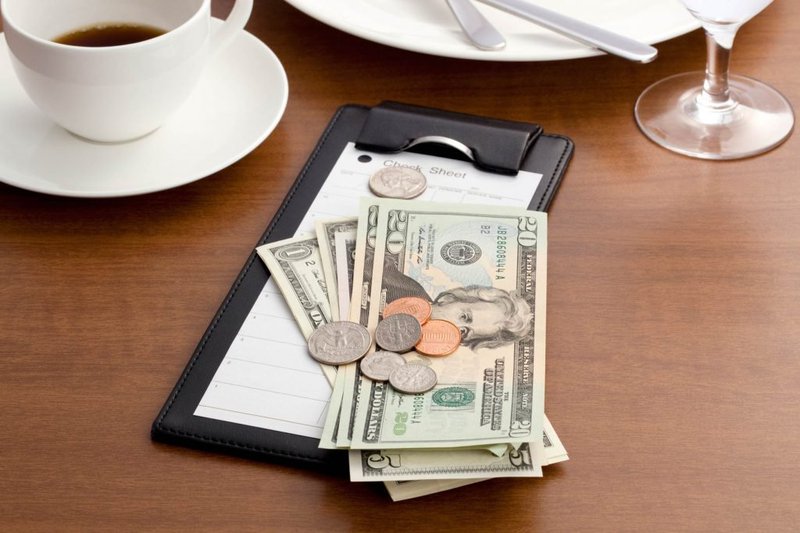 In Australia, wages are set for waiters and waitresses to be paid fairly without a tip. By all means, tip if you feel compelled, but there is no need or expectation to. A 10% tip is generally considered very generous. 
The oceans can be dangerous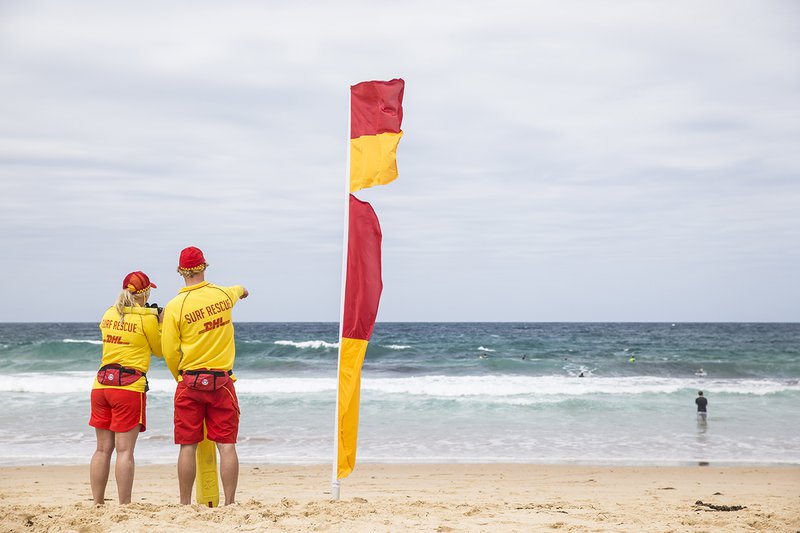 At guarded beaches, lifeguards set out flags to determine the safest places on the beach to avoid rip currents. If you drift out of the flags a lifeguard will likely ask you to move back into the guarded area. It's all in the interests of safety. 
Not all animals want to kill you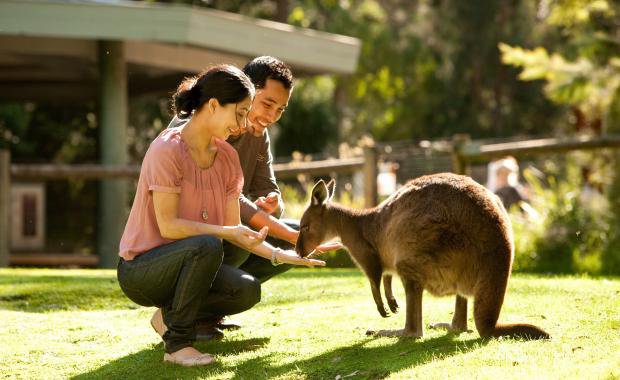 Australia has a handful of animals that can kill you, and the media do their best to make sure you know that. Spiders can be sizable, snakes exist, and sharks live in the ocean. Realistically, it is not uncommon to see these animals and very rare to encounter the dangerous varieties let alone be harmed by one. If spiders are your biggest fear abouttravelling to Australia, you really don't need to worry!
Drink the coffee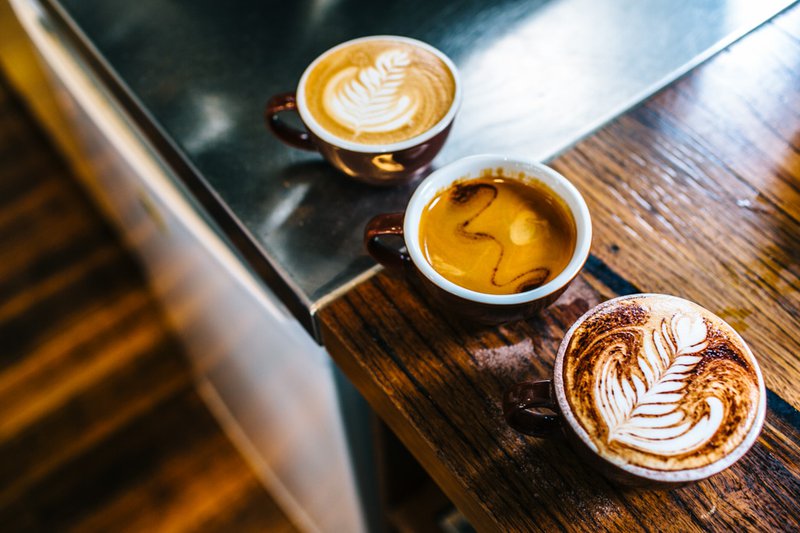 Coffee snobs rejoice! Australian coffee is an art in its own right. Very seldom will you find a Starbucks in the country, as local coffee houses dominate and create Australia's best brews. Good coffee can be found in all cities, but especially in Melbourne.
Australia is HUGE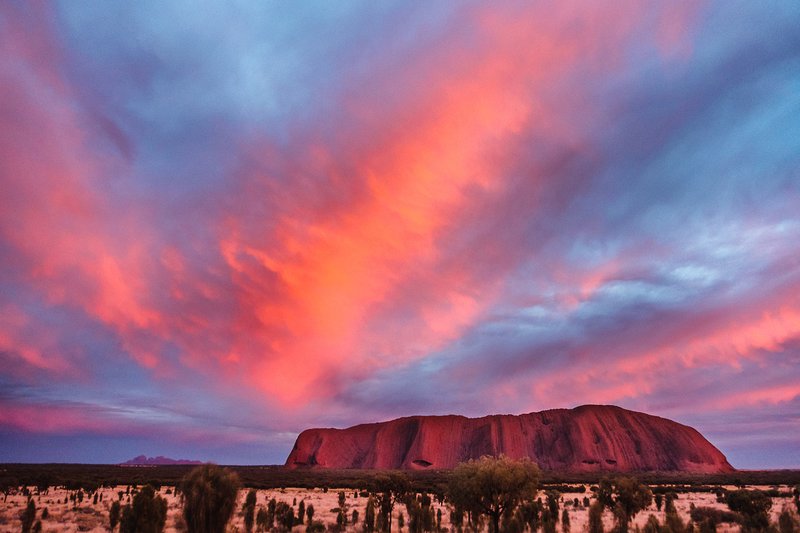 Due to the vastness of the country and the distance between major cities, Australia does not look that big on a map. In reality, the country is nearly the size of Europe or the United States. From top to bottom, the country takes over 30 hours to drive with no stops. Factor this in when planning your travel in Australia, it's not like hopping from city to city in Europe.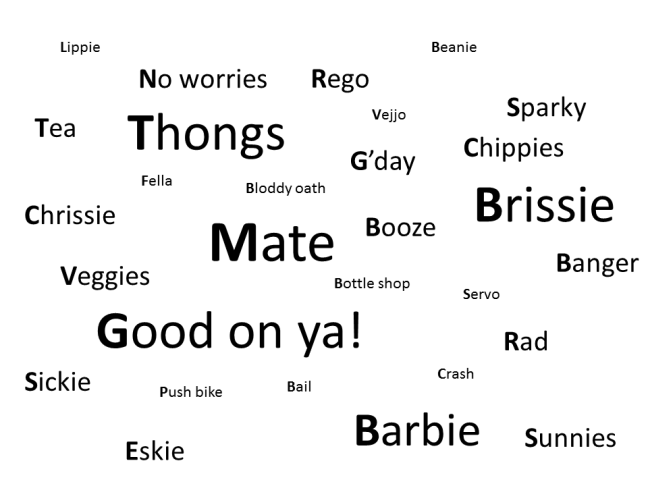 Quick Guide to Aussie Slang 
Mates are your friends
Thongs are worn on your feet, and you probably call them flip-flops
'You reckon?' is how an Aussie will ask you what you think
Forget heaps of hay. In Australia heaps is used to say "a lot"
Bondi is not pronounced Bond-e, it is pronounced Bond-eye
And Melbourne is pronounced Mel-bin
Queues are the worst to wait in, even if you call them lines
The lift elevates you, but don't call it an elevator
Petrol fills up your car, some countries call it gas
Good afternoon? Aussies say "arvo"
Avocado? Avo
A 24-pack of beer is called a slab 
How much money will I need to backpack Australia?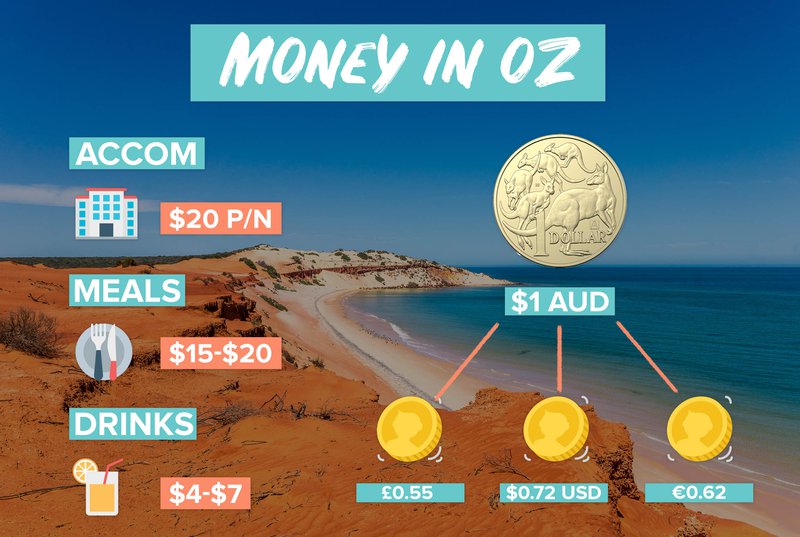 Do you need a budget for backpacking Australia? Yes! Along with the beautiful beaches and spectacular coffee comes a price tag, unfortunately. An essential step to planning any journey is knowing how much it will cost you. Read on for our money-saving travel tips.
What Stuff Costs
Unfortunately, Sydney is probably the most expensive city in Australia, and thanks to labor costs and high taxes, prices for food and drinks are pretty high. Nevertheless, there is always a way to budget! Depending on your lifestyle, here is an idea of how much beer, spirits, meals, petrol, accommodation, and transit costs. 
Drinks
The average cost of beer in Sydney ranges AUD $10-$11
The average cost of a bottle of wine in Sydney can be AUD $12-$30
The average cost of standard cocktails/spirits in Sydney varies between AUD $15-$22 
Meals
Depending on personal preferences, meals when eating out vary between AUD $15 - $30
Petrol
The price of 1 litre (¼ gallon) of gas in Sydney is around AUD $2.05
Accommodation
Depending on the location and the number of people there will be varying prices. 
If you plan to stay in a hostel it ranges from $50-$80 AUD a night
If you plan to stay in a hotel it ranges from $90-$160 AUD a night
If you plan to stay in an Airbnb it ranges from $100-$150 AUD a night
Transit costs

Depending on your personal preferences and where you plan to travel you can take a taxi, bus, train, or Uber. If you're staying and travelling in Sydney, it's recommended to travel by bus or train!

Sydney's public transport network runs on a smartcard system called Opal, or you can use your credit card or smartphone to tap and pay. This card can be obtained for free with a minimum credit load of $10 at most convenience stores or train stations. Daily charges are capped at $15.80 or $2.70 on Sundays. For the most part, opal fares cost $2.20 for short journeys and $3.66 for longer journeys.
Wages in Oz
Looking for a job while you're in Oz? While Australia is one of the most expensive places to live, you can find a good job to counteract it if you are staying for a long time i.e. on a gap year. 
The average minimum wage is dependent on what state you live in Australia, but this is based on each state's standard of living. Once you've chosen where you want to live, the next step is updating your CV. Most entry-level jobs will accept candidates with minimal past experiences.
For a 38 hour work week, the average wage per hour is $24 AUD. Entry-level casual positions such as waitressing or barista have a minimum wage of $23.23. These positions will give you a good cushion to manage finances during your stay. 
There is no shortage of backpacking jobs in Australia, but if you want some help along the way, check out our Oz Intro small group tour and working holiday package where we will do all the legwork to set you up with a great job!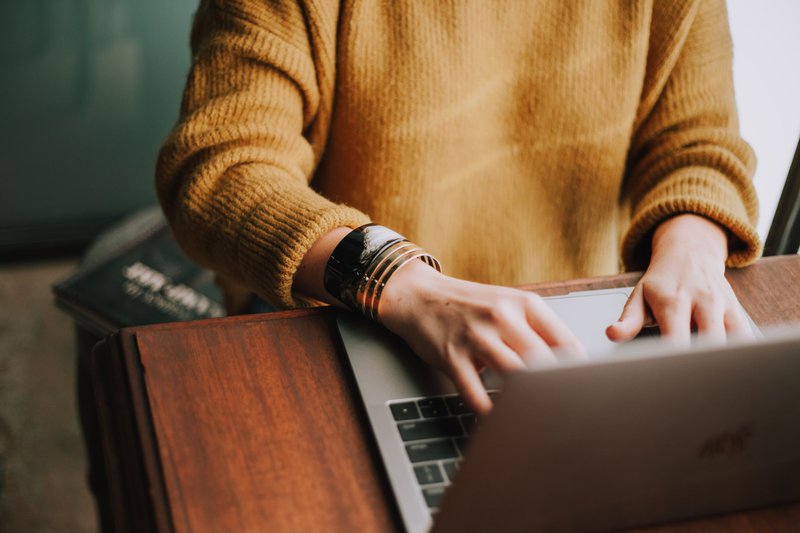 Saving to travel Australia
To travel Australia it is important to save and budget, because often travellers take longer trips to make the lengthy flight worth it. Once you get past the flight costs (can vary from $800 to $2200 return depending on where you are from), you must consider accommodation, food, tours, in-country travel, visas, and travel insurance. With about $120-$180 a day, one should realistically be able to find an affordable hostel, food, and pay for fun excursions. A longer trip makes flight and transportation costs more minimal on a day by day breakdown. Travel insurance is a significantly cheaper expense than paying for an emergency abroad, so check out World Nomads! Peace of mind is priceless.
To save up you may cut unnecessary things out of your life, like a daily overpriced coffee, cigarettes or subscriptions you don't really use - whatever works for you! If you love your latte too much to cut, keep it in and find other ways to save. Beyond twinging your habits, you might work an extra job or sell extra things you own.
If you plan to work in Australia for a few months, you can make enough money to keep you travelling the country. In addition, you can be frugal to make your dollar last. For example, a bread roll and a packet of ham from a supermarket can cost as little as $3 AUD for a meal.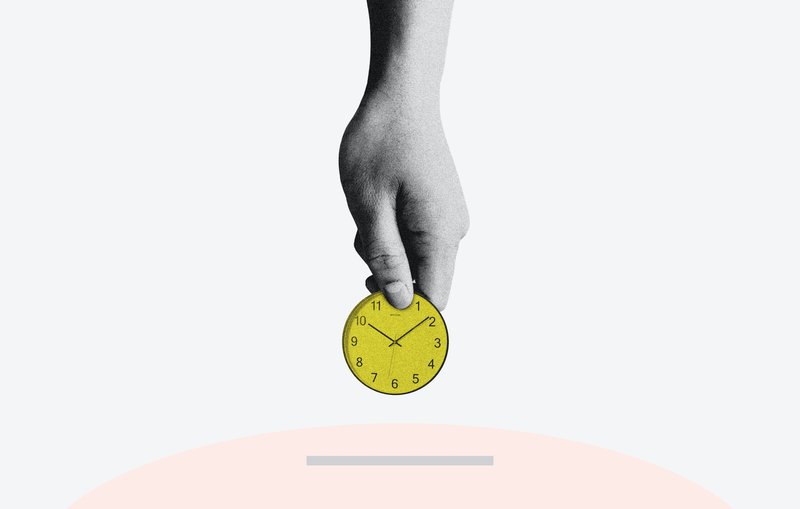 Flights to & around Australia 
International flights into Australia will probably be a big chunk of your budget, while flights within the country prove cheaper than domestic flights in other countries. The largest key to savings is keeping the flexibility to fly at the cheapest times. Flying mid-week and avoiding holidays can be a huge help in finding savings. The main Australian carriers are Qantas, Virgin Australia, Jetstar, and Tigerair with the latter two being more budget-conscious airlines. These major carriers service Australia's largest airports in Sydney, Melbourne, Brisbane, Perth, Adelaide, Gold Coast, and Cairns. 
There are many smaller airports beyond the few located in these cities. Most domestic flights hover around $150 AUD return from an airport like Sydney depending on the destination. International flights can cost about $1500 AUD return to reach Europe or the United States. To find the cheapest fares, check out Skyscanner in incognito mode.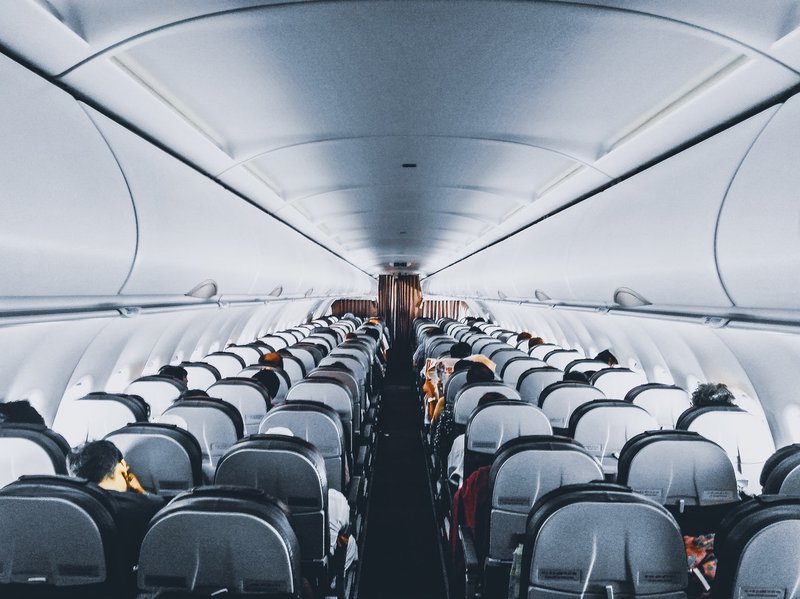 Accommodation Across Australia
In Australia you will find that Airbnb, camping, and hostels are common. With booking an Airbnb it is important to verify that the location is near public transport in a city like Sydney or Melbourne. Being close to a train or bus stop will help connect you to the rest of the city with ease. In more remote locations this is also important, as some areas may not be as assessable to taxi or Uber. Airbnb's are usually an affordable option, but definitely not as social as backpacker hostels and campsites. Camping is the most affordable option, with the only real costs being a permit (if necessary) and the initial cost of buying a tent. Some campsites can be social, as other backpackers may be staying there to relieve a day of driving. For those who don't like to get off the beaten path as much, hostels are often conveniently located and tend to be very social due to the accommodation being shared. This can be a great way for solo travellers to meet people on their journey, as backpacker hostels often host social events. When selecting a hostel, make sure to read reviews to verify other travellers experience and see if it's the right fit for you!
Backpacking through Australia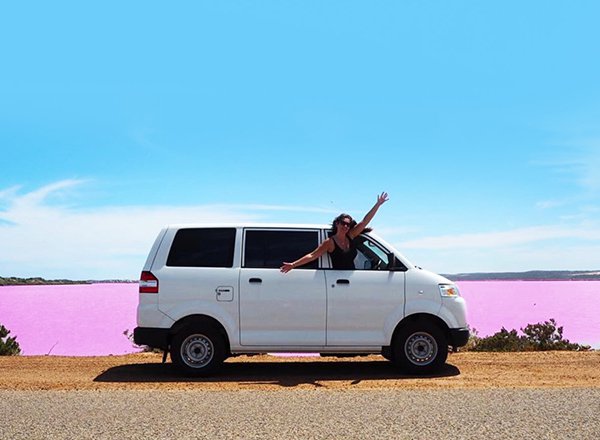 When getting around Australia there are a few options to consider. It is important to think about what travel style suits you and your needs. Earlier in the article we discussed flights, with positives being quick transportation and negatives including missing out on the space in-between destinations and higher flight cost.
Alternatively, buying a car/campervan includes finding a reliable vehicle at a reasonable cost and being responsible for reselling the vehicle.
Another option is renting a car/campervan from a hire company. The pros are similar to buying a car, regarding flexibility and freedom. Cons include that this option can be more costly depending on the length of the trip, and some companies have restrictions on going off-road in rental vehicles.
For trips like the east coast backpacker route, an on and off bus tour may be the most affordable and social option! For about $500 AUD, depending on route, your transportation between cities is included. Pros include the ability to sleep and socialise on the bus, while cons include routes only being provided at certain times and only dropping off at certain locations.
Australian Backpacking Checklist
Passport: Your key to getting to Australia, and getting home!
Debit/Credit Card: Always have a way to access your money from home.
Backpack: Reliable and comfortable, your bff.
Toiletries (Shampoo, Conditioner, Soap): Personal hygiene is key!
Toiletry/Shower Bag: Make your trip to shower easier.
Compact Microfiber Towel: Avoid wasting backpack space with a small towel.
A few outfits: Don't overdo it,  Australia has washers and dryers too.
A "going out" outfit: Let it fit your style for a fun city night!
Underwear: You won't want to forget these!
Bathing Suit: You REALLY don't want to forget something for the beach.
Laundry Bag: A mesh bag is perfect, keep your clothes separated.
Athletic Shoes: For hikes and adventures in comfort.
Sandals: For everyday comfort.
Sunglasses: Cheap is fine, but you've gotta block the rays.
Travel Adapter: Don't forget this so you can use power points!
Reusable Water Bottle: Keep plastic out of the ocean and save money!
Forget something on this list? No worries! Despite seeming far from the rest of the world, Australia has all of your favourite conveniences for sale at a similar rate to what you have at home! If you're travelling light on your trip in, stop at a convenience store to stock up. This can be especially wise if you are planning an extended trip travelling around Australia.
When is the Best Time to Visit Australia?
Any time you can visit Australia is the right time, but some months are more desirable than others. As a country that is in the Southern Hemisphere, seasons are reversed from the Northern Hemisphere. This means that English and American winter is Australian summer, making it the perfect time to visit to beat the cold.
The coastal areas of NSW, Victoria, South Australia, and the southern part of Western Australia have more temperate climates that make the summer the perfect time to visit and experience Australia's warmest weather. 
Queensland, Northern Australia, and the northern part of Western Australia are home to tropical climates that experience a rainy and dry season. The dry season runs from May to October, during the winter. Don't let the word "winter" fool you; these climates stay warm all year. The outback of Australia is a desert climate that has warm days and cool nights. To make the most of Aussie weather, consider starting your journey in the area that is in peak season and travelling as the weather shifts.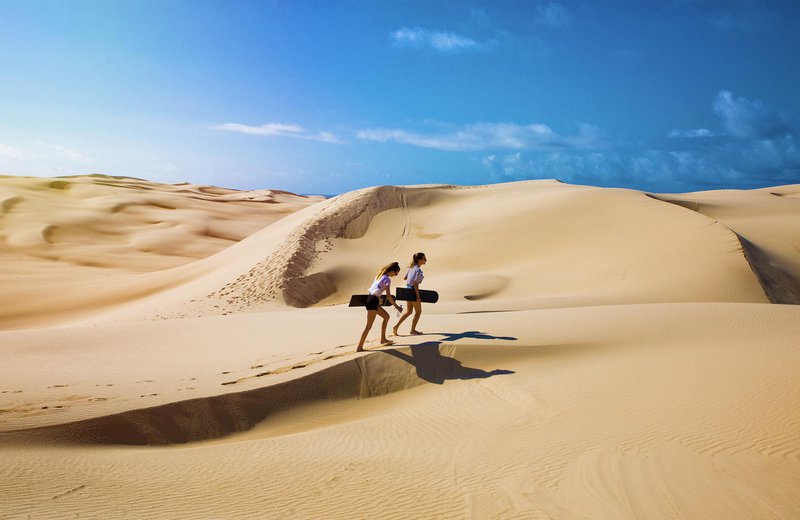 How To Get a Working Holiday Visa For Australia?
If you are between 18-30 years old (Canadians, Irish, French, British, Italian & Danish residents are eligible from 18-35), show sufficient funds (at least $5,000 AUD), and display good health and character, the Australian Working Holiday Visa subclass 417 is for you! Some important things to note are that you may not work for one employer for more than a year, more than 6 months or 12 months in more than one location, due to the nature of the visa to promote travel within Australia. The cost of this visa is $510 AUD.
The United States Working Travel Visa falls under the Australian Work and Travel Visa subclass 462. The application criteria are the same but also require the applicant to have a Senior Secondary Certificate of Education or the equivalent. The cost of this visa is also $510 AUD.
To make the most of your time in Australia, it is important to consider the opportunities that working in Australia can provide you! The country seeks regional workers year-round in industries like ranch work, fruit picking, and tourism roles. If you want to spend a year working and travelling in Australia, a working holiday visa is perfect for you! Both visas allow a one-year extension with the proper completion of the first visa and an agreement to do regional work.
How Can INTRO Travel Help?
INTRO Travel has two signature Australia trips to acquaint travellers to Sydney and help with planning their future travel.
For travellers looking to start their adventure in Australia and receive assistance in planning onward travel, Oz Intro is custom-fitted as the perfect group travel tour. For travellers looking to experience Australia AND get started on their working holiday, Oz Intro + Work is the perfect group tour and working holiday package.
Both tours provide access to award-winning experts on Australian travel, connecting travellers to a network of award-winning travel companies throughout Australia. For those who are seeking a job in Australia, the Oz Intro trip provides membership to Oz Jobs, a database of 1000s of jobs in Australia. Regardless of what you are coming to Australia to find, INTRO Travel is ready to help you find all that you are looking for and more! 
So, are you ready to get started on the trip of a lifetime Down Under? 
For more backpacking tips, travel advice and gap year stories, find more of our Australia travel blogs here!

RETURN TO BLOG
NEXT ARTICLE