Backpacking New Zealand, Our ULTIMATE Travel Guide
Published 01st June, 2023
Welcome to Aotearoa, the Land of the Long White Cloud.
A place more commonly known as New Zealand, the country's traditional Maori name has been used for over 1000 years since explorers from Polynesia came across on canoes to discover new lands. Now, New Zealand is waiting for explorers like yourself!
Imagine walks on long stretches of beach full of epic surf breaks, snow-capped mountain ranges pulled straight from a fantasy adventure, and luscious forests full of redwoods waiting to get lost in. As well as boasting stunning scenery, travelling New Zealand will have you coming across sea lions and penguins, orcas and kiwis (the bird, though there will be plenty of local people too), dolphins, and fields upon fields of fluffy sheep. There's delicious food to be tasted, slopes to ski, roads to trip, skies to dive, and nights out to be had - so what are you waiting for?
Our extensive New Zealand Ultimate Backpacking Guide is here to help plan your travels so you can see more, spend less, and get the most out of this sublime corner of the world. Let's get into it!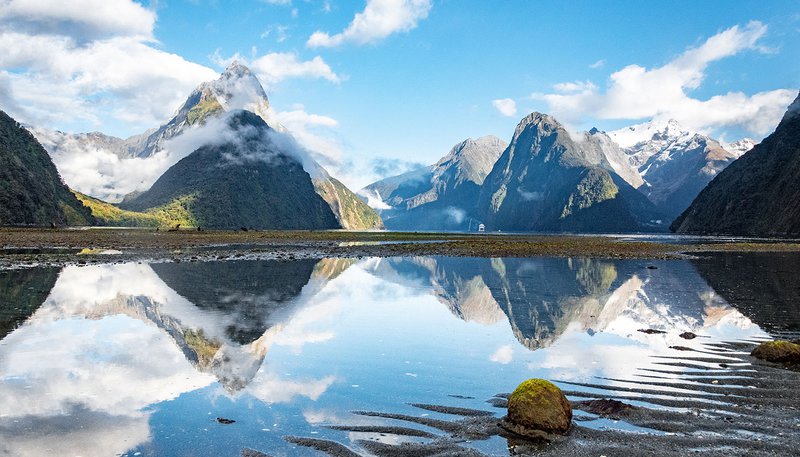 GENERAL INFO ABOUT NEW ZEALAND
Language 
English is primarily spoken throughout NZ, and you can expect almost everyone here to be fluent, albeit with a very sexy accent. It's science... at least according to a survey carried out in 2019 which ranked the Kiwi accent above Irish and South African. The second most spoken language is the indigenous Maori language, which is commonly seen on signposts around the country and taught in most schools. This is a huge sign of respect to the first people of Aotearoa, keeping the language alive, and many Maori phrases are commonly used within English conversation - more on that later! 
Visas
New Zealand has two islands to explore and so much to do, so we recommend taking your time if you can spare it. The best option is to get yourself a New Zealand Working Holiday Visa (WHV) which will allow you a full 12 months in NZ to travel, explore and work. Working Holiday Visas are available to young people of many nationalities, usually aged 18 to 30, but 18 to 35 in a select few countries. When applying, you must prove you have enough money in your bank account to afford an outbound ticket from NZ. You can find out more about New Zealand Working Holiday Visas here.
Tourist Visas are another option if you don't plan on working, and will still allow you a generous 3 months to go and backpack around New Zealand, and if you are from the UK as you will get a full 6 months! Travellers from many countries don't have to apply in advance, you can find out more information about entering New Zealand as a tourist here.

Money
The NZ Dollar features the familiar face of Queen Lizzie II on colourful notes and coins. The NZD is made up of 100 cents, approximately £0.51 or $0.70USD at the time of writing. Cash is the go-to in markets and community events with food and craft stalls, but otherwise Kiwis tend to use bank cards for most transactions. 
If you want to withdraw money from your overseas account in NZ you will be charged a small fee to do so. If you are in New Zealand for a longer time you should consider opening a local bank account there. INTRO Travel can help with this on their New Zealand small group tours - find out more about the work and travel packages here!

New Zealand Travel Adaptor & Power Sockets
In New Zealand they use the same three-pronged plugs as Australia... it kind of looks like a sad-face! You'll likely need a travel adapter to charge up all your electronic devices, but power is easily accessible and most hotel rooms/dorms have plenty of outlets to keep you charged throughout your trip. You can get a New Zealand Travel adaptor from the airport, or save money and order one online. If travelling to other countries, i.e. in South East Asia, you may as well get a Universal Travel Adaptor that works with all sockets.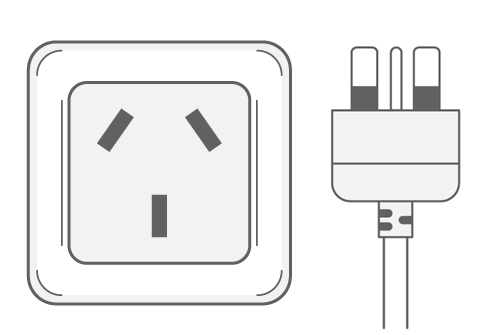 SIM cards
Buying a local SIM at your destination is far better than roaming, especially if you're staying for an extended time. New Zealand SIM cards can be easily picked up at the airport when you land, or at a mobile provider in-store in a city such as Auckland or Christchurch. A $25 to $32 NZD prepaid plan will give you around 3GB of data, plus at least 200 minutes in calls and texts. Depending on your SIM your credits can last from a week up to a year. The four major NZ networks are 2Degrees, Vodafone, Spark and Skinny. 
Wi-Fi
Even if you have the "super-mega-ultron-unlimited" SIM plan, we still recommend using Wi-Fi when possible. Restaurants and cafés have Wi-Fi connections a-plenty, along with most accommodations having access to decent Wi-Fi. It is not as fast as the US and Europe (they are still rolling out fast broadband in some areas) but you can still do most things, Netflix might just buffer a bit more. Remember that New Zealand is pretty chill in all aspects of life! FUN FACT: Some mobile networks have turned old telephone boxes in cities into Wi-Fi routers so you can connect when you are out and about, or just while waiting for the bus. How smart is that!?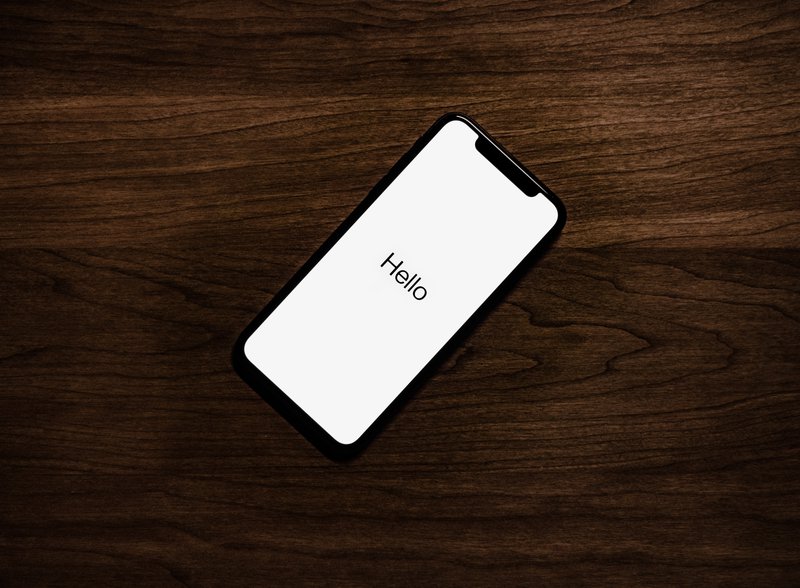 Time Difference
New Zealand is 12 hours ahead of GMT, meaning it's one of the first places on earth to bring in the new day. If you want to call home, do your calculations first so you're not calling at 2am.

Travel Insurance
On any trip you should always take out travel insurance to cover yourself should any nasty surprises pop up. New Zealand is a very safe country but accidents still happen, and you won't want to be left financially vulnerable so far from home. Cover your back and take out good insurance for the duration of your trip and be sure it covers all activities you plan to take part in. For instance, some insurance policies will not cover bungy jumping, skydiving, horse riding, white water rafting etc. Click here to find out more and get a travel insurance quote.
THINGS TO SEE IN NEW ZEALAND
There are truly some amazing places to visit in New Zealand, each with a different story to tell and gorgeous scenery to behold. Here are some of the top places to see in New Zealand to get you started!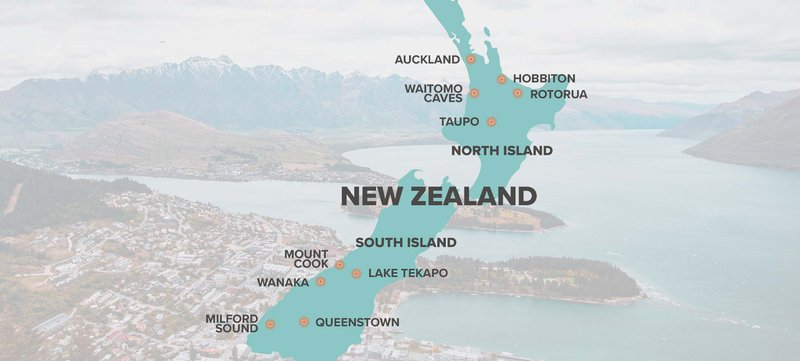 Auckland
This city by the sea is the perfect place to start your travels on the North Island of New Zealand. Stay in the city for hikes to the local hilltop for panoramic views, or venture further outside the city for day trips to Waiheke to sample some of the local wines or further north to the Bay of Islands. Whales and dolphins are common off the coast if you're eager to breathe in the fresh ocean air and spot some of the locals on a boat trip!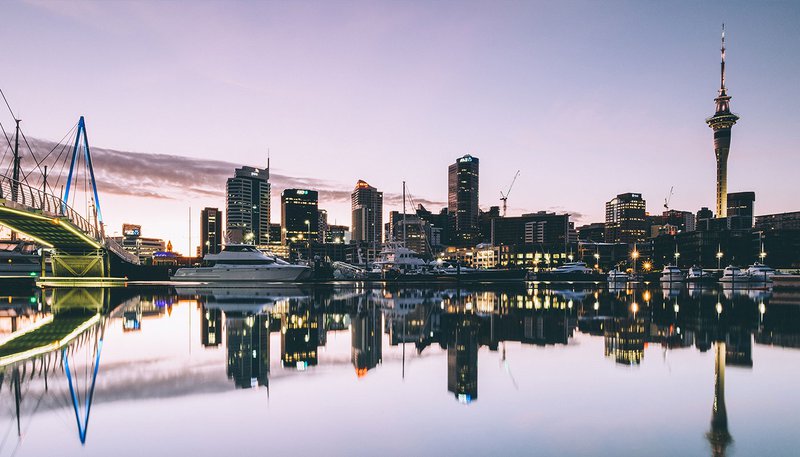 Rotorua
A town unlike another other is Rotorua, located in the middle of the North Island on top of a geothermal volcanic wonderland. Exploring this small town won't take long, but will uncover some serious delights. Think bubbling mud pools, free natural hot pools to soak your feet in, and is the cultural centre for the Maori. This town is steeped in history to be discovered, and the strong sulphur smell will remind you just how unique this area is....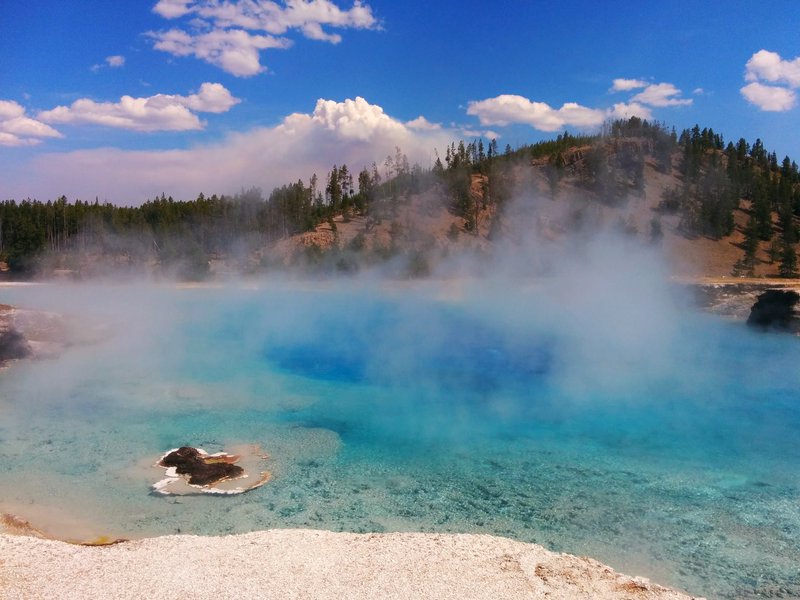 Wellington
Located at the southernmost point of the North Island, Wellington is New Zealand's capital city and lovingly nicknamed The Windy City due to the way that the wind is funnelled between mountain ranges on either side of the Cook Strait. And boy, is it windy! Wellington is only a small city, located on the water with a stunning promenade to spend your afternoons exploring and sipping cocktails next to. It also tends to be full of university students, which means it's fun for international backpackers. Be sure you visit the iconic red cable car that will transport you up to Wellington Botanic Gardens, a trip well worth your time.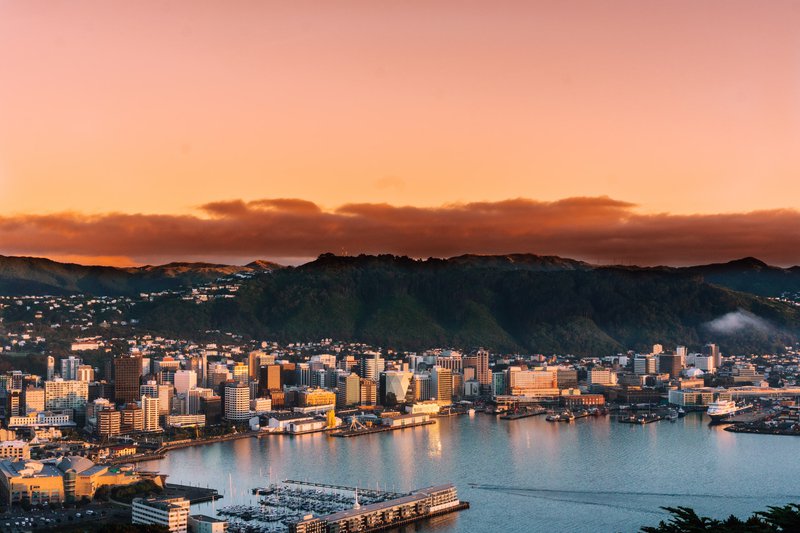 Hobbiton
A trip to New Zealand wouldn't be complete without a visit to Hobbiton, the real-life Tolkien village. Fans of the epic Lord of the Rings trilogy can prepare to geek out when exploring one of the most iconic movie sets of all time and immerse themselves in the minute details this enchanting village has to offer. Even if you are not a big fan of the Hobbit or LOTR, you will still find appreciation for the intricate details and marvel at the beauty of The Shire's fertile landscape. Top off your time in Middle Earth by kicking back with an ale at the Green Dragon Inn. 

Queenstown
Possibly the most famous destinations to visit in all of New Zealand, Queenstown is the adventure capital and holds something for everyone. Think hikes and nature, more activities and sports than you could imagine, and incredible bars and restaurants. Queenstown is a hub for adrenaline junkies, backpackers, foodies and party-goers alike, all set to a stunning backdrop of mountain ranges and lakes in the South Island of New Zealand.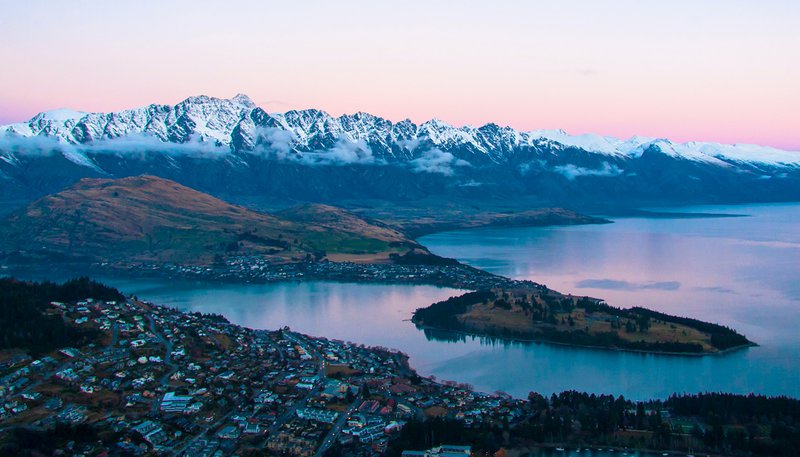 Mount Cook
Aoraki, aka Mount Cook, is the highest mountain in NZ, reaching a whopping 3,724 meters. Whilst summiting the mountain is only for experienced climbers, you can see it up close via an easy trail through Hooker Valley. The walk allows you to see glaciers en route to the main event, definitely one you want to have your camera charged for. Check out this blog for iPhone travel photography tips!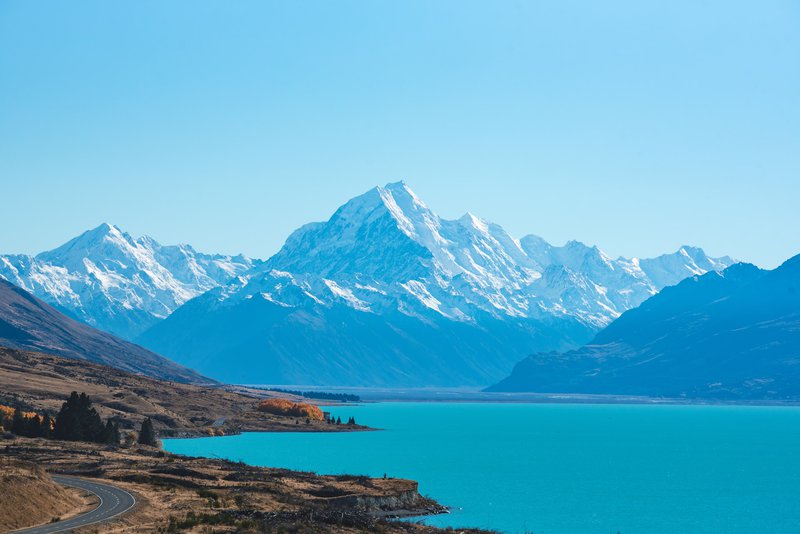 Milford Sound
Considered one of the world's top natural sights, this famous fiord has been called the Eighth Wonder of the World by famous writer and poet Rudyard Kipling. Located a day's trip from Queenstown, you'll pass through the quaint lakeside town of Te Anau before arriving in the Marine Reserve. Featuring two permanent waterfalls cascading over steep towering peaks, Milford Sound comes alive when it rains as the temporary waterfalls join together, making for an unforgettable sight. Basically, if it's raining, you're in luck! Specially designed boats allow you to get up close to the falls as you cruise, and standing at the front of the boat for a refreshing shower is said to take years off your age... so sign us up! Milford Sound also plays host to a variety of wildlife to spot as your cruise across the calm waters listening to stories of old. Keep a keen eye out for seals, dolphins, and if you are lucky, one of New Zealand's rarest species of penguin.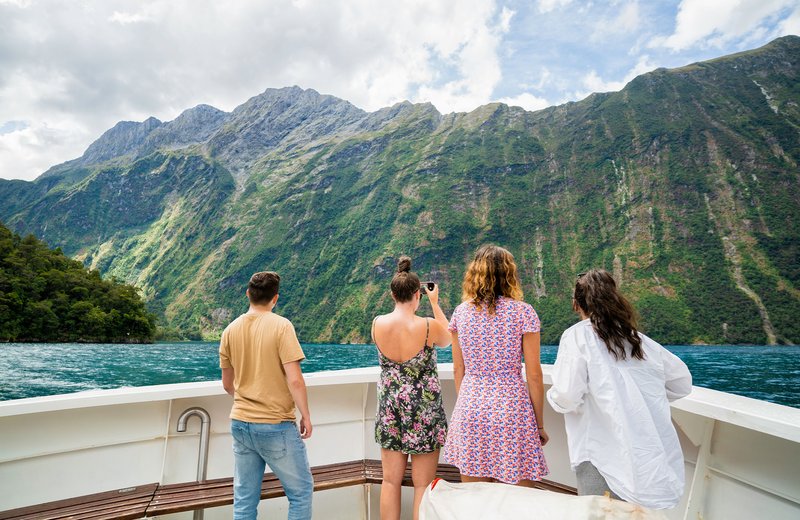 Lake Tekapo
With a tiny 558 residents, Tekapo is one of only five towns in the Mackenzie Basin. A quick Google search will answer any questions as to why you should visit this glorious town and lake, it's just so incredibly BLUE. Lake Tekapo is also part of the UNESCO Dark Sky Reserve. This means it's an amazing spot to stargaze, as the light pollution in the area is very limited. This beautiful lake has a dramatic backdrop enhanced by the glorious colours of thousands of pink and purple lupins – one of New Zealand's most beautiful flowers (even if they are technically a weed).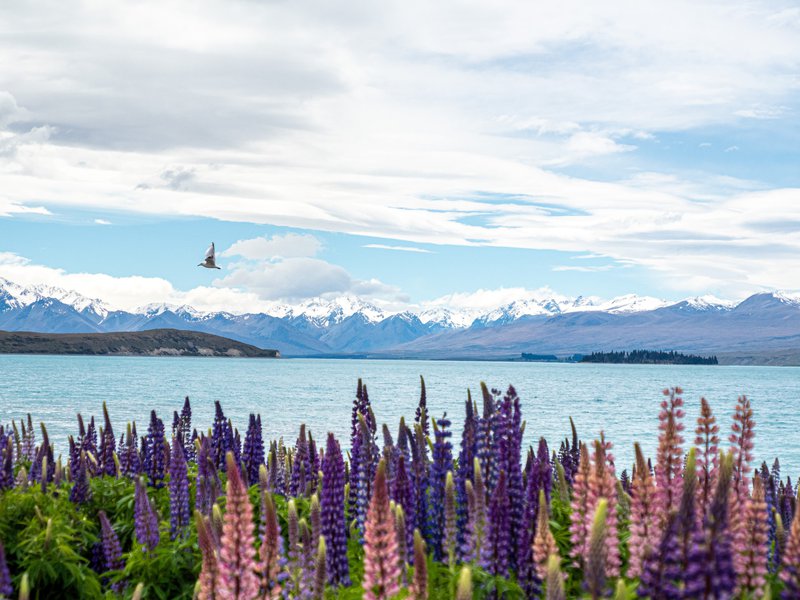 THINGS TO DO IN NEW ZEALAND
There is no shortage of things to do when backpacking New Zealand. The hard part will be deciding which you want to get involved in!
Hiking
There are so many amazing walks, hikes, and tramps for people of all fitness levels. Well-maintained pathways and signage make for easy hiking, even for those less experienced in the great outdoors. Grab your boots, some snacks and your buddies for great views of glaciers, native forests and rivers on two feet. You will be spoiled for choice with thousands upon thousands of kilometres worth of trails to be discovered. Learn more about our favourite hikes on our New Zealand travel blog here!


Skydiving & Bungy Jumping
Fancy launching yourself off a bridge or out of a plane? You've come to the right place. Home of the first commercial bungy jump and internationally recognised as one of the best places to skydive, push your nerves to the limit and take to the skies, then hurtle to the ground from 16,000 feet. For views, there is no comparative experience. Maybe don't tell your Mum.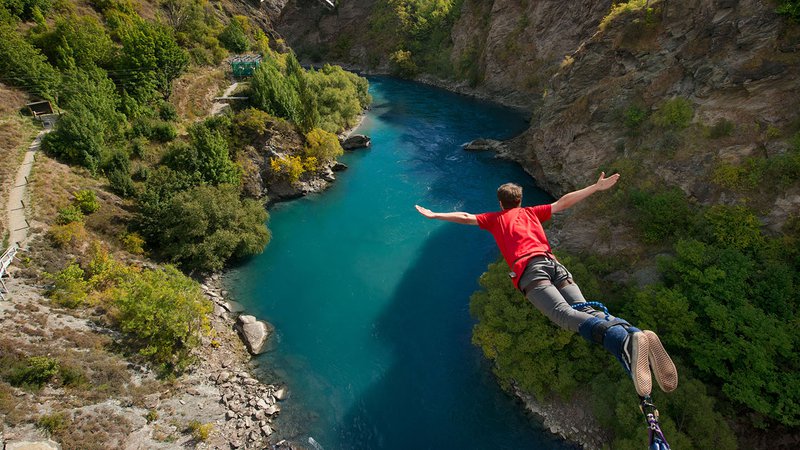 Road trips
Definitely make sure some driving is included in your New Zealand travel itinerary! Discover national parks and long winding roads as you cruise around the islands. Make sure you grab yourself a window seat so you don't miss out on the spectacular views that seem to belong on a desktop screensaver.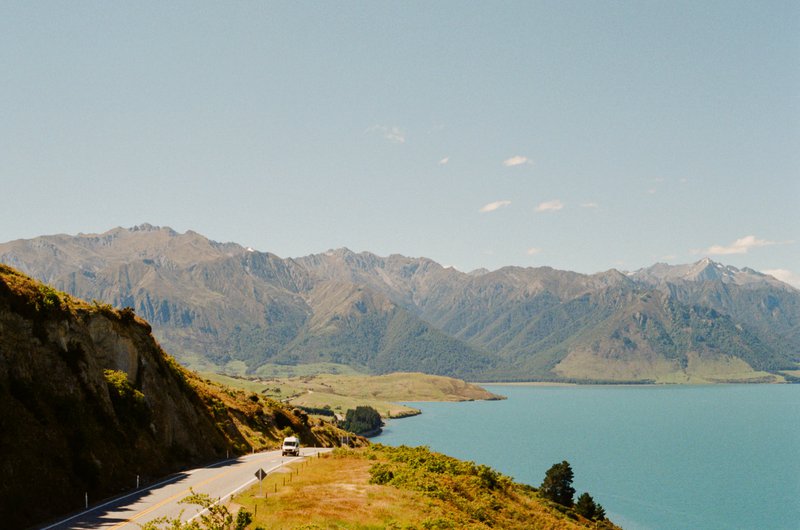 Jet-boating 
Who doesn't love being on a boat? Chilling out on the water, beautiful scenery, the perfect way to see some amazing sights. Now, add a jet engine and some very tight canyons, and you got yourself an extreme jet boating/sightseeing/adrenaline-fuelled afternoon! 
The rivers around Queenstown are legendary for jet boating and have even drawn some of the world's most famous people to their naturally fast-flowing waters. Jet-boating is an included activity in INTRO's South Island small group tours, perfect if you want to travel New Zealand with a group and have a dose of adrenaline along the way. Check out the full New Zealand itineraries here!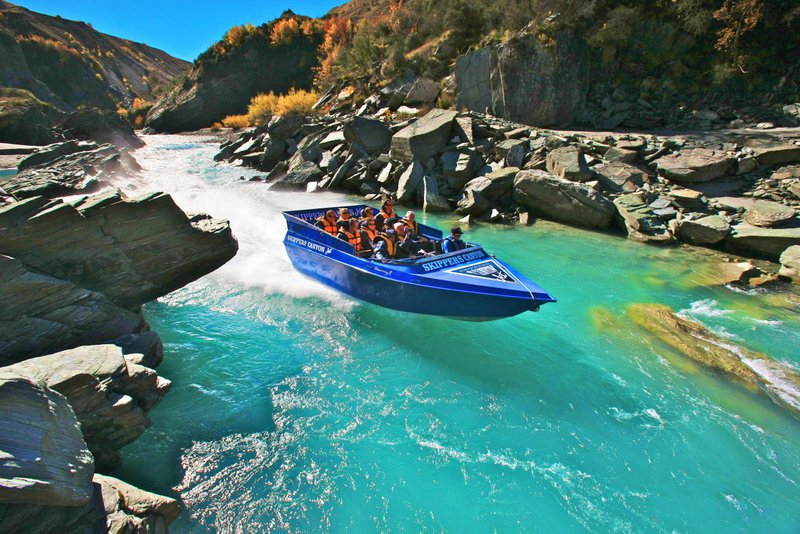 Glowworm Caves 
Head to Waitomo in New Zealand's North Island and take a trip underground to the home of the glowworm. The Waitomo cave system is home to the most unusual of creatures. Entering the eerie darkness, you will find thousands of 'stars' as you look up at the ceiling. You wouldn't be a fool for thinking you are looking up at the night sky, but what you are witnessing is one of nature's most phenomenal occurrences.
These worms are not technically worms at all, but flies that send down sticky mucus from the roof of the cave with a small orb of light at the end to attract prey. Once the prey has been lured by the mystical blue light and gets stuck, the fly simply pulls them up for an easy meal. Perhaps more sinister than you were expecting… isn't nature beautiful.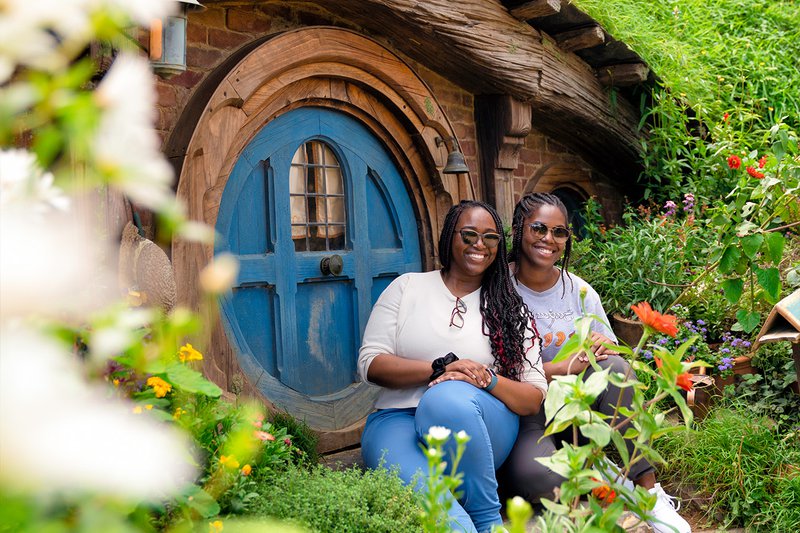 Snowsports
Boasting no less than 39 different ski fields, you are once again spoilt for choice on where to strap on your skis in New Zealand. With many located near popular towns and cities, why not find your favourite slopes and settle down for the season with a New Zealand Working Holiday Visa? With affordable rentals or plenty of second-hand gear to choose from you'll be carving down the runs with perfection in no time.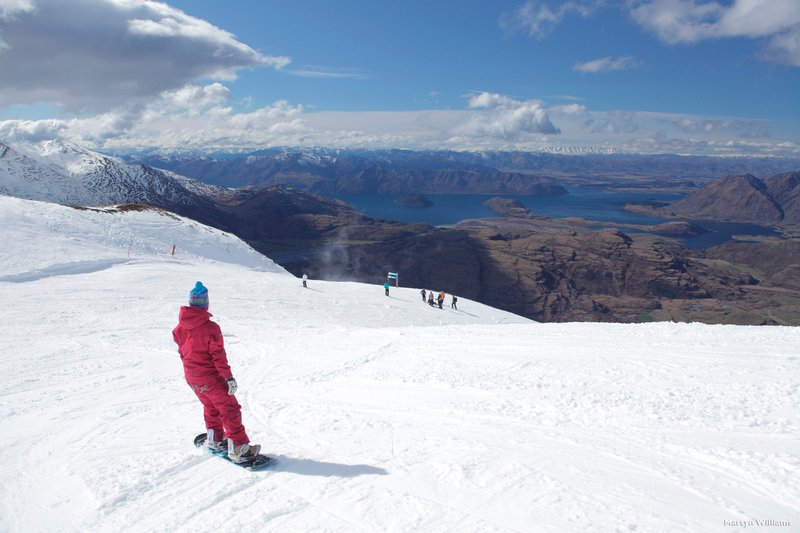 Maori Experiences
You can't travel to New Zealand and not learn about the amazing traditions of the Maori, the indigenous people of this southern land. Maori stories and cultures are very much alive as you travel around, so to get a better understanding of the land you are in,  take part in an interactive evening to learn the origins of the Maori in a fun and interactive way. Expect dances, games, history, and a lot of laughter as locals share their culture and customs with you, plus an added splash of Kiwi humour. INTRO's 8 day North Island small group tour includes a full Maori village experience in the itinerary, find out more about the trip here!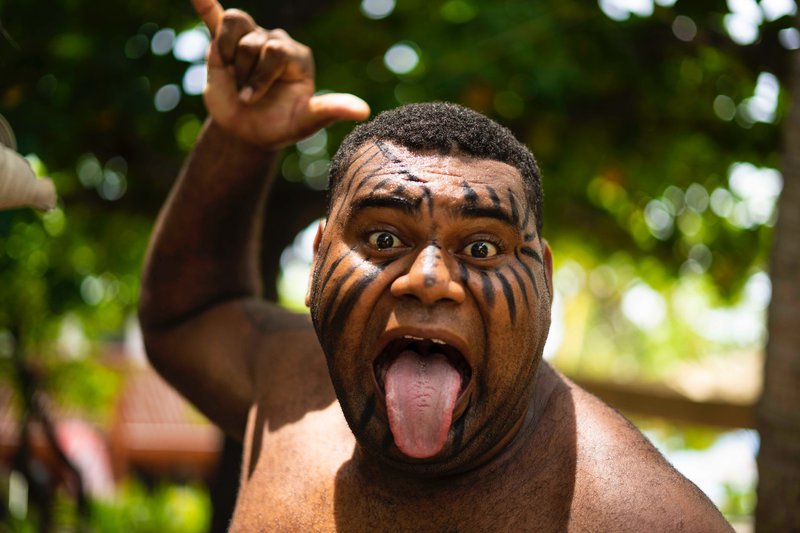 BEST TIME TO TRAVEL TO NEW ZEALAND
There is really no right or wrong time to visit New Zealand, although it can depend largely on what you want to do while you travel and how long you plan on staying. 
If you plan on spending a year or more working and travelling in New Zealand, then you will get the chance to experience all seasons. Depending on if you want to work through the Winter and explore through the Summer (or vice-versa), plan your arrival around the season you wish to experience first. The seasons are reversed from European/US seasons, with Summer beginning around December and lasting through to Feb, with it cooling down for Winter in April and lasting until around August.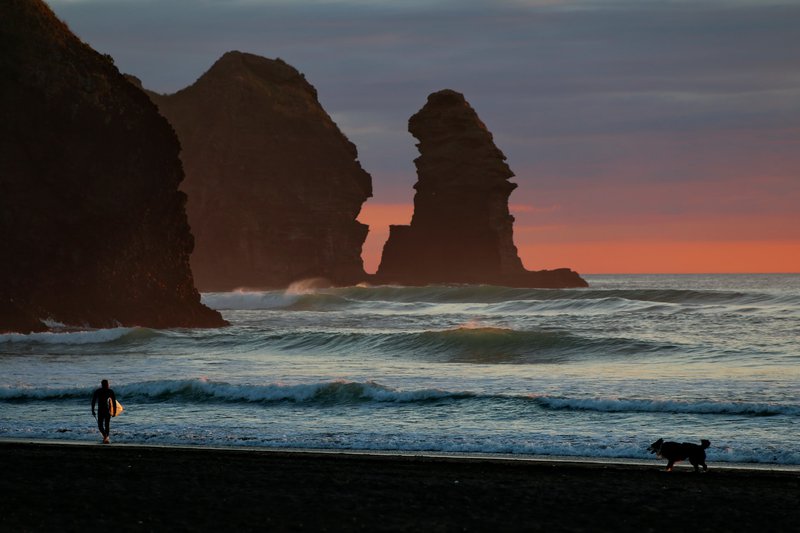 Generally speaking, Summer is the busiest and most popular time to backpack New Zealand. Summer brings warmer weather, meaning there are lakes to swim in and beaches to tan on. That being said, unless you seriously cannot handle cold, then Winter is equally as awesome a season to visit. World-class skiing, absolutely stunning mountain ranges covered in snow, and less crowded sights are all features of travelling to New Zealand in Winter! 
If you are planning to work in New Zealand, then being in your desired location before Summer is a good idea as jobs can get snatched up quickly. The same is to be said for Winter if you plan on skiing, as many travellers will settle and get work before the rush of backpackers descend upon popular spots like Queenstown. Want some support finding a job in New Zealand? Check out INTRO Travel's New Zealand working holiday packages here!
NZ is diverse in its landscapes, so the climate varies from place to place. Temperatures across the board cool down the further South you head, as wind chills from Antarctica pushes cold air up. Average temperatures on the North Island are around 16 degrees, with 10 degrees being the average on the South.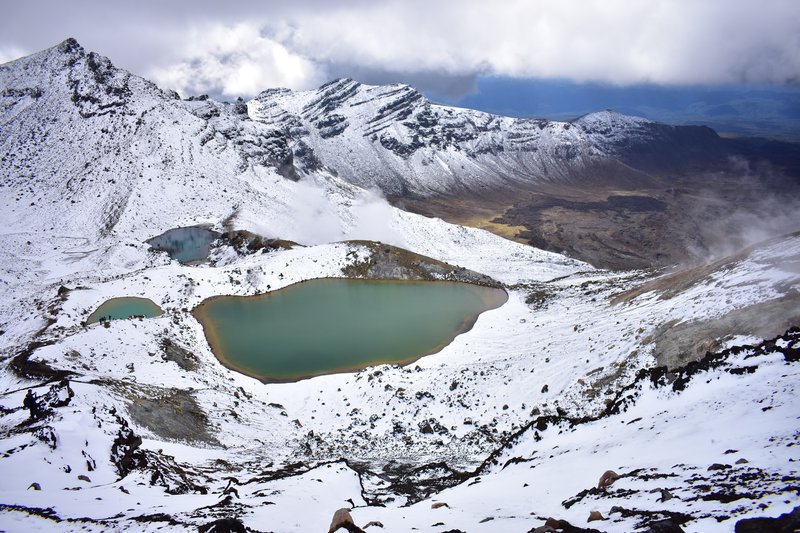 Spring is a just as beautiful time to travel New Zealand with lambing season bringing to life adorable lambs to be adored and flowers come into bloom, leaving a trail of colour everywhere you look (keep an eye out for the lupins around Tekapo and cherry blossoms dotted around Queenstown). Temperatures in New Zealand start to creep up and get warmer in Spring, so this is another prime time to travel before the Summer crowds arrive. 
Autumn brings dazzling gold, red and orange colours to the trees around New Zealand-  in particular Arrowtown, a quaint ex-gold mining town near Queenstown. Once the leaves start to turn, a rich colourful backdrop adds to an already picturesque town. Autumn does start getting chilly, but the crisp days are perfect for hiking and exploring!
GETTING TO NEW ZEALAND
New Zealand is tucked away in the corner of most maps, chilling out next to Australia. It can be a long flight for most to reach NZ, but nothing this good ever came easy, right? Chuck on Lord of the Rings on the plane to get yourself stoked, and you'll be landing in no time. 
Major airlines such as Air New Zealand, Qantas, Emirates, Singapore Airlines and British Airways all fly to New Zealand. If you're flying from Europe or the US, you'll likely need to stop over in the Middle East, Asia, or Australia on the way. Check out our travel blog for tips on surviving long haul flights here!
There are International Airports on both islands, with Auckland and Christchurch being two of the most popular. Queenstown, Rotorua, Wellington and Dunedin airports are also international, but mainly serve flights from Australia. 
Starting your trip in Christchurch or Auckland tends to be a good option for most New Zealand backpackers, as Auckland provides a perfect place to get settled and start your trips, and Christchurch is conveniently located a few hours drive of Queenstown, which is another good base to travel from or to look for work.
On arrival, snag yourself a New Zealand SIM card at the airport with good tourist rates and package plans depending on the duration of your travels and how much data/credit you need. 

GETTING AROUND NEW ZEALAND
BUS
The most popular and convenient way to travel around New Zealand is by bus. There are plenty of routes available that run through main cities and smaller towns along the way. Cheap fares are possible, especially if you go during off-peak hours or days. The earlier you book in advance, the cheaper your trip will be!
Intercity bus is the most popular and reliable company and even allows you to buy passes for journey per hour of travelling. This allows you to purchase your pass at the beginning of your trip and top-up as you need; think of it as a hop-on-hop-off experience providing flexibility.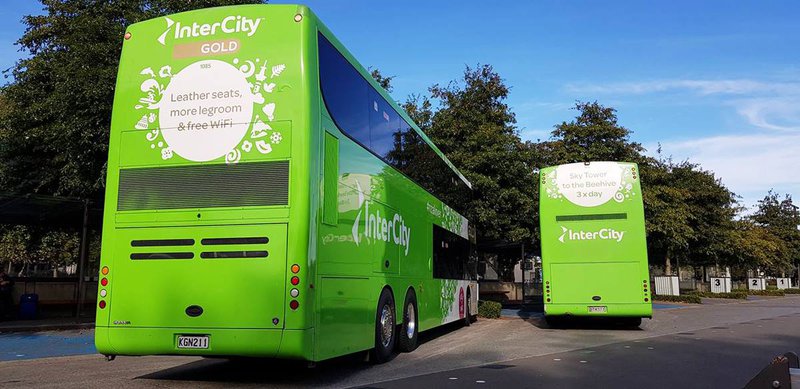 TAXI
In most of the cities, you will be able to find Uber and the NZ equivalent called Ola, which claims to have cheaper prices than Uber and local taxis. This type of travel still comes at quite a cost though, so only reserve private car trips for necessary journeys. 
FLIGHTS
If pressed for time or travelling between islands, you can fly domestically easily enough with some neat, tiny local airports dotted around the country. Flying to New Zealand isn't that cheap though, as there are only two companies that dominate the entire market: Air New Zealand and Jetstar. If you do decide to fly, do your best to snag yourself a window seat as low flying altitudes mean for some spectacular views of the snow-capped mountain ranges you will pass – it's almost an activity in itself as you'll get some of the best birds-eye views of this amazing country from the air. 
TRAIN
Fun fact, there are practically no train lines in NZ, but if you do fancy one such epic journey you can look into the Tranz-Alpine train which has been voted as one of the best train journeys in the world. It isn't catered towards backpackers, rather the luxury travel market. If this is your cup of tea, the journey boasts epic views as you go through the Southern Alps and pass through native beech forests on the way from Greymouth on the West Coast to Christchurch on the East.
DRIVING
You can hire a campervan or a car to backpack New Zealand. The country is quite compact, so a straight top to bottom trip, including a four-hour ferry ride, will take you a little over 24 hours to navigate. NZ roads are incredible, lots of mountain passes, bridges and valleys mean you'll never be bored! However, if two places look close on a map, it doesn't mean it's quick to get there. You might find mountains to drive around, bad weather, or windy roads that take time to navigate. 
There are plenty of rental companies offering all kinds of vehicles, though it's not the cheapest option per day. Your rate will change depending on where you pick the vehicle up, if you are dropping it off at a different place, how far in advance you book, and when you book. 
Kiwis are a lovely bunch and hitchhiking is a popular (and legal) way to see the country, but of course, this comes with risks.
TRAVELLING SAFELY IN NEW ZEALAND
Kiwis are very friendly and welcoming people, so travel in New Zealand is (generally speaking) pretty safe. In fact, according to a survey completed in 2017, NZ ranked second in the world on the Global Peace Index for safest countries to travel and tied first for the least corrupt country in the world; but be sure not to get too complacent. Unexpected things can happen and it won't take much to disrupt your trip, especially so far from home! Hence why travel insurance is always recommended. Thankfully, there is a relatively low crime rate and the healthcare system is incredible. 
As always, take the usual precautions you would at home, be aware of your personal belongings, make copies of important documents, and let your family know your rough itinerary. And remember, if you wouldn't do it back home, don't do it when you backpack New Zealand!
Thankfully, unlike Australia there are next to no dangerous animals in NZ, the worst you may encounter is the cheeky Kea, which may well just take off with your lunch. If you're doing any hiking, check the weather in advance, go with a buddy, and always bring water and sunscreen. 
An ethos of 'fair-play', integrity, and honesty are instilled in New Zealanders from a young age, and I believe you can really feel this when you are here. If in doubt trust your gut instinct - if a driver seems shady, tell them to stop the car and get out. If your hotel seems dodgy, you can always move! Everyone is happy to help; the police are approachable and used to helping tourists in need.
Be sure you cover yourself and take out the correct travel insurance that will be valid for any sports and activities you plan on taking part in, as well as having your valuables included in the plan. Peace of mind is priceless! 

HOW MUCH MONEY DO I NEED FOR NEW ZEALAND?
How much does it cost to travel New Zealand? Let's be real - it's a fairly expensive country to travel around. Though if you plan to move here and find work, the pay is good enough for you to be able to save up a bit quicker than home. The minimum wage is $20NZD/hour, not bad!
Unlike backpacking in Asia, it is a good idea to set yourself a budget when travelling in NZ as costs can add up quickly. Flights to New Zealand will be your biggest expense, so be sure to shop around ahead of time to get yourself a good deal. 
Backpackers who've travelled to Australia will notice that in general prices are pretty similar in NZ. How much money you need in New Zealand depends on your spending habits. Eating out at restaurants is more of a luxury rather than an everyday experience, so prepare to roll up those sleeves and fine-tune your favourite recipes - you are going to cook a decent amount! This is all part of the fun. The sharing culture seeps its way into all visitors, and you'll get to try out some of your fellow travellers' specialties from their home countries when you share food in the hostel kitchen.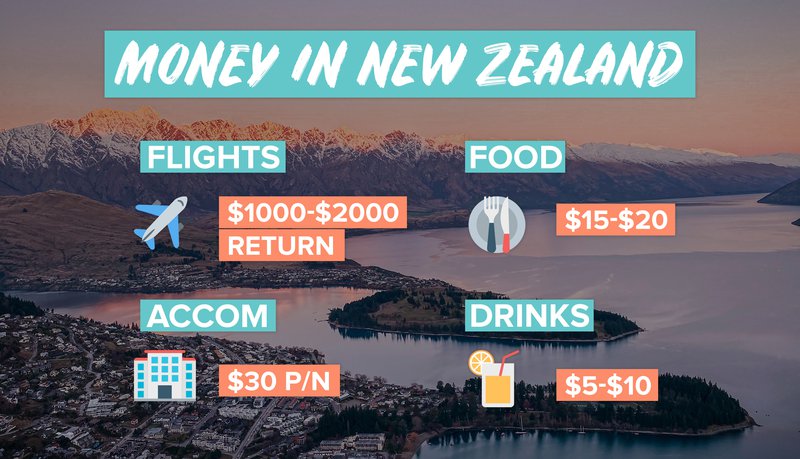 When you explore New Zealand, remember that nature is free! Home to many great walks of the world, NZ has tons of free outdoor activities. While the adventure sports, wine tours, and boat cruises will eat into your budget, there are plenty of free things to keep you busy. A good way to help budget is to figure out what activities you would like to do before arriving, then factor that into your daily spending and total costs. This way you can focus on the day-to-day expenditures of food and drink that are more manageable to plan for. You don't want to travel all the way to New Zealand only to miss out on amazing experiences like bungy jumping (around $250 NZD) or jet-boating ($100 NZD)!
Here is a rough guide to how much things cost in $NZD
Meal at mid-range restaurant: $20
Domestic Beer: $9 (around $5-6 for a good happy hour)
Take out coffee: $4.50
Milk: $2.50
Home brand bread: $1
Apples 1KG: $3.50
Cola: $3.30
Car Hire: $50-100 per day depending on the season and car, not including petrol (~$50 for a tank)
Rent per week: varies depending on where you are living and how close to the city centre you are. Anywhere $250-$400 is a reasonable expectation if you are renting in an apartment or shared house. 
Overall, our backpacking New Zealand suggested budgets are:
$85NZD/day on a very cheap budget
$200NZD/day on a mid-range budget
$350NZD/day on a luxury budget... if that's your style!
New Zealand Travel Guide: Money Saving Tips
New Zealand can be an expensive country to visit if you're not prepared! Here are some ways to save money when you head to NZ:
Get a phone plan - avoid excessive data roaming charges and get a local SIM plan to stay connected.
Fill up your water bottle - New Zealand tap water is some of the cleanest and freshest in the world, so save the planet and your wallet by heading for the tap, not the fridge.
Work for accommodation - some hostels will let you work for a few hours a day at reception or as a cleaner to pay for your bed. Commitments vary, i.e. you might have to stay for at least a week or two, but there's no harm in checking with staff when you arrive!
Cook often - sorry, but eating out is expensive and you're going to have to expand your pasta repertoire a little. It's a good skill to improve regardless!
Drink beer or wine - if you're going to go out partying, a local lager and delicious drop of wine will set you back much less than a cocktail. And boy, do those long island iced teas add up. Plus, New Zealand has some of the best wine in the world, so it'd be rude not to.
If you want to make the most of Aotearoa without stressing about expenses, why not consider booking a New Zealand group tour? INTRO's brand new North and South Island New Zealand trips have expertly-crafted itineraries, full end-to-end support, provide a new group of friends to travel with, and INCLUDE all of the activities on the itinerary, no extra payments required. You pay one price that includes all the good stuff, then can relax on the trip knowing you only need to pay for some food, drinks, and souvenirs! Find out more about travelling New Zealand with a group here.
NEW ZEALAND ACCOMMODATION GUIDE
Hostels
Hostels are your best friend when you backpack New Zealand. You will find plenty of options to suit your budget and they are common even in some of the smaller towns. As an added bonus, you will get to meet likeminded people from all over the world to share stories with. Free Wi-Fi is common, though very few hostels in New Zealand include free breakfast, sadly. Most hostels have self-catering facilities but not all, so be sure to check before you book. 
If you plan on staying in hostels, a dorm room will cost you around $20NZD+ with a private room costing closer to $80NZD.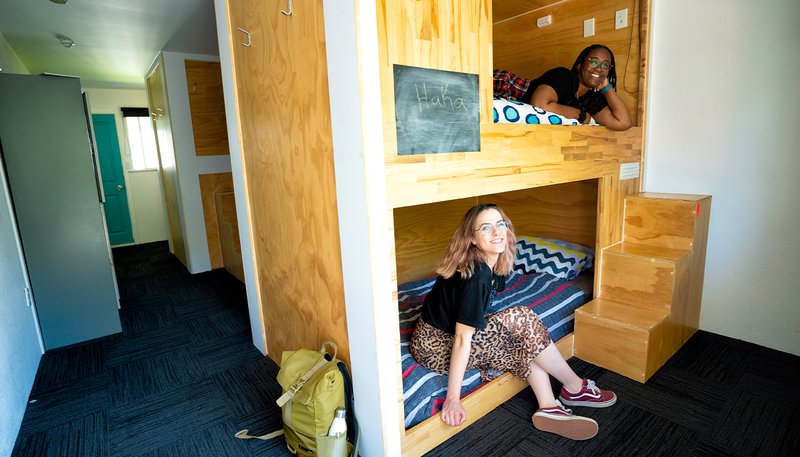 Hotels
Hotels are a lot more expensive, catered towards holidaymakers and the older crowd with a bigger wallet. Expect to be paying anywhere from $80-$250NZD per night.
Campervan
For the more avid traveller, you can look into renting or buying a campervan. This is the ultimate freedom to explore New Zealand at your own pace and get off the beaten path, and there are so many routes to be discovered! You will need a self-contained campervan (meaning you have access to drinking water and a toilet in the van) to freedom camp, but this will allow you to utilise free camp spots around NZ, or pay a small fee at other council-run campsites. Over time this will save you plenty on accommodation costs as you bring your bed with you everywhere you go.
Airbnbs
There are some amazing Airbnbs dotted around the country also if you are looking to stay somewhere a little more unique. Prices vary greatly but if you round up the hostel crew for a fancy weekend away it would split the costs effectively. Perhaps not a long-term solution to your accommodation needs, but they can be more affordable than hotels if you need a dash of luxury for cheaper. If hostels aren't your vibe, Airbnbs are a great middle ground. 
CULTURE IN NEW ZEALAND
In New Zealand you will find familiar Western society vibes given that many Europeans settled here, but the indigenous Maori people were here hundreds of years before. The cities are fairly multicultural, which is good news if you like cuisines from other countries! We're looking at you, Thai food.
Rotorua is the cultural heart of NZ. It's the best place to visit a traditional Maori village, watch a live haka performance, have a traditional hangi feast, and learn about the captivating Maori culture from living warriors.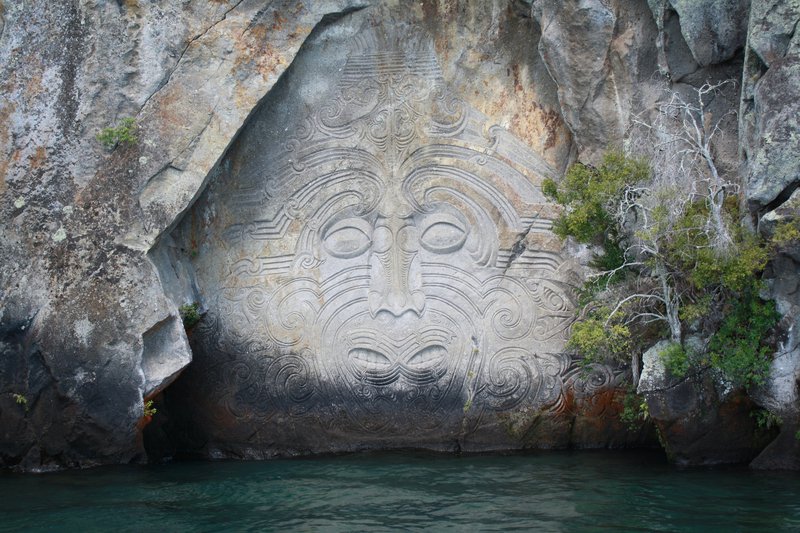 You'll find Maori signage as you cruise across the landscape, and don't be surprised to hear a friendly Kia Ora used daily as a greeting. There are also some modern Kiwi words worth learning before you arrive. Here are some you'll likely encounter on your trip!
Chur – "aah chur mate'
Generally used as a term for showing great gratitude. I could speculate that it's derived from a very chilled out way of saying 'cheers,' but to be honest I'm completely guessing.
Sweet as (az)
It doesn't get more Kiwi than this. A beautifully versatile word that can be used in a variety of ways. 
"I'll pick up some fish 'n chups tonight" "Aah sweet az bro!"
You may interpret it as 'thanks', 'that's amazing", 'no worries', or 'congratulations'.
Mean – "Check out my new car". 'That's mean!"
This word takes on a whole new meaning than what you'd expect, and it is actually very positive. Got a pay rise at work? That's mean. Scored tickets to see the All Blacks? That's mean, too. Living and working in New Zealand for a gap year? Mean, bro!
Smoko – "It's 10am boys, that's smoko."
Smoko is a mid-morning break usually associated with going for a ciggie (cigarette), but is enjoyed by all where everyone takes a break, often with a snack and a coffee. General banter usually ensues.
Tu meke – "I managed to grab you the last Ferg pie from the bakery this morning". "Ah tu meke bro"
Meaning 'too much'. Used to give thanks to someone who has gone above and beyond to do something nice for you. Huge praise with Maori origins.
The national day of New Zealand, Waitangi Day, falls on 6th February every year, commemorating the anniversary of the signing of the Treaty of Waitangi which is the founding document of modern New Zealand signed by Maori chiefs and the British. Other major public holidays are New Year's Day, Good Friday, Easter Monday, ANZAC Day, The Queen's Birthday, Labour Day, Christmas and Boxing Day. 

FOOD IN NEW ZEALAND
Although the local cuisine is similar to Australian and British, there are some very unique Kiwi feeds that you must try when you go backpacking in New Zealand.

Hangi
It's worth a trip halfway around the world to get your chops around a traditional Maori feast. Comparable to an English Roast Dinner, a hangi is way better (sorry Brits!) This family favourite is cooked in a homemade underground oven, giving it delightful earth flavours, and left to slow cook for a few hours with different layers of food stacked on top of one another. A kiwi favourite veggie, kumara (sweet potato) is featured as well as standard potatoes, carrot, and pumpkin. New Zealand is famous for its lamb and it is likely at the centrepiece of this meal, but nowadays you can easily find veggie versions of the Hangi. I'd recommend having a small lunch the day of, as you are going to eat a lot!
Pies
Pies are well-loved by all ages in NZ - often a great smoko snack, on-the-go eat, or incorporated into a full meal - but it's not unusual for them to be eaten at breakfast either! A generous dollop of tangy ketchup isn't usually too far away either. There are SO many delicious pies to taste and many local shops, restaurants, petrol stations, dairies, supermarkets and bakeries sell them.
By the way, these are generally meat pies rather than the sweet apple pie you might be familiar with. Some of the most popular fillings are beef and cheese, mince and cheese, steak and cheese, bacon and cheese. You get it, there's often cheese! There is also the potato top pie (as the name suggests, topped with mashed potato), Thai chicken curry flavour, veggie, and vegan pies. Kiwis will proudly tell you they are the best pies in the world (and definitely better than Aussie pies...)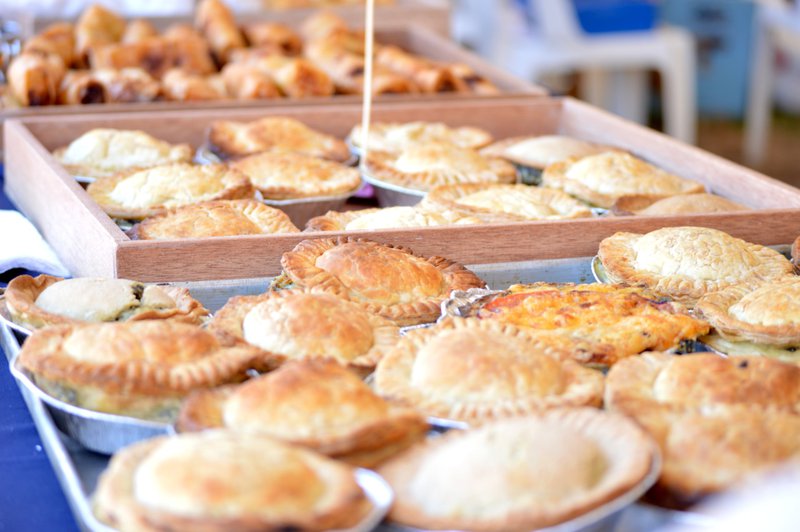 Pavlova
Get a Kiwi and an Aussie in the same room, ask who invented the pavlova, and prepare for an argument! A much-loved dessert in both countries, pavlova is an airy cake made with meringue and whipped cream, topped with fruit and often served at Christmas. Named after the famous Russian ballerina Anna Pavlova, who toured Australia and New Zealand in 1926, both countries love to squabble over who actually invented the 'pav'. Whatever the origins - this crisp dessert is a must-try. 
Fish n Chips
Seafood caught fresh is a common staple in kiwi diets. Whitebait fritters, paua, oysters, and mussels are delicacies unique to New Zealand. Being surrounded by the ocean, you are never too far from fresh seafood! Pronounced Fush 'n Chups, this classic is found all over New Zealand. When travelling you'll find locals with strong opinions over who has the best shop in town. If in the South Island, definitely check out Chur Fish and Chips in Queenstown. You'll thank me later.
TRAVELLING NEW ZEALAND SOLO 
New Zealand is quite possibly the benchmark for other countries to live up to in terms of travelling solo. It is very safe to backpack New Zealand alone, even as a solo female traveler. 
Many people travel here alone, but don't spend long that way! As New Zealand can be fairly expensive to travel to, it is popular to stay in notoriously social hostels. Many have designated social areas to hang out in and meet fellow backpackers, and have post-it boards advertising jobs and ride shares, group meet ups, or trips and evenings out. Backpacking NZ is very popular among young people, so arriving solo throws many people into the same pot. There are some well-worn routes and highlight destinations along the way as you travel around New Zealand, so don't be surprised to keep bumping into the same people along the way!
Traveller-orientated bars and clubs, as well as restaurants and hostel pre-party nights, are a wonderful way to meet new people. It is perfectly normal to just wander up to a group, introduce yourself and end up making a bunch of new mates to backpack with.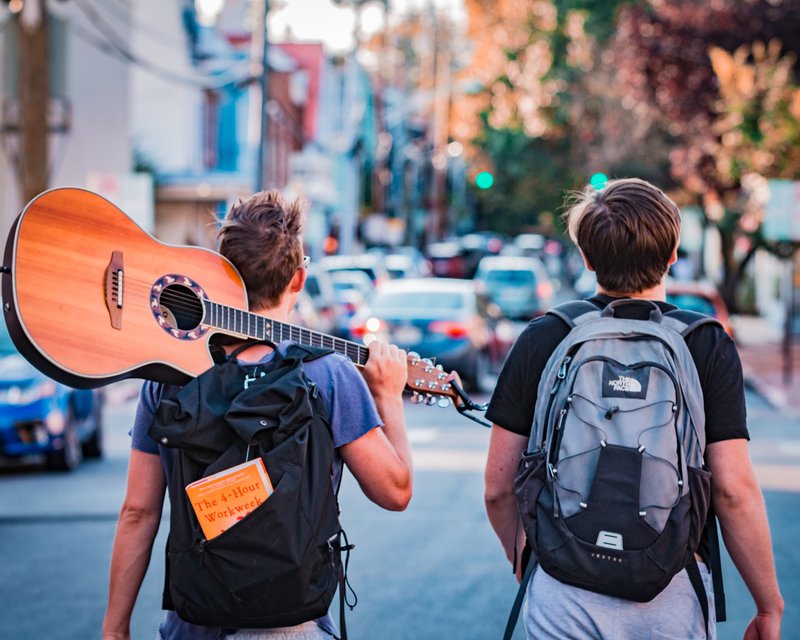 Many people decide to stay in New Zealand for an extended period of time, so meeting people at the beginning of your visa ensures you have a good bunch of mates right at the beginning. Nothing is more heartbreaking than meeting your travel BFF and finding out their visa ends in 2 weeks and that they have to go home. Hit up our blog for more solo travel tips!
A little nervous about exploring a new country? Totally normal! Organising a group tour of New Zealand before you arrive is one of the best ways to get to know new people, as you will all embark on your adventures at the same time and take part in life-changing activities together. Nothing bonds a group together more than sharing the wonders of a new place far from home, then kicking back at the end of the day to reflect on your experiences over a beer and delicious meal. If you're curious about travelling in a group, check out INTRO Travel's New Zealand small group tours and working holiday packages here!
NEW ZEALAND TRAVEL ADVICE: WHAT TO PACK
It's important to prepare for your trip in advance, as things are pretty expensive to buy in New Zealand due to import costs. Here are some things we wouldn't head over without!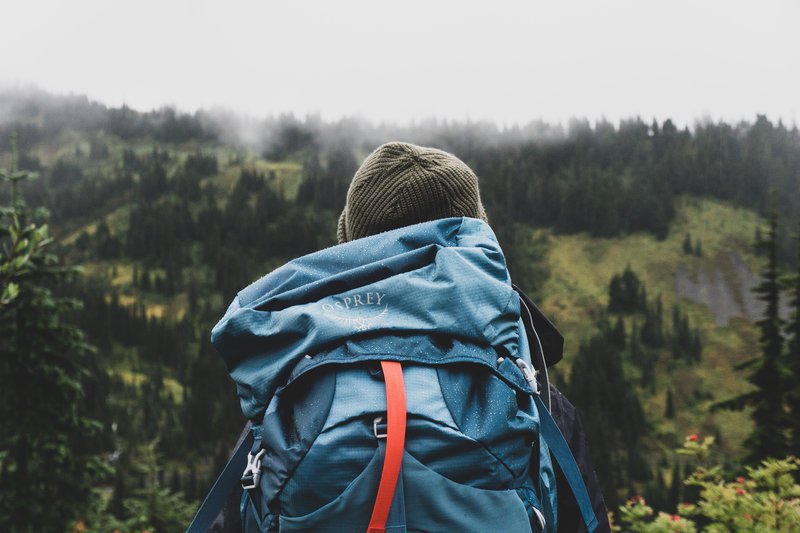 Passport – Handy to get you out there, and to go home (if you ever do). 
Debit Card – Got to pay those bills, unfortunately! Bring your card from home or a travel card from your bank so you have access to money when you first arrive, but if you plan on staying a while you can set up a local bank account to save on withdrawal fees.
Backpack – It's best to have a backpack for New Zealand, but if a suitcase is more your style that's fine too.
Travel Adaptor – Get your electronics charged up by bringing a New Zealand travel adaptor.
Phone/Camera – A camera to immortalise your memories, and a phone to let everyone at home know you want to live in New Zealand forever.
Clothes – Depending on the season on your you may want to bring summer or warmer clothes, but it's best to pack a bit  of both just in case. You really can experience all four seasons in one day, so remember layers! Some fleece, a warm jacket, cosy socks, plus a waterproof rain jacket will keep you comfortable. Include at least one 'going out' outfit for any nights out when you want to look a lil' fancy.
Hiking Boots – There are so many hikes to check out, so a good pair of boots will keep you safe and comfy. Just make sure they are clean upon entering the country aka not covered in mud, as NZ border patrol is strict on pests getting into the country as they disturb the delicate ecosystem. 
Beanie, Scarf, Gloves - If going in Winter!
Sunscreen & Sunglasses (aka sunnies) - Absolutely essential. You will feel the burn if not wearing SPF protection, even in Winter, so save your skin. 
Toiletries - Deodorant, toothbrush and paste, hair and skin products, feminine products, makeup, etc. 
Swimsuit - Even in Winter because there are plenty of hot thermal pools to jump into! 
Compact Microfibre Towel - Avoid wasting backpack space with a small towel.

Laundry Bag - A mesh bag is perfect to keep your dirty clothes separated.

Reusable water bottle/straw – Save the planet! Try to bring your own reusable cutlery too if you plan on camping. The less plastic we consume the better. Read more about eco-conscious responsible travel tips on our travel blog here!

HOW LONG SHOULD YOU STAY IN NEW ZEALAND?
Wondering how long to backpack New Zealand? If like most, you're probably travelling to New Zealand from far away. While you can fit a lot into a few days, if you're going all that way, you're probably going to want to stay for at least two weeks.
If travelling for a gap year you will stay for longer and explore every nook and cranny of the country, but there's so much to see and do in New Zealand that even a year may feel short!
If you want to get started with seeing the highlights, travelling with a group on INTRO's brand new trips North, South or combined Island trips are the perfect way to begin your backpacking journey or working holiday in New Zealand. Find out more about working and travelling in New Zealand here!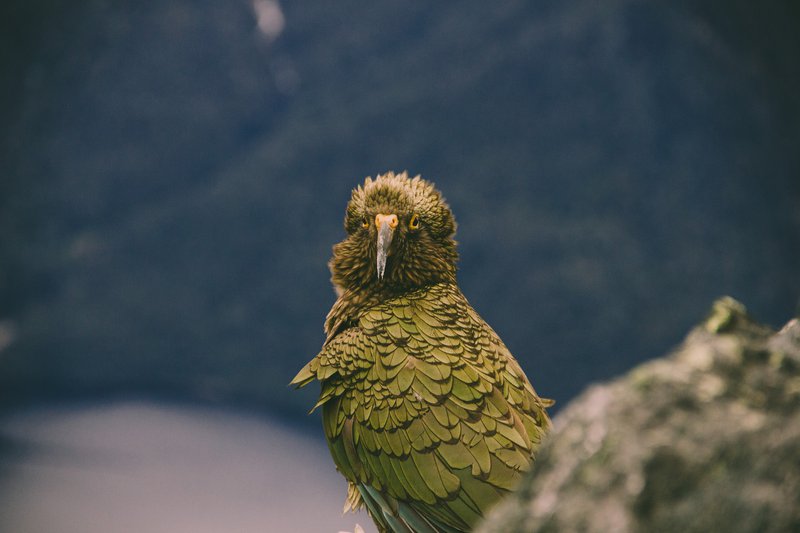 NEW ZEALAND WORKING HOLIDAY VISA GUIDE
Who hasn't fantasised about quitting their 9 - 5 to head off on an adventure? Well, we have good news! 
A working holiday in New Zealand is possible for residents of many countries around the world, meaning you can spend an extending period living and backpacking around this beautiful country. Leaving home to work and travel is the ultimate way to challenge yourself, discover your independence, and explore another side of the world, all while earning a living as you go. 
What is a New Zealand Working Holiday Visa?
A Working Holiday Visa allows you to stay and work in New Zealand for a year, or two if you're from the UK or Canada and work in horticulture for 3 months. They are available to young people, usually aged 18-30, but 18-35 from a few select countries. It only applies once in your lifetime. 
You need to:
Have enough money to pay for a return ticket and sufficient funds for your stay (~$NZD 4200)
Be coming mainly to holiday, with work being a secondary intention
Have a valid passport
Be coming alone
Be in good health
From the time the visa lands in your inbox you will have a year to activate it. If you apply when you're nearly 30, this means you can still enter the country within 12 months.
The Working Holiday Visa is also a multiple-entry visa. This means your visa is activated when you first arrive, but you're free to leave New Zealand and return as many times as you like, which is good news for travellers! Any time you spend outside of New Zealand will not be added to the total time your Working Holiday visa is valid for.
For full info on the Working Holiday scheme specific to your nationality, click here to be directed to the official government website. 
How much does a New Zealand Working Holiday Visa cost?
At the time of writing, a New Zealand Working Holiday visa costs $NZD280, though fees are subject to change. This is non refundable if your application is declined. The fee covers your 12-month visa, including multiple entries in and out of the country. You will need a valid Visa or Mastercard to submit your application, as this is the only way to pay the fee required. Give yourself enough wiggle room in your bank account so you have cash to explore and set up your life in New Zealand so you don't need to stress about money when you first arrive.
How long does it take to get a New Zealand Working Holiday Visa?
It usually takes up to 20 working days from the time you successfully submit your application online. You'll receive an email either approving your visa or asking for more info. It's best to apply for the visa no later than 3 weeks before you intend to depart for New Zealand. When working in New Zealand you'll need to pay tax, so make sure to set up a NZ bank account and an IRD number as soon as you arrive! Read on to find out about how INTRO can help with this.

What kinds of jobs can you get on a Working Holiday in New Zealand?
You don't need to already have an organised job to apply for a New Zealand travel work visa, and it's easy enough to find a job after you arrive in New Zealand. There are plenty of jobs up for grabs, especially in big tourism hubs such as Queenstown and Auckland. Popular jobs include:
Cafe work
Bartending
Labouring 
Retail 
Ski instructors 
Farm work, i.e. fruit picking
How much you get paid will obviously depend on the job, but the minimum wage in NZ is currently $20NZD an hour. Do your due diligence to make sure you're being offered a fair rate by a potential employer before accepting work. 
Print out copies of your CV when you arrive to hand out to local businesses, restaurants and hotels. Job search sites like Indeed and Seek advertise backpacker jobs, and hostels often have job noticeboards for people on working holiday visas. Also be sure to join backpacker Facebook groups that can help you find job leads and provide general New Zealand tips.
How can INTRO Travel help? 
INTRO's New Zealand work and travel packages include everything you need to get set up a working holiday! As work and travel experts for over 15 years, our passion for life-changing experiences, coupled with comprehensive knowledge about working abroad, sets us apart from the rest. 
For travellers looking to kickstart their trip in New Zealand, our 9-Day North and South NZ Adventure trips, or the full combined 17-Day group tour (if you want to do it ALL) are designed for you!
If you're looking to travel the best of New Zealand AND get started on your working holiday, our NZ Intro collection of group tours are the full package - including everything you need to live, work and travel in New Zealand. Choose a start date from January 2022 or go with our totally flexible open-dated option.
Visas
When you book a trip with us, we'll help you decide which visa is best and apply for it on your behalf, so you don't need to worry about a thing! We'll also sort all the important stuff you'll need if you plan on starting work in New Zealand.
Before you start work
We'll have your bank account open with your card and pin ready when you arrive, along with your SIM and government reference number. 

NZ Jobs program
You'll get lifetime membership to our job program that includes exclusive access to an app where we post loads of great job opportunities every day from our network of employers. Perfect if you don't want to stress about finding backpacker jobs when you should be having the time of your life!
Unlimited help & advice
Your group leader will give you a comprehensive 'Work in New Zealand' presentation, as well as one on one advice and support on CV building, job finding, interview skills and anything else you'll need to secure a wicked job.
Training courses
Certain jobs such as bar work and construction require you to complete specific training. We'll explain what's needed and can book you onto all the necessary training courses after your tour. 
Ready to wave goodbye to ordinary and jet off on a New Zealand Working Holiday? Click below to check out our New Zealand trips!

BACKPACKING NEW ZEALAND: SUGGESTED ROUTE / ITINERARY
You can start your adventure backpacking New Zealand on either island, as both are popular. If you are short on time, make sure to do some research and decide which you would rather do. 
Prefer beaches, volcanoes, and Hobbiton? Go North. 
Keen for epic mountain scenery, road trips, and chances to ski/snowboard? South is your best bet. 
If you plan on exploring both islands, then it doesn't matter where you begin! Just check what season you will be arriving in and base your timings on whether you prefer Summer or Winter activities. If this sounds like your kinda trip, check out INTRO's brand new 17-day trip showcasing the best of both islands here! Choose a start date from January 2022 or go with our totally flexible open-dated option.
Here are some New Zealand itinerary suggestions for backpacking that will maximise your time.

North Island 
AUCKLAND - WAITOMO - HOBBITON - ROTORUA - TAUPO - AUCKLAND
Most people will start their trips in Auckland and head south from there. Auckland offers a taste of city life before heading away from the hustle and bustle to explore a bit more Mother Nature. On your way to Rotorua head to Waitomo, home to the world-famous Waitomo Caves where you can discover an underground world alight with thousands of tiny glowworms. Next up, arrive in Rotorua for a small town, homey vibe that is a good base for exploring the volcanic landscapes and heading to Hobbiton. A little further south of Rotorua is Taupo, set on a stunning lake that features a hidden Maori rock carving only discoverable by water. From here you can either head south to Wellington to continue your journey in the capital, or head back up to Auckland to complete your North Island trip.
Like the sound of this New Zealand travel route? From the city to the mountains, experience the best of the North Island on NZ Adventure North, INTRO's epic group tour that'll show you the highlights along with some off-the-beaten-path adventures.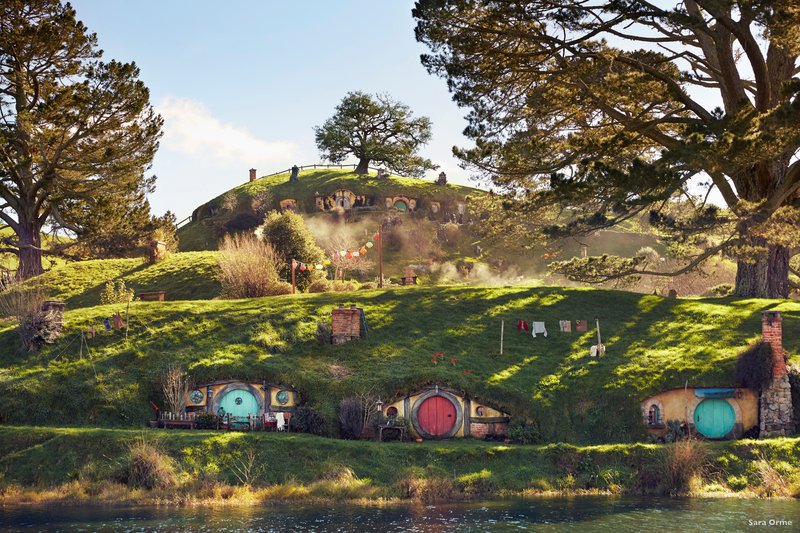 South Island
QUEENSTOWN - MILFORD SOUND - WANAKA - TEKAPO - QUEENSTOWN
Queenstown is hands down the best place to start your trip in the South! It really feels like the lifeblood New Zealand's backpacking scene, and is a great meeting point for travellers and group tours. It is not far from Christchurch if you decide to check out the south's biggest city, and provides access to Milford Sound, one of the great wonders of Aotearoa. After spending time in Queenstown, head up to Wanaka, passing by some awe-inspiring mountains and lakes on the way. Keep heading north to Lake Tekapo and Mount Cook, spending time in the alps to relax, hit the reset button, and be at one with nature. From here you can head back to Queenstown to complete your South Island backpacking trip, or continue your adventures in New Zealand. 
If this New Zealand backpacking itinerary tickles your fancy, check out INTRO's NZ Adventure South! From Queenstown to Mount Cook and beyond, this 9 day small group tour covers the best of the South Island.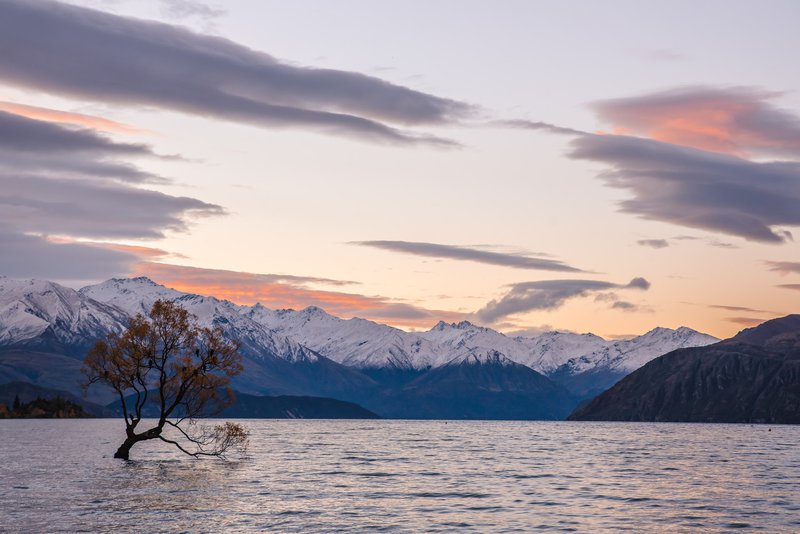 New Zealand Travel Guide: Related Articles
Need more info? Check out all the blogs we've written on New Zealand travel and continue planning your adventures in the Land of the Long White Cloud!

Why New Zealand Needs To Be On Your Travel Bucket List
Must Do Experiences On New Zealand's South Island
Top Things To See & Do On New Zealand's North Island
---
Feeling the wanderlust? With so much to do and natural beauty at every turn, Aotearoa should absolutely top of your travel bucket list. 
To check out how you can start your dream trip in either the North or South, INTRO offers group tours exploring the best of both islands, and can even help set you up with everything you need for a working holiday in New Zealand. From bank accounts and help finding a job, to an incredible group leader and amazing bunch of mates to share your experiences with, INTRO's New Zealand work and travel packages cover all your bases. 
Choose a start date from January 2022 or go with our totally flexible open-dated option. In the words of Bilbo Baggins... get ready to go on an adventure! 

RETURN TO BLOG
NEXT ARTICLE