Best Beaches In Byron Bay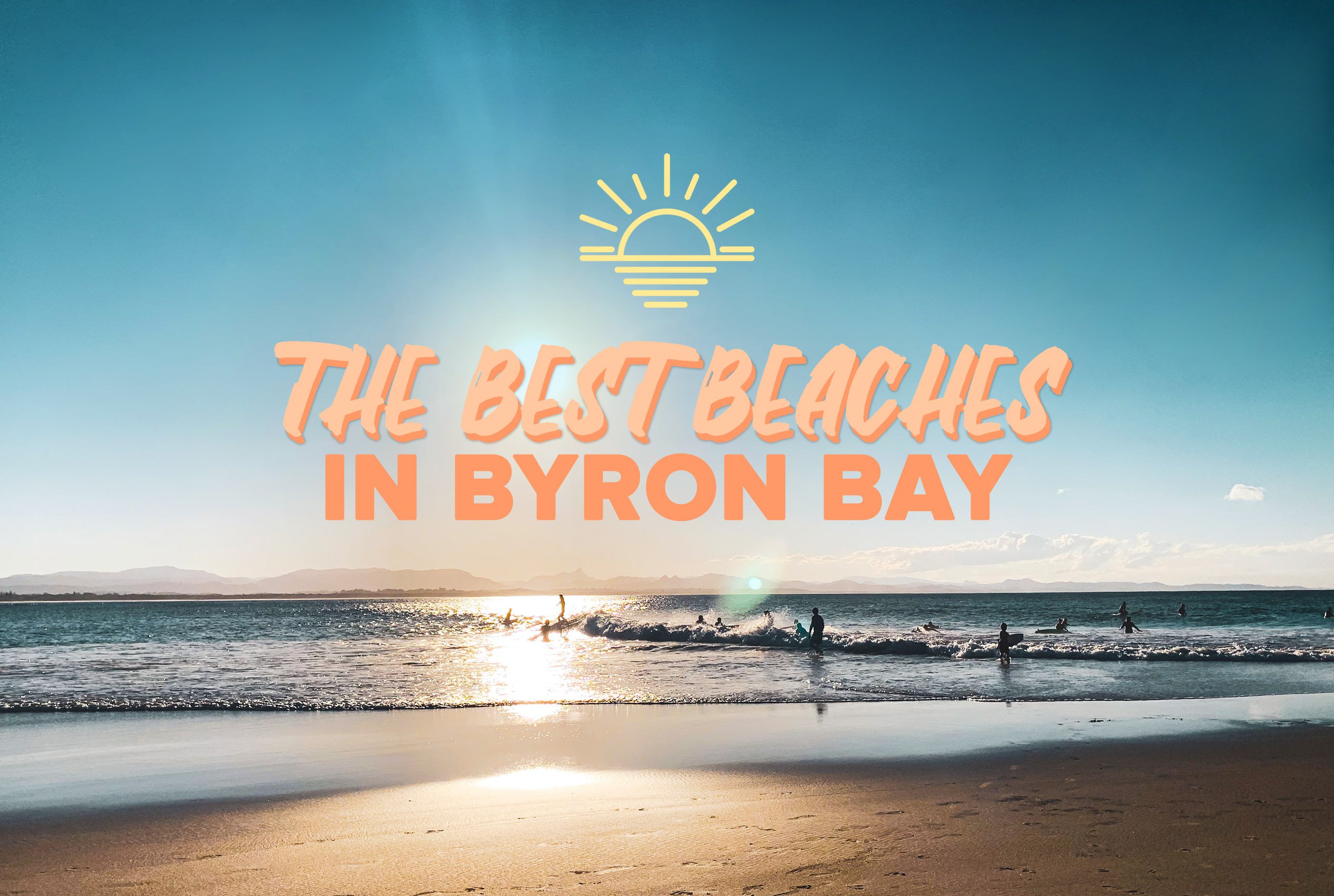 Published 24th June, 2020
Byron Bay is a vibrant, trendy town located on the northeast coast of New South Wales, renowned for being the most easterly point in Australia. It's home to breathtaking beaches, pristine water and pods of dolphins, but is also close to Australia's rainforest regions abundant with flora and fauna, magnificent waterfalls and quaint country towns. 
Byron's beaches are famous in the surfing community for good reason! Byron Bay Surf Festival is held annually, encouraging thousands of visitors not only from Australia but from over the world to visit this special town. But you don't have to be a surfer to appreciate the amazing beaches on offer in Byron Bay! So, which ones should you visit? Never fear, we've compiled a handy list of our top 10 to explore. In no particular order, let us introduce you to... 
1.     The main beach in Byron… MAIN BEACH (yup, inventive). As you can imagine, Main Beach is the closest to the town centre and therefore the busiest. Spend your day swimming, sunbathing, bat and balling and best of all, people watching. The personalities of Byron shine through this beach as many different cultures and communities come together to enjoy the best this paradise. Main Beach is great for less confident swimmers as it is patrolled every day by the Australian Lifeguard Service and is a step away from restaurants, bars and boujee cafes if you want a change of scenery after the sun goes down. 
2.     The Pass is Byron's most famous stretch of sand between Clarkes Beach and Wategos. The Pass is a 30-minute walk from the town and is 800m long. With views of Julian Rocks, Main Beach, Belongil and the hinterland beyond, it's one of the most picturesque spots in Byron Bay. If you wish to venture further in gaining those perfect shots, you can hike to Fisherman's Lookout which provides even better views of The Pass and it's eager surfers. It is a famous surf break renowned for long waves, which can be ridden all the way to Clarkes when the conditions are right. The Pass is well known for its right-hand point breaks when the swell is good. It is a great spot for all levels of surfers, even beginners, so is the perfect place to practice riding those waves! 
3.     Stretching across the most eastern end of Byron Bay, Belongil Beach is a picturesque paradise, featuring long stretches of glistening white sand, bordered by ocean and bushland. Belongil is approximately a 10-minute walk and a quiet retreat from the hustle & bustle of the town centre, yet still close enough to be connected to all the action. It is a great location to chill out in blissful solitude, something that you don't always get in busy Byron. Enjoy a lazy stroll, walk or jog and take in spectacular sunrise and sunsets along the unspoiled piece of coastline with a panoramic view of Byron's famous Lighthouse, an iconic Aussie landmark. Belongil frequently appeals to the young and old, friends, locals, surfers and families… with DOGS. It is one of the few dog-friendly beaches in the area which is perfect for those who love their canines!
4.     Sitting south of the world-famous Cape Byron Lighthouse, Clarkes Beach is incredibly inviting. A beachside stroll will see you arrive in the town centre within a few minutes. Clarkes Beach is tucked in the corner of the bay between the busy Main Beach and the famous surf spot The Pass, meaning it is not as busy as its surroundings, but if you wanted a different experience, you can take a short walk to either beach. The north-facing beach is perfect for swimming and sunbathing as well as many other activities. At low tide the beach is great for those marine lovers as you can snorkel, dive and even embark on a dolphin kayaking tour. To add to this, just offshore is Julian Rocks Marine Reserve which is a known haven for vibrant coral and tropical fish. For those adrenaline junkies, surfing, paragliding and windsurfing can also be experienced in the crystal clear waters of Clarkes Beach.
5.     On the Northern side of Cape Byron, sitting just below Byron Bay's iconic lighthouse is Wategos Beach. Sheltered, north-facing and postcard-perfect, Wategos Beach can be explored by heading east from Main Beach and the Pass. This beautiful beach is perfect for families, kids and surfers as it's a secluded swimming haven that is lifeguard patrolled in the summer with lazy, rolling waves. Longboarders and beginners will find Wategos Beach a surfing sanctuary, with gradual waves breaking progressively over the wide sandbar, creating perfect conditions. You can also utilize the free beachside electric BBQs to get that authentic Aussie BBQ experience overlooking the paradise of Wategos Beach.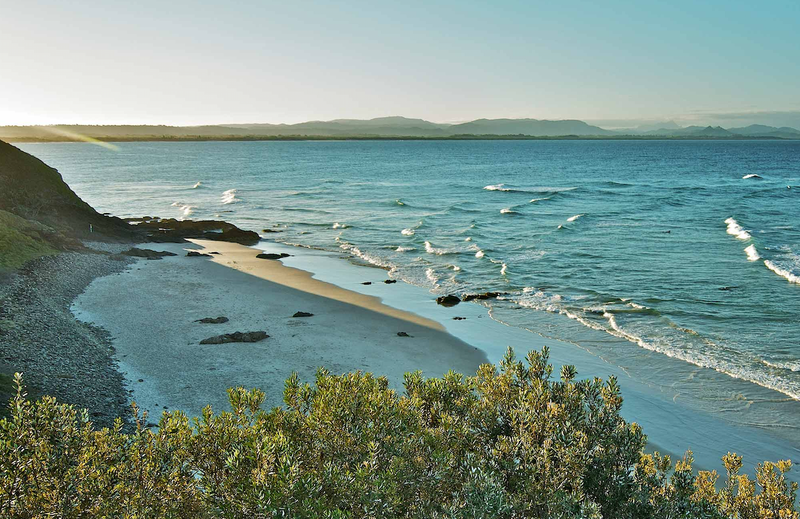 6.     Then there is Little Wategos… which as you can imagine is the baby beach. This little stretch of coast may be harder to reach, but it is worth it for the feeling of having your own private haven as it is not as popular as the other beaches of Byron. It is 150m of seclusion protected by the Cape and surrounding rock faces, meaning wildlife thrives in this area. It is well protected and great for swimming and sunbathing. What more could you want when you have the chance to swim alongside wild dolphins?
7.     For those more interested in fascinating history, The Wreck will be for you. This spot is well known in surfing and diving circles due to the remains of the SS Wollongbar which was a once passenger steamship travelling between Sydney and Byron. It sank in 1921 after a cyclone hit the east of Australia. The iconic shipwreck can be seen when the tide is low hence why it is a popular spot for historians and shipwrights. The wreck is a home to many temperate and tropical fish acting as an unusual and unique coral reef, great for snorkelling and diving. This spot is also great for advanced surfing.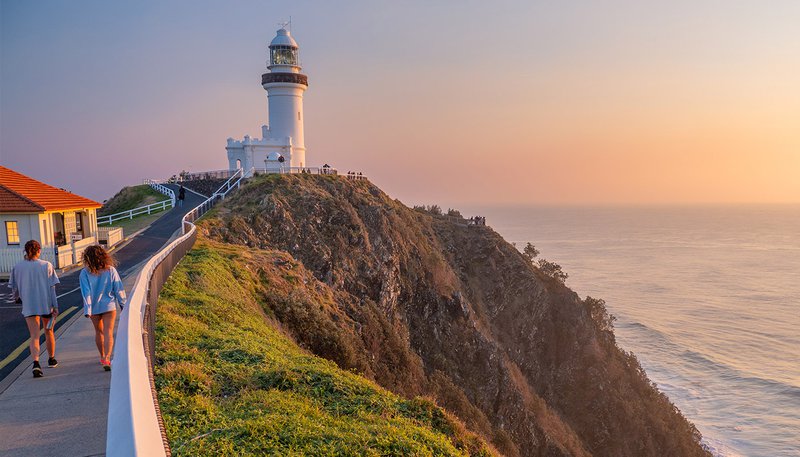 8.     This beach is a must-do. The Tallows is situated between the Cape Byron Conservation Area and Broken Head Nature Reserve. Perfect for those fascinated with the weird and wonderful wildlife Australia has to offer! With picturesque views of the lighthouse, the coast and cliffs, photographers will be in awe of this spot. The Tallows is a little further out of Byron in comparison to the other beaches but is very much worth it once reached. It is almost completely deserted in the day where the wildlife flourishes. Towards the evening, the beach has an entirely different face. The Tallows becomes alive. Bonfires, BBQs and beach parties which lead into spectacular sunrise surfs. Nestled and cosy. Another beach is situated in the corner of The Tallows. Cosy Corner is popular for travellers wanting to escape from the busy backstreets of Byron and for those wishing for a calm stretch along with a backdrop of nature. These two beautiful beaches provide the perfect hiding spots slightly out of town.
9.     Those that wish to experience FREEdom, Tyagara Beach is the one for you. This is definitely the most remote out of all the beaches… and for good reason. Parts of Tyagara is designated 'clothing optional' so you can experience or express yourself in ways you may not usually. Located behind the beach is the Tayagra Nature Reserve which protects the beautiful coastline between Byron Bay and Brunswick Heads.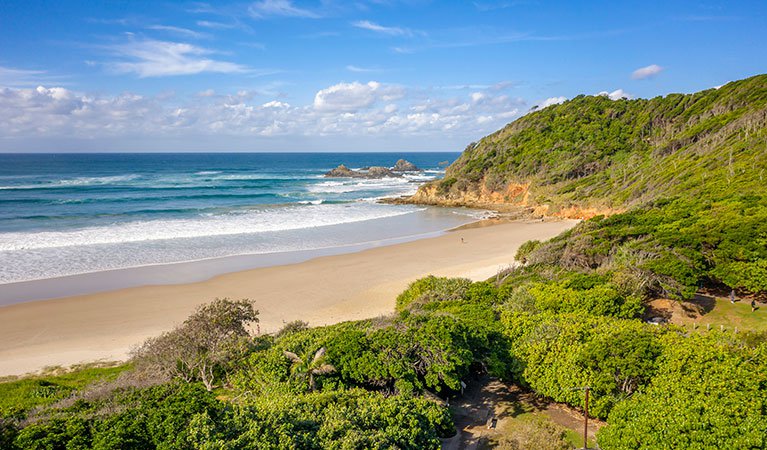 10.     Last but not least, Broken Head. Broken Head is where a cluster of beaches can be found. The impressive Seven Mile Beach is just one of the beaches in this area but is more popular for unique reasons. As you can imagine, Seven Mile Beach has a very long stretch of coastline. It is the ideal place for a solo surf mission, a horseback trek or a spot of sea fishing, the more unique activities in comparison to the other beaches. If you were looking for an extra unique activity, you may wish to catch a rare sighting of a local Aussie attraction… Chris Hemsworth!
So there we have it… ten of the best beaches in Byron Bay. For those of you've who've dreamed of escaping the real world to become a beach bum, or who just want to see a more alternative side of Oz, this is the place to be! It's time to pack a beach bag and see how many you can check out. Just remember your sunscreen!
---
If you're keen on exploring this part of Australia and want all the boring bits taken care of, we've created some self-guided packages to help you spend every minute doing the fun stuff! 
For more information about Australia, including tips on where to go, when to go, how much money to save, and what to bring, check out our Ultimate Guide to Backpacking Oz here!


RETURN TO BLOG
NEXT ARTICLE