How To Meet Other Travellers In Bali
Published 05th November, 2020
One of the best parts of travelling is forging friendships along the way. Bali is the perfect destination to meet like-minded travellers and make friends for life! If you're backpacking solo for the first time, Bali is one of the most beautiful and welcoming places to start your next adventure. 
There are some must-sees along the way that all travellers in Bali will want to check out. Ubud, Gili Trawangan (Gili T), Nusa Lembongan, and Canggu are some of the most beautiful spots to put on your checklist. They're also great for meeting other travellers, so you can explore the sacred monkey temple, go turtle spotting or even hike an active volcano together! Here are some of our top tips for meeting other travellers in Bali.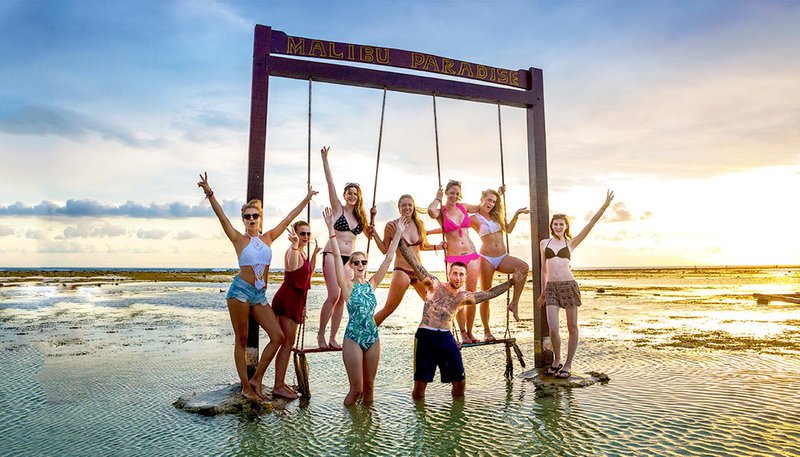 Stay in a social hostel
Bali is packed with great hostels that have a vibrant social culture and/or chilled out vibes to make meeting people natural and easy. When you're looking for a social hostel to stay in, check the reviews! Look out for comments about how easy it was to meet people. See if there are good common areas and spaces to hang out in. Is there a bar on-site? Do they organise events? It doesn't have to be a 'party hostel,' if that's not your thing. Just look for couches, beanbags, swimming pools, and common sitting areas that indicate it's a social place, and you're guaranteed to find company. 
When travelling Bali, check in with your accommodation to see if they're organising anything for the night. Often hostels organise dinners, beer pong, temple visits, quiz nights... something fun is always going on! People usually stay in hostels specifically to meet other travellers, so go chat it up and make some new mates.
Try a new activity
Trying one of the many activities Bali has to offer is a fantastic way to immerse yourself in the culture while meeting other travellers. You can learn to cook a delicious local cuisine, make your own jewellery, or try a local language lesson. Yoga and surfing classes are also very popular. There are many retreats where you can stay for a few days and master your skills with other like-minded people. Plus, if you're a SCUBA enthusiast (or wannabe diver), Bali has some of the best dive sites in the world. 
Whether you want to learn or improve your skills, swim with manta rays for the first time, or go through your own 'Gili Snorkel Test' (google it!) dive centers are fun social places. Gili T, Amed, and Nusa Penida are some of the best areas to head for diving.
If SCUBA isn't your thing, book a day trip and explore the island with your new friends while island hopping, dolphin spotting, or hiking up Mt Batur for an epic sunrise.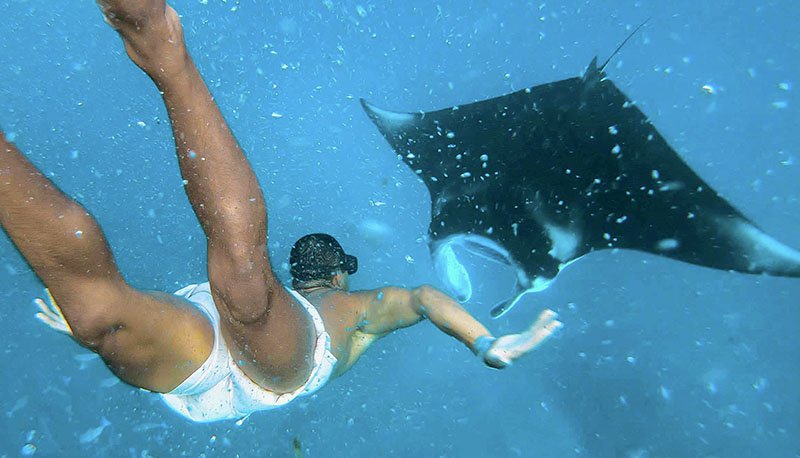 Make the most of travel days
While it sounds like the most boring part of the trip, travel days can actually be one of your best opportunities to meet people. Take out your headphones and strike up a conversation with the person next to you on the bus, shuttle, or ferry. Chances are they might be going to the same place in Bali as you, or they might have already been and can give you tips!
Volunteer
Bali has many volunteer organisations that are a great way to socialise while giving back at the same time. Gili T Eco Trust is a charitable organisation where you can get up early to help protect baby turtles, go on a beach clean up, and follow it all up with a cheeky free drink with your fellow volunteers.
Get to know the locals 
Balinese people are known for being super warm and friendly. Book a stay in a guest house or homestay, or try doing your grocery shopping at one of the many local markets. Grab a sunset coconut at a beanbag spot on the beach - someone might even invite you for a little paddle-board session or sing-a-long while they're playing guitar! You never know what may happen if you keep an open mind. 
Find an online group
And we are living in a digital world and we are all digital... nomads! Sometimes you can meet best friends through apps. Bumble has a friend option when you're looking for adventure buddies, there are so many solo travellers out there just like you! There are also plenty of decent Facebook groups to join, just type in what destination in Bali you are exploring and tons of options will pop up. Booking a small group tour with INTRO Travel is a great option because you can meet up with everyone from your group through FB before and after the trip, giving you an instant crew of new mates! Check out INTRO's 9-15 day Bali trips here.
Check out Bali's epic bar scene
From pool parties to buzzing night clubs to dive bars, there are so many social places to go out for a drink and meet new people in Bali. Plenty of epic beach bars and restaurants provide a great setting to hang out with your new friends. Check out the sunset at La Plancha, then head over to Mexicola for some margaritas and delicious tacos. Bali is known for its nightlife, so whatever your style you're sure to have a great time!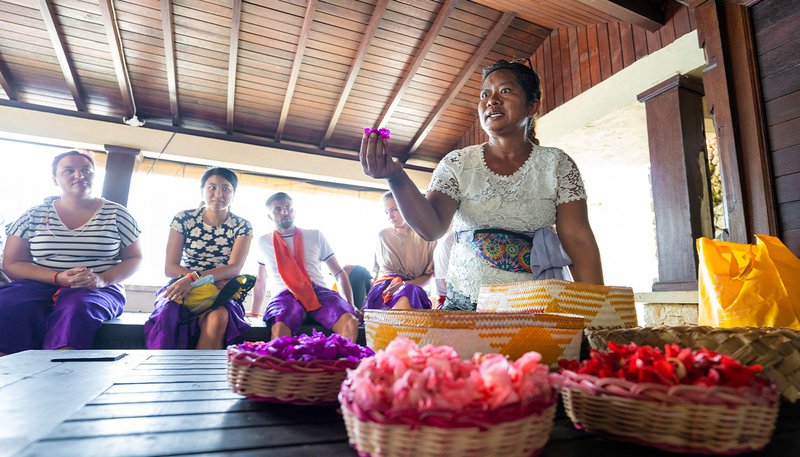 Try a co-working space 
Bali is a major hub for digital nomads and many ex-pats live here working online. Grab your laptop and order a coffee, you might be able to help each other out learning new skills from photography to blogging. If you're working on the go, Ubud and Canggu are key spots. Many of the workspaces there include massages, gyms, movie nights, and even organised 'speed dating'. Don't knock it til you try it! 
Consider a group tour
Travelling with a group gives you an instant new crew of mates to share meals with, take photos and dance the night away. Travellers who join INTRO tours often stay a few extra days after the tour finishes to continue exploring and hanging out with their new bunch of friends... topping up their tans at beach clubs, indulging with massage days, and planning where the next holiday together should be!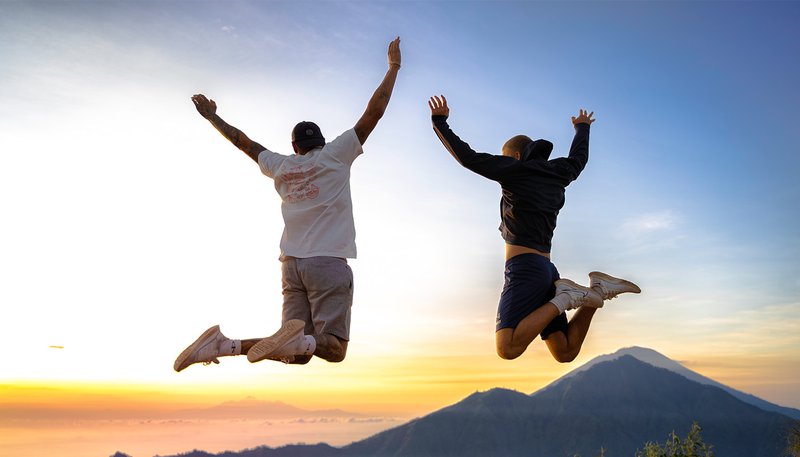 Most young people head to backpack Bali because they think of the sandy beaches, pumping nightlife, fascinating culture, and sun shining all year long. Once you arrive you'll realise how much more beauty this place has to offer. Temple walks, surf seshs, spotting incredible marine life, and forging major lifelong friendships are all on the cards. Once you experience Bali you'll understand why everyone falls in love with Indonesia!
---
If exploring the endless rice paddies, unique wildlife and beautiful coastlines of Bali sounds like your kind of adventure, check out our Bali group tours here!
For more information about travelling South East Asia, including where to go, when to go, how to travel, how much to save, and what to bring, check out our Ultimate Guide to Backpacking SE Asia here.

RETURN TO BLOG
NEXT ARTICLE