INTRO'S Local Legends: Sompong from Thailand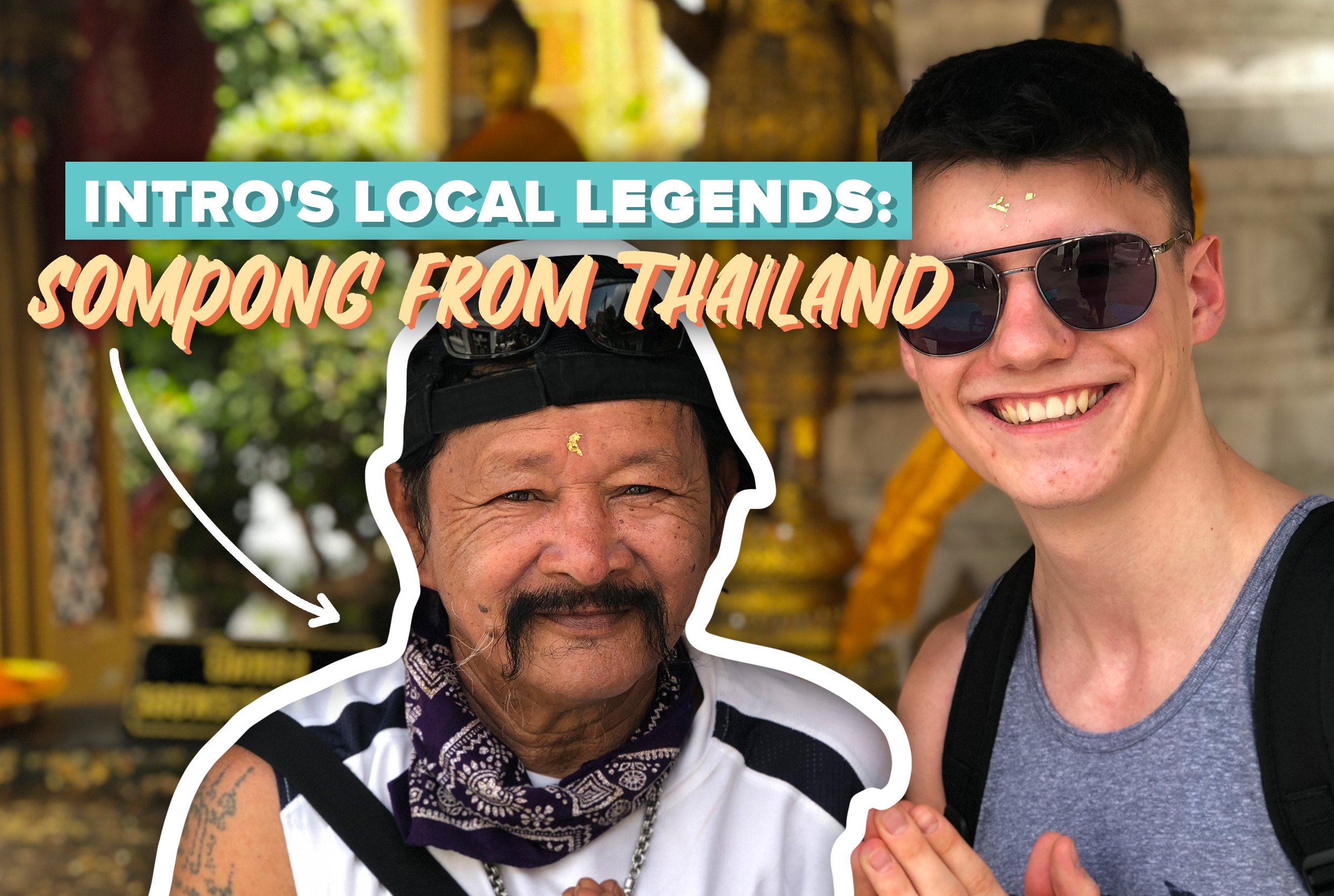 Published 09th February, 2021
One of the best parts of travel is the people you meet. On all of our trips we use expert local guides who are the absolute best in the business. Hosts, friends, and explorers, these passionate people go above and beyond to make us welcome in their home countries. Through INTRO's Local Legends series, we're bringing some of their stories straight to you! Today's spotlight - Sompong from Bangkok, Thailand.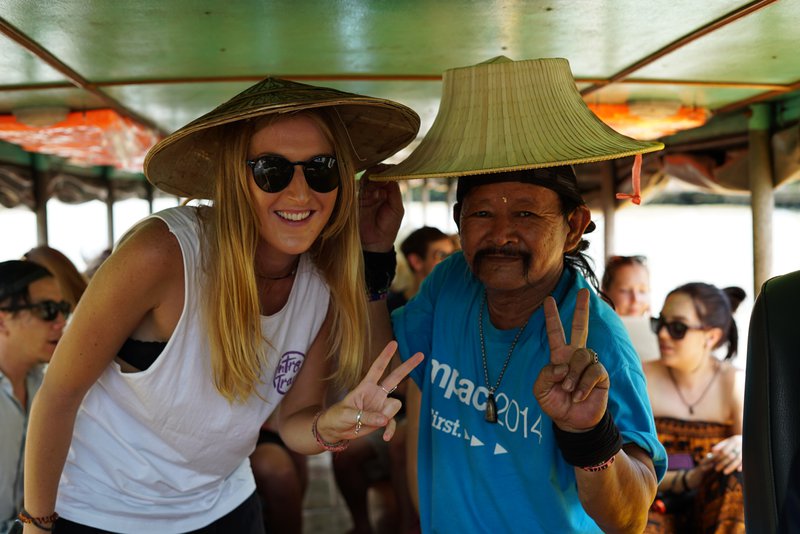 Sompong is an iconic member of the INTRO family in Thailand, full of energy and passion when he joins us on the chaotic streets of Bangkok. From the moment he greets the group with a cheeky grin, you know it's going to be a good day. Along with James Bond - another local legend we have the pleasure of working with - Sompong joins us on a tour of Bangkok's most sacred landmarks via land and river. Bangkok is a hectic city that can easily confound you with sensory overload, but with Sompong by your side there is no need to worry. At Wat Chana Songkhram the group makes an offering and receives a blessing for our journey from a Buddhist monk, and Sompong dutifully shows us how to offer incense, candles and flowers at a beautiful shrine. It's obvious he is not only knowledgable of Thai traditions, but passionate about his country's history and customs.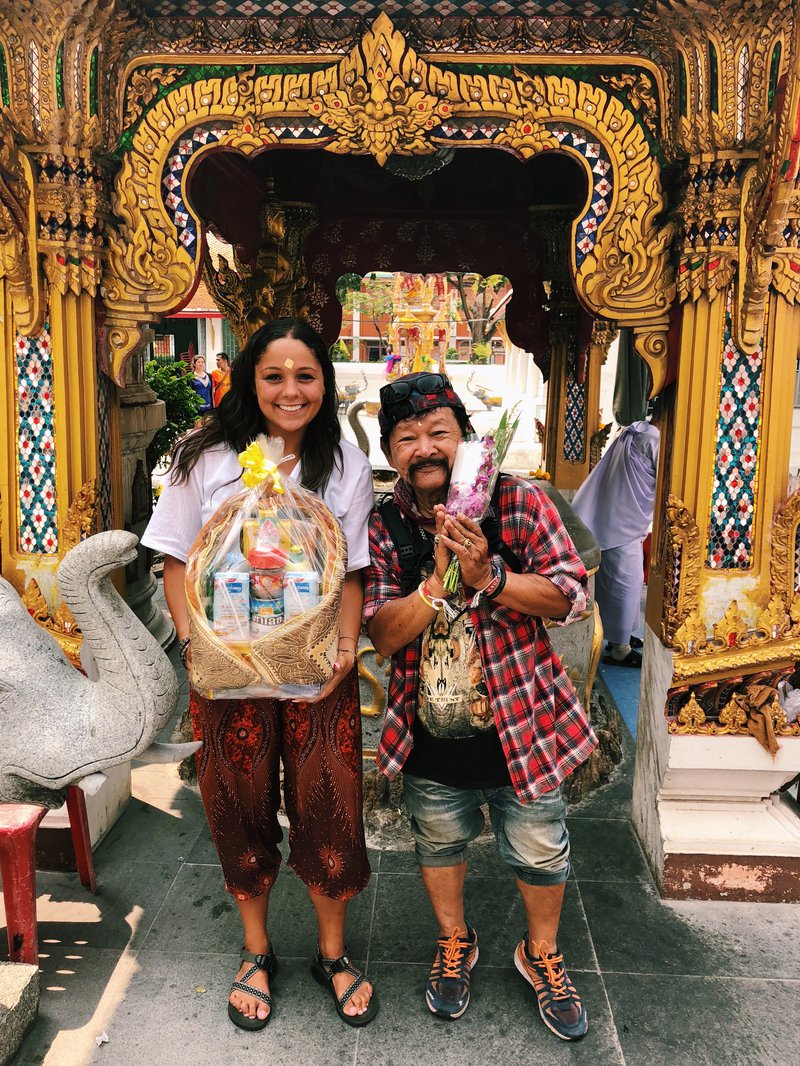 After visiting the first temple of the day, Sompong helps in guiding the group to a pier where we hop on a longtail boat. Cruising through the heart of Bangkok, he makes everyone feel welcome as we learn facts about his city. Did you know the full name of Bangkok is actually (take a deep breath) Krung Thep Mahanakhon Amon Rattanakosin Mahinthara Ayuthaya Mahadilok Phop Noppharat Ratchathani Burirom Udomratchaniwet Mahasathan Amon Piman Awatan Sathit Sakkathattiya Witsanukam Prasit?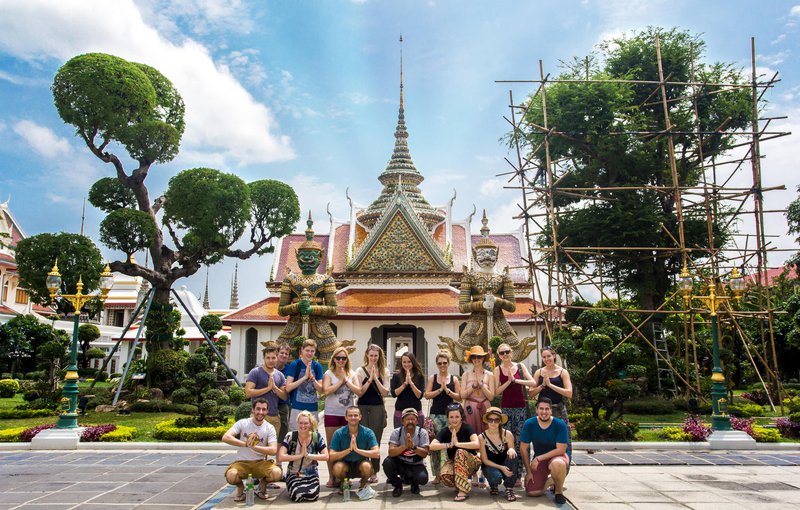 Grabbing the microphone in impromptu bursts, you never know what jokes Sompong will burst out next. During the river cruise the group leader will point out catfish, and while we watch/feed them Sompong will hilariously creep down the aisle of the boat, jumping at group members distracted by the giant fish to give them a funny little fright. Pure entertainment.
Stopping at a marketplace after the cruise he'll bring the group a selection of traditional street food to snack on - chicken skewers, fresh fruit, coconut ice cream - all the good stuff! He's truly the most caring, patient, loving person, and will do everything to make sure the group is having the best time in Bangkok. And we can't talk about Sompong without mentioning his style - a total fashion ICON, people often comment on what he's wearing. Always up for photos, the man knows how to strike a pose with his characteristic pout or peace sign.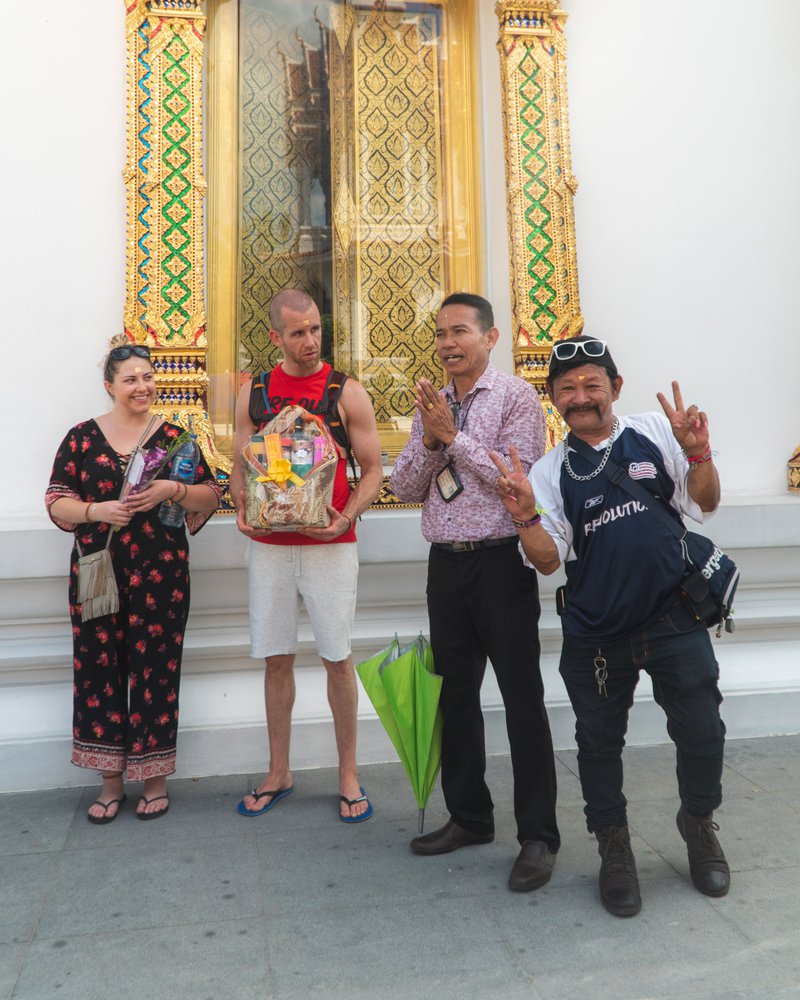 After Sompong has shown us the best of Bangkok, the group spends the rest of the afternoon relaxing (massage, anyone?), before gearing up for a night out on Khao San Road. Smack bang in the middle of downtown Bangkok, Khao San is backpacker central, full of bars perfect for late night revelling. While sipping giant buckets of alcohol and munching on insects, who else will you spot but Sompong on the horizon? Wearing as many glow sticks as humanly possible, he joins groups on nights out as often as he can, cutting shapes in the club that put our dance moves to shame.
Quirky and loveable, Sompong is the kind of person you always look forward to seeing and can't help but smile in his presence. For over 10 years he's been a staple part of our Thailand trips, and we couldn't imagine Bangkok without him. We can't wait to start running our Thailand small group tours as soon as travel is safe again so we can reunite with this legend and resume showing everyone all his beautiful country has to offer. We miss you Sompong!!!
---
Whether you're backpacking Thailand for the first time, on a short holiday, or travelling on a gap year, INTRO's Thailand group tours show you the best of Bangkok, Koh Phangan and beyond. Check out our epic itineraries here!

RETURN TO BLOG
NEXT ARTICLE