Must-Do Experiences On New Zealand's South Island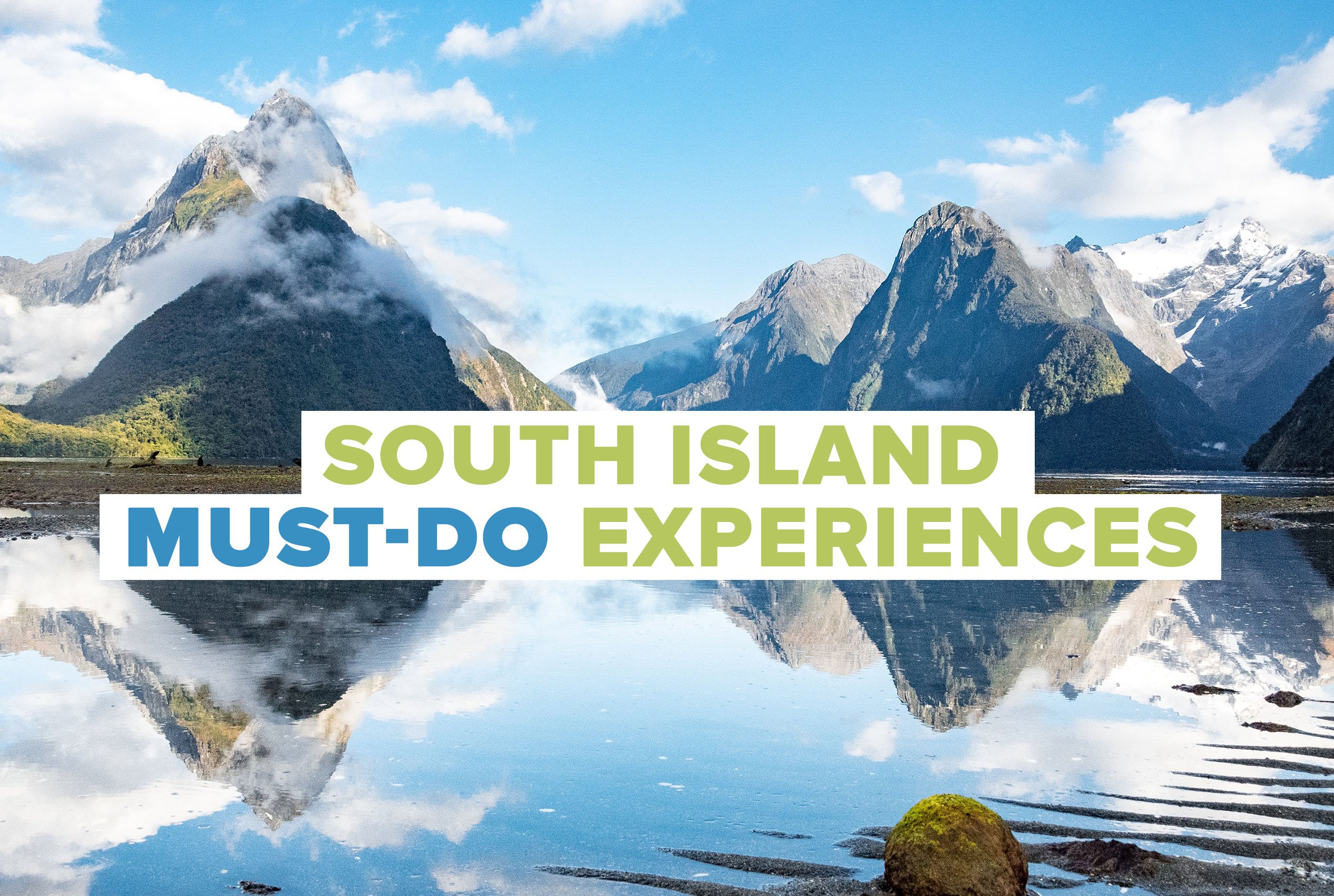 Published 20th July, 2023
From the demigod Maui's legendary fishing trip (the one where he pulled up New Zealand's North Island from the depths of the ocean), it is said that the canoe still remains. Today, Maui's canoe - Te Waka a Maui - is also known as the South Island of New Zealand.
If you use your imagination looking at a map of NZ, you can visualise the North Island as a fish with its head near Wellington, and the tail as the Coromandel. Looking at the South Island, imagine the stern of the canoe towards the bottom with the bow at the tip. Stewart Island off the bottom of the South Coast is affectionally known as Punga a Maui - Maui's Anchor. 
For those seeking adventure, Maui's canoe is the perfect playground. Hikes, thrills, spills and breathtaking scenery await, so let's dive right into our top experiences to have when travelling New Zealand's South Island.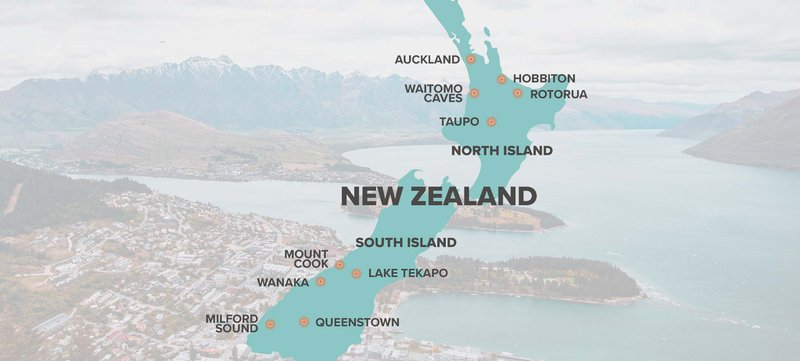 1) Explore Queenstown
Located on the shores of Lake Wakatipu with the jaw-dropping backdrop of the aptly named Remarkables, Queenstown basically invented adventure tourism. If you're backpacking in New Zealand, Queenstown will certainly be one of your main hubs when travelling. Home of the world's first commercial bungee jump, incredible skiing and snowboarding in the winter, and downhill biking and hiking in the summer, Queenstown is a melting pot of people from all over the world seeking outdoor adventures in and around the town. 

Expect buzzing nightlife nearly every night with plenty of live music and DJ's to check out. Many bars and restaurants have food and beverage offers depending on the night of the week, so you'll never get bored of places to dine and discover. $2 taco night is always a win! 
Anyone that has been to Queenstown will likely start drooling at the mention of Fergburger. Head to this famous burger joint smack bang in the heart of town, you can usually spot the queue from a mile away. Trust us, it's worth that wait. Right next door is Fergbakery, which should also not be overlooked. Grab yourself a pastry, meat pie, burger or ice cream and head down to the lakefront to enjoy the best Kiwi grub around.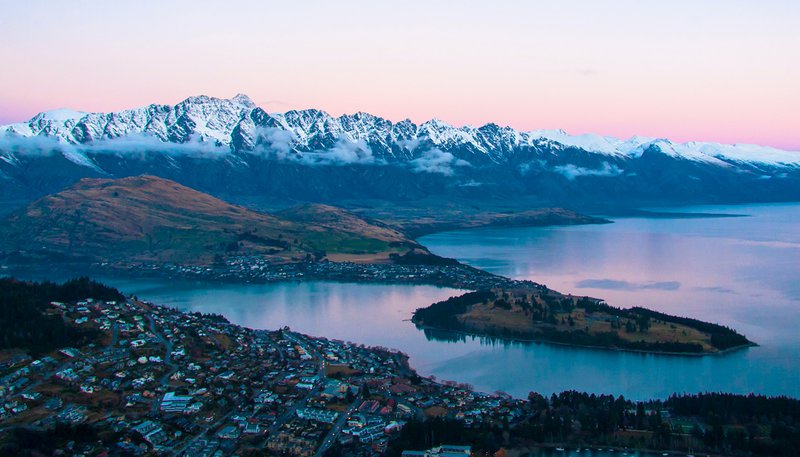 2) Jet Boating Thrills & Spills
Imagine skimming over less than 3 inches of water at speeds of up to 85km/hr within centimetres of jagged rock faces, then suddenly being spun around a full 360 degrees as fresh glacier water splashes over you. Expect all your senses to be alive as you whip along Queenstown's rivers, made famous for gold mining way back in the 1860s. A perfect way to mix sightseeing and adrenaline, jet boats were actually invented in New Zealand! Expect to make stops along the way as your highly trained driver can point out the gorgeous surrounding mountains and sights of Queenstown. Jet boating is the ultimate exhilaration and perfect way to bond with your mates as you get thrown into each other's personal space.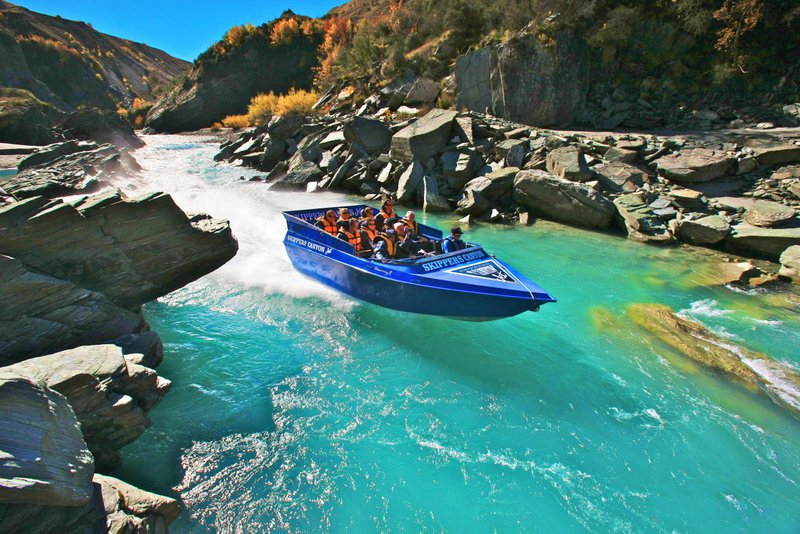 3) Cruise Milford Sound
Considered one of the world's top natural sights, this famous fiord has also been called the Eighth Wonder of the World by famous writer and poet Rudyard Kipling. Located a day's trip from Queenstown, you'll pass through the quaint lakeside town of Te Anau before arriving in the Marine Reserve. Featuring two permanent waterfalls cascading over steep towering peaks, Milford Sound comes alive when it rains as the temporary waterfalls join together, making for an unforgettable sight. So if it's raining, you're in luck! Specially designed boats allow you to get really up close to the falls as you cruise, and standing at the front of the boat for a refreshing shower is said to take years off your age... sign us up! Milford Sound also plays host to a variety of wildlife to spot as your cruise across the calm waters listening to stories of old. Keep a keen eye out for seals, dolphins, and if you are lucky, one of New Zealand's rarest species of penguin.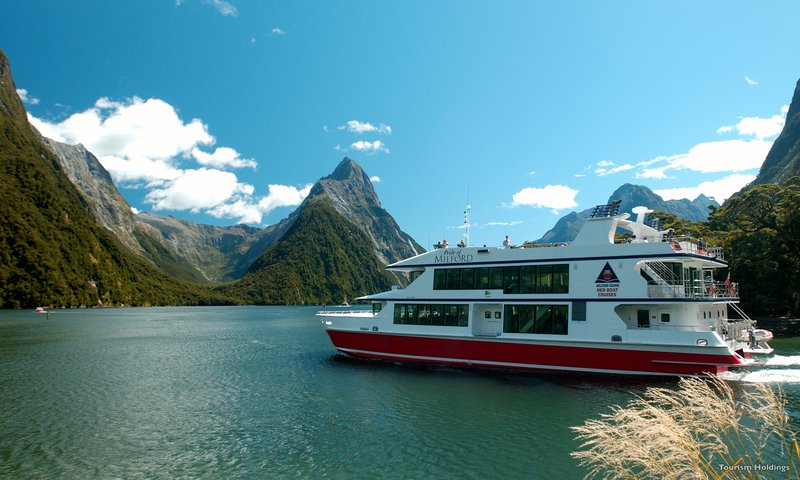 4) Experience Movie Magic On A LOTR Tour
A trip travelling to New Zealand's South Island wouldn't be complete without visiting some iconic movie locations! The Hobbit and Lord of the Rings Trilogies filmed in some truly spectacular locations all over the South Island, especially around Queenstown, providing stunning backdrops for Peter Jackson's epic adventure story. Get out and about on a Lord of the Rings tour to discover the stories and locations behind the camera, and bring it to life by living your own Middle Earth adventure. Don't fear if you aren't the biggest fan of these movies, regardless of what was filmed you will have the chance to visit NZ's most beautiful mountain ranges, lakes, forest and fields, so there is something for everyone as you make your way around the south.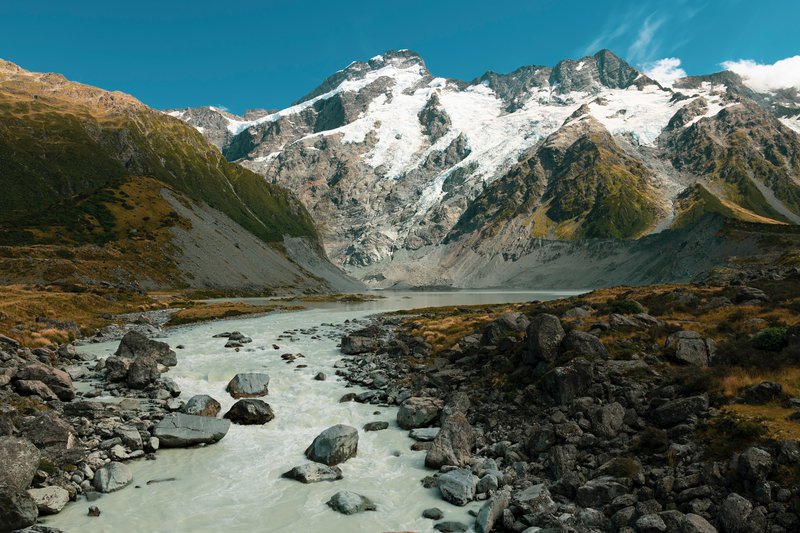 5) World-Class Hiking
Immersing yourself in nature by going for a good old-fashioned hike is the best way to leave the modern world behind and get back to basics. New Zealand is famous for some of the best one-day hikes in the world, and you'll need to pack plenty of spare memory cards for your camera as native flora and fauna will surprise you at every turn. Here is one of our favourites...
HOOKER VALLEY HIKE
This 5km trail is beautifully well maintained by the Department of Conservation who oversee New Zealand's outdoor recreational activities, providing clear pathways and protections for animals in the vicinity. Hooker Valley will take you past glacial streams and towering peaks as you wind your way through the Southern Alps alongside Aoraki/Mt Cook - the tallest mountain in New Zealand. A nice flat track will take you along 3 different swing bridges and past the stunning Mueller Lake, so get your cameras out and wow everyone back home. Be sure to take the time to stop, listen and feel how special this land, is as it holds a spiritual and cultural significance to the Ngai Tahu tribe of Maori who still live in the South. 
6) Get a photo of #thatwanakatree
If you haven't seen a photo of this partially-submerged willow tree in Lake Wanaka, you're in the minority! Photographers and social media enthusiasts travel to New Zealand from all over the world to get a picture of this famous tree, and we don't blame them... it's quite the sight to behold.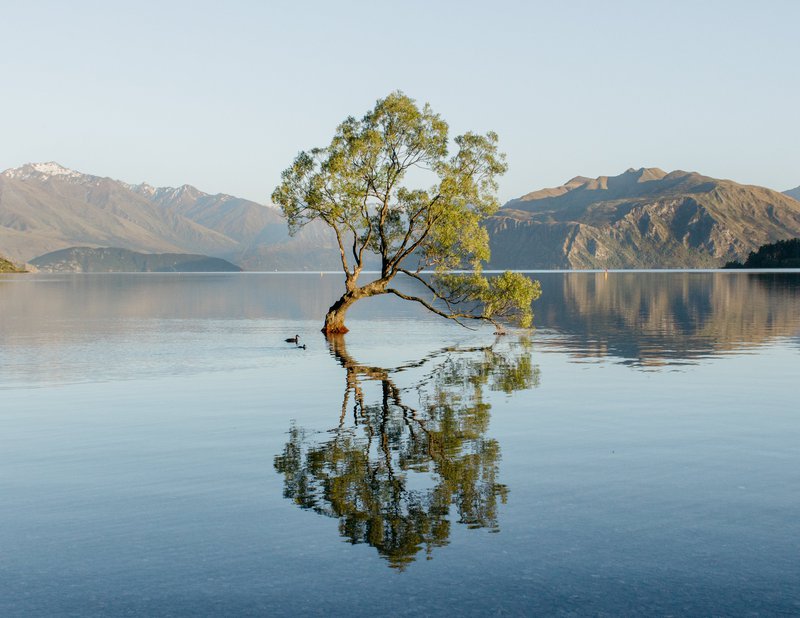 7) Stargaze & Soak
Can you think of anything better than kicking back, watching the sun go down over a picture postcard-worthy lake, and soothing your muscles in natural thermal hot springs with your mates after a hike whilst waiting for the stars to reveal themselves to you? We didn't think so. Tekapo is home to all these things in the middle of a UNESCO Dark-Sky reserve. What this means is that the light pollution in the area is restricted, so it is one of the best stargazing places you'll ever visit. Don't be surprised on a clear night to see multiple shooting stars flying overhead. In the winter, cooler air temperatures and snow-capped mountain peaks in the distance will keep you in the warm spa waters until you are nothing but wrinkles. This is a dazzling experience and will leave you wanting more!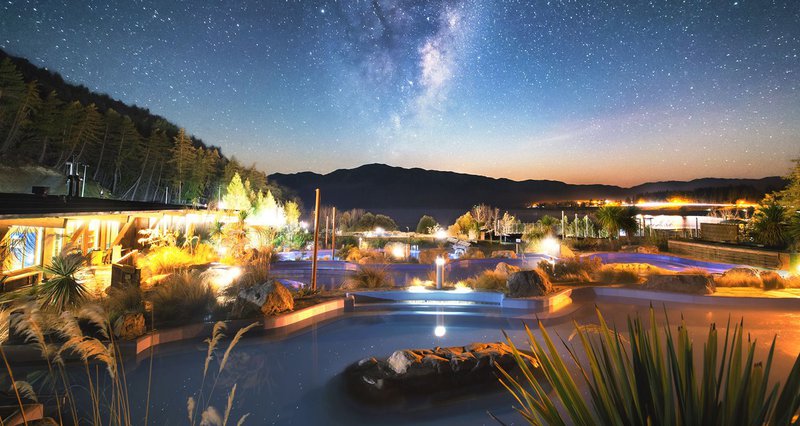 8) Shred Some Slopes 
Many snow-sport enthusiasts and winter lovers travel to New Zealand to experience a snowy paradise. There are 4 awesome ski/snowboard fields within easy access of Queenstown alone, each one offering a variety of runs for all levels and world-class facilities. If you haven't learnt to ski before then never fear: NZ has plenty of opportunities to learn, especially if you plan on living and working in New Zealand through the winter months.

Queenstown is a gorgeous resort town in ski season with loads of deals to have you cruising down the mountain like a pro in no time. Once you have watched the sunset behind the mountain with an Après ski beer with your mates, take the short trip back into town to dance the night away until it's time to hit the slopes again. Every night is a Saturday night in Queenstown if you know where to look! 
Feeling inspired? Check out our other New Zealand travel blogs here for more New Zealand travel advice!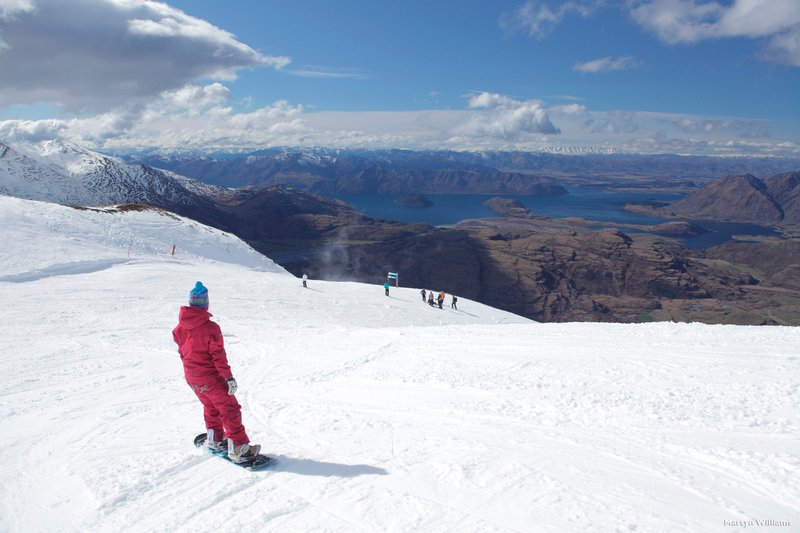 ---
New Zealand is the ultimate adventure waiting to happen, and whether travelling on a short holiday, backpacking or venturing on a working holiday in New Zealand, you'll be left wishing you had more time in this beautiful country! 
If travelling around New Zealand's South Island with all your accommodation, internal transport, activities, and a bunch of meals included, plus an experienced group leader and instant crew of new mates sounds like your kind of adventure, check out our NZ INTRO South tour. From Milford Sound to Tekapo, this 9-day New Zealand small group tour has all the highlights covered! 

RETURN TO BLOG
NEXT ARTICLE