Our Guide To The Coolest Cities In Japan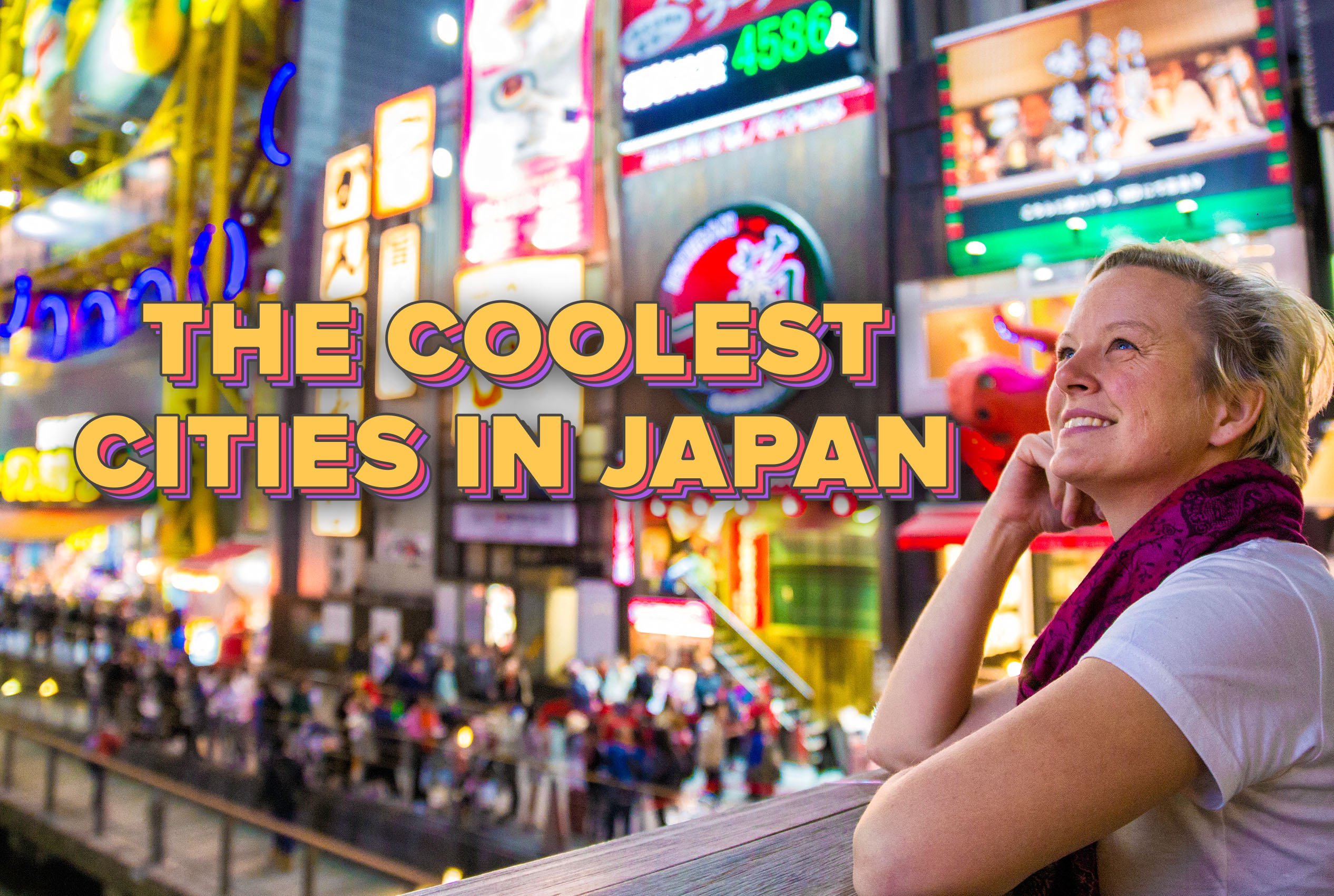 Published 01st October, 2020
The Land of the Rising Sun is one of the most breath-taking and mesmerizing places in the world. This hidden gem to the far east is internationally known for its diverse history, wondrous culture, stunning sights, and mouth-watering food. Curious about the coolest cities in Japan? Here we've got you covered!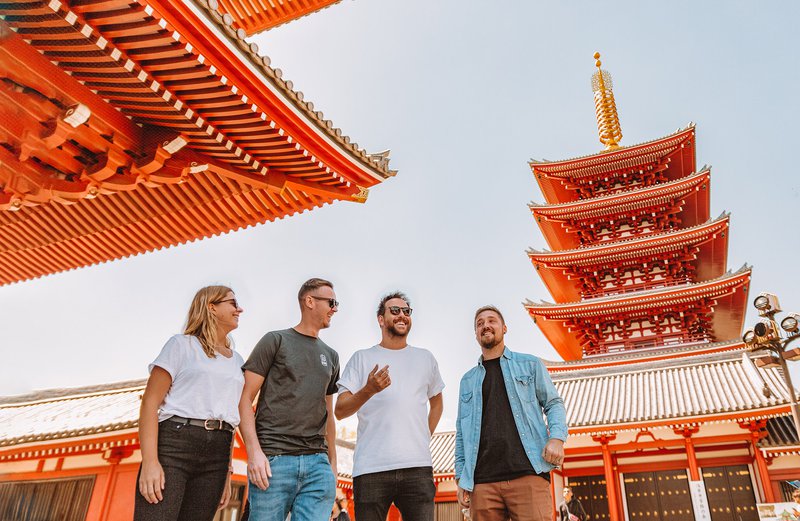 Tokyo
Naturally, the capital of Japan is a great place to start, and Tokyo needs little introduction. Home to over 9 million people, Tokyo is filled to the brim with eclectic neighbourhoods, each with unique personalities and secrets hidden around every corner! 
Harajuku, home to alternative youth culture, is a neighbourhood crammed with food and fashion stores featuring all things kawaii (cute)! To sum it up, this place is colourful, kitsch, and completely over the top. You'll find plenty of offbeat characters, as well as the famous Harajuku Girls. Read more about the fashion from this area here!
Akihabara is a mecca for all things geeky and nerdy. Video games, gadgets, anime... this place has it all. Whether you fancy challenging your mates at Mario Kart (at the arcade or literally on the streets), experiencing the bizarre maid cafes, or stocking up your manga collection, Akihabara is for you. 
Shinjuku & Shibuya are both a whirling kaleidoscope of lights and sounds, the perfect places for late-night eating and drinking. You'll be stuffing yourself with yakitori and ramen, then wash it all down with drinks in one of the tightly packed old fashioned izakayas (bars) in the area. Sake is a must-try.
Ueno is a breath of fresh air within the city as it gives you an opportunity to sit back, relax, and take in the beauty and majesty of the cherry blossoms (Sakura) within Ueno Park. Definitely a welcome contrast to the city chaos!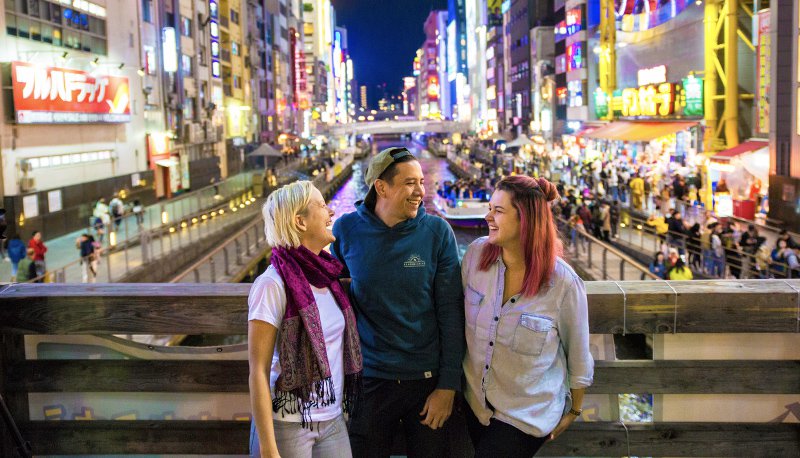 Osaka
Otherwise known as the nation's kitchen, Osaka pulsates with life! From the aroma of freshly cooked Takoyaki, Okonomiyaki, or Yakiniku escaping passing restaurants, to singing your heart out in a karaoke bar, or taking yourself back in time and learning the history of Japan by visiting Osaka Castle, this city is full of variety.
Dotonbori is an area in Osaka that looks straight out of a sci-fi film. With the canal passing through the area, the warm glow of neon lights at night creates a space of wonder. Here you'll find great restaurants, bars, clubs, and karaoke spots to whisk the night away. Don't forget to get a selfie with the Glico man on the Dotonbori river.
Built in the 16th Century, Osaka Castle stands proud as a symbol of Japan's famed samurai period. During spring the castle stands out against flourishing cherry blossom trees, offering beautiful sights of the city as you wander through a samurai time bubble.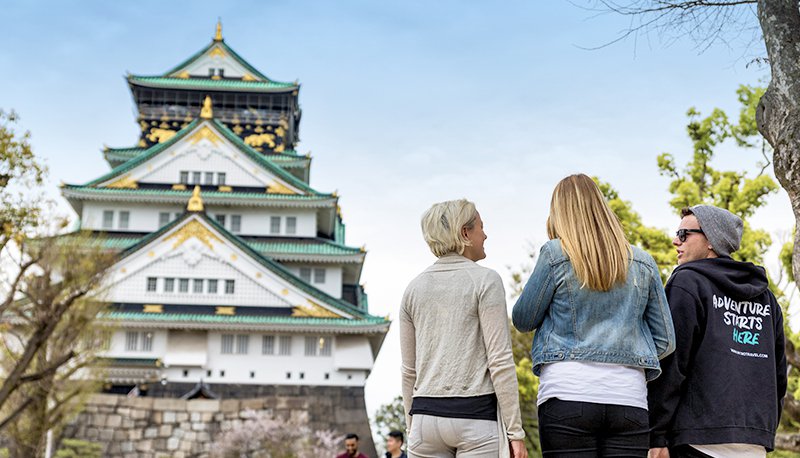 Kyoto
Once the ancient capital of Japan famous for Buddhist Temples and Shinto Shrines, Kyoto is the perfect place to immerse yourself in Japan's ancient culture and traditions. 
Gion is one of the most stunning districts within central Kyoto as it is home to the world-famous Geishas - women who practise ancient Japanese art forms such as traditional singing and dancing from the 18th Century up to the present day. You can't miss them, they're recognisable by their long trailing kimonos, traditional hairstyles, and Oshiro makeup. It's considered a rare sight to see one in the modern world! 
Fushimi Inari-Taisha is a very important, famous Shinto shrine in southern Kyoto. Known for its thousands of red torii gates, this iconic treasure is the perfect place to spend the day wandering and snapping photos along the ornate trail of shrines. At the very top, you'll find the most wonderful views of Kyoto. This city will certainly hold a place in your heart long after you leave.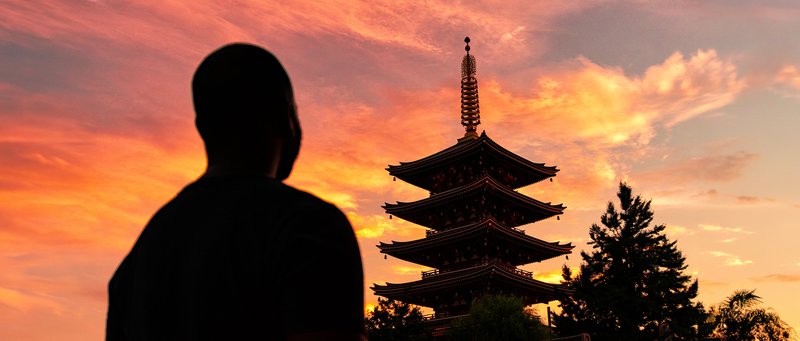 Itching to explore some of the coolest cities in Japan? If you want to experience the very best that Japan has to offer and discover the sights mentioned above, check out INTRO's Japan Adventure group tour! Visit ancient temples, colourful shrines, and majestic castles, learn the art of rolling your own sushi, see snow monkeys, take in mountain views from trains, pirate ships, and cable cars, learn to wield a Samurai sword, spend the night in a 1000-year-old Buddhist temple, and so much more. 

RETURN TO BLOG
NEXT ARTICLE