Ten Reasons To Get Yourself To Mexico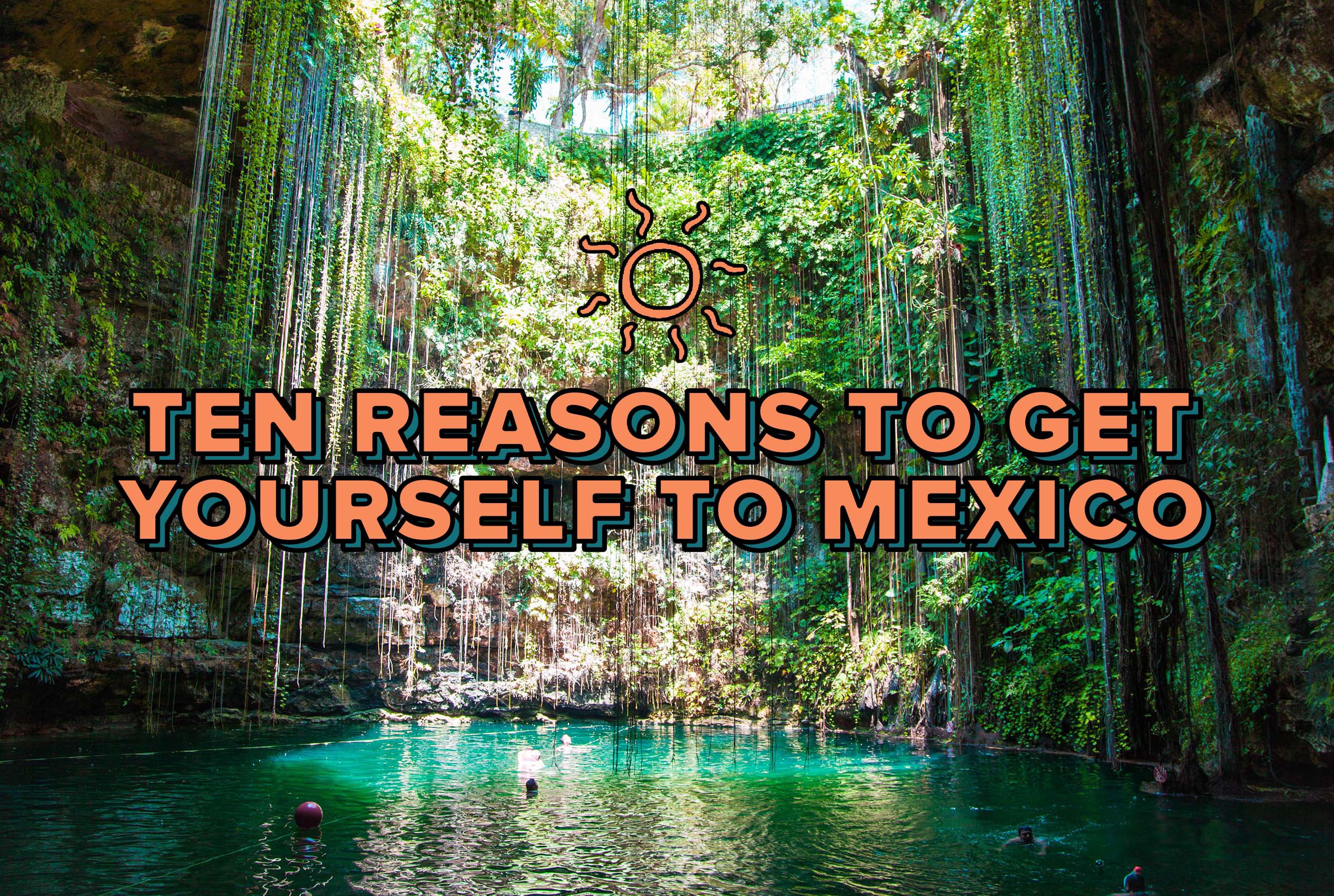 Published 04th December, 2020
What comes to mind when you think of Mexico? Beaches? Tacos? Fiestas? Outside the usual stereotypes, this country has so much to offer! Dripping in mysterious Mayan history, full of stunning subterranean worlds, and boasting a gorgeous Caribbean coastline, Mexico is one of the hottest destinations in the world. If you somehow still need convincing, here are our top ten reasons why you should get yourself to Mexico. Get ready to say hola! 

1) EXPERIENCE THE BUSTLE OF MEXICO CITY
Mexico City is the country's capital, the most populous city in North America, and the biggest metropolis in the Western Hemisphere. So yeah, it's manic... but absolutely worth visiting! Known for its mountainous surroundings, intriguing history, and iconic buildings, there's so much to love about this chaotic city. Plus it's where many Mexico trips begin, so it's likely you'll find yourself here! Never empty of street vendors or busking musicians, the main square of Plaza de la Constitucion is bordered by the Palacio Nacional and grand colonnaded buildings, making it the perfect snapshot of the city! Full of anthropological museums, Latin-American art galleries (like Frida Kahlo's), and beautiful murals, Mexico City is bustling with life and at the forefront of cultural relevance.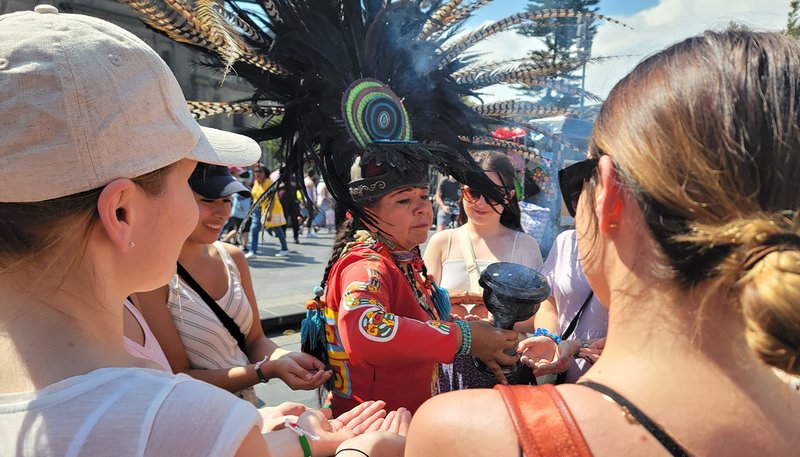 2) TEASE YOUR TASTEBUDS AT A LOCAL DISTILLERY
You can't travel Mexico without trying mezcal, the energising relative of tequila that is integral to life in Oaxaca (pronounced wah-ha-ka). Medicine and social glue, this liquor made from agave is typically produced by farmers using laborious, ancient methods, and is drunk to mark births, funerals, and all occasions in between. Visiting a local distillery is the ultimate artisanal experience. Learn how it's made, taste the smokiness of different varieties, and pick up some bottles as souvenirs! Though it may be tempting to drink them all before ever getting home... 
3) GET LOST IN COLONIAL PUEBLA 
One of Mexico's best-hidden gems, the city of Puebla is known for its culinary history, pottery, relaxed atmosphere, and quaint cobbled alleyways. With architecture ranging from Renaissance to Mexican Baroque, Puebla was named a World Heritage site in 1987, but despite increased popularity and a growing population, still retains an enchanting charm. Flanked by magnificent volcanoes, this Spanish city is a great place to get lost. Imagine yourself perusing artisan markets, discovering hidden churches, and wandering fairy-tale streets as mariachi bands play in the distance... what a life. 
4) VISIT INDIGENOUS COMMUNITIES
The original inhabitants of Mexico had strong social and cultural traditions in place long before Spanish colonialism. Villagers in many rural regions have held tight to their ancestral ways, and visiting these isolated communities can shed light on the cultural heritage that forms Mexico today. By visiting indigenous communities you can learn about the fusion of Mayan traditions with contemporary belief systems, share meals in local homes, and shop from traditional craftsmen. Respecting the environment is foundational for indigenous communities, so do the same by treading lightly, remember that not everyone will speak Spanish (there are hundreds of languages still alive in the country today), and always ask permission before taking photos of people. Whatever you might have heard, know that Mexicans are incredibly welcoming. With a friendly attitude, a casual 'hola' and open mind, mingling with the country's indigenous communities will give you an insider's glimpse of life in ancient Mexico.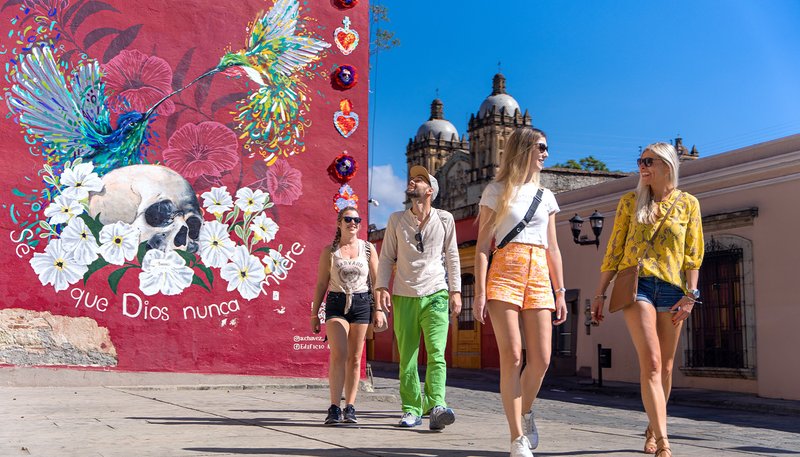 5) DIVE INTO STUNNING WATERFALLS & MYSTICAL CENOTES
Mexico is the ultimate adventure for water-lovers! The waterfalls here are top-notch, definitely some of the prettiest in the world. A highlight is the turquoise Cascadas de Agua Azul, a series of waterfalls hidden in the rainforests of Chiapas. This spectacular attraction is notable for the dazzling blue hue of the water, created due to its high mineral content. You can swim in the pools or climb up the side to view the falls from the top, and they are a favourite of locals who love spending weekends there, meaning the area is packed with souvenir shops and places to grab a bite. Along with impressive waterfalls, the Yucatan is known for beautiful cenotes - subterranean lakes unique to this part of the world. A trip to Mexico simply isn't complete with a dip (and Insta photo in) one of these magical grottos. 
6) FEAST ON AUTHENTIC MEXICAN EATS
Get ready to turn up the heat, because the food here is some of the best on the planet! Mexico is a country built around cuisine and the rituals of sharing a meal. You've heard of nachos, burritos, and quesadillas, but what about pozole, mole, and birria? Mexican flavours are exported all over the world, but to REALLY taste the cuisine you must go straight to the source! It varies greatly by region, but whether your preferences are spicy or sweet, Mexican food will leave you spoilt for choice. Don't leave without trying street food, the authentic way to grab a snack like a taco or a torta on the go. Hint: if the locals are eating it, chances are it's great.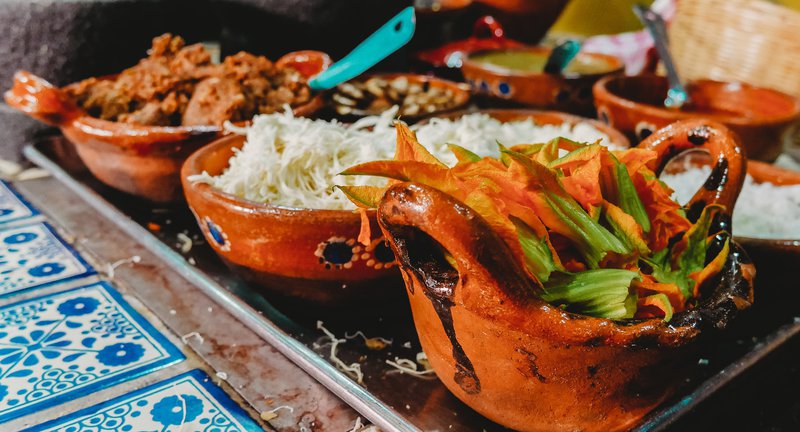 7) EXPLORE BACALAR LAGOON VIA BOAT
Want to swim, snorkel, or kayak when backpacking Mexico? Head to Bacalar Lagoon, a narrow lake renowned for its striking aqua hue. With its white limestone bottom, the water is stunningly clear. It's best experienced on a boat tour, where knowledgable guides can fill you in on the ecological systems of the lake, help you taste local fruit straight from the jungle, point out local wildlife, and show you the best spots to swim in the 'lagoon of seven colours'. Complete with peaceful vibes and fisherman's shacks serving the best seafood around, Bacalar is an off-the-tourist-trail paradise you gotta get to.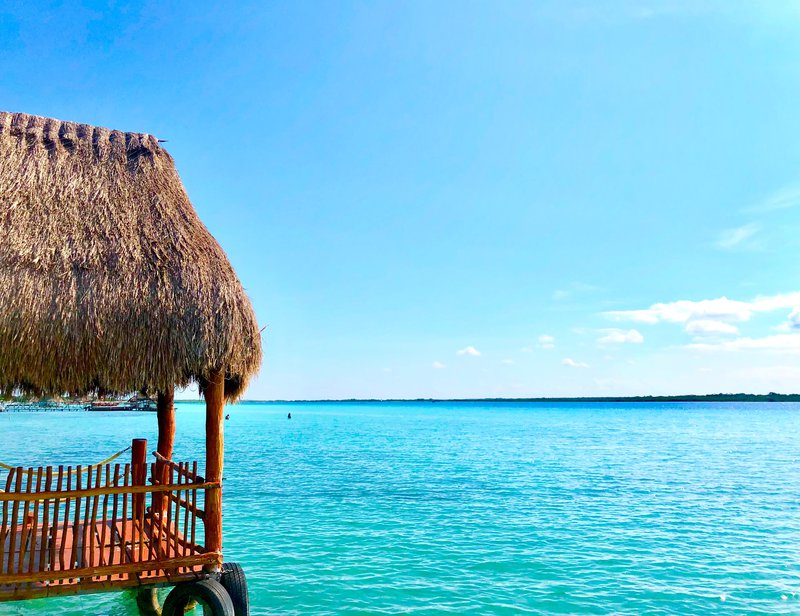 8) RELAX ON SUGARY WHITE BEACHES 
You can't visit Mexico without desiccating yourself on one of the Yucatan's palm-fringed beaches. Lounge on the soft sand, swim in idyllic waters, sip a cool drink, read a book, and work on your tan under the Caribbean blue skies. Playa del Carmen has some of the nicest beaches, but if you want to escape the crowds, Tulum hosts some more secretive spots and beautiful marine landscapes for diving and snorkelling. If you want to swim with sea turtles, look no further than Akumal beach just south of Playa del Carmen!
9) MARVEL AT CHICHEN ITZA
Once lost to the jungles of Yucatan, this majestic ancient site is a double whammy - both a UNESCO World Heritage Site and New Wonder of the World! Chichen Itza is an iconic centrepiece of the Mayan archaeological scene, full of mysteries to uncover. Did you know the main pyramid nests smaller pyramids inside, the grand monuments are astronomically aligned, and many of the temples are known to be places of gruesome sacrifice? Woah. Mexico's history is endlessly fascinating. Feeling like a movie set, Chichen Itza is a sight to behold, and visiting with a local guide will have you walking away with a newfound sense of awe.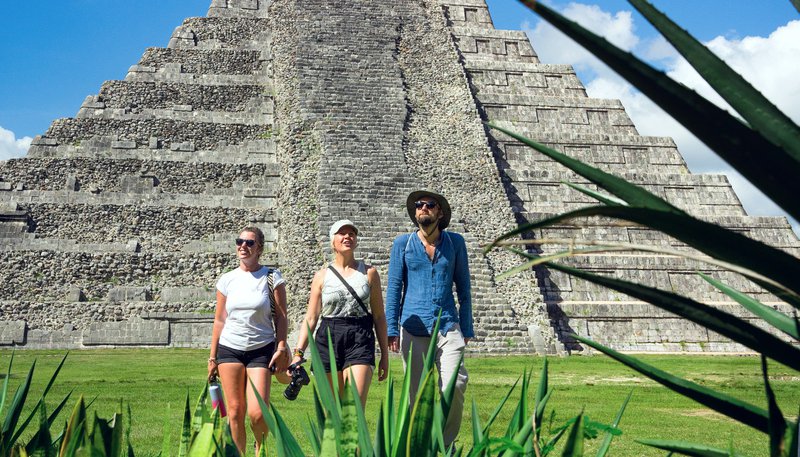 10) PARTY INTO THE NIGHT 
Want to get a little loco? There's no place like Mexico to fiesta into the early hours of the morning. Cancun and Playa del Carmen have a great selection of bars and clubs to party 'til dawn and host some of America's biggest spring break parties with world-class DJs. Have a tequila shot (or two, or three) and get amongst the late-night debauchery for an experience you won't forget. Or maybe remember...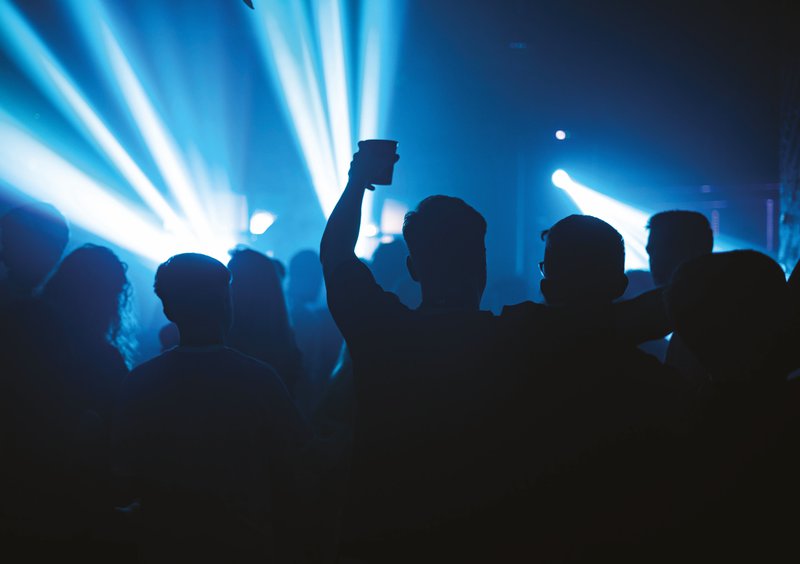 ---
Ready to say hola to Mexico? Well, we've got some great news! We've just launched a brand new trip that will have you discovering the best of Mexico on an incredible 13-day adventure. From the mania of Mexico City to the beaches of the Yucatan, on Viva Mexico you'll be doing EVERYTHING on this list and so much more - all with a knowledgable group leader, a bunch of inclusions, and an instant new crew of mates. Check out the trip here!

RETURN TO BLOG
NEXT ARTICLE