Ten Things To Do In Kakadu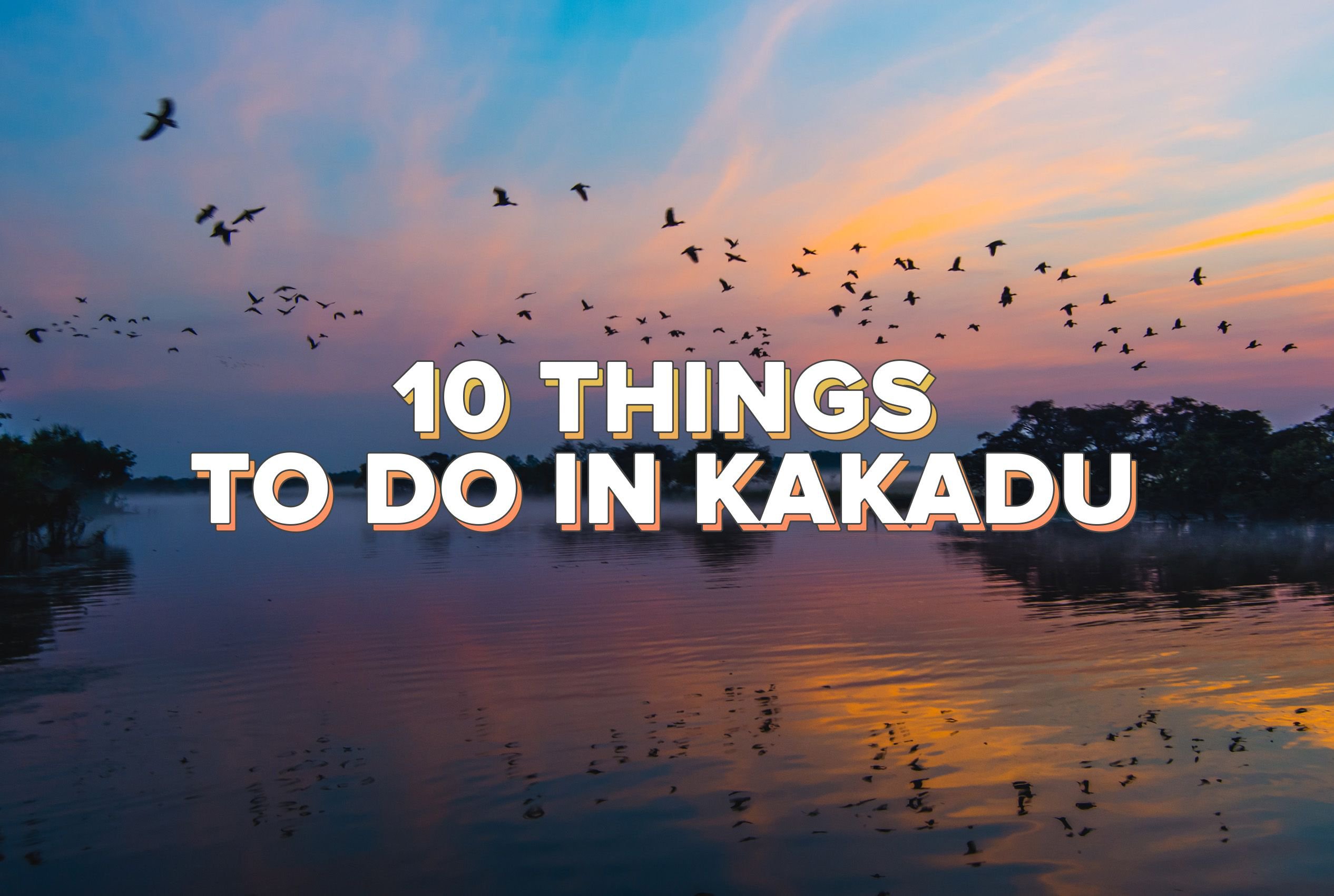 Published 16th July, 2020
Hidden up in the Northern Territory's Top End just three hours from Darwin, Kakadu National Park - Australia's largest - is UNESCO World Heritage Listed for both it's environmental and cultural values. With terrain encompassing wetlands, rivers, rainforests and magnificent sandstone escarpments, this is where the outback meets the tropics in one of the most sparsely populated areas of Australia. If you're Aussie there's no better time to think about exploring your own backyard, so we've compiled ten things to add to your NT bucket list to help you experience the Top End for yourself. Get ready to pack your swimmers, sneakers and camera!
1. Swim under cascading waterfalls
Jim Jim Falls are the biggest in all of Kakadu, surrounded by spectacular 150m red cliffs and landing in a deep, plunging pool. After hiking to this to incredible location the water will be calling your name - the best way to escape the scorching outback sun.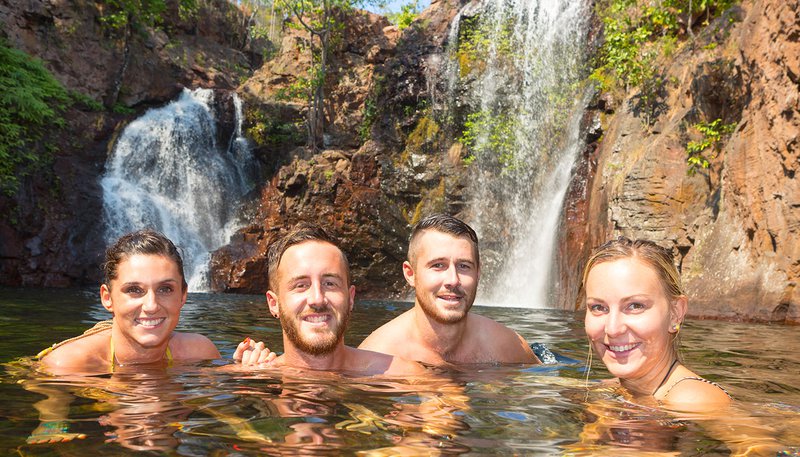 2. Spot terrific (and terrifying) wildlife on a cruise 
A cruise on the waters of Kakadu will definitely deliver your postcard shot. Through lily-covered billabongs you'll hopefully spot water buffalo, wallabies, turtles, wild horses, and perhaps even come eye to eye with a mighty saltwater crocodile. This is their territory after all! Any budding bird-watchers will be keen to know that this area is home to one third of all Australia's winged species, so bring your binoculars!
3. Lace up your boots for a hike
Explore with your own two feet on more than 30 established walking routes in the Kakadu region, from family-friendly strolls to multi-day treks for the serious hiker. Saunter through lush forests, climb to the top of waterfalls and see animals thriving far away from civilisation.
4. Discover ancient Aboriginal art
Sacred sites such as Ubirr will give you insight into one of the longest historical records of any living culture. In Kakadu you can see prehistoric art styles that the Indigenous people are known for, including x-ray paintings of animals and images illustrating mystical dreamtime folklore. This truly is the best place to immerse yourself and gain perspective with one of the oldest cultures on the planet.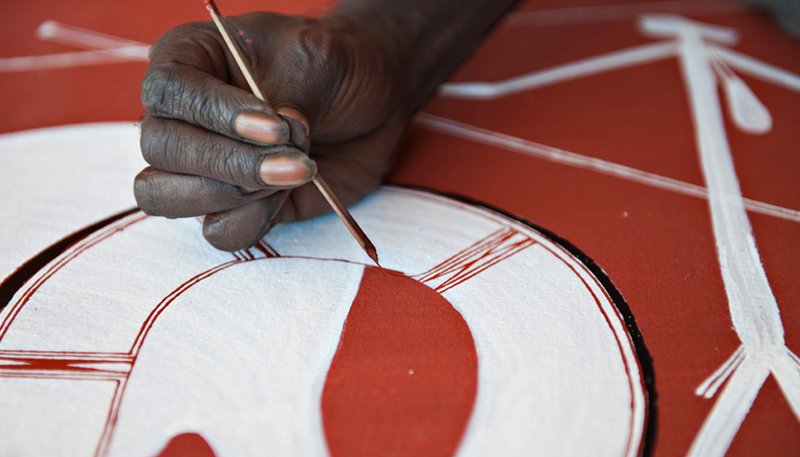 5. Dine on real bush tucker
Touring with an Aboriginal guide is the best ways to learn how the hunter-gatherer ways of Indigenous people sustained them for tens of thousands of years. Over a traditional campfire you can tantalise your tastebuds with tucker like fresh barramundi, kangaroo, steamed buffalo, snake and freshwater mussels, finishing off with some damper and a sweet treat like Kakadu plum or bush banana. 
6. Explore Litchfield National Park
Known for a picturesque treasure trove of waterfalls, streams and rockholes, this national park just next door to Kakadu is the perfect place to spend a day bathing in the beauty of nature. Just remember to check the signs before swimming - watch out for crocs!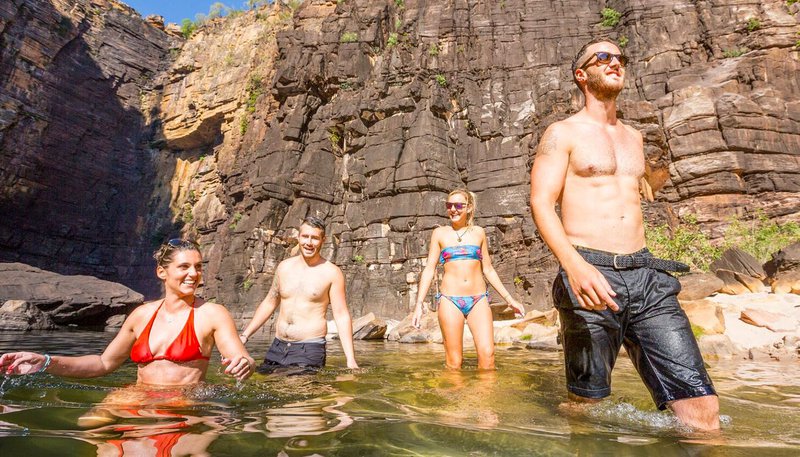 7. Watch the sun set over Arnhem Land 
Kakadu is full of vantage points to see the best sunset of your life. Mirrai lookout, Bukbukluk lookout, Nadab and Nawurlandja lookout all offer great spots to watch the sun turn into a fiery red ball, effortlessly sinking below the ancient plains of Arnhem land to make way for a pastel sky.
8. Camp under billions of stars
Channel your inner Crocodile Dundee by camping in a traditional Aussie swag, aka a big comfy canvas sleeping bag, to doze outside under the sky. With incredibly low light pollution, the Top End is one of the best places in the world to wish on a shooting star. 
9. Educate yourself at the Bowali Visitor Centre
Bowali Visitor Centre has video presentations and interactive displays to give you insight into the unique flora and fauna, habitats and geology of Kakadu. The best way to learn about this biodiverse area is definitely through a talk by a park ranger, which are given at most visitor centres for free!  
10. Treat yourself to a scenic flight
The most unforgettable way to see this ancient immense landscape has to be via helicopter. On a scenic flight you can follow snaking rivers, marvel at martian landscapes, spot waterfalls and see places otherwise off-limits to tourists, all without moving your feet. 
---
Every year millions of people trek down under to experience the diversity of our landscape, and with the restricted state of international borders, there's never been a better time to explore Australia's own gems. We might not be able to check out the waterfalls of Bali right now, but you can trust us that Australia does waterfalls just as well. 
To help you get the most out of Oz we've put together some awesome packages together to sort out the boring stuff, which you can check out here. What are you waiting for? 
For more information about Australia, including info about where to go, when to go, how much money to save, and what to bring, check out our Ultimate Guide to Backpacking Oz here!

RETURN TO BLOG
NEXT ARTICLE