Thai Experience: Group Tour Breakdown
Published 28th March, 2018
From Bangkok to Phuket, backpacking Thailand has never been easier. Read on for Wit & Wishes' breakdown of her action-packed Thailand group tour! 

---
Thailand is a place that I've been hearing about more and more throughout the past couple of years; and each time the name came up, I became more intrigued. That intrigue turned into a semi-impulsive decision in March 2018, when I decided to put a deposit down on a tour to Thailand with an Australian company called INTRO Travel departing in early December. I chose to do their 13-day Thai Experience tour but added a few days at the end to travel to Chiang Mai on my own.
At the time, I didn't quite know what my life would be like later in the year (since I had just started working for myself), but I was absolutely certain of 3 things:
1. I wanted to travel to a new continent that year and had decided on Asia
2. I would make sure all of my commitments were taken care of before I left
3. In the end, everything would work out both logistically and monetarily (right?!)
With these 3 beliefs in mind, I threw down that $200 deposit (virtually) and whispered to myself, "I'm going to Thailand…I'M GOING TO THAILAND!" To say that I was excited would be a vast understatement.
For the purpose of this blog post, fast-forward now to December 3rd: the day that I departed for Bangkok from Cincinnati, Ohio. Although the tour didn't officially start until the 5th, I had a pretty long period of travel ahead of me. On the evening of the 3rd, I took a short 1-hour flight to Atlanta; waited 4 hours for a 15-hour flight that would take me to Incheon, South Korea; and then waited about 3.5 hours at that airport for a 5-hour flight to Bangkok. If you've been doing the math with me, that's right: It took over 24 hours to get to my final destination. And it was a pretty similar flight path/time on the way back, so needless to say: 4-hour flights to the west coast don't faze me anymore.
Now that you know just how much of a journey it was for me to get to Thailand (can you believe I made it?!), let's dive into the highlights of this tour. Our route took us from Bangkok -> Khao Sok -> Koh Pha Ngan -> Koh Phi Phi -> Phuket, so each section is organixed by city and our corresponding accommodations. Because so much happened on this tour, there will be a Part 2 to this topic that covers Koh Pha Ngan, Koh Phi Phi, and Phuket – so check back here tomorrow for that post.
Bangkok
Ah, Bangkok. For many of us who are familiar with the Hangover movies, the name may conjure up images of salacious peepshows, impromptu tattoos, crazy street food, and more.
This isn't necessarily wrong, especially when you're on Khao San Road (and especially at night). But first, I want to focus on the more wholesome activities that Bangkok has to offer as well.
On our first – and last – full day in Bangkok, we woke up early in order to spend the day touring the city via foot, boat, and even Tuk-tuk! After a quick breakfast at our hotel, we were greeted by our guide for the day, who went by the name "James Bond", because the number 7 is a big factor in his life. James Bond was a fantastic guide, and you could tell that he was not only knowledgeable of Thai traditions; but truly passionate about his country's history and customs.
The first stop of the walking tour was Wat Chana Songkram (fun fact: "Wat" means "temple" in Thai) to do a traditional temple offering and receive a blessing for our journey from a Buddhist monk. The ceremony was lovely, and we each took turns offering incense, candles, and lotus flowers to the shrine at the front of the temple. The temple itself – like most Thai temples – was gorgeous, with tons of gold accents…which made for great photos, of course.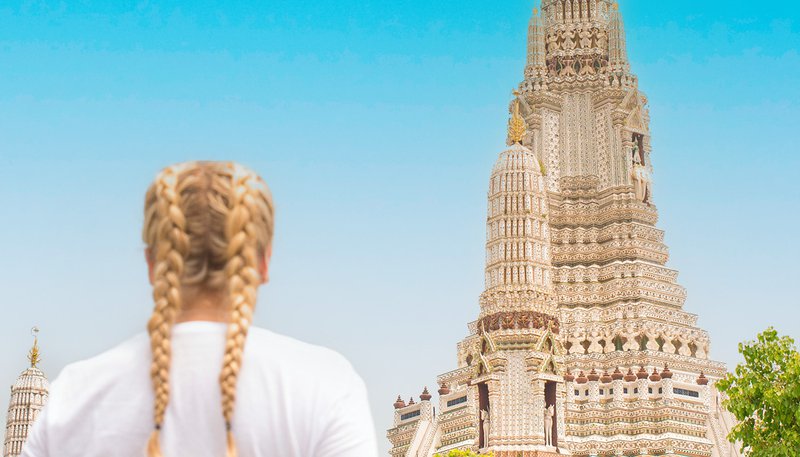 After Wat Chana Songkram, we made our way through a few side streets to experience a quieter side of Bangkok before boarding a boat to explore the Chao Phraya River, also known as "The River of Kings". This river runs through the heart of Bangkok (and connects to smaller rivers throughout northern Thailand), and we were able to glimpse quite a few more temples that were situated close to the shore. 
Following the boat ride, we stopped at a small marketplace to try some street food. Our guide brought us quite a selection, from chicken skewers to fresh fruit to coconut ice cream (served in a coconut, of course), and more. In addition to sampling these snacks, I also got a skewer of what I can only describe as "seafood balls". Yup, it seemed to be a ball of dough/breading that had different types of seafood rolled in. I know that doesn't sound very appetizing, but trust me: it was good.
Coconut ice cream in a coconut? Groundbreaking.
Our last stop of the day was Wat Pho, the temple of the very first Reclining Buddha. That's right – they have a giant statue of the Reclining Buddha. Seeing this up-close was pretty surreal because it is a huge statue. The origin of the statue's pose is intriguing as well: apparently, when he felt that death was near, Buddha requested to lie down in a bed of bushes to prepare himself for "parinirvana" (nirvana after death). So, the statue doesn't carry a sad connotation, but rather one of hope for enlightenment.
After exploring Wat Pho, we divided into groups of 3 and took Tuk tuks back to our hotel. Tuk-tuks are crazy, 3-wheeled vehicles that weave pretty quickly and haphazardly through traffic – so it's not for the faint of heart! However, it was a thrilling and fun way to end our day of sightseeing, even if I may have feared for my life once or twice. That night, we headed out to Khao San Road for more thrills…
Surviving our Tuk Tuk ride!
As I mentioned earlier, Khao San Road at night is truly a unique experience. Besides the countless bars that are lined up and down the road, there are tons of vendors walking around selling bracelets with obscene phrases (which we all bought for one another – and no, I am NOT revealing what mine said!!), fried scorpions and spiders (yuck, no thanks), promises of "ping-pong" (shows where ladies shoot ping-pong balls out of their you-know-what), and even balloons full of laughing gas (oddly addicting experience, but use with caution). 
If you can make it past all of those tempting offers and decide which bar to stop at, you'll find that many of them offer alcoholic "buckets" for just a few hundred baht (around $10 USD). Quick heads up, those buckets can be pretty damn strong, so know your limits. Our group ended up trying out a few different bars, with the first one having the aforementioned buckets and – shudder – plates of fried bugs that our group leader so kindly ordered for the table. Did I inwardly gag watching everyone else try the bugs? Yes. Did I try one myself? Irrelevant. Regardless, it was a fun night and the perfect way to say goodbye to Bangkok before we departed the next day.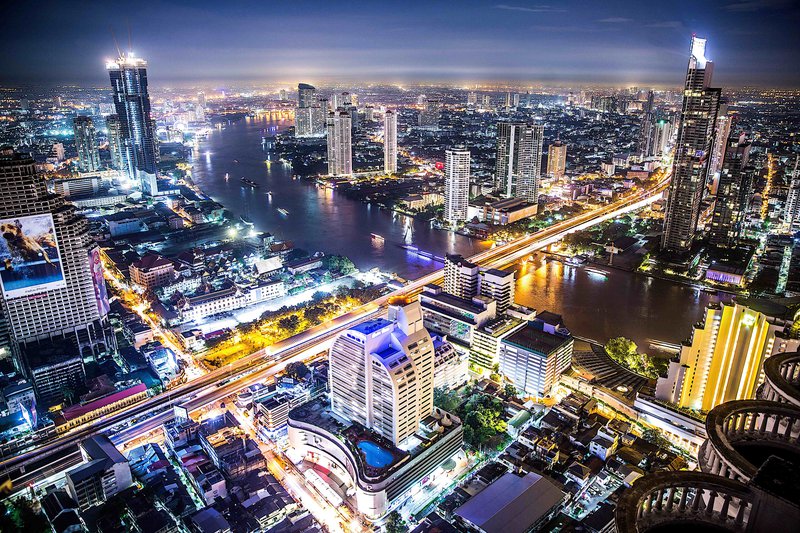 Oh, one more note on Khao San Road: if you can avoid it – especially if you're a woman – DON'T go to the public bathrooms on Khao San Road. Just don't. You'll be paying 5-10 baht for pee stains, insidious odours, no soap, and sadness.
Before actually leaving Bangkok that Friday evening, we took an authentic Thai cooking class at May Kaidee, where we made 3 popular (vegetarian) dishes: Tom Yum soup, Pad Thai, and Massaman Curry. All three of these dishes were simple but delicious, so you could make them at home if you have the proper utensils and ingredients. For the Massaman curry, we actually had a contest to see which small group would have the best dish without any instructions or help from our teacher.
Shockingly, our group won! Since I'm certainly no master chef, I'll definitely give credit to my two teammates, as I'm sure they're the reason that we were victorious. As a reward for everyone's hard work, the cooking school gave us fresh mango sticky rice. This was my first time trying the dish, and ended being the best mango sticky rice that I had throughout my entire time in Thailand (and I tried a lot of mango sticky rice). Perhaps it was the use of wild rice versus white rice, the freshness of the mangoes, or maybe just the mango-rice-coconut milk ratio. Whatever it was, it was a tearful goodbye once I had finished my plate.
There are tons of Thai cooking schools to be found in Thailand's major cities, so be sure to shop around and see which one speaks to you!
Khao Sok
The next stop on our tour was Khao Sok National Park, where we would be staying in two different accommodations, in two different areas of the park. The first, Phupa Waree, is a series of floating bungalows situated right on Cheow Lan Lake. In order to get to them, we had to take an hour-long boat ride deep into the heart of Khao Sok – which was a relaxing and gorgeous journey in and of itself! All around us, we saw the huge limestone karsts that have become synonymous with Thailand; and a great expanse of blue in every direction.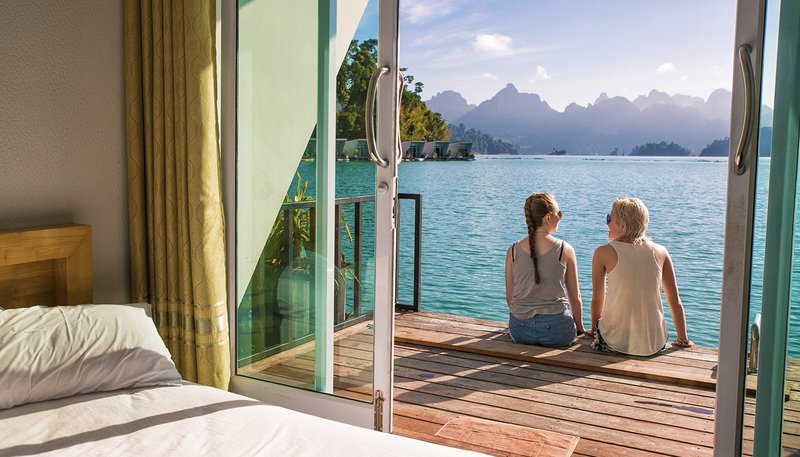 Once we arrived at Phupa Waree, I was ecstatic to realize that they had kayaks and tubes for rental. I couldn't wait to change into my swimsuit and begin exploring the natural beauty that surrounded these bungalows. Better still, each room had its own porch, with a ladder that led right into the lake! As soon as we were all settled in and had proper lunch, I immediately rented a kayak and set out to explore the nearby surroundings.
The one downside to this part of the trip was that I had a hiccup with my GoPro: although I had packed two batteries, it appears that one of them simply won't charge. I didn't realize this, however, and when it came time to pack our overnight bags for the bungalows (as our luggage would have weighed down the boat) I only brought the battery which I thought was fully charged. Surprise! It wasn't. I was pretty bummed out about this, but hey: it can't all be smooth sailing. All I could do at that point was laugh at how badly my luck had turned out, and try to just enjoy the experience with my woefully outdated iPhone 6S.
As I was kayaking, I paddled near some mangroves that were a bit farther from the bungalows, and then simply floated for a bit to take in the sounds – or, lack thereof. Besides the buzzing of what may have been cicadas in the nearby trees, it was very quiet and very peaceful. After paddling away from the mangroves, I saw a few others from my group trying to climb a short but steep, muddy incline that led to a rope swing.
Oddly enough, I had never swung on a rope swing (that led into water) before, so I definitely had to give it a try. Well, many tries, because I kept sliding down back into the mud. Good thing I wore a white swimsuit, right? I finally made it up the incline by sheer determination (and some coaching from the guys), and made my triumphant swing into the water…before letting go too late and butt-flopping into the lake. Hey, at least I did it!
After all of this action, I decided to end my time kayaking by simply laying back in the boat and floating wherever the water pulled me. The sun was out that day, so it was perfect for a spot of sunbathing. At one point, I even tried to tie up my kayak to a stump sticking out of the water. As I was doing so, however, I noticed a small, fuzzy, and – dare I say – cute spider staring at me intently. Now here's something you should know about me: I normally DETEST spiders. I appreciate that they're an important part of our ecosystem, they eat bugs, blah blah blah – but I just don't want to be around them! So it was weird enough that I thought this little one was kind of cute, with its huge eyes that seemed to take up most of its body.
As I kept trying to tie up my kayak, however, I realized that I was nearing a web at the top of the stump; the spider was following my hands ever so carefully, and there were some bright red and yellow marks on its back. Now, I may not remember everything from my Zoobooks phase in grade-school, but I do know that most small animals with such vivid colours have a good chance of being venomous. Since I was in no mood to test out my theory, I quickly undid my rope and paddled away from the stump. Spider: 1, Me: 0.
Besides that encounter, it was a completely relaxing and restorative day. I do want to note that the bungalows themselves were pretty basic, so the real value of the experience came from the location itself. I highly recommend doing some kind of floating-bungalow-experience if you make it to Khao Sok, but there are plenty to choose from if you decide that Phupa Waree isn't for you!
After the floating bungalows – and as we were on our way to the treehouses – we got to experience a brief homestay in the jungle, learning about the various crops that the farmer had growing there (for example, lemongrass, citronella, pineapple, 8 types of Thai basil, etc.) and enjoying a fresh, home-cooked meal. Side-note: his daughter was very social and absolutely adorable, and we all enjoyed our time with the family and seeing their way of life.
After filling up on Thai food and good vibes, we finally arrived at Art's Riverview Lodge, home of the treehouses we'd be staying in that night. Now, this was a place to truly "unplug", since the WiFi only worked at the resort's restaurant. The paths were also very dimly lit at night, with some areas having no light at all – so if your phone died and you had no flashlight, good luck! Despite this, it was a great experience to be deep in the forest, right next to the river, and up close with Mother Nature in general.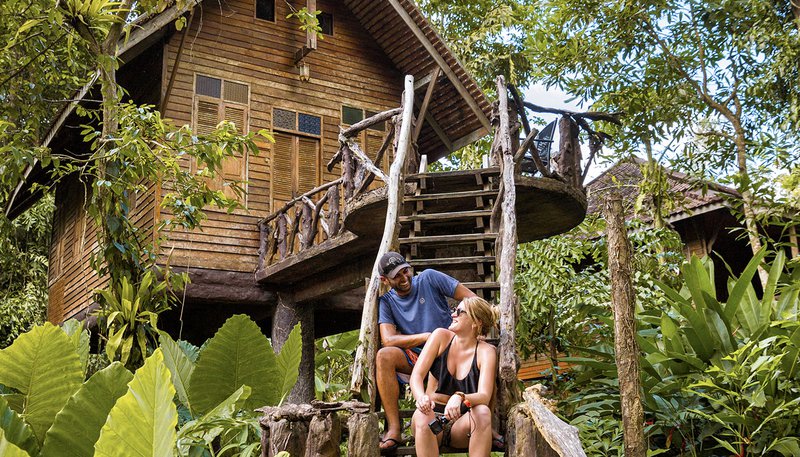 Shortly after settling into our respective treehouse accommodations, it was time to go for a kayaking tour down the very same river that ran alongside the resort. Since we had been on the road (and water) so much over the last few days, it was a nice change of pace to be able to simply sit back, relax, and enjoy the views…while an expert did all the work of paddling!
Our night at the treehouses was really laid-back: the entire group went to dinner together (it was about a 15-minute walk to get to the main "town" centre), and then a few of us decided to check out a chill place called Jumanji Bar for a drink on the way back. This stop for a drink turned into an impromptu jam session between the bar owner's brother and one of our group members since the bar had an extra guitar handy. Belting out feel-good songs in the middle of nowhere…I couldn't have asked for a better end to that night. That is, until I happened to look up at the sky on our walk back, and saw more stars that I have ever seen in my life!!
Seriously, the sky was so full of stars that I teared up from happiness at witnessing the sheer beauty above me. Talk about feeling "small" in this world and universe. Honestly, I think we would all benefit from seeing a sky full of stars much more often.
This is the second part of a 2-part Thailand tour recap. During this tour, we travelled from Bangkok all the way down to Phuket. Click here to read Part 1. 
Welcome back! It's time to dive into Part 2 of this "Bangkok to Phuket in Two Weeks" recap with the Intro Travel Thai Experience tour, so let's pick up where we left off: Departing the Khao Sok treehouses the morning after I cried at a sky full of stars. The next stop on our itinerary (finally) included a beach: Koh Pha Ngan, which is pronounced "Koh Pahng-yan"…more or less.
Before arriving on Koh Pha Ngan, we had been blessed with (and sometimes roasted by) hot, sunny weather during each stop along the trip.
Not this time.
Halfway through our 2-hour ferry ride, storm clouds started rolling in. By the time we actually disembarked and found the truck that would take us to our bungalows, unforgiving rain was pounding down, getting everyone's stuff wet. I felt especially bad for the few people who had big suitcases with them – I would not have wanted to be the one dragging those through the mud that was quickly forming!
When we got to the resort about 10 minutes later, everyone's moods had been quite dampened (sorry, I had to). One of the guys in the group was so mad about the weather that he wanted to leave the tour early! Luckily for him – and his girlfriend who he was travelling with – the storm cleared up by the late afternoon and we finally had a hint of sun come out before it set for the night.
Our resort was located right on the beach, and my roommate and I lucked out by having a bungalow that was literally steps from the ocean. I didn't even use my usual "ocean sounds" app to fall asleep at night, because I had the real thing at my doorstep. Now this – this is what I paid for!!
That night, our whole group headed into the local town of Haad Rin for a casual dinner and a painting-slash-beach party. "Why paint?", you may be wondering. Well, we sadly were not in town during a proper Full Moon Party, which is full of paint and also what Koh Pha Ngan is quite well-known for. However, our group leader still wanted us to get a taste of the "Full Moon" experience – so we painted ourselves!
Luckily, I had someone to help me, because I do not have "fine motor skills" (as my fashion design teacher in high school once told me – yes I still remember, Mrs. Powell). Just so you can get an idea of how bad my paint job was going, here's a picture of the sad heart I drew around my eye versus the face that paint one of the girls in the group gave me. Also note the difference in my enthusiasm for both. Sigh – at least I can write, right?
After painting ourselves silly and filling up on tons of food – and some buckets of alcohol – it was time to head to the beach party going on at Drop In Bar. GUYS. If you have the chance to go to a beach party on Koh Pha Ngan, you simply must go. This was by far one of the most fun nights that I had during the tour (I am biased though, because I love to dance).
The DJ was amazing, playing a mix of Top 40s music, Caribbean, Latin, classics, and everything in between; they had fire performers doing insane tricks on the sand at various points throughout the night; and there was a lively dog that, for whatever reason, got super playful every time I kicked up sand for him to "fetch". Now, I can't guarantee that you'll find a cute dog to play with when you go to Haad Rin, but the first two reasons alone are plenty to check out this bar.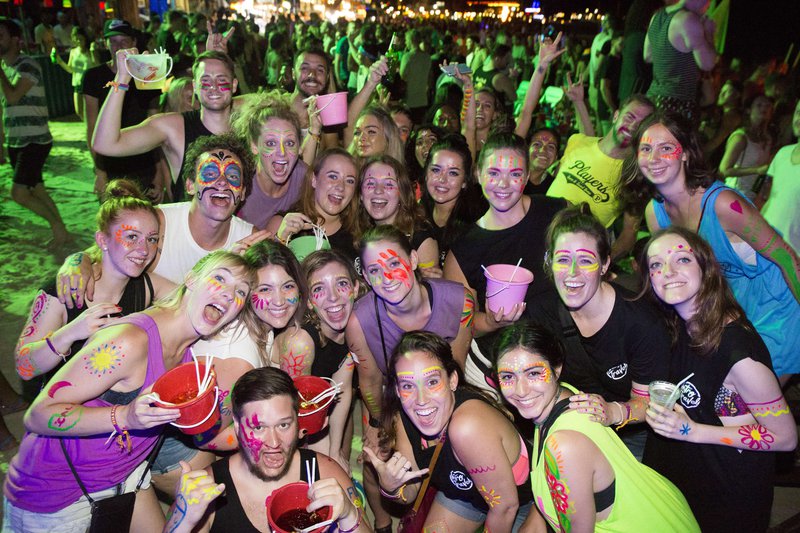 After what seemed like too short of a time at Drop In Bar (time flies and such), we headed home to rest up for the day ahead of us. Another reason for our abrupt departure may or may have been attributed to one of the guys nearly getting into a fight…I'm sure that wasn't a factor though. Not at all.
The second of our three days in Koh Pha Ngan was a day full of nature, and the weather was on our side! The morning started with breakfast, followed by a hike in the center of the island that took us past Phaeng Noi Waterfall and up to a viewpoint of the island. We were up so high, I could see the ocean in the distance. It was definitely worth almost spraining my ankle multiple times on the way up and down!
After a nice lunch break, it was time to head to our second destination of the day: a place called The Secret Beach. A bit of an oxymoron really, considering the volume of people there that day and the resort less than a mile down the beach…but hey, you can't see it from the road – so it counts.
After getting settled into a more remote corner of secret beach, our leader pulled out some snorkelling gear and life jackets, then informed us that we were free to do whatever we wanted for a few hours. For me, this was a mix of snorkelling (duh), swimming freely, laying out for a bit, playing some water frisbee, and – a last-minute decision – taking a stroll down this quiet green path on the other side of the beach. I actually got the suggestion from the same girl on the tour who had painted my face the night before. Thanks Ariel!
My solo stroll ended up being the best way to end our time at the beach – and not just because I took so long, it was time to go when I finally got back. In front of the resort that I mentioned earlier, there is a path lined by palm trees and vibrant plants that will make you feel like you're a world away from the chatter on the beach.
At the end of the path, you can even watch waves crash up against the shore. If you make it to The Secret Beach, don't miss out on this short walk; and be sure to give the swing a try, if you can get onto it!
That night, the plan was a chill beach barbecue back at the resort. Yours truly joined the group for dinner and went back to the bungalow for a power nap…which ended up so powerful that I didn't wake up until the next morning. Oops.
As it turns out, that long night of sleep was probably a great idea, because our last day in Koh Pha Ngan involved a Muay Thai class at Chinnarach Thai Boxing Camp (the other option on this day is yoga for those of you who are calmer spirits). This gym was super legit, as it's the in the only gym in Koh Phangan that's recognized by the Board of Boxing Sport of Thailand. Furthermore, it's owned and operated by 2-time world champion Master Chin. So yea, basically I'm a badass now.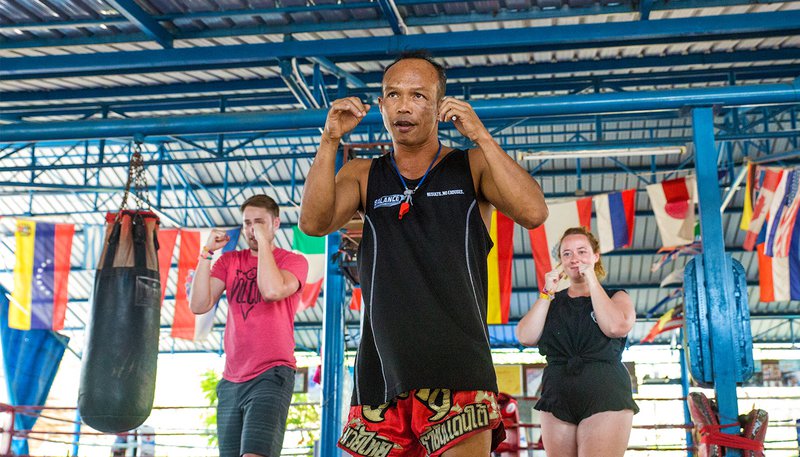 But seriously, this class kicked all of our butts while teaching us some really cool basic moves that truly pack a punch (these puns are unintentional, by the way). After doing some warm-up exercises and being taught the basic stance and sparring moves, we went through some shadow-boxing drills before taking to the mat to do some partner ab exercises.
These exercises involved sitting below a punching bag, essentially straddling/overlapping your legs with your partner as you each did a crunch up, and then giving a one-two punch to the bag. So, be prepared to get up close and personal with whoever you partner with. This isn't the time to be shy!
Our class ended with an assembly line of each coach running through the drills with us one-by-one, and then a few of us decided to get in the ring with the head coach to try out our newfound skills. When it was my turn, I thought I was being so cool and cautious, staying back in order to try and anticipate what hit the coach would call next – or if he would go for a sneaky body-shot instead.
All this resulted in was him taunting me (good-naturedly) and asking if I was scared. Yikes. There goes my badass status…I hardly knew ya. On the plus side, when it was time to do a succession of kicks to the strike pad at the end, I'm pretty sure I hit all 10 – even if I had to pause between number 9 and 10 because I was petrified about accidentally whacking my ankle (instead of my shin) and hurting myself.
Overall, the class was a great introduction to Muay Thai, and a fantastic workout! I highly recommend taking a Muay Thai class while you're in Thailand; and checking out Chinnarach if you decide to do it on Koh Pha Ngan.
The rest of the day was pretty uneventful: I had an oil massage on the beach – which felt wonderful after Muay Thai – and then went for a short swim before dinner. We were leaving for Koh Phi Phi at a bright and early 6am the next morning, so it was an early night for most of us. Well worth it though…
Phi Phi Islands
The journey to Koh Phi Phi (pronounced like Pee-pee, get your giggles out now) was quite a long one, involving multiple car and bus rides that resulted in a ferry that finally deposited us on this beautiful little island. However, I think that Phi Phi is an absolute must-do if you're going to Thailand! Seriously, don't miss it.
Since we didn't get to the island until about 3pm that day, the rest of the afternoon and evening were spent exploring the island, shopping (you can get nearly every souvenir imaginable there), and relaxing a bit before dinner and a fire show. Side-note: As we walked around, we spotted a fat, jolly monkey that was just chilling on the sidewalk with some locals! Seriously, this little (big) dude was living his best life:
Since we had the option to walk/hike to the island's viewpoint at 6:30 the next morning, I decided to make it an early night and rest up.
Honestly, I'm really glad that I did! I could not have imagined climbing some of those steps hungover…my stomach hurts just to imagine it. For the most part, the walk was very enjoyable, but some of these staircases were steep as hell. One of them was nearly vertical, and basically, climbing it reminded me how long it had been since I'd gone to the gym.
Luckily, we all made it eventually and the views made it all worthwhile. Plus, the hike set a lovely tone for the rest of our day AND we had time to relax before our speedboat excursion that afternoon.
Now, this speedboat excursion: another one of my favourite moments from the tour, by far. We basically spent the whole day on the water, going to 5 different sites: Monkey Beach, a secluded lagoon, (near) Maya Bay, Bamboo Beach, and a fishing village island.
Monkey Beach, which we thought would be full of primates trying to snatch our cameras, sadly only had one monkey that came out during our time there. Although it was definitely cute, it became the focus of everyone's attention – so pretty soon, people from other tour groups were crowding around and wouldn't stop messing with it. As a result, we left early. People ruin everything, eh.
The next stop was the hidden lagoon, which was magical. Hidden deep between a circle of limestone karsts, the water here was a vivid blue-green and very vibrant. It felt like a secret little paradise tucked away from the rest of the world, and I could've stayed there all day. We all passed the time floating on our life jackets, exploring the nearby flora, and even jumping off the boat into the blue below. 10/10 recommend!
After the lagoon, it was time to snorkel near Maya Bay. As some of you may know, Maya Bay is the location of Leo DiCaprio's famous film The Beach. What you may not know, however, is that the ecosystem has been so ravaged by tourism that they've closed it down indefinitely. Now, speedboats can't get within a certain distance to the beach due to the closure. Read more here about how the ecosystem has been affected, and PLEASE exercise responsible tourism so that more natural wonders like this don't have to close down and recover!
All of this said, we were fortunate enough to still see an abundance of sea life near Maya Bay: tons of fish swam around us, and bigger, more colourful ones darted far below where we (I) couldn't quite reach to get good shots of them. But trust me, it's better in person anyway.
The second to last stop of the day was Bamboo Beach, which was a great stop for relaxing, tanning, or – in my case – playing a hybrid of volleyball and soccer with some of the tour group. Since all of us had stronger kicks than anticipated, I definitely got my cardio in for the day running after the ball and trying to stop it from hitting any innocent passerby. We all wished that we could've stayed longer, as it seemed to be less than an hour before the boat departed for the last stop of the day.
However, the last stop of the day proved to be delightful in a surprising way. As I mentioned, this was a visit to a small fishing village on an island nearby. The rest of the group ventured to a bar further inland, but I decided to go back down to the beach (of course, after walking all the way to the bar) and get a last dose of vitamin-sea before we left Phi Phi the next day.
When I went back and got settled in, I was surprised and excited to come across a ton of hermit crabs! Abandoning my plan of spending the whole time in the water, I entertained myself for the next hour or so by following the crabs around and picking them occasionally (and putting them back down gently, of course). Yes, I am a child, and yes, I probably should've left them alone. Bad Chelsea.
After we arrived back at the resort and freshened up from the long day, it was time to grab a bite to eat and hit the town for our last night in Koh Phi Phi. This night was honestly a fun, crazy blur. We started out at pirate-themed bar that had cheap buckets (those dreaded buckets), stopped by a reggae boxing club that had encouraged (drunken) amateurs to come up and fight each other in the ring, and then somehow ended up at a dance club by the end of the night. Not a bad combination to finish off our time on the island! Phi Phi had a surprisingly diverse nightlife – as you can tell – so be sure to give yourself time to wander and see what you stumble upon.
The next morning, we had a reasonable checkout time of 11am – but to me, it felt like a death sentence, since we had gotten back at very-late-o-clock. My roommate and I managed to get checked out on time, and then I spent our last few hours on the island getting breakfast and a pedicure. Afterward, it was time to head on down to Phuket
Phuket 
Phuket (pronounced "Poo-ket", see the pattern here?) was the last stop on the group tour, and our big activity here was an Elephant Experience at Phuket Elephant Sanctuary. The great thing about Phuket Elephant Sanctuary is that they rehabilitate elephants who have been abused, whether through work, trekking, shows, riding, or painting (yes, elephant painting is a cruel practice too, sadly), and allow them to thrive in a natural habitat.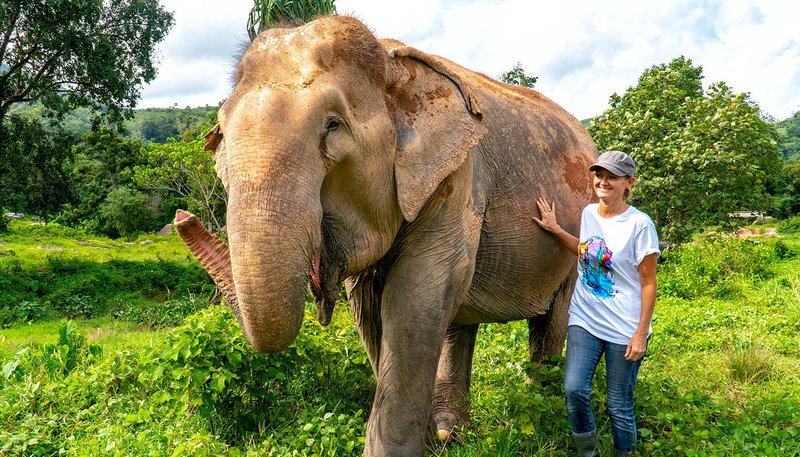 Since we were only in Phuket for two nights – and one was a night-in – we went out to Bangla Road on our last night of the tour. Before coming to Thailand, I wasn't aware of Bangla Road; but on the way to Phuket, I was informed that it would be even wilder and bigger than Khao San Road. After seeing it for myself, I think I agree! However, the chaos seems to be a bit more contained into separate bars. That said: there were definitely more bars, with more girls, in less clothing.
After popping into a few places and observing some of the raunchier ones from afar, our group (now down to a few people who didn't have early flights the next day) came upon a live music place called Monsoon Bar. Although we went in on a whim, this place turned out to be a blast. Live music bars are usually hit or miss for me, depending on what they play, but this band was super-talented! They were all Thai musicians, but they sang popular English and Latin songs.
I was in musical heaven, and we all danced the night away. Once it was time for the night to end, a few of us grabbed a pack of water (to ward off hangovers) and went down to the beach to sit and chit-chat. Honestly, I couldn't have asked for a better way to end the tour.
The next day, I checked into a new hotel in Phuket while everyone else went their separate ways. The day after, I would be flying up to Chiang Mai for the rest of my trip. 
Hard to believe that so many activities could into 2 weeks, right?! 
This article was written by Chelsea at Wit & Wishes, check out her other articles here! 
---
Ready to travel Thailand and start your own adventure?
Whether you're eager for a short holiday, gap year or longer backpacking trip in Asia, check out our group tours! With all of your accommodation, internal transport, activities and a bunch of meals included, plus the help of an experienced group leader and instant new crew of mates, what are you waiting for? The Land of Smiles is waiting for you... 

RETURN TO BLOG
NEXT ARTICLE