The 7 Best Places For Scuba Diving In Thailand
Published 05th February, 2017
As a coastal country with year-round warm weather and crystal clear turquoise waters, it's no secret that Thailand is home to some of the best scuba diving in the world. There is no shortage of incredible dive sites where you can get up close with whale sharks, eagle rays, turtles, and more. Here are our top picks:
1. Koh Lanta – something for everyone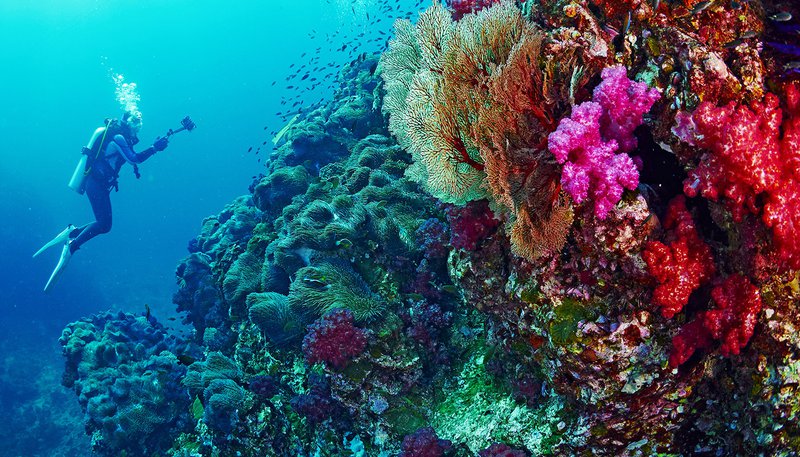 This stunning island on Andaman Coast offers access to a multitude of sites suitable for divers of all levels. With wall dives, pinnacle dives, wrecks, and lagoons you'll never be bored! Visit between February and April for the best chance of seeing manta rays and whale sharks.
Koh Lanta also offers the closest access to Hin Daeng and Hin Muang, two world-renowned dive sites full of lush coral reefs and bustling marine life. The pristine Koh Haa is also very close by, offering crystal-clear and often calm waters sure to entertain divers of all levels.  
After diving, you can expect to take in the views on a breathtaking boat ride back to the island. Whether you're keeping to a tight budget or looking to be luxuriously pampered, Koh Lanta's varied accommodation has something for everyone. Relax on the beach at sunset to truly experience the best of what Koh Lanta has to offer!
2. Koh Tao – beginners on a budget
As a part of the Chumphon Archipelago, Koh Tao offers intimate access to the incredible sights and experiences that make the Gulf of Thailand a popular diving destination. This island has over 25 dive sites to choose all within 45 minutes, giving you adequate time to explore the best of the region. With crystal clear waters year-round and some of the cheapest certification course in the world, Koh Tao is ideal for beginners on a budget.
Koh Tao offers a range of diving adventures, from the colourful Chumphon Pinnacle to the abundant marine life at the aptly named Shark Island. Night dives often feature entertainment in the form of hunting barracuda, so keep your eyes peeled! Whether you're a seasoned expert or complete beginner, Koh Tao has it all.
3. Koh Phangan – entertainment in & out of the water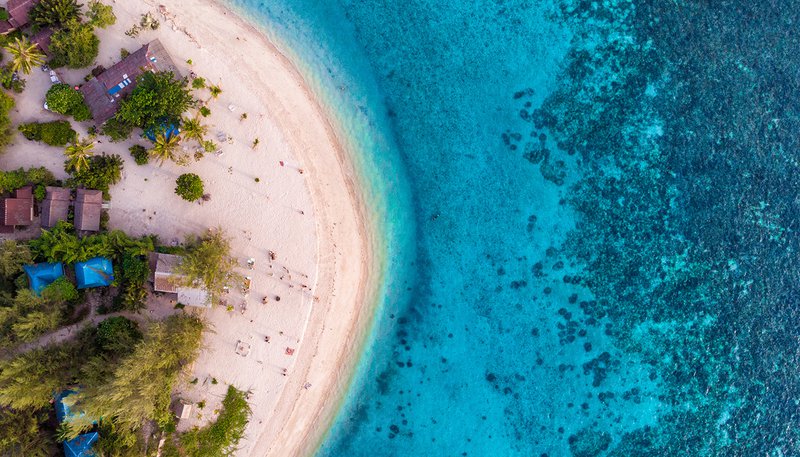 With easy access to the iconic Sail Rock in as little as 15 minutes, Koh Phangan is a must-visit Thai scuba diving destination. In addition to boat dives, Koh Phangan also offers access to some incredible beach dives for those who simply can't wait to get their feet wet!
Dive in March or April to get the best chance of seeing whale sharks or simply enjoy the abundant schools of batfish, groupers, and Bluespotted ribbon tailed rays. From Sail Rock to the limestone islands of Angthong Marine Park the diverse marine life of Mae Haad, Koh Phangan offers no shortage of breathtaking diving experiences!
Koh Phangan is also home to the infamous Full Moon Party, easy access to the Ang Thong marine reserve, and other on-land attractions sure to occupy any non-divers you may be travelling with. If you're looking for amazing entertainment in and out of the water, Koh Phangan is the place for you!
4. Koh Phi Phi – world-famous scenery
As stunning above the water as it is under, Koh Phi Phi has rightfully earned its title of one of Thailand's most famous holiday destinations. With no cars on the only inhabited island (Phi Phi Don), you don't have to worry about noise pollution or fumes even at the height of the travel season.
Koh Phi Phi offers access to a range of dive sites suitable for a range of diving levels. Beginners should stay closer to the island to avoid stronger ocean currents, while more experienced divers can go further out and enjoy full days on the turquoise water. With varied topography and access to dives such as the Kled Gaeow Wreck, Koh Phi Phi is sure to make your diving dreams come true!
After diving, take a boat ride around the awe-inspiring islands, snorkel around the shallow coral beds, and relax on some of the most incredible beaches in Thailand. Koh Phi Phi truly is one of the most beautiful places in the world!
5. Krabi – traditional boats & picturesque views
Sitting on the west coast of southern Thailand, Krabi offers incredible access to stunning pinnacle dives with thriving coral reefs and abundant marine life. Most dives in the area leave from Ao Nang or the famous Railay Beach and give access to some of Thailand's most famous dive sites.

More advanced divers can expect picturesque boat rides to sites such as the King Cruiser Wreck, Anemone Reef, Shark Point, and more. Beginners and those not looking to devote their entire days to diving can take short rides in traditional longboats to a multitude of sites closer to the beaches.
Once you're done diving for the day, you can swim in Koh Talu or Koh Yawabon for a truly unique Thai experience. The diversity of the marine life – including lionfish and sea turtles – in this area can be seen even from the surface. If you're looking to get up close and personal with a range of ocean animals and take in the views of stunning limestone cliffs, Krabi is the place to go!
6. Khao Lak – paradise off the beaten track
With over 20 kilometres of pristine white sand beaches, thriving rainforest, and perfectly clear water, Khao Lak is a virtually untouched paradise. Sitting away from the popular tourist attractions and noise of Thailand's bustling cities, Khao Lak offers diving in a serene environment.
Divers from Khao Lak can choose between liveaboard trips with an average length of four days, four nights, and day trips to coral reefs and wrecks. Boonsung Wreck, one of the most popular day dives from Khao Lak, is now a thriving artificial reef that is home to some of the largest schools of pufferfish in the world.
Khao Lak also offers access to Richelieu Rock, a haven for underwater photographers, Koh Bon, the Similan Islands, and more. The area is bustling with colourful reef dwellers, including octopi, giant cuttlefish, morays, lionfish, and more. Visit between February and April to have the best chance of seeing manta rays and whale sharks. If you're looking for access to some of the best marine life in Thailand in an undisturbed paradise, Khao Lak is the place for you!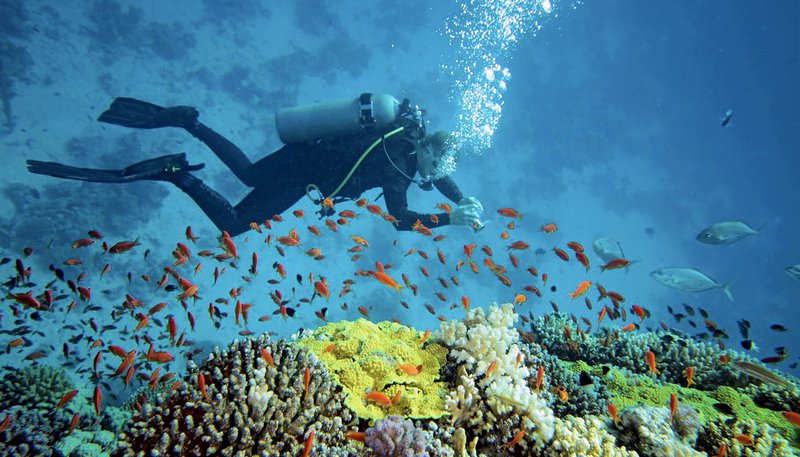 7. Similan Islands – experienced liveaboard heaven
For hardcore divers looking to devote their time to being underwater, the Similan Islands are the place to be. Famous for good reason, divers in the Similan Islands can expect to see some of the best diving experiences in Thailand in just a few days. Most of the trips are four nights, which is the recommended length of time to truly appreciate the beauty of the area, but there are shorter trips for travellers who don't have that much time.

Most suitable for experienced divers due to the length of the trips and likelihood of currents at the dive sites, most companies will require either an advanced certification or make you take the course while on the boat. However, the incredible visibility and access to rays, sharks, octopi, and a range of fish definitely make it worth your while. The best time to see sharks and rays is February to April, but other marine creatures can be seen year-round.
Most trips leave from Khao Lak, but there are some available from Phuket and Ranong as well. If you're an experienced diver keen on spending your vacation underwater, definitely don't skip out on the Similan Islands!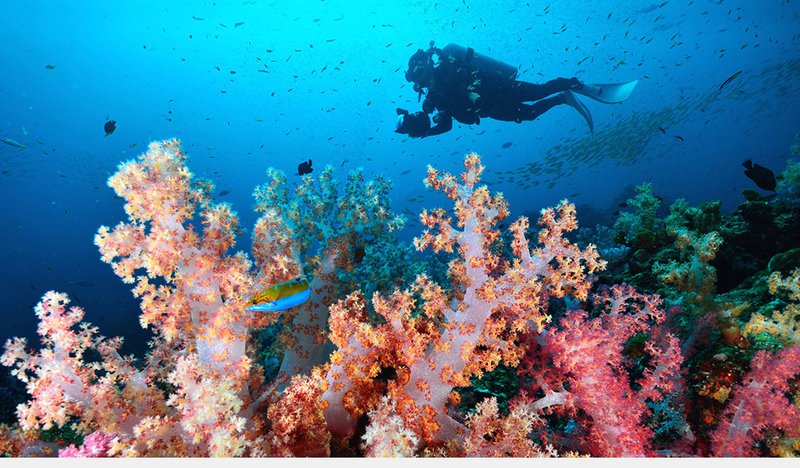 ---
Interested in seeing more of what Thailand has to offer? Check out our Thai trips here, including Thai Intro + Dive in Koh Tao!
For more info about travelling SE Asia, check out our Ultimate Guide to Backpacking SE Asia.

RETURN TO BLOG
NEXT ARTICLE