Top 10 Things To Do In Byron Bay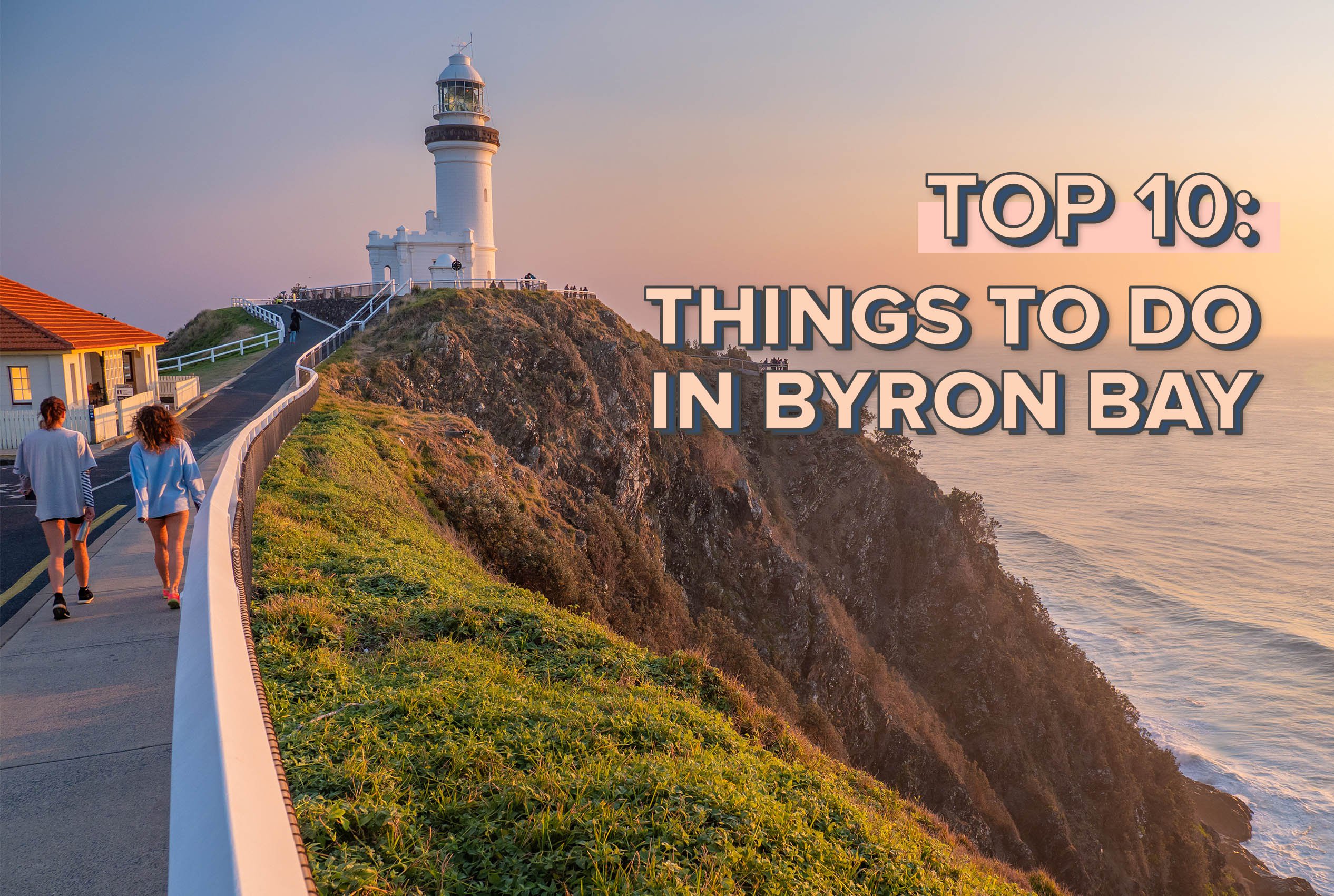 Published 02nd July, 2020
Byron has a special place in our hearts and we've never met anyone that doesn't think the same. It's the perfect combo of chilled, coastal vibes with plenty of things to see and do - from live music to surf lessons to endless shopping, there's literally something for everyone. The activities may be countless but to help you get the most out of this bohemian paradise we've put together our top 10!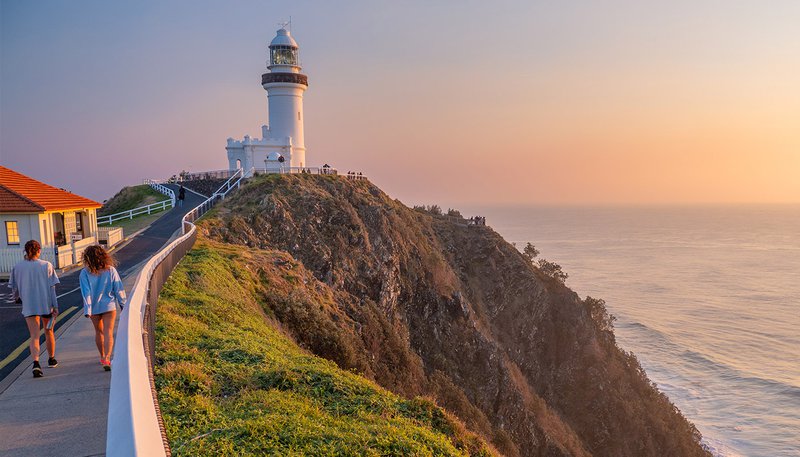 1.     Cape Byron Lighthouse – This is the most popular attraction you can visit whilst in Byron, and you've probably seen plenty of awesome sunrise and sunset shots from here! The Cape Byron Lighthouse was built at the beginning of the 19th century, and until 1989 there were keepers operating the lights inside. Now it's all automated, power of technology, hey? We recommend starting your day bright n' early and heading up the coastal walk from the main beach, then hopefully be rewarded with an epic sunrise. If you're not much of a morning person then rest assured that the sunset views as equally breathtaking. On your way up you'll also notice the sign stating it's Australia's most easterly point, which is pretty cool and makes for a great photo opportunity.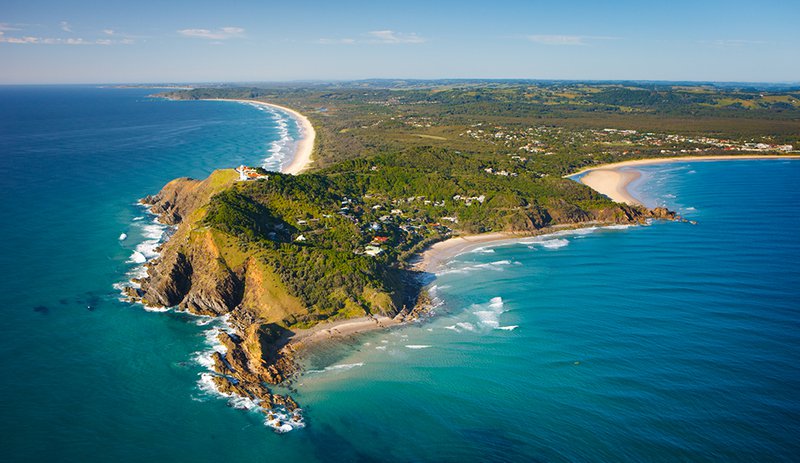 2.     Beaches – There's a whole array of stunning beaches to be explored in Byron. If you fancy spending a chill day on the sand soaking up the sun then you're spoilt for choice, we've even got a guide to our fave beaches here. The main beach is definitely the most popular, but there are other hidden gems to be found. We suggest getting there for a sunrise and doing some yoga on the beach as the day begins, or take some food down at sunset to cook your dinner on the bbq's at the beach whilst sipping a few sundowners. As Byron is the most easterly point of Australia you're guaranteed to be treated to some of the best sunrises you'll ever see! 
3.     Surf – Whether you're a total beginner or absolute pro, Byron and beyond is an awesome place to surf. If you can only just about manage to get on your board (like some of us) or you are confident riding those waves, you'll have a great time with the guys at Mojosurf. They are always available for lessons if you want to brush up (or gain) some skills. Surfing in Byron can be super crowded so the crew at Mojo take you surfing at surrounding beaches where the waves are epic making it the perfect learn to surf waves.
4.     Spot Dolphins & Go Whale Watching – It's no secret that Australia is home to some amazing wildlife, and Byron is blessed with populations of dolphins and humpback whales between the months of May and November. You can literally see a pod of whales splashing around and breaching from the Cape Byron Lighthouse, or you could take a whale-watching boat trip if that's more your speed. Either way, it's an absolutely incredible experience and tours will mean you can see whales, dolphins, and even turtles too!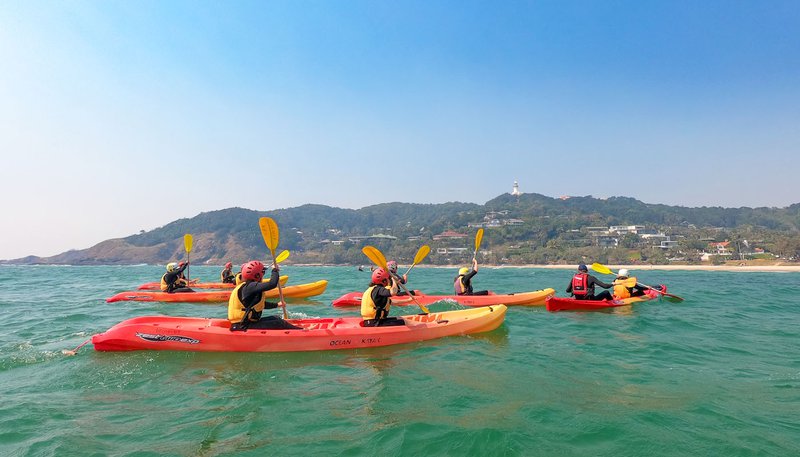 5.     Water Sports – If you're a water baby then Byron is the place for you. As mentioned you can enjoy some amazing surf, but there's plenty of other water sports to involve yourself in! Out in the ocean, snorkelling is popular, even diving. Julian Rocks is a protected nature reserve and one of Australia's top dive sites. You can expect to see a huge amount of awesome marine life including leopard and nurse sharks in the winter months. Kayaking the ocean is another great way to spend your time in Byron Bay. You can literally cruise through the ocean on your kayak whilst dolphins swim alongside, pretty amazing right? Get yourselves a kayak buddy or just head out for some time by yourself because either way, you'll hopefully end up close and personal with dolphins. Nothing beats seeing them frolicking in their natural environment! 
6.     Epic Festivals – Byron Bay may be a small city but it's home to some of the biggest Australian music festivals. The top one would be Splendour in the Grass, which is held in June and features three days jam-packed full of musical legends. Previous years of the festival have seen Kendrick Lamar, Khalid, Foals and The XX perform to crowds of 50,000 people. Along with the music, there are just all-round good vibes that you would expect at an Aussie music festival with quirky pop-up bars and delicious food. If you're not around in June to check out Splendour then try and swing by over New Years to enjoy Falls Festival where the likes of Lewis Capaldi and Disclosure have performed. Pretty decent way to see in the New Year! There are plenty of other festivals to attend in Byron - including the Byron Latin Fiesta festival and Byron Writers Festival - so check out their annual calendar and take your pick.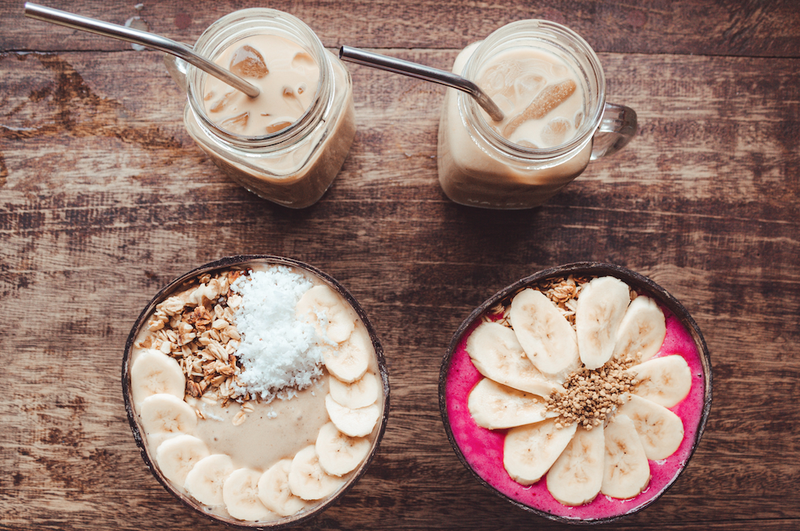 7.    Great Eats – There are plenty of cute, quirky, and of course Instagrammable cafes and restaurants in Byron Bay. Whether you're looking for brunch, lunch, dinner, or a juice there are a plethora of spots to choose from. Personally, we love plant-based/ethical Folk and Combi for brunch for those smashed avo/chia pudding kind of days. If you're looking for a dinner spot then we suggest trying Orgasmic, a place that serves Middle Eastern food and have *potentially* some of the best falafel in Australia; guess the title of the restaurant could've given that away! If you want to get some affordable but yummy food then Cheeky Monkeys do dinner deals for a couple of hours in the evening that usually include a meal that's around $5, which is good to save some coins! Burgers down under are delicious and if you're craving one in Byron then stop by Main Street Burger Bar who have some amazing options and also cater to vegetarians/vegans/GF travellers. 
8.    Discover Nimbin – You can spend a day taking a trip out of the main hub and visiting the unique hippie town of Nimbin that's probably like nowhere you've been before! It's 70 km west of Byron and referred to as Australia's hippie capital city. Down the main street of the village you'll see brightly coloured, psychedelic-Esque art with all the 'peace and love' vibes you could imagine. Think reggae music, craft stalls, flower necklaces, and headbands. There are individual arts and craft boutiques worth checking out and even a place where you can make your own candles. If you've got a bit of time in the area it's definitely recommended you swap the coastal, chilled beach area and trade it in for a day in Nimbin to experience something original. Watch out for the lovely ladies selling 'special'  brownies!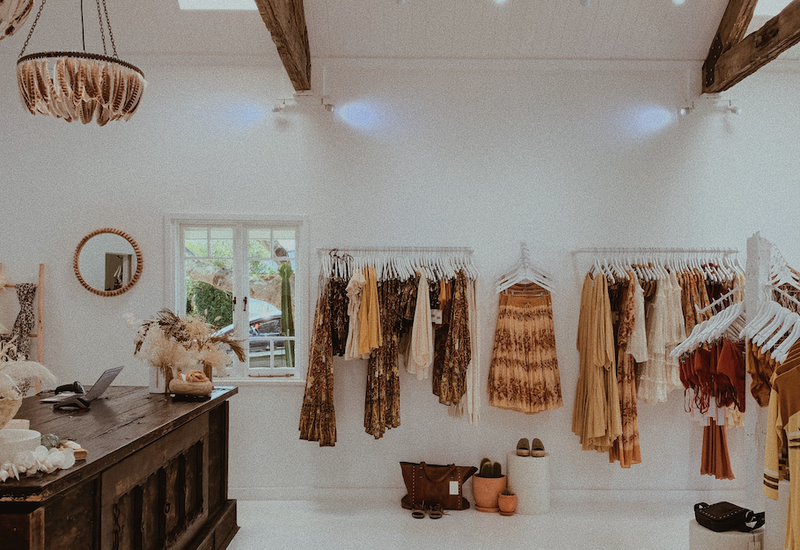 9.     Shop til' you Drop – There's a whole host of places to shop in Byron whether you're hunting for a bargain or looking to spend a little more. So many of the individual boutiques in Byron have beautiful clothes, and if you buy from there you probably won't find yourself wearing the same thing as someone else! They also have a selection of surf shops and other high street shops to choose from. If you need to pick up some souvenirs for your friends and family (or yourself) there is a lot to choose from in Main Street leading up to the beach where you can get handmade jewelry and art pieces. Byron also has a few markets to check out - one of the most popular is the Farmers Market where you can get some locally grown, fresh produce and enjoy a coffee or green juice #health! The Byron Bay Community markets run on different dates across the year and are a great opportunity to support local businesses by purchasing something from the talented stallholders. Get your hands on some beautifully unique items and experience the buzzing Byron atmosphere. You can check out what other markets are running by heading online to check the schedule. 
10.  Experience the Nightlife – Byron Bay has an eclectic bunch of bars so you can mix up your nights out. If you're in the mood for live music then it's best to check out The Beach Hotel which is right next to the main beach so a perfect place to swing by for a drink after a day of soaking up the sunshine. There's also live music at Byron Bay Brewery where they offer a selection of craft beers too, as well as The Northern or The Railway Friendly Bar which is a big hit amongst locals as they've had free live music every night for around 30 years! As Byron is full of creativity you can appreciate live music whilst just walking up and down the streets, it's even where Tones and I, famous for the tune "Dance Monkey", was scouted. We also recommend Woody's Surf Shack, it's got such a cool vibe with vintage surfboards making up the décor and you can go for a casual game of pool or stay out until 3 am if you wish! But if you're really looking for the place to bust out those dance moves then head to Cheeky Monkeys, where there will be loads of fellow travellers to have a table-top dance-off with.
---
For those of you who've dreamed of escaping the real world to become a beach bum, or who just want to see a more alternative side of Oz, Byron is the place to check out! If you're keen on exploring this part of Australia and want all the boring stuff taken care of, we've created some self-guided packages to make sure you're spending every minute doing the fun things. What are you waiting for? 
For more information about Australia, including tips on where to go, when to go, how much money to save, and what to bring, check out our Ultimate Guide to Backpacking Oz here!

RETURN TO BLOG
NEXT ARTICLE