Vietnam From Your Living Room
Published 26th May, 2020


Warm up with an un-Pho-gettable meal
Vietnam is home to some truly incredible food. The spring rolls are as good as they get. Crusty baguette bread is used all over the country to make Banh Mi – a Vietnamese subway style sandwich. There are loads of incredible flavours to be tasted throughout the country, varying from north to south. In typical Asian fashion, the signature dish of Vietnam is a noodle-based soup called Pho (pronounced 'Fa').
Pho is made up of a beef stock, onion, bean sprouts, thinly sliced beef and rice noodles. It's fairly simple to cook, although making the stock can be time consuming. However, it is my promise to you that a well-cooked Pho is certainly worth the effort! Veggie & Vegan variations of the recipe can be found online too.
If you fancy giving it a go, here is a short video you can use to guide you. For the authentic Vietnamese experience, practice eating your Pho with chopsticks and a spoon! When Vietnam opens up again for travel that'll be a sure-fire way to impress your Vietnam Intro leader!


Dive into a Vietnamese tradition with some origami lanterns
If you've researched Vietnam as a travel destination, I'm confident you'll have read about Hoi An. Often people's favourite place in Vietnam, Hoi An is known as the 'city of lanterns'. The old town is a UNESCO heritage site, and limits the vehicles that are allowed in to the centre. Cars, buses and scooters are not allowed (although some cheeky moped drivers ignore this).
The old town is known as a 'walking & cycling town'. Boasting beautiful French style architecture dating back to the French colony, the Hoi An old town is quite the sight to behold. Vietnamese tradition in Hoi An is to hang beautiful handmade lanterns outside their homes and shops. In recent years they've really taken this up a notch, and now the streets are decorated with huge strings of lanterns.
On our Vietnam Intro trips, an optional lantern making class can be arranged for you by your group leader. You can learn to make proper Vietnamese lanterns with a local instructor completely from scratch. If you want a little taste of the Vietnamese tradition from your home, try your hand at making some origami lanterns. There are lots of tutorials on YouTube focusing on Diwali or Chinese style lanterns, yet the concept remains the same, so give it a try!


Visit the king in the Vietnamese jungle 
It's no surprise that the first genre to come to mind when thinking about films featuring Vietnam is war. There's titles such as 'Platoon', 'Full Metal Jacket', 'We Were Soldiers' and 'Good Morning Vietnam', just to name a few. Yet none of these would be my first recommendation. Are you familiar with a famous abnormally large ape?
Kong: Skull Island, released in 2017, is a newer movie rebooting the King Kong franchise. It focuses on a crew of soldiers and explorers that venture to Skull Island. Awaiting them are some truly terrifying beasts, turning it into a mission of survival for our heroes.  Starring Tom Hiddleston, Sam Jackson, Brie Larson and John C. Reilly, the movie doesn't lack in big names. The special effects are fantastic, the action is intense and the cinematography is en pointe. 
'But how does this relate to Vietnam?' I imagine you thinking. See, Vietnam is home to some of the most impressive and dramatic landscapes in the world. Certainly some of the most beautiful views I've ever seen! So beautiful in fact, that Kong: Skull Island was filmed predominantly in Vietnam, mostly Ha Long Bay & Ninh Binh. 
The jungle-topped limestone cliffs provided a fantastic setting for the film. Just add a huge CGI ape, some Sam Jackson one-liners and bang; there's your Hollywood movie! Check it out to see some of Vietnam's best landscapes on the silver screen. 
A super short history lesson
You've probably heard a bit about the Vietnam War. Sadly, it's pretty messy. Featuring the collapse of a colony, a civil war, the great Communism vs. Capitalism conflict and a 250km network of tunnels, the Vietnam War is something you should definitely gain some context on before visiting. 
While the main countries to feature in the war were the USA and Vietnam, it was truly a worldwide event. Since broadcasting was more of a common thing at this time, people saw the war brutally covered on their TV screens. Protests against USA's involvement took place all over the world. The war had a huge impact on Southeast Asia. Obviously mainly in Vietnam, but Cambodia and Laos too! It's a fascinating history to learn about. If you want to dive into it, here's a YouTube video to get you started. If you want to really get into the finer details, there's a whole 10-part Netflix documentary perfect for that purpose.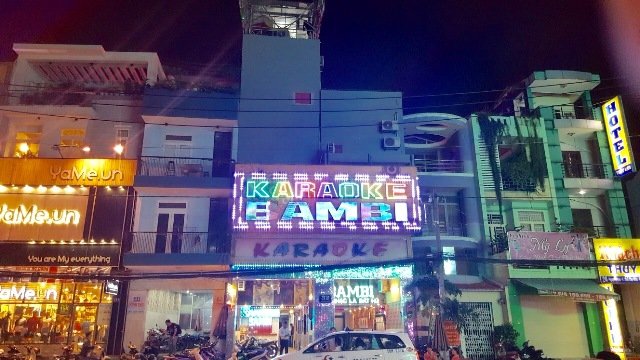 Sing your heart out with some Vietnamese Karaoke 
The Vietnamese love karaoke… and by that, I mean they REALLY love it. Many Vietnamese families own a huge speaker with a Bluetooth microphone connected to it just for this purpose. Whether it's a big event with the whole family like a wedding or birthday, or just a Friday night down at Mr. Hai's house, Vietnamese love to put their favourite ballad on and let it rip!
In rural areas of Vietnam sometimes there is very little for locals to do. Head to the Mekong Delta and you can often hear music blasting and a Vietnamese man/woman singing their heart out to whoever will listen! You may not understand what they're singing, but you'll feel the emotion for sure. If you travel to Vietnam, be sure to keep your ears out. Until then, why not get the music blasting in your bedroom/living room/kitchen and belt out with some of your favourite songs! I know many of the Vietnam Intro leaders love to do a bit of karaoke on their tours, so some practice ahead of time would give your performance that cutting edge.
We hope this mini virtual trip to Vietnam inspires you to try something new during this time stuck indoors, and get you pumped to travel again!
If checking out the chaos of Hanoi, kayaking Ha Long Bay, eating your body weight in spring rolls and cycling through untouched Ninh Binh sound right up your alley, you should definitely check out our Vietnam trips! If you're interested in finding out about them, including itineraries and breakdowns of each day, CLICK HERE! We truly can't wait to travel with you again when it's safe to do so.  
RETURN TO BLOG
NEXT ARTICLE