What To Pack For Vietnam!
Published 30th October, 2020
So, you've set your sights on the wonders of Vietnam - a place where lush rainforest, dramatic limestone cliffs, delightful locals, and epic adventures await. Rich in culture, history, and some of Asia's best food offerings, it's no wonder that Vietnam is topping everyone's bucket lists. 
With your leave booked and visa approved, the vacay countdown is officially on... but where to begin packing? The task can be daunting, so we've gone ahead and broken it down for you. Here's everything you need to know to explore the land of Pho!
First things first...
Adopt the mentality that less is more, and stick to it. Vietnam has a lot on offer. If your mind is set on conquering as much as possible, navigating a huge suitcase amongst streets teeming with scooters and fruit ladies is not a great place to start. Packing light ensures you remain portable and can still take advantage of the incredible shopping opportunities. Laundry is both cheap and readily available in Vietnam, meaning a week's worth of clothing will generally put you in good stead. Plus, Hoi An is renowned for its world-class tailoring, so anticipating room for purchases will mean you don't have to jettison half of your luggage en route.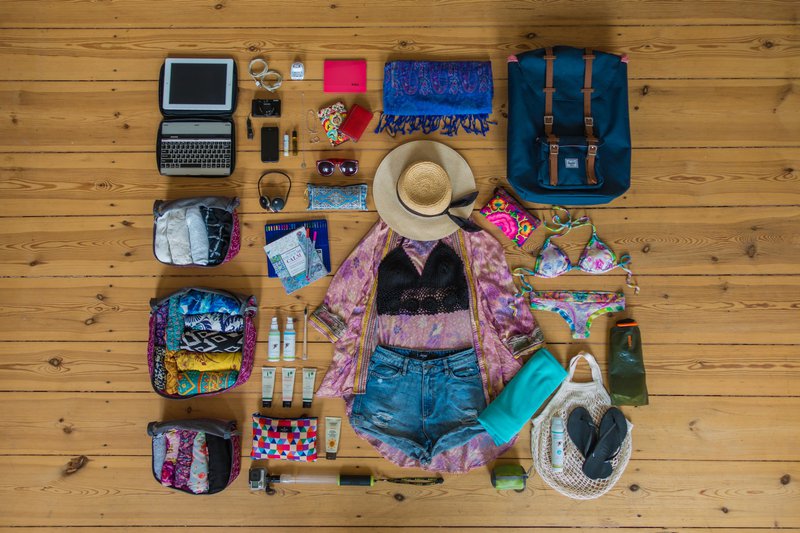 Choose your vessel
The number one question I get asked - suitcase or backpack? Without hesitation, I always reach for a backpack. It allows me to remain hands-free, move quickly on the go, and reduces any temptation to take full advantage of my luggage allowance. If you are completely averse or new to the concept, why not meet halfway and opt for a backpack with wheels?
What's in the weather?
It's always a good time to travel to Vietnam! You can expect most days to be humid, with a mixture of sunshine and the occasional shower. Being so geographically long (over 1000 miles), Vietnam is broken into three distinct microclimates. Anyone travelling to different regions of the country can expect a range of temperatures. A good rule of thumb is to pack layers, opting for light and breathable fabrics. And if it's a particularly sweaty day, you might consider swapping outfits in the evening.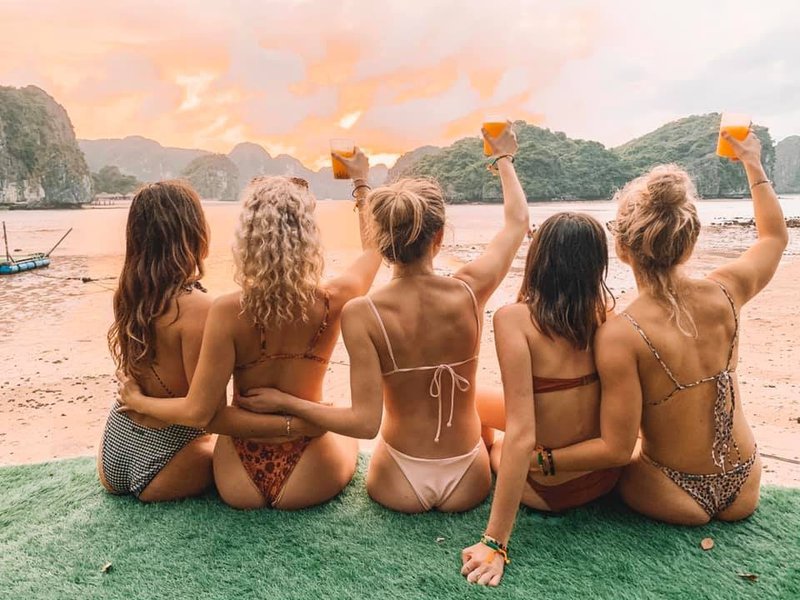 Packing essentials
Valid Visa & Passport: It's crucial to check the current entry requirements for Vietnam prior to flying. Some nationalities are eligible for a short stay visa exemption, while others must organise a visa in advance. Always consult a Vietnamese embassy for the most up to date advice. 
Debit/Credit Card: While you can opt to load up Vietnamese Dong or USD before you fly, ATMs are readily available and it's easier (and safer) to withdraw cash as you need it. I recommend travelling with multiple cards, so you've always got a backup.
Comprehensive Travel Insurance: Travel can be unpredictable at the best of times, so always protect yourself and come prepared. It's invaluable to be covered and always have someone you can call in the event anything goes wrong. 
Packing Cubes: These are absolute lifesavers for taming the contents of your backpack. I use one cube per category of clothing so I can keep my belongings rolled and organised. These are honestly a real game changer and I can't rave about them enough. 
Day Bag & Bum Bag: When you're out cycling amongst the rice paddies or climbing up the epic viewpoint in Ninh Bing, you're not going to want all your worldly belongings strapped to you. A small backpack is perfect for daily excursions and I always tuck my valuables into a bum bag when I'm heading for a night out. 
Toiletries: Bring along your bathroom essentials and any feminine hygiene products you'll need for your trip. Bear in mind that a full face of makeup mixed with a heavy dose of humidity does not mix well. 
Sunscreen: Slip slop slap! Protect yourself against those strong rays and load up on plenty of SPF before you travel. While you can buy some locally, it's expensive and may contain whitening ingredients. I like to be ocean-friendly and stick to reef-safe brands. 
Insect Repellent: You're heading into the tropics, so keep that delicious skin of yours protected. While I've tested several natural brands, those mosquitoes can be persistent and tropical strength solution is definitely where it's at. 
Mini First Aid Kit: It's always good to practice carrying your medical essentials and regular prescriptions with you. There's plenty of pharmacies around and I've never had communication issues, just be mindful they'll probably stock different brands of medication to what you are used to back home. On a side note - I've found that probiotics help build my gut health, allowing me to be more adventurous with what I eat. 
Togs/Bathers/Swimmers: With over 2000 miles of coastline, Vietnam offers plenty of opportunities to work on your tan and go for a dip. Home to the majestic Ha Long Bay, one of the natural wonders of the world, you'll want to pack your best bikinis for those insta-worthy shots. 
Comfy Walking Shoes: Vietnam is home to some renowned hiking and is best explored on foot, so definitely bring some feet-friendly shoes! I favour lightweight sandals like Tevas, which are perfect in warmer weather. 
Flip Flops/Slides: Be boat and island ready in an instant. 
Lightweight Layers: Go for loose and breathable fabrics to combat the heat - activewear can be a great option. Bear in mind that cotton can take a long time to dry when you've got your sweat on.
Waterproof Jacket: Always pack a lightweight rain shell, so you're prepared for all the elements.
Hoody/Fleece: Having a warm layer will keep you nice and cosy on those overnight buses or train journeys. 
Sarong/Wrap: Great for those spontaneous trips to temples, as extra protection from the sun or to wrap up when things get a bit cooler.
Headphones: A must-have in my kit, I've always got my go-to Spotify playlists at the ready to help break up longer travel journeys. 
Travel Adaptor & Powerbank: Gotta keep those devices charged!
Camera/Smartphone: Full of movie-worthy scenery and UNESCO World Heritage sites, you'll want to capture all your favourite memories to share on your socials. 
Waterproof case/GoPro: Weather and adventure proof your camera.
Reusable Water Bottle: Be eco-conscious and reduce your plastic footprint by opting for reusable. An inbuilt filtration can be handy as the tap water is not safe to drink. 
An Open Mind & Sense of Adventure: Vietnam holds a special place in my heart. I'll never tire watching the sunset in Ha Long Bay, or grabbing a banh mi and coconut coffee from a street vendor. Embrace the culture, chat with the locals, say yes to new things, and step out of your comfort one. You will find so much joy in your new discoveries.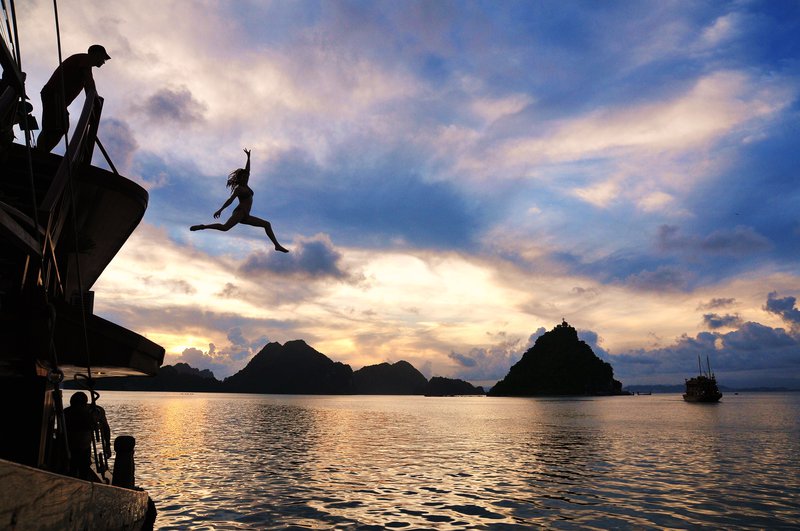 Keen to get the most out of your time in Vietnam and make some lifelong mates along the way? We've got you sorted for the trip of a lifetime - think sailing around Ha Long Bay, exploring one of the coolest cities in the world, and learning about local life in the depths of the Mekong. Check out our epic Vietnam trips here, including our brand new Vietnam Experience that takes you from the north to the south in total style. Plus, our INTRO Travel app has a handy packing list you can check out before heading abroad!
Happy travelling!

RETURN TO BLOG
NEXT ARTICLE