What To Expect On Our 21 Day Vietnam + Cambodia Adventure
Published 28th September, 2018
Why choose one country when you can so easily do both? Here's why our 21 Day Vietnam & Cambodia group tour is the way to go if you're heading to South East Asia for a few weeks!
Why Do Both?
Travelling Vietnam & Cambodia together just makes sense.
They're both incredible countries that you're going to want to visit at least once in your life! So save money on the flights to Asia by ticking them both off your list at once! It's not just the flight you'll save on, the combined trip is cheaper than doing both separately, and it even includes transportation from Vietnam to Cambodia. Additionally, while they're right next to each other, they are very different countries, so travelling both at the same time will give you a unique, varied experience!
Vietnam and Cambodia are not as easy to travel alone as some other countries in Asia because they're less westernised, so things like language barriers may be a problem. A group tour is a great way to travel these countries because it's so stress-free! Imagine having to plan everything on your own...  no thank you. It's much better to have all the accommodation, transport, and activities preplanned and paid for, so all you have left to do is enjoy them.
A 10 day holiday is a nice getaway, but there's nothing quite like spending a full 3 weeks exploring and adventuring. With a 21 day trip, you've got all the time to get that full 'backpacker' experience, something that everyone should have at least once in their life.
What you'll get up to in Vietnam
Hanoi
In Hanoi, you'll discover the chaotic capital of Vietnam through a walking and rickshaw tour of the culture-rich city. You'll get to sample some of the delicious local food and go out for a wild night out on Beer street. 
Ha Long Bay
Travel to the stunning oasis of Ha Long Bay where you'll stay on an overnight boat, cruising the beautiful emerald green water and wandering through the gigantic limestone mountains. The second night here will be spent on our own private island where you'll continue to work on your tan while playing some beach volleyball or lying in a hammock with a cocktail.
Ninh Binh
The epic limestone mountains continue in Ninh Binh where endless rice paddies complete the beautiful landscape. Explore the countryside by bike and then transition to the water on a boat tour of spectacular rivers and caves. Finally, take in the breathtaking views from the iconic Dragon Mountain Viewpoint. This is a great photo opportunity for you to pose with all your new besties on top of a massive mountain. Do it for the 'gram! 
Hoi An
Hoi An is your chance to see a different, less "touristy" side of the country when backpacking Vietnam. Learn how the locals live with crab fishing in the coconut groves and cooking a traditional Vietnamese meal. Check out the local markets for a custom-made suit or dress at a fraction of the price you'd pay back home!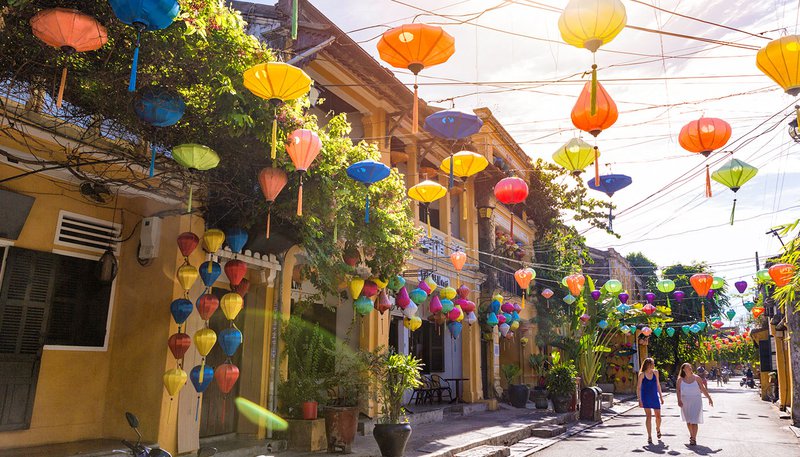 Ho Chi Minh City & Mekong Delta
Ho Chi Minh is a huge city, filled with beautiful architecture and delicious, traditional Vietnamese food to taste test. After a day in the city, you'll travel to local villages in the famous Mekong Delta to discover local life. 
Cu Chi Tunnels
Soak up your last day in Vietnam by exploring the Cu Chi Tunnels, an underground network of hand-dug tunnels created during the Vietnam War. They were originally used as supply routes and living quarters, but now are a great way to learn more about Vietnam's dark history.
If you on our Vietnam small group tour, here's where you'd say your goodbyes and part ways with your new travel fam. If you're heading over to Cambodia as well then you'll be onto the next destination with ten whole days of adventure left with your crew in Cambodia!
What you'll get up to in Cambodia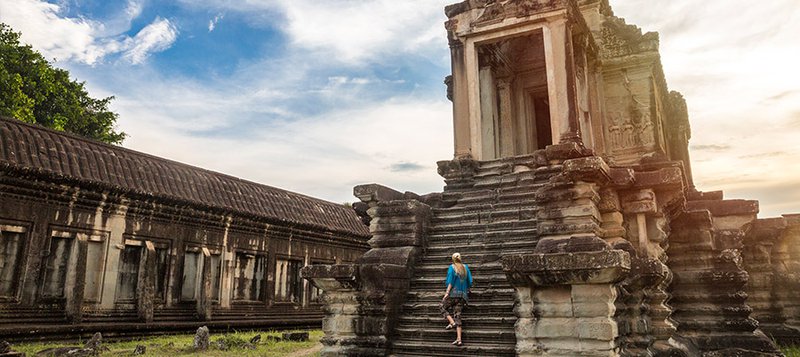 Phnom Phen
You'll travel to Phnom Phen by bus and celebrate arriving in Cambodia by going out for some drinks and dinner. Take a tuk-tuk tour to explore the city before departing on a day full of learning about Cambodia's sad history. Stop at both the S21 prison and the original Killing Fields to gain a deeper understanding of everything this country has gone through. Then finish the busy day with a night out in the city.
Kampot
Now that you've experienced the crazy city life, you will travel to the beautiful countryside province of Kampot. This is a chance to relax by the water and take a swim in the gorgeous waters. Go kayaking down the rivers and take a sunset boat ride. Next, you'll visit the local markets and a pepper plantation to gather ingredients for your Khmer cooking class. You'll learn to make some delicious traditional meals all made from local ingredients, make sure to take notes so that you and all your pals can recreate the meal wherever you end up next.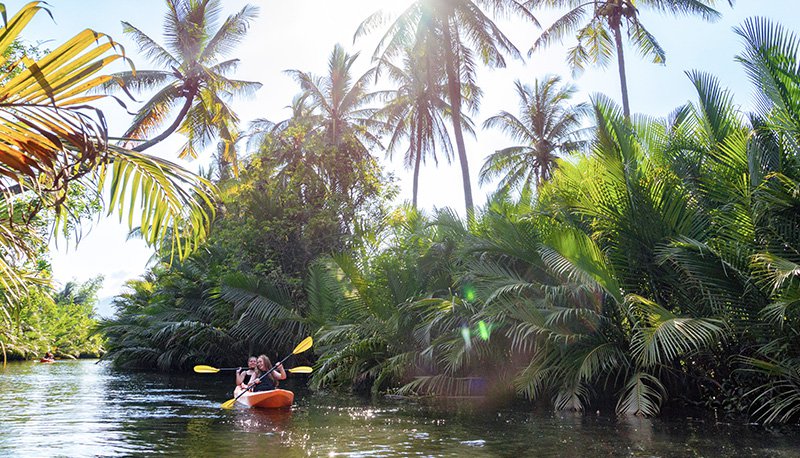 Koh Rong Island
Next up is Koh Rong, where you'll be staying in gorgeous beach bungalows and partying on the beach. Go snorkelling all around the island and then hop on a private boat to get around. Finally, enjoy a traditional Khmer massage to unwind and relax, after all the exploring you deserve it!
Siem Reap
Travel to Siem Reap and immerse yourself in the local culture to gain a deeper understanding of how the Khmer people live. Visit the floating villages in rural areas and enjoy a local performance that helps to support free education and professional arts training of the locals. To celebrate the end of your epic journey, you will visit Angkor Wat to explore the largest temple complex in the world. Get ready to be blown away, it's a place that has to be seen to be believed.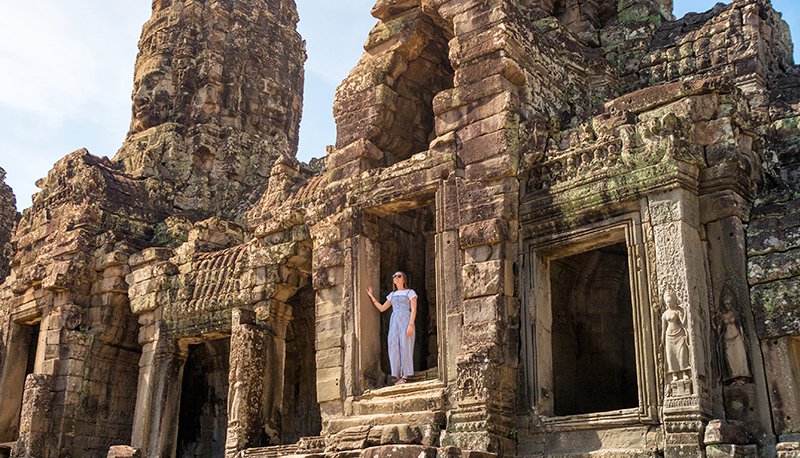 ---
Ready to explore two of South East Asia's most interesting countries on one epic trip? Check out the full inclusions and start dates of our Vietnam & Cambodia group tour here!

RETURN TO BLOG
NEXT ARTICLE