What To Expect On INTRO's Bali Experience Trip
Published 26th February, 2017
Wanderers & Warriors joined us on our Bali Experience trip in January 2018, read on for their itinerary breakdown and highlights of the tour! 
OUR BALI EXPERIENCE
DAY 1: ARRIVE & MEET THE GROUP
As soon as we touched down at the airport, Alex, our group leader, was there waving and waiting to collect us and take us back to Dash Hotel – our first little haven in Bali. He gave us a brief break down of activities and ran us through the expectations of the trip, before leaving us with plenty of time to chill and wait for the squad to arrive.
We relaxed by the pool, went for a walk around Seminyak and pretty much adapted to the Balinese lifestyle in those first few hours. It was super laid back and just what we'd been hoping for!
Fast forward to that evening and our five other nomads had arrived. Sarah, Nikita, Kimberly, Jade and Nicola. Also coming along for the ride were Mark, another INTRO Travel leader coming fresh from Thailand, and Andrew, a newbie to the INTRO team and in training for his upcoming role.
It was time for our 'intro' with INTRO Travel, and what better way to break the ice than to go for dinner and drinks. It was time to get to know the guys we'd be spending the next twelve days with.
Jokes were shared across the table and the night ended with some random celebrity lookalikes. It was clear a similar sense of humour ran throughout the group and our love of travel would only bring us all closer together in time. We finished the evening at Potato Head Beach Club – one of the hottest spots in Bali.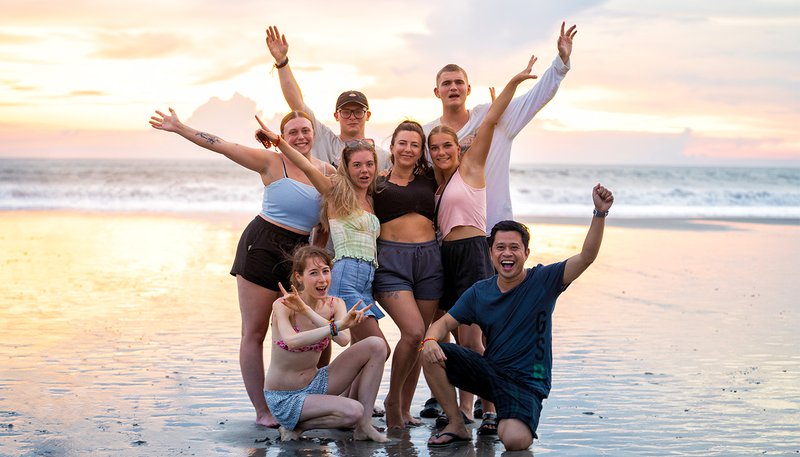 DAY 2: BEACHES, TEMPLES & SUNSETS
After some vibrant dressing gowns and an awesome unlimited breakfast, it was time for our first trip out with the guys. In we piled to our spacious mini van and headed down the coast to Uluwatu Temple. With beautiful views, some cheeky monkeys and a radiant sun breaming down it was the perfect way to start the day.
Next up was the need for a little cool down, so back in the van we jumped as we headed to the iconic Padang Padang beach. The salt water definitely revitalised the team and we grabbed a quick snack before heading up to Single Fin Bar for a delicious sunset dinner and chilled out evening. 
DAY 3: LEARN TO SURF
Day three, we didn't realise at the time, was a day we'd all look back on as one of the best days of the trip. One of the most popular past times in Bali and a stand out activity on the itinerary was easily the surf day at Seminyak Beach. We headed down to the volcanic sands and pulled on our rash guards. Just in time for the local Balinese surf dudes from MOJO to take us through a step by step lesson on the sand.
Once we all felt comfortable standing up on non-moving ground it was time to hit the waves…and it's fair to say everybody absolutely loved it!! Not one person didn't stand up and it was a great way to get the group bonding so early on in the trip. In fact come leaving time, we had to drag some of the guys out of the water!
That evening we were completely whacked so we headed to FRii Hotel in Canggu. It was a chilled evening in the pool attached to our rooms. Having a walk in pool from the edge of our bed was definitely a highlight and one we took full advantage of.
DAY 4: TEMPLES, WATERFALLS & RICE PADDIES
It was up bright and early for a travel day towards Lovina. But not before stopping at a few awesome locations along the way. Our first destination of the day being a famous temple named Tanah Lot, just outside Canggu. We were blessed for good luck by the priests and bumped into a few more cheeky monkeys. So watch your flip flops!
Next up was a Bali highlight…the rice fields. Miles upon miles of beautifully cropped and arranged rice fields could be seen from the top of Jatiluwih. We took a stroll through them with a local guide who talked us through all the types of rice they grow and we'd later taste them in an enormous buffet style lunch.
Finally, and the perfect way to finish the day, was a stop at Git Git waterfall – you know how much we love waterfalls! It was super refreshing and such a laugh to see everybody feel that first splash of ice cold water. We mingled around for a while and took an interesting break at a Luwak coffee shop…we'll leave you to google that one.
We ended the day arriving just before sunset at the scenic and peaceful Hamsa Resort. Situated high up in the mountains, surrounded by stunning rice paddies, the infinity pool made for a great place for everybody to gather for sunset and reflect on the day we'd had.
DAY 5: DOLPHINS & LOCAL FAMILY VISIT
Excitement got way out of hand on this day. By the time day five came around we'd all become pretty comfortable with one another, and as the group was split into two and our speed boats headed out across the flat coastline, screams and chants began to echo. To be honest our experience with the dolphins is a tough one to put into words. Whatever we write in this paragraph will never do justice to the way they swam along side the boat and jumped out of the water, almost performing for us, their audience! It was like a scene from a Disney movie and the leaders all agreed it was one of the best dolphin encounters they'd seen. Easily everybody's highlight of the trip!
After watching how elegant the dolphins were up close it was our turn. Although we weren't such naturals in the water. We took a dip for some snorkelling and once we'd seen enough fish, and dropped enough phones in the water, it was time to clean up and visit a local family for lunch.
We arrived ready for a hands on experience of basket weaving, coffee production and to take a private tour of the family's back garden which put our grandma's vegetable patch to shame! The amount of groceries they grew could supply a full time supermarket back home and to learn about traditional Balinese life was amazing! As for the food…well, we'll let the photo do the talking!
That night it was home for another chill session by the pool and a romantic meal with the team on the rooftop overlooking the ocean.
DAY 6: FERRY TO GILI TRAWANGAN
Another travel day, this time though by fast ferry, over to the stunning island of 'Gili T'.
Now if you talk to anyone about visiting Bali, the Gili Islands are almost always brought up in conversation. Separate from the island of Bali the Gili's are closer to Lombok and are made up of Gili Trawangan, Gili Meno and Gili Air. These three small islands are among some of the most popular beach destinations in Indonesia!
So our first day here, after checking in at Hotel Vila Ombak, consisted of relaxing by the pool, enjoying the island and topping up on our tans before heading out to experience some of the famous nightlife Gili T has to offer! We had an awesome evening feed at Fat Cats Bar & Restaurant before hitting a few bars and eventually ending up at Sama Sama Reggae Bar which is a must!
DAY 7: ISLAND BIKE TOUR
It was time to get those legs moving! As Gili T has no motorised vehicles we took to two wheels to explore the island by bicycle.
The gang was with us in finding some of the insta-famous spots the island has produced and although the sunset didn't pull through a winner for us, the 'sunset swings' made for a perfect place to capture some memorable photos and enjoy the evening on the beach!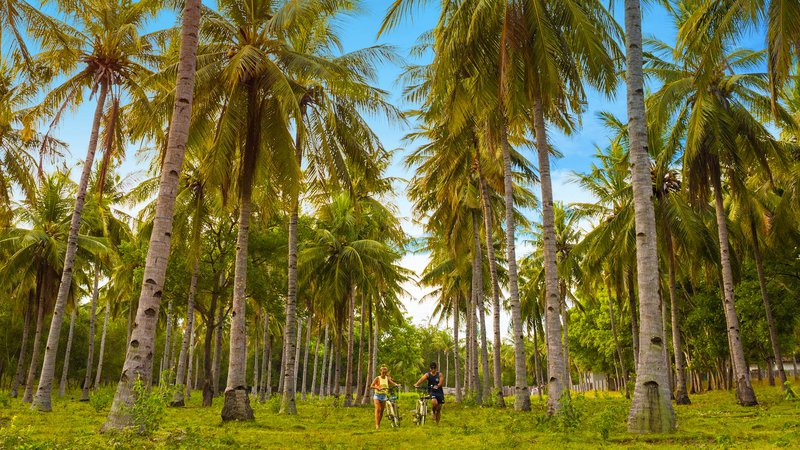 DAY 8: SNORKELLING BOAT TRIP
Up and at 'em and day eight was our opportunity to see a little more of what the underwater world around the Gili Islands had to offer.
Our beautiful modern boat took us on a snorkelling tour through crystal clear waters and we were lucky enough to have an awesome guide lead us to a turtle spot! We could basically touch the little dudes…don't worry we didn't! And with flippers and fins flying all over the place it was an exhausting but rewarding afternoon at sea.
DAY 9: TRAVEL TO UBUD
Our final travel day and a journey to the much anticipated Ubud! We grouped up for one final buffet breakfast at Vila Ombak before jumping on a two hour ferry to mainland Bali, followed by another couple of hours to the centre.
Upon arrival, Alex had spoken highly of the pool view looking over the palm trees at Pertini Bisma 2 and it did not disappoint. It was a rush down to the water to see who could get in first and we spent the first afternoon in Ubud taking in the tranquility of the area.
That eve we headed out for a beautiful meal at Cinta where we ate to our hearts content and overdosed on basil mash potato!
DAY 10: MONKEY FOREST & COOKING CLASS
Arriving in Ubud we knew we had a couple of big days ahead and what better way to begin than with a traditional Balinese cooking class. The trip was going to end the same way it began, with a huge amount of joking and bonding! We dished up a huge amount of food and the teachers couldn't have been more helpful at guiding us rookies through the basics of Indonesian cuisine…hey, it tasted damn good though. After the food had settled and the cooking lesson came to an end it was time for something much easier…playing with monkeys!!
We headed down to the famous Monkey Forest – a fascinating temple set in the rainforest and home to hundreds of wild monkeys to get up close and personal with! At first everyone was a little shy to get involved but as soon as one monkey landed on someone it was hard to keep them off. Bananas were flying around and the cameras were out to capture it all…
An awesome end to an awesome trip but there was still one rather large thing left to conquer…
DAY 11: SUNRISE VOLCANO TREK & MASSAGE
It was an early start for our final day, and by early we mean like 1am, but this morning was going to be a special one as we headed off on our amazing sunrise Volcano trek!
So the van dropped us off at base camp and off we went. We had a torch, a few bottles of water and were raring to go on our 2 hour, 1717 metre high hike! It was pitch black, and tough at times, but the high spirits, positive mental attitude and a random selection of 90's music got us all through to the peak! Not only was it a ginormous bucket list tick…but what an achievement to share with a special group of new friends for life. Upon reaching the summit we were rewarded with a naturally heated breakfast of boiled eggs and banana sandwiches prepared by our awesome guide!
We arrived back at Pertiwi Bisma 2 around mid-morning and as if we weren't already ready for bed, an hour long relaxing and rejuvenating Balinese massage sent us straight to sleep. The perfect end to an already amazing day and we gathered one last time that evening for a farewell dinner!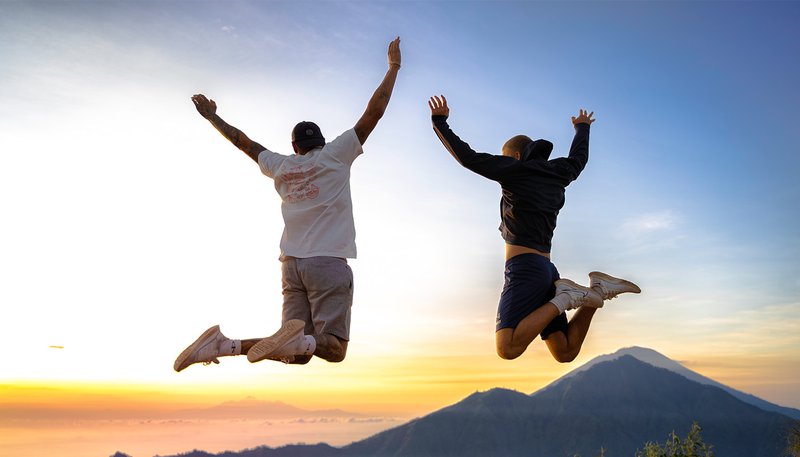 DAY 12: FINAL DAY WITH INTRO TRAVEL – CHECK OUT & ONWARD TRAVEL 
The time had finally come to check out one last time and say our final goodbyes to our Intro team. It's crazy how much of a bond you can build with five random people over the course of twelve days but one things for sure, this is why we travel!
The INTRO guys stuck to their word and were so helpful throughout with any queries on the culture, the money or onward travel. There was no job too big or small for the leaders to go out of their way for. So a final thanks has to go to Alex, Mark and Andrew for making the trip what it was for us and INTRO Travel in general for giving us the opportunity to travel via the Bali Experience and create some unforgettable memories with an awesome group of people!
---
This article was written by Wanderers & Warriors, check out their blog for more awesome travel articles, and follow them on instagram: @wanderersandwarriors for more epic travel shots! 
RETURN TO BLOG
NEXT ARTICLE