When Travel Opens Up, This Is Where We're Heading First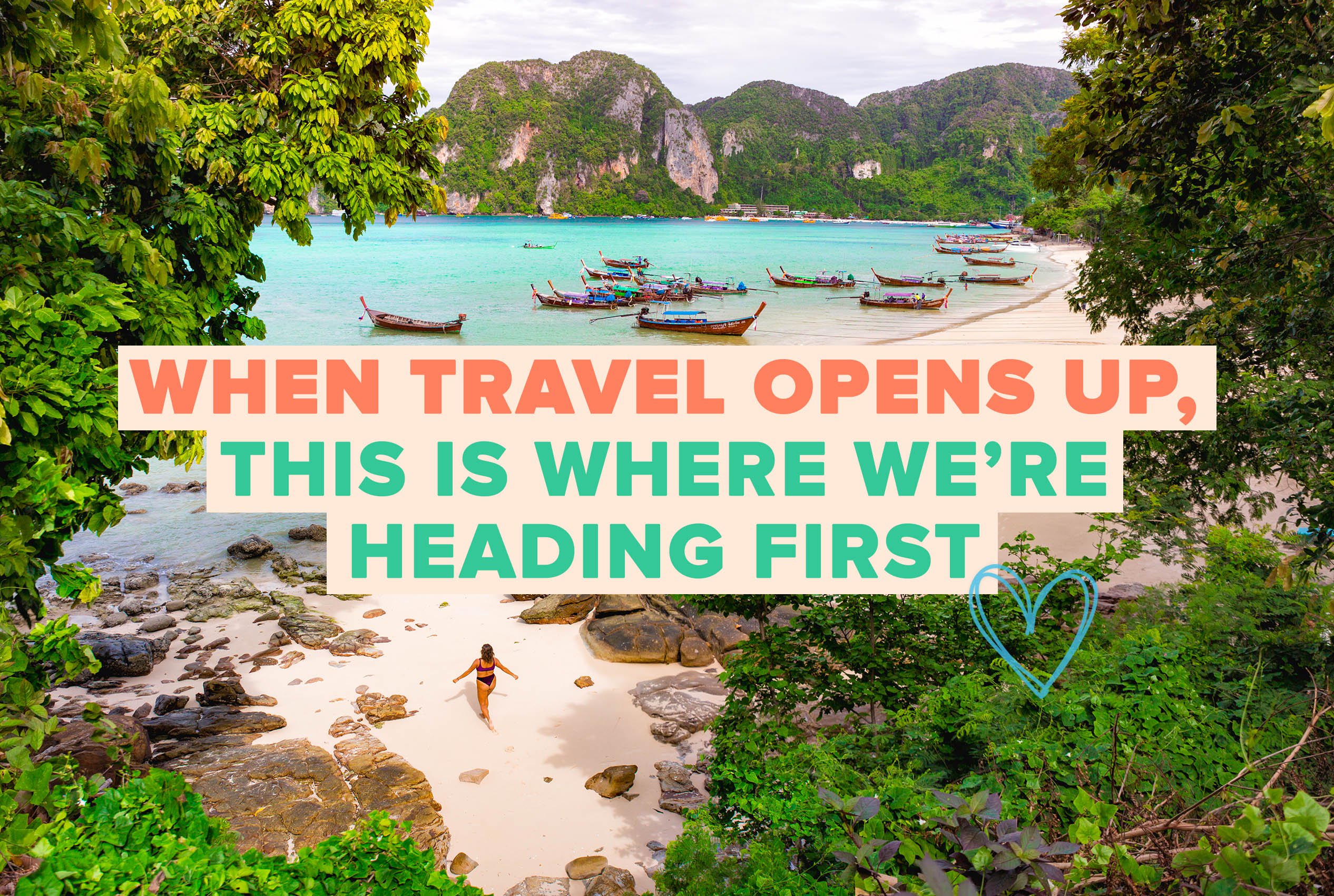 Published 18th December, 2020
With 2020 all but ruled out for international travel, it's an understatement to say we're more than ready to hop on a plane as soon as travel is possible again. The announcement of the vaccine rollout is certainly a reason to celebrate, and while we might have to wait a little longer to officially pop the end-of-pandemic champagne, the time to think about travel is here.
COVID brought global tourism to a standstill, and while there's still uncertainty, there are silver linings on the horizon. It's predicted that post-pandemic, sustainability will be a driving force as we prioritise a healthy world over cheap thrills, over-touristed destinations that have had ample time to recover will welcome travellers back in a responsible way, and there will be a wider shift towards more meaningful travel, with small communities and local experiences playing bigger roles. This year has taught us all that travel is a privilege, not something to take for granted, so planning adventures for the future is going to be more thrilling than ever!
When we can safely travel internationally again is the million-dollar question, and truthfully no one can give an exact date right now. However it's looking closer every single day and in the meantime INTRO have implemented COVID-safe measures with our staff and trusted operators worldwide, and have made our booking policies as flexible as ever, so when you're ready to make plans we'll be with you every step of the way. 
In the meantime we've been stoking our wanderlust and mentally preparing for all the sights we want to see, people we hope to meet, once-in-a-lifetime adventures we want to go on, exotic cuisines we want to taste, and moves we're going to bust on the international dance-floor. As soon as borders open up, here are places we're heading ASAP.
THAILAND
2020 have you in need of some saltwater therapy? Home to beautiful beaches, ancient temples, and our favourite gentle giants, the Land of Smiles is eager to welcome back travellers as soon as it's safe too. Thailand has remained relatively controlled throughout the pandemic due to mask-wearing and community vigilance, but the lack of travellers has hit the local economy hard. Tourism employs a huge percentage of people in Thailand, as it does in many other parts of Asia and Africa, so booking a trip is a fantastic way to support economies that rely on the travel industry. Thailand is a country based around the outdoors, with most restaurants, bars, and activities outside, making it the perfect country to plan a backpacking adventure after being cooped up for the 58 months of 2020.
MEXICO
Dripping in mysterious Mayan history, boasting a gorgeous tropical Caribbean coastline, home to some of the biggest fiestas and an internationally-loved cuisine, Mexico is at the top of our list. Mexico has started slowly welcoming back tourists with COVID-safe measures in place across the country, including general mask-wearing and social distancing, which bodes well for travellers eager to make a return in the future. The tourism industry is well regulated in major areas, with hygiene and safety practices regularly enforced. Catch us travelling Mexico and sipping margaritas galore in 2021.
AUSTRALIA
With sun-bronzed beaches, iconic landmarks, and laid-back locals, the Land Down Under is always on our minds. Australia has done exceptionally well to contain the spread of COVID-19, with only a few thousand cases countrywide. Apart from the lack of international travel, life in Australia very closely resembles what it looked like pre-pandemic... with a dash more hand sanitiser and social distancing. Whether you're keen to hit the surf, explore the cities, meet the locals (human and animal), chase adrenaline rushes, experiment with Vegemite, or experience living and working abroad, backpacking in Australia is an adventure suitable for everyone. As soon as Oz opens up to international travellers, 'the lucky country' is one to head to.
PHILIPPINES 
Palm trees sway in the afternoon breeze as white-hot sand squeaks underneath your feet, not another person in sight. This may sound like a scene from a post-card, but this is an everyday reality in the Philippines. With thousands of islands and an infinite number of sugary beaches, the Philippines is an idyllic place to get off the grid and escape the ordinary in 2021. This tropical nation is the perfect haven for those who want to branch out from the usual backpacker trail and find secluded spots away from the crowds - our favourite type of social distancing. Beach bum, adventure junkie, or culture vulture, the Philippines is waiting for you to dive in.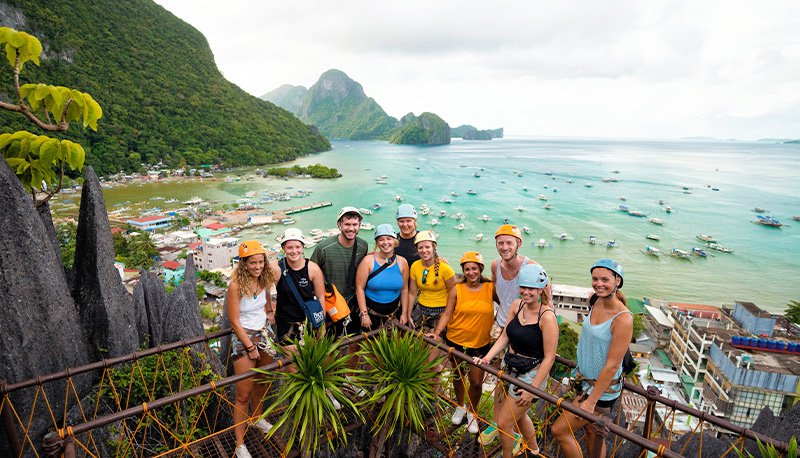 VIETNAM
Full of beautiful rural towns, incredible scenery, fascinating culture, and intriguing history, Vietnam will electrify you from all angles. You've got misty rolling mountains up in Sapa, the World Heritage Listed Ha Long Bay, charming pastel streets in Hoi An, the gorgeous Mekong Delta, and bustling Ho Chi Minh City... throw in fresh tasty Vietnamese food and friendly locals, and you've got the ultimate backpacking adventure. Vietnam mounted a globally leading COVID response leaving the population largely unaffected, but the country is eager to welcome back travellers as soon as it's safe to reignite international tourism. We're more than ready to travel Vietnam again. 
SOUTH AFRICA
Multiple worlds in one, in South Africa you can relish in city life, lush vineyards, epic surf, and incredible wildlife, all in one trip. If you've long wanted to spot the Big Five in the wild, this is the place to do it. Africa managed to contain the virus early with lockdowns, and the travel industry is eagerly anticipating a return. With most activities - everything from hiking incredible landscapes, swimming with seals, and cycling around fascinating neighbourhoods - generally revolving around the outdoors, travelling South Africa is an adventure to put on the bucket list for 2021. See you on safari!
When international borders open and travel can resume to some semblance of pre-COVID normalcy will depend on a variety of factors as vaccinations roll out. Nevertheless, we at INTRO are confident to see the return of travel in 2021, and can't wait to show you around these incredible destinations. In the meantime stay healthy, take care of those around you, and keep dreaming of paradise. It's just around the corner.
---
Ready to say f**k 2020 and start planning your 2021 travel adventures? Check out our group tours in Australia, Asia, along with our brand new South Africa and Mexico trips! Including all your accommodation, internal transport, an itinerary jam-packed with incredible activities, a bunch of meals, an experienced group leader, a new group of mates to travel with, and full end-to-end support, our INTRO's group tours are the ultimate way to explore a new destination in 2021 and beyond. 
RETURN TO BLOG
NEXT ARTICLE