Why Aussies Should Do A Tour Of Uluru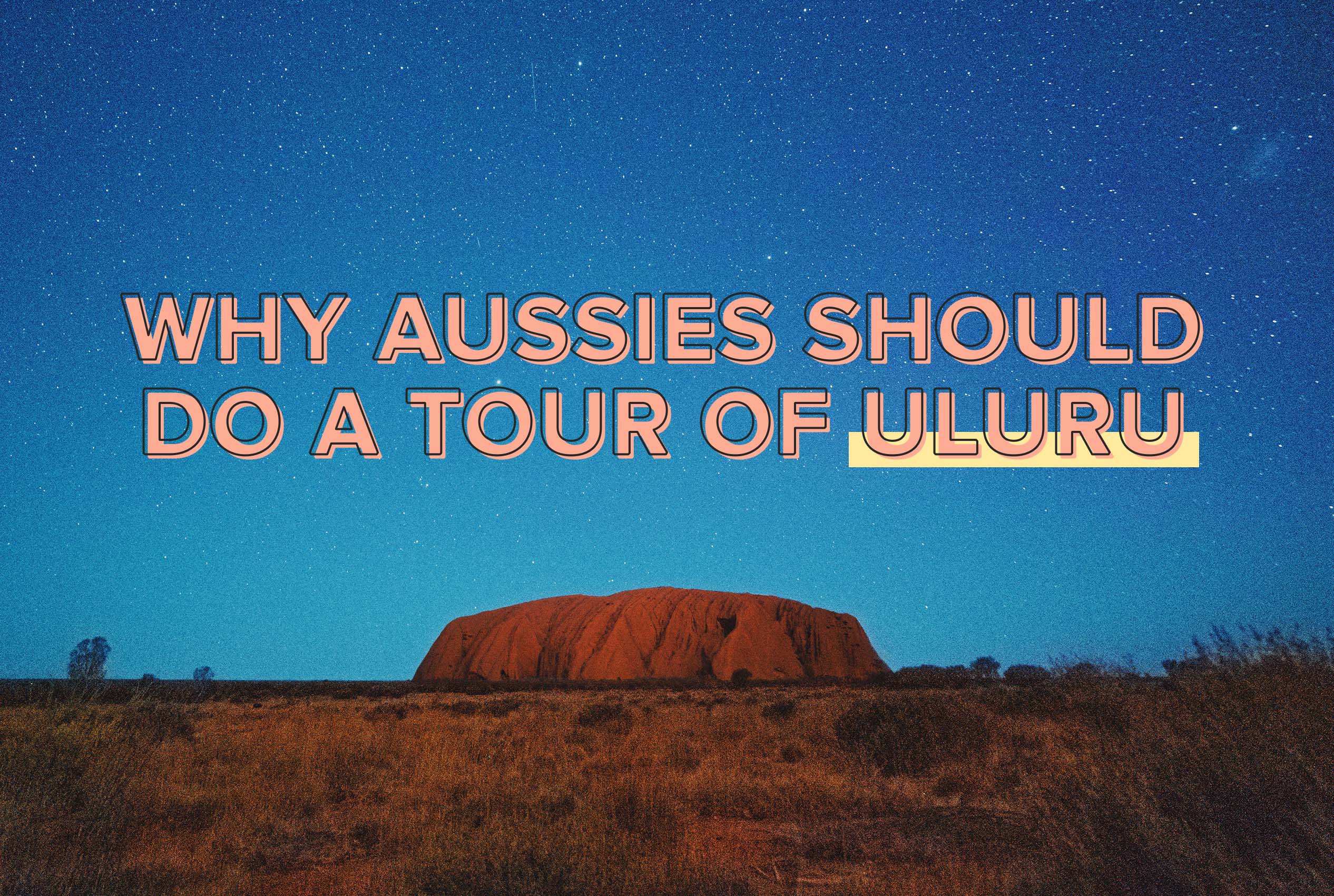 Published 02nd July, 2020
When I was travelling Australia I met a kind-hearted Australian gentleman in the Outback who asked me where I was headed.
I replied "Uluru".
"Big bloody rock in the middle of bloody nowhere. Why'd ya wanna go there?" he exclaimed. 
Personally I thought it was obvious, but perhaps not.
So if you're sat at home thinking to yourself why anyone would check out said 'big bloody rock', allow me to explain and perhaps convince you to take a trip yourself. 
First of all, it's crucial to establish the importance of Uluru to the Pitjantjatjara Anangu, the Aboriginal people of the area.  It is sacred for many reasons - one of significant importance is that it is seen as a resting place for ancient spirits. In fact, research shows that Aboriginal people have lived in the area for upwards of 30,000 years, making them one of the longest living cultures. If you choose to visit you may see people performing Imma (traditional dance and song), creating dot paintings or - if lucky you'll be able to listen to Tjukurpa stories of old. It is said that it is possible to follow songs and stories of ancestors by following these songlines for hundreds of kilometres as you travel around and across Uluru.
 It is believed by locals that the area of Uluru and Kata Tjuta were created at the beginning of time by ancestral beings, and the remaining rock on show is evidence of feats performed during the creation period. The Anangu that remain believe that they are direct descendants of these beings and are bound by a duty to protect Uluru and take care of the surrounding lands.
This history is so important to protect and understand, as it goes back much further and deeper than any modern-day Australian history.
Starting to sound a little more than just a rock?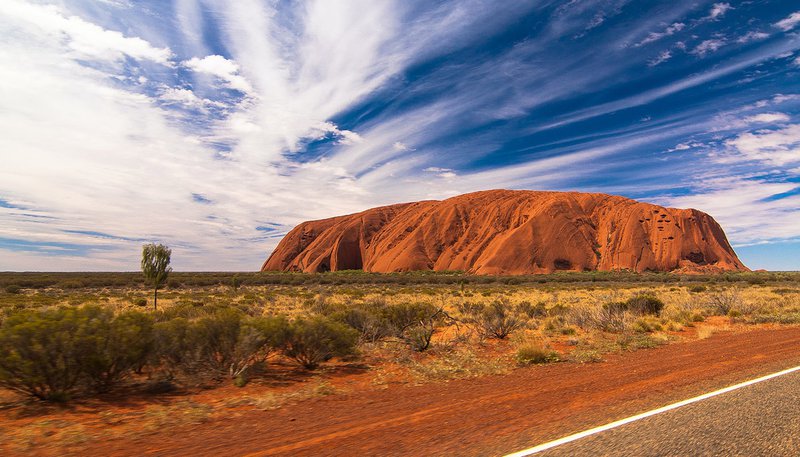 What to expect when visiting the Red Centre
Originally lying at the bottom of the ocean, the rock itself is sandstone and stands approximately 348 metres high - taller than the Eureka Tower in Melbourne, the Westfield Tower in Sydney and even bigger than the Eiffel Tower in Paris!
A walk around the basin will take you approximately 3.5 hours to fully appreciate, with a distance of just under 10kms to bring you full circle.
Although Uluru may seem extremely isolated, it is actually close to Kata Tjuta (also known as The Olgas), which are formations of domes considered even more scared than Uluru itself. Some parts are off-limits to visitors but there are places that are still accessible. Kata Tjuta lies only 54kms from Uluru so both are well worth a visit, especially if you are into hiking as there are several routes you can take depending on your level of fitness. A popular one is The Valley of Winds, a nice short hike at around 2.2km to the first lookout, or if you are feeling more energetic you can do the 7.4 km loop. The full route is considered a difficult hike with many steep climbs so to take plenty of water!
Uluru is vast but the majority of it is still buried underground. Millions of years of erosion have only revealed the surface! We know for certain that 2.5 kilometres still remain underground, but some experts claim that it may extend up to another 6 kilometres below the surface!
You may know Uluru by its English name of Ayers Rock. This was given to Uluru by a native English-born explorer by the name of William Gosse who named it after the Chief Secretary of South Australia at the time, Sir Henry Ayers. It is officially recognised by both names.
Uluru is recognised as a dual World Heritage-listed site by UNESCO for both it's natural and cultural significance. It is one of only four places in Australia that has two UNESCO accolades to its name, and one of only a dozen in the world. Now that's worth bragging about!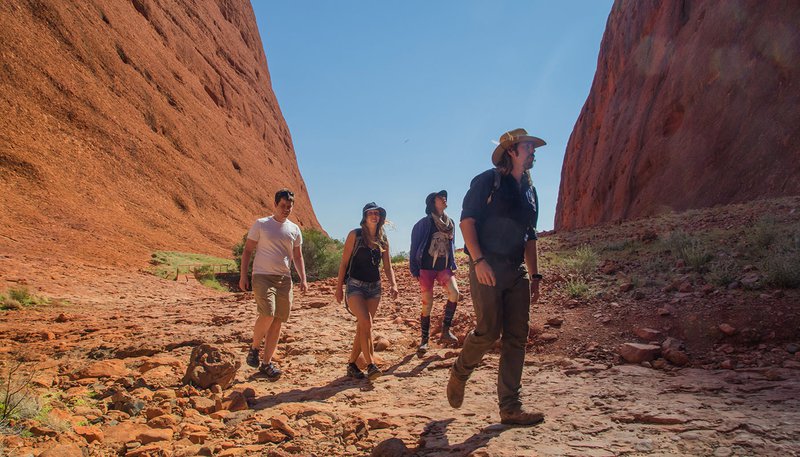 What Else to Do?
A good question - there's so much more to do than just stand there and look at rocks!
Take a Hike
There are multiple routes for you to take within the park and each follows a different story through history. It is even believed that the different shapes and textures hold different knowledge and stories that have been passed down from generation to generation. 
Walpa Gorge Hike is an oasis amid the red dust of the Outback. Whilst taking a stroll around the Gorge you may spot rare plants such as pink daisies or even a crackling stream if you are there in the right season. It also happens to pass through one of the few places in the park where you can spot wild wallabies hopping about. 

Discover Ancient Art
The paintings on the rocks that are scattered throughout Uluru's caves are of historical importance as this is one of the ways the Tjukurpa stories have been shared down generations. It is hard to date how old some of the paintings are, but we know that indigenous people have lived in the area for at least 30,000 years. The paints used are made from ash and minerals found in the area, often mixed with water or animal fat. The best walks to take to visit some of the paintings are the Kuniya Walk or the Mala Walk. There is even a FREE ranger walk that will visit some of these sites to get a better understanding of what you can see. Now that's fair dinkum'.
Visit the Cultural Centre
Visit the Cultural Centre before you start any walks or hikes around the area to better understand what you are seeing and why it is so important. To have respect for the land and people is of the utmost importance when visiting Uluru and the Cultural Centre will help you to understand the history of the region and the struggles the people have endured. There are many displays, information boards, and Aboriginal art galleries to visit once inside, plus a couple of locally-owned shops, including a great place to get a cup of coffee.
Stay for Sunset & get up for Sunrise
Sunset at Uluru is awe-inspiring. I didn't believe how much the landscape could change colour, but I was blown away. Apparently, some people didn't believe it either and left just a little too early after a small colour change, but trust me, stay as long as you can and you will truly see what all the fuss is about. It is completely mesmerizing and absolutely a bucket-list-tick for a lot of people. Imagine after a greats days hiking and learning, you get to kick back with a drink, watching the sunset on something that is so significant to thousands of generations of people. It's quite the experience. Of course, if you can, getting up early for sunrise is equally as impressive, perhaps more so as fewer people tend to get up early and make the drive in time for sunrise. Expect the sky to light up with a brilliant array of colours ranging from bright pinks to baby blues.  
Experience Rainfall
Many are lucky enough to watch a sunrise and sunset at Uluru, but not as many are able to witness the magical sight that is Uluru in the rain. During a storm, temporary waterfalls appear and more unbelievable colour changes take place as the water mixes with the dusty rock. Expect to see colours changes from dark burgundy, shining silver to black. Photographers will rejoice as every angle of the rock catches the light in a different way, making it an absolute dream to take photos of. 
The desert also explodes to life in the rain! The desert plants boom with life and animals often unseen will appear to enjoy the water and cooler temperatures. During heavy rain, frogs that have buried themselves underground will make their way to the surface during the rain to mate.
Rain occurs sporadically and is difficult to predict. On average the park will expect around 300mm annually, but that figure can vary a lot year to year. Your best bet to catch some rain would be November to March, but it has been known to have very heavy downpours in May. There are many spots where you can walk to the rock and watch the rain as it converges into waterfalls, or if you prefer, you can witness the spectacle from the comfort of your car.
Explore Alice Springs
Formerly known as Stuart, Alice Springs is the 3rd largest town in the Northern Territory and a good jump-off point for exploring Uluru, but do yourself a favour and allow some time to explore this isolated gem.  'The Alice' is famous for gorgeous desert landscapes, outdoor adventure, friendly locals, and strong Aboriginal heritage.
For the more adventurous you can hop on board a hot-air balloon for sunrise, or take a hike up ANZAC hill for the best view over the town and desert. The Royal Flying Doctor Service is well worth visiting to see all the amazing things they are doing to keep people in the outback safe, or those wanting more art and culture can head over to the Araluen Arts centre.
There is an abundance of fauna in Alice to explore too! With over 400 species of birds to spot, you'll have your work cut out for you, with some rare and endangered species to discover. Of course, you'll be able to spot some Aussie favourites here too, like kangaroos and wallabies. You could even spot the rare Northern Quoll or the famous Blue-Tongued Lizard (yes, like the beer!)


Getting there
Of course, a big part of the appeal of visiting Uluru (in my opinion) is how isolated it is.  It wouldn't nearly be as much fun without the trip to get there. 
1) Fly-in
One of the easier options is to fly in. The nearest airport is in Yulara (airport code AYQ) and can be accessed from most major cities in Australia. You can also fly to Alice Springs.
2) Drive-in
My personal favourite option really puts into perspective how vast the Australian Outback is. It transports you back to a time when people would have accessed this wonderful site only on foot. Imagine hiking for hundreds of kilometres to find a monumentally huge, spiritual landmark in the middle of nowhere.
A famous drive called the Red Centre Way will take a couple of days but takes you to all the amazing sites in this region including Uluru-Kata Tjuta National Park, Kings Canyon, West MacDonnell Ranges, and Alice Springs. Uluru is located around 465kms from Alice Springs; so you should estimate a 5-6 hour drive to get there. 


Stuff you should know

You will feel like you're starring in Lord of the Flies.
Mainly because they will be on your face. A lot. It's all a part of the experience and I doubt it will bother you too much, but they can be annoying after a few hours so you may wish to invest in a head-net or hardcore bug spray.
Red sand and dust. Everywhere.

If you are planning to get your hike on, expect to get down and dirty with the dust. It isn't called the Red Centre for nothing, so be sure to empty your shoes before you leave.
It will be an amazing experience you'll carry with you forever.
It's really hard to explain how incredible this place is, and how your trip will resonate after finishing. You will really discover you have a different perspective on Australia and why it is really one of the most diverse countries to travel.
After all, Bali will still be there when the world opens up.

---
Right now there is no better time to start exploring your backyard. Aussies, your backyard is BIG. It's time to dust the crumbs off your sweatpants, pack your bags, and embrace everything our country has to offer - 2020's not over just yet! If Uluru's now at the top of your bucket list, we've put together self-guided packages full of unique experiences to help get you out there on the adventure of a lifetime at your own pace. What are you waiting for? 
For more information about Australia, including tips on where to go, when to go, how much money to save, and what to bring, check out our Ultimate Guide to Backpacking Oz here!
RETURN TO BLOG
NEXT ARTICLE