Why Bali Is Paradise for Vegans!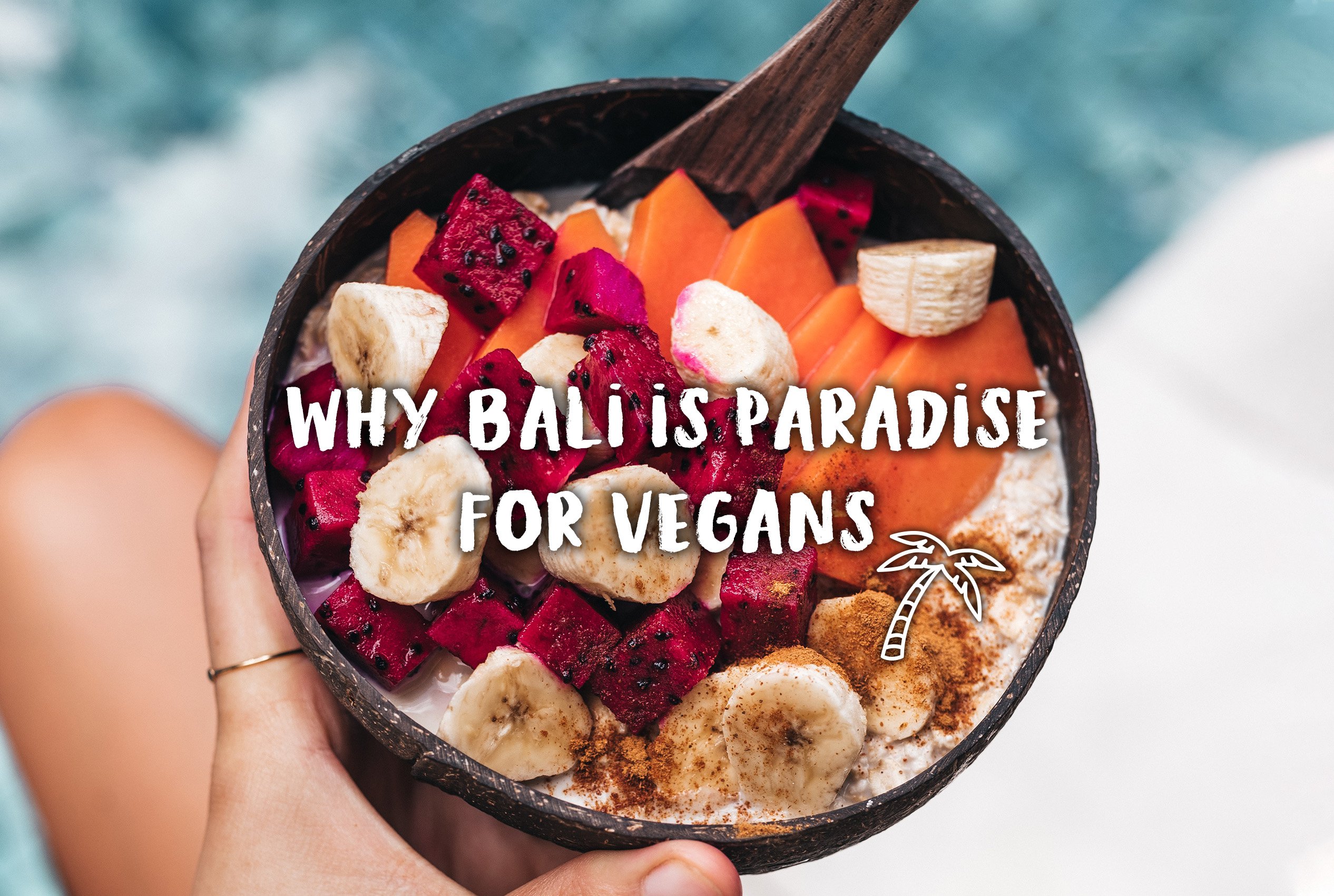 Published 24th September, 2019
The Balinese believe in harmonious and respectful relationships, not only between humans but with animals and the environment. In Bali, many locals and ex-pats embrace a plant-based lifestyle, meaning it's a paradise for vegans! Here are some of our favourites.
Smoothie Bowls 
Smoothie Bowls are a great way to get your daily portions of fruit! One type of bowl is the açai fruit one, a Brazilian superfood that is not only full of antioxidants but also provides a lot of energy for you to go surfing or hiking in style. Another one is the dragon fruit bowl, which is the very pink-coloured bowl that is jam-packed with vitamins and minerals. Any of these vegan smoothie bowls can be topped with different toppings that make them even tastier and nutritious. Peanuts, cashews, banana, kiwi, honey, shredded coconut, cacao nibs, and more might be on your list of choices and a very good place to go for a smoothie is definitely Cafe Organic in Seminyak or Canggu, where the bowls are not only tasty and beautiful but served in half cut coconuts!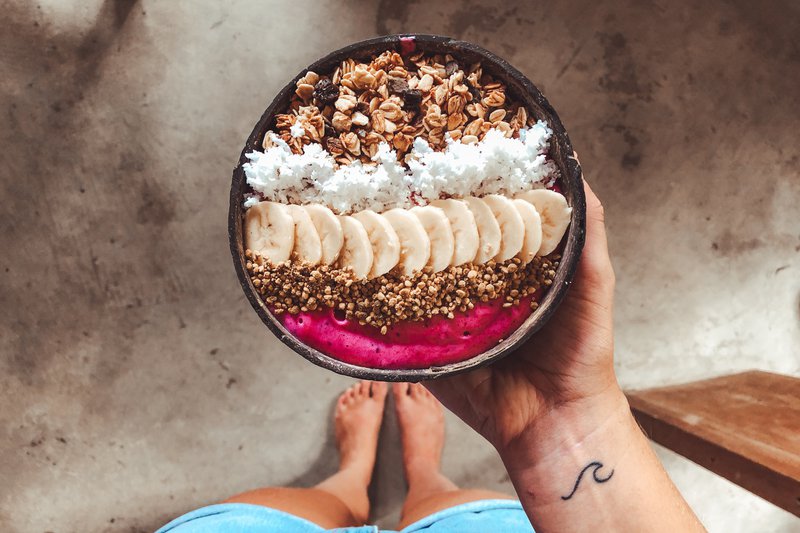 Sambal Goreng Tempeh
This is a famous Indonesian dish that serves up fried tempeh with a spicy delicious sauce. The tempeh itself is a fried fermented soybean that substitutes the meat in the dish, a good source of protein that does not come from animals. In this case, it is a great option for vegans wanting something other than vegetables or fruits!
Vegan Gado-Gado Bowl

Gado Gado is a salad famous for its simplicity, but do not confuse simple with boring. This salad is made with a mixture of raw and gently cooked vegetables, and a flavourful peanut sauce that gives this salad the sweetness it needs. You can always include plant-based protein sources like tempeh and change the vegetables on the plate which makes it a dish that you can't get sick of.
Sayur Asem & Sayur Lodeh 
If you want to try a light vegan food, Sayur Asem, a hot vegetable soup, is a great idea. It consists of different kinds of vegetables in a bowl of tamarind soup. Some of the ingredients vary but it usually includes jackfruit, cabbage, chayote, snake beans, corn, and melinjo seeds. Sayur Lodeh is another vegetable soup very famous in Indonesia that can be found in Bali. The ingredients are very similar, but it is cooked in a white coconut milk soup.
Fruit Salad Bowls
Starting with the basics, everywhere you go in Bali you can enjoy a delicious fruit salad bowl. Very colourful and with a variety of fruits cut in different designs, these bowls are not only healthy but so beautiful... you almost feel sorry to eat them. Some of the traditional ingredients in the bowls include jackfruit, dragon fruit, strawberries, kiwis, mangos, granola, and flowers to decorate it even more. It for sure can be a good option any time of the day, but starting off the day with one these is a great idea.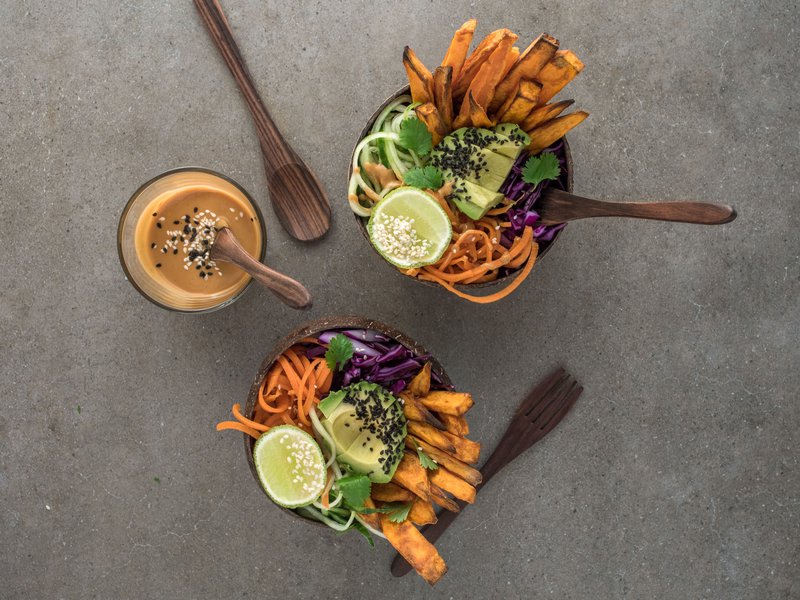 Kokolato
If you are looking for a treat in Bali, Kokolato is a famous gelato that is not only plant-based but is also considered a 'healthy' dessert option! The ice cream is made from organic ingredients and low glycemic coconut sugar in a creamy coconut milk base. Coming in a range of exotic flavours, it's a cruelty-free tasting experience to suit your sweet cravings.
Rujak Buah
Indonesian people love sweet, sour, and spicy... and Rujak Buah is exactly the mixture of these tastes. It is a fruit salad made with traditional tropical fruits such as water apple, unripe mango, jicama, pineapple, and star fruit. These fruits are mostly sour, so they've decided to create a chili and palm sugar sauce to put on top or to dip the sliced fruits. Weird… but worth a try!
Nasi Goreng & Mie Goreng
Nasi stands for noodles, mie stands for rice, and goreng means fried, so those two dishes are respectively fried noodles and fried rice. They are typically topped with vegetables and eggs, but you can always adapt it and change the egg for tofu or add tempeh. They are considered national dishes, very common in other Asian countries but in each region, there is always something that differentiates the taste!
La Pacha Mama
This is not a dish, but a fantastic Mexican restaurant in Bali. Despite its cuisine being known for using meat, this place in Ubud is very famous for its separate vegan and vegetarian menus that boast a huge variety of dishes. Who doesn't love Mexican?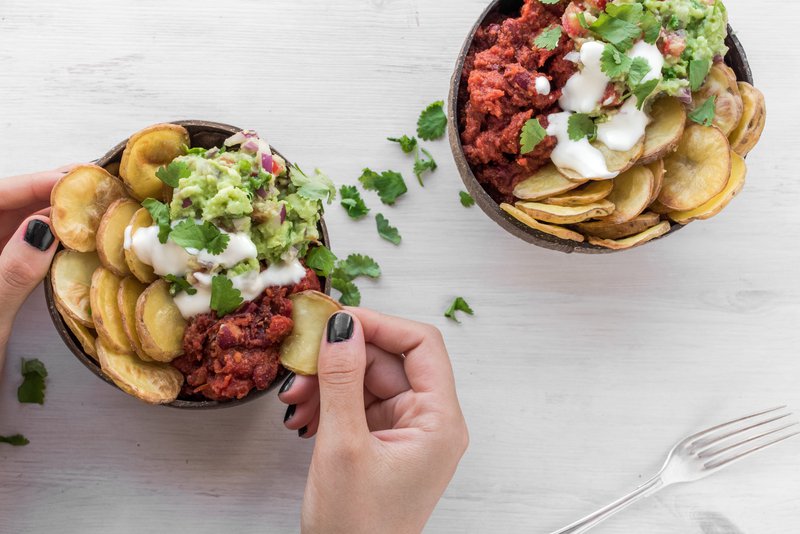 ---
Even if you are not vegan or veggie, it's always a great idea to try plant-based options when you're travelling as it's good for the environment and good for your health, plus very tasty! Definitely give it a try on your next backpacking adventure. 
If exploring the rice paddies, stunning beaches and beautiful culture of Bali sounds like the trip of a lifetime, check out our Bali tours here.

RETURN TO BLOG
NEXT ARTICLE