Our Top 15 Spots to get the Best Instagram Travel Shots!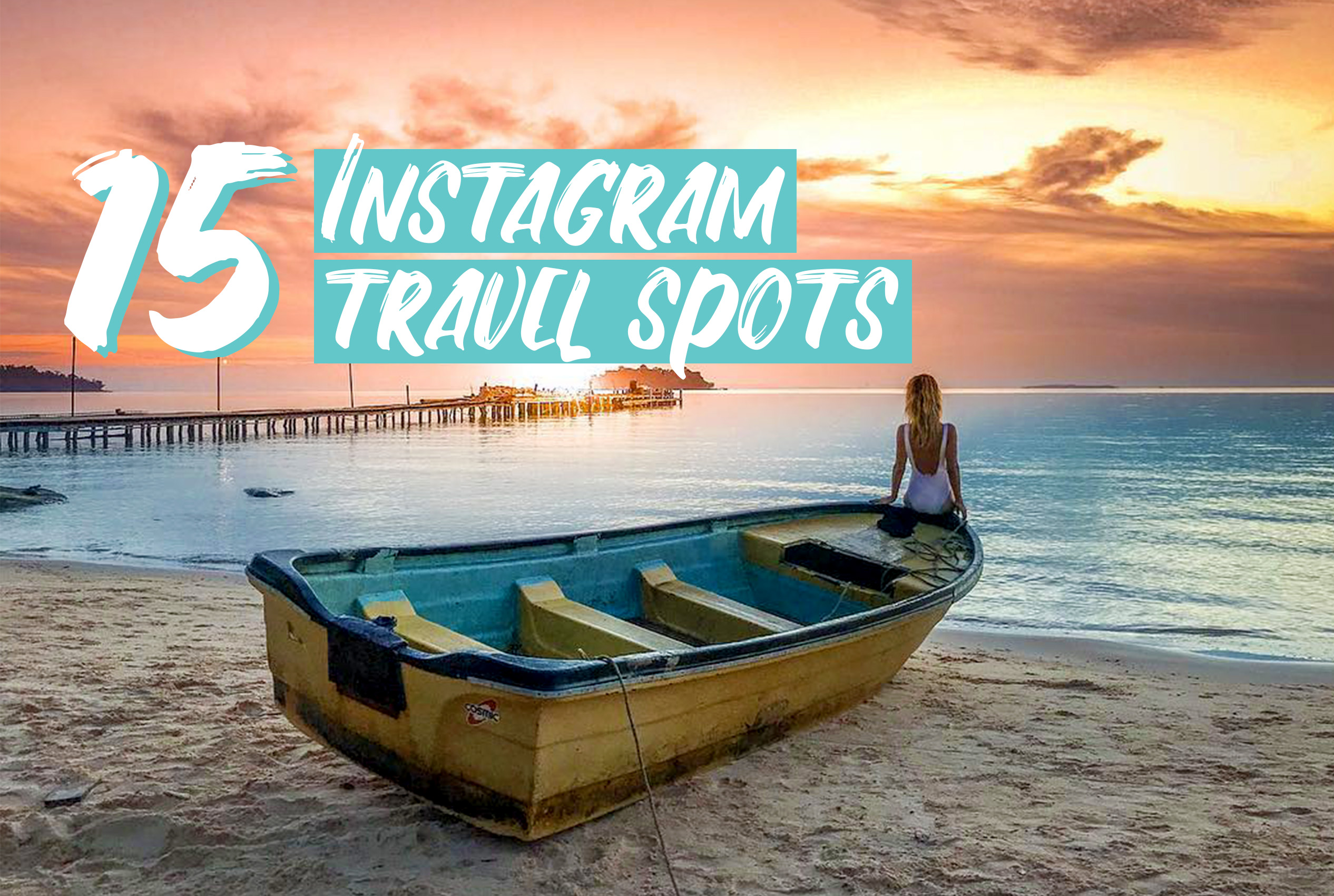 Published
@fredrikopp
Ha Long Bay, Vietnam
There's a reason Ha Long Bay is a top destination in Vietnam, and the world - the unique rock formations that stick straight out of turquoise water combined with the vibrant, green rainforests scattered around make this location one you have to see to believe. And once you're there, you won't be able to put your camera down.
@doitlikeduds
Koh Rong, Cambodia
An island of dense rainforest bordered by white sand beaches, crystal clear ocean water, and colourful reefs, a place so mesmerising it's sure to up your Insta-game. The only thing better than a photo with the clear water sparkling in the sun is a photo of the sunset colouring the entire sky directly over the blue water as far as the eye can see.
@aiste_gg
Little Adam's Peak, Sri Lanka
After hiking up this mountain in Ella, the views from every direction are so spectacular you'll be up there snapping pictures for quite a while.
@sjlack
Khao Sok National Park, Thailand
Hop on a boat through this breathtakingly beautiful national park full of calm, blue waters, projecting rock formations, and lush rainforest. Around every turn is an unbelievable view - you will NOT want to forget your camera for this one.
@solstice_traveler
Lempuyang Temple, Bali
Climb up the "Temple of a Thousand Steps" and snap a photo at the top - the breathtaking view is framed by the temple's architecture, a photo unlike any other!
@lucypedersen
Ninh Binh, Vietnam
This hidden paradise in Vietnam is so full of photo ops that you'll find it hard to choose which pic to post! To give you an idea of the kind of landscapes you'll find here, the recent Kong: Skull Island did a lot of filming in this jungle filled location!
@debbieelovee
"World's Most Scenic Train", Sri Lanka
As the name suggests, this train passes through some unreal scenery you have to see to believe. You won't be able to put your camera down!
@wheresjalex
Angkor Wat, Cambodia
Nothing will make your friends at home in awe of your travels like pictures of the world's biggest temple complex. The trick with this one is to make sure you get there for sunrise, you'll beat the crowds and gain a beautiful orange-pink tone to your photos!
@jaxon_roberts
Phi Phi Islands, Thailand
You've probably heard of them and definitely seen photos of them - whether you knew what you were looking at or not. Capture your very own photos as you take a boat through one of the most scenic set of islands in the world.
@exploreuluru
Uluru, Australia
Uluru, aka Ayers Rock, is a massive sandstone rock in the heart of the Red Centre of Australia. This massive red rock is impressive at any time of day, but catch it and sunrise or sunset and you'll have a shot that stands out from the rest!
@arymaid
Mount Batur Volcano Trek, Bali
It's an early wake-up call, but hiking up this active volcano in time to watch the sunrise over another volcano in the distance makes for an incredible picture your friends across the globe will love to see.
@acouplescalling
Sigiriya Rock, Sri Lanka
This one-of-a-kind rock formation shoots up out of a lush rainforest, creating the perfect scene for your next unique and exciting photographs.
@travel_chaser
Hoi An Lanterns, Vietnam
The Hoi An Lantern Festival, only taking place during a full moon, lights up the entire city with lanterns and candles, providing for breathtakingly unique photos. Even if you miss the full moon, these vibrant candles line the streets nightly, creating the backdrop for a photo expressing the vibrancy of amazing Vietnam.
@rvca_womens
Bondi Icebergs - Sydney, Australia
You'll know of the famous Bondi Beach in Sydney, but the infinity pool further down the beach is equally if not more Insta-worthy than the beach itself!
Ready to get out there, visit these incredible places & get those winning Insta shots? Check out our Group Tours here!
RETURN TO BLOG
NEXT ARTICLE