Small Change in Cambodia: Siem Reap Floating Villages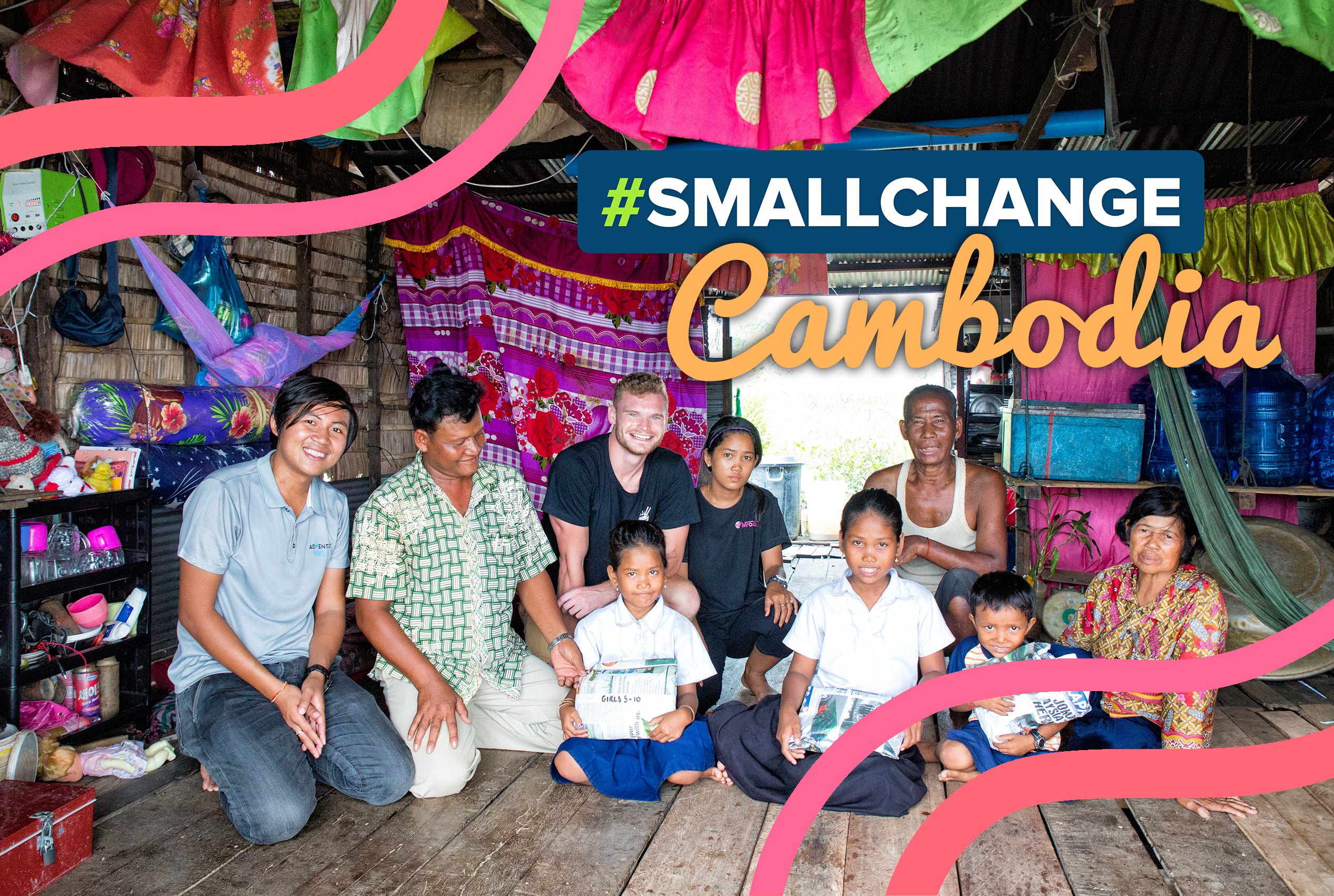 Published 04th July, 2023
Before 2020, tourism in Asia was undergoing exponential growth. Yet not all rapid growth is healthy. Think of mega cruise ships, all-inclusive resorts, beaches covered in plastic, and Instagram hotspots with people queueing for the 'gram, and it's not hard to see how tourism can become problematic if not conducted responsibly.
In 2019, the South East Asian nation of Cambodia, the one tucked in between the popular destinations of Thailand and Vietnam, was visited by over 5 million people. Despite the country's devastating history, the flourishing of tourism in Cambodia comes as no surprise. Full of natural beauty, tropical shores, and welcoming people, the Kingdom of Cambodia is a fascinating demonstration of ancient and modern worlds colliding.  
The past couple of decades has seen Cambodia on the rise as a destination for all sorts of travellers - from frugal backpackers to cashed-up retirees - but the country has not been immune to economic hardship caused by the closure of international borders. Tourism accounts for about 25% of Cambodia's GDP, and hubs such as Siem Reap, gateway to Angkor Wat, are little more than ghost towns in 2022. Like other countries in South East Asia, Cambodia eagerly awaits the resumption of tourism under a 'new normal', but this forced pause has given us all a chance to rethink how travel impacts the places we visit. 
We at INTRO are cheerleaders for the transformative power of travel. Travel helps us grow, widens perspectives, builds connections, and fosters harmony between people from different cultures, and it's always been our mission to create ultimate travel experiences.
But travel is a privilege - and it can have an impact on a lot of lives. 
Since 2017, INTRO's mission in promoting responsible, sustainable travel has been focused around four key pillars that make up our Small Change initiative:
Protecting the environment
Supporting local communities
Cultural exchange & education
Supporting animal welfare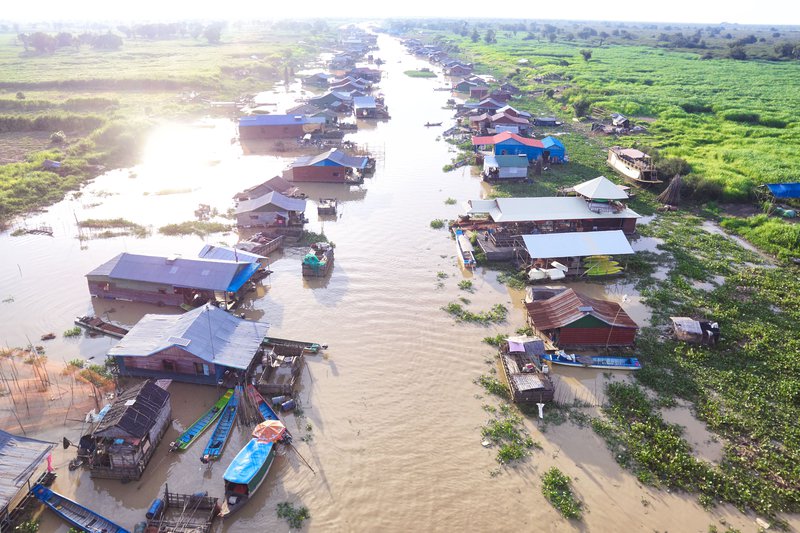 Travel is fun, but it can also be a movement to help the most vulnerable people on our planet. As a tour operator, we strive to deliver ethical travel experiences that go both ways. We've designed our Cambodia small group tours so group members gain authentic insight into Khmer culture, and the communities we visit benefit from our business. 
We've loved building itineraries and relationships in Cambodia that reflect the principles of responsible travel. INTRO is dedicated to expanding these initiatives moving forward, so this certainly isn't an extensive list - but here are some of the ways we have been enacting #SmallChange in Cambodia so far.
S21 PRISON & KILLING FIELDS TOURS WITH LOCAL GUIDES
Our Cambodia group tour begins on a somber note when we visit Phnom Penh's infamous S21 Prison and the Killing Fields. These sites were epicenters of the Cambodian genocide caused by the Khmer Rouge in the 1970s, and while visiting takes an emotional toll, it is incredibly important to do so if you travel to Cambodia. With local guides sharing knowledge and personal family stories from this tragic era, travellers gain a tiny glimpse into what the Cambodian people have been through. Learning about dark chapters of humanity is not about indulging morbid curiosity, but understanding the truth of events we never want to repeat. It's not possible to appreciate the country Cambodia has blossomed into, and the resilient nature of the Cambodia people, without knowing the full history. Travelling in Cambodia is about more than photos on beach swings and visiting Angkor Wat, which is why we start our trip with these important sites. We aim to give everyone as much time as possible to explore the memorials at their own pace, and our local guides and group leaders are there for guidance the entire time.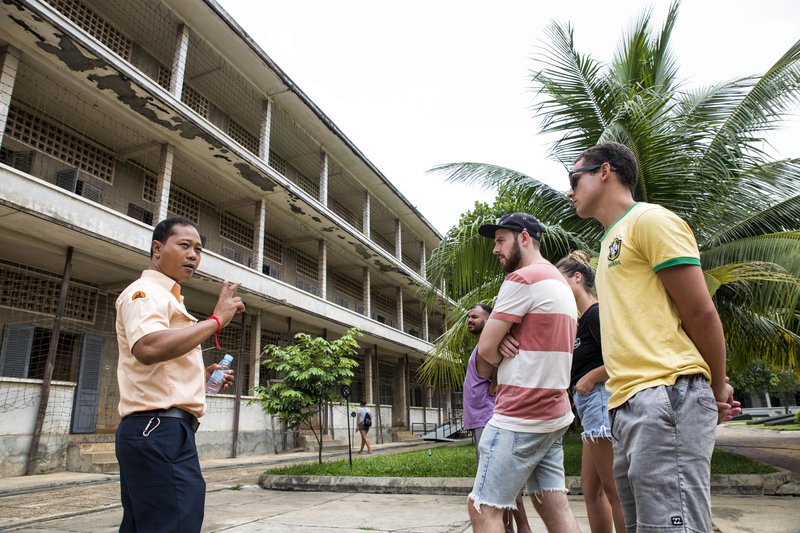 GETTING FAST & FURIOUS VIA TUK TUK
To travel around Phnom Penh we employ a crew of local tuk tuk drivers. On INTRO tours we always strive to use traditional, low-emission transport when we can... no hulking tour buses here! Zipping around the city in the safe hands of a professional driver is the best way to get around, and it lets us directly support locals.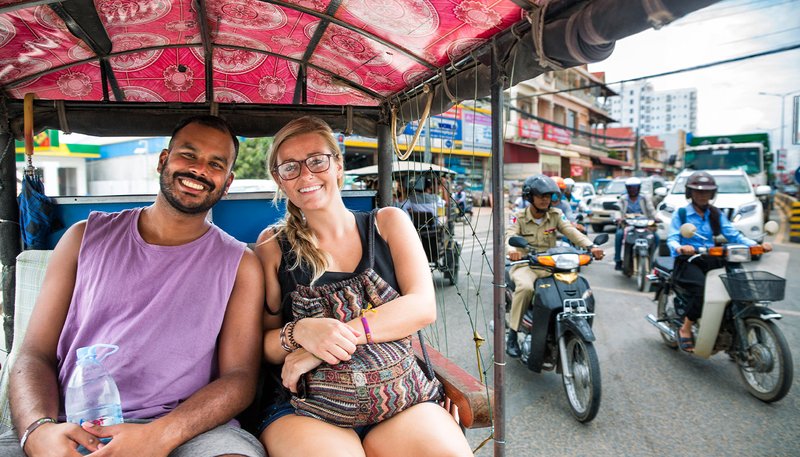 PEPPER PLANTATION VISIT
The lush region of Kampot in Southern Cambodia produces some of the world's finest peppercorns, so on Day 4 of Cambodia Intro we visit 'La Plantation', a pepper farm about an hour outside of the riverside town. La Plantation is a social project that aims to grow the Kampot pepper industry in a sustainable way, providing jobs to locals and financing a primary school in the area. We learn about the types of pepper they grow, explore the farm, and get to taste the pepper for ourselves! The plantation provides over 100 jobs in peak season, so our regular visits help support the ongoing work of this ambitious enterprise.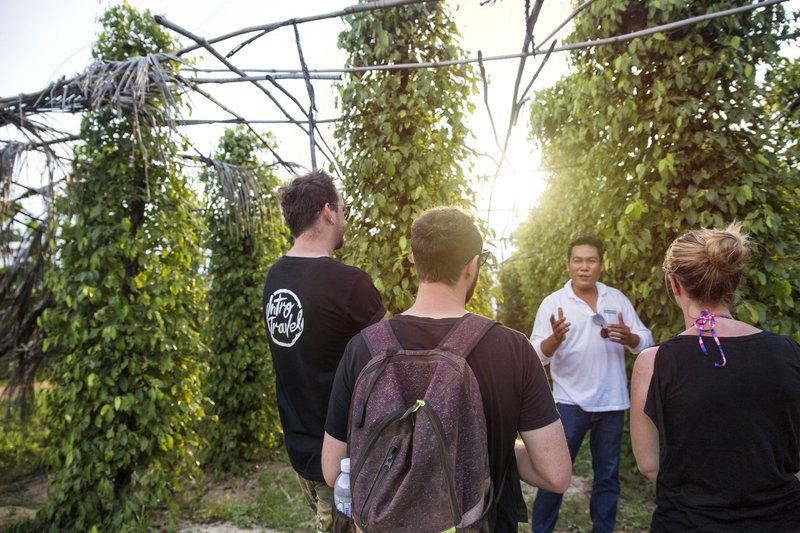 KHMER COOKING CLASS 
Along with visiting the pepper plantation, our Cambodia group tour includes an authentic Khmer cooking class that takes place on the farm using only the freshest ingredients from the region. This class supports the female-led business, we get to learn about the local cooking style from the experts, and of course treat ourselves to the mouthwatering Cambodian curries and stir fries that we plate up (with a little - or a lot - of help from our teacher). We always encourage travellers to eat as the locals do, and throughout our Cambodia trip we visit incredible family-run restaurants. Craving some beef lok lak right now... if you know you know *chef's kiss*.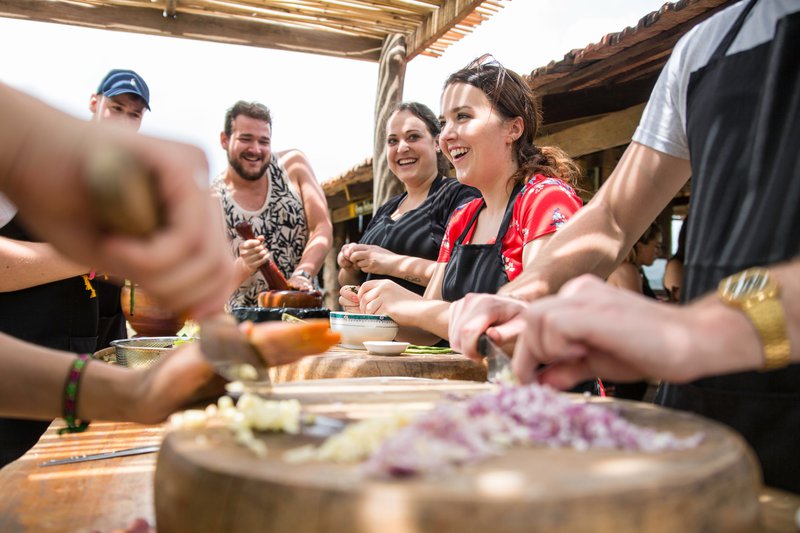 SIEM REAP FLOATING VILLAGES SUPPORT
Since beginning our operations in Cambodia, INTRO Travel has been working directly with Tonle Sap village chiefs to help support the local families. Also known as the floating villages, these settlements outside of Siem Reap are unlike anything you've ever seen before...  picture houses on stilts surrounded by flooded forests and lush rice fields. We take travellers off the beaten path and into the homes of locals we have relationships with, meaning we get to show a glimpse of life in these villages whilst remaining considerate. This is all thanks to our local legend/guide Sokha, who you can read more about on our blog here! In Cambodia, school is free but supplies are not, meaning many children can't attend because they struggle to afford the necessary items. Thanks to the generosity of our travellers and hustle of our staff, our first charity drop to the children at the Meychrey floating village included over 250 packages of school supplies!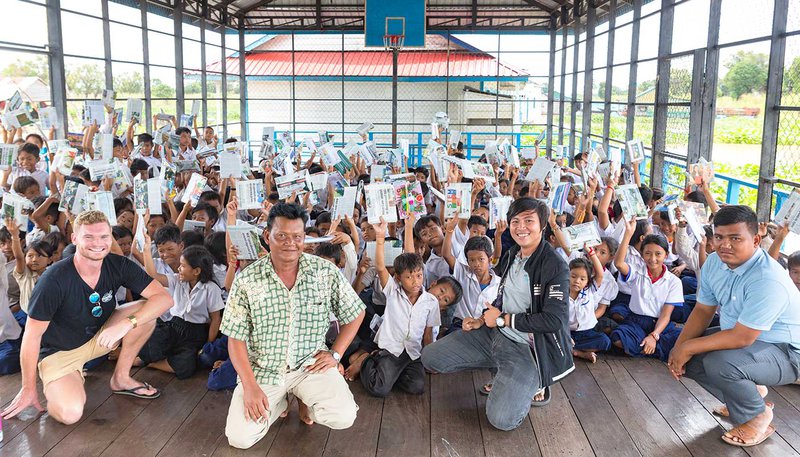 ---
Ready to make a difference? Find out more about our Small Change initiatives here.
Cruising through the energetic streets of Phnom Penh, meeting friendly locals, sampling street food, learning about Cambodia's history, discovering the crystal waters of Koh Rong and experiencing the breathtaking Angkor Wat are just some of the incredible moments you'll have backpacking in Cambodia. Click here to check out the itinerary and inclusions of our Cambodia Intro small group tour and get planning your next well-deserved adventure! 


RETURN TO BLOG
NEXT ARTICLE