How To Be A Responsible Traveller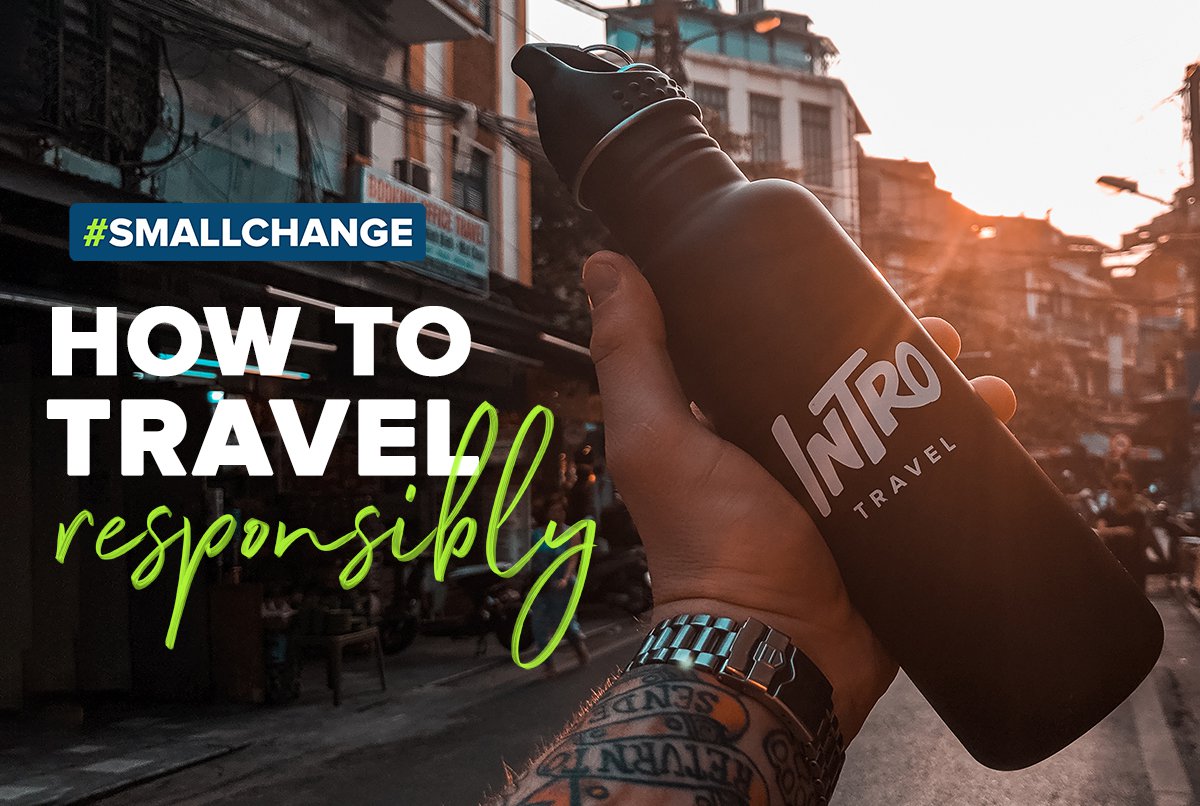 Published 06th August, 2021
Travel is the greatest gift you can give yourself. Exploring new places, learning about different cultures and going on new adventures is something that will change your perspective on life forever. But it's important to ensure that your experiences also leave a positive impact on the places you are visiting. Travel has enormous potential to bring opportunities to communities around the world, but when you picture beaches littered with plastic, cities choking in smog, and elephants forced to carry tourists, it's not hard to see how tourism can become problematic if not conducted responsibly.
We created Small Change, our socially conscious initiative, to positively impact the destinations we visit, but there are also plenty of small changes we can make as individuals to travel more responsibly.
What is Responsible Travel?
'Sustainable', 'ethical', 'eco-friendly' and 'responsible' are some of the biggest buzzwords in tourism right now, but what does it actually mean to travel responsibly?
At its core, Responsible Travel is about travelling with an active awareness of your impact on the people and places you visit. Travelling responsibly starts before we even reach our destination by making smarter choices in how we choose to travel, where we spend our money, ways we interact and the businesses we support. Above all, it's about travelling with kindness, mutual respect and awareness for the beautiful world we share.
To help you become a more savvy responsible traveller, we've put together this guide full of practical tips to help inform you on your next trip. Every #SmallChange counts!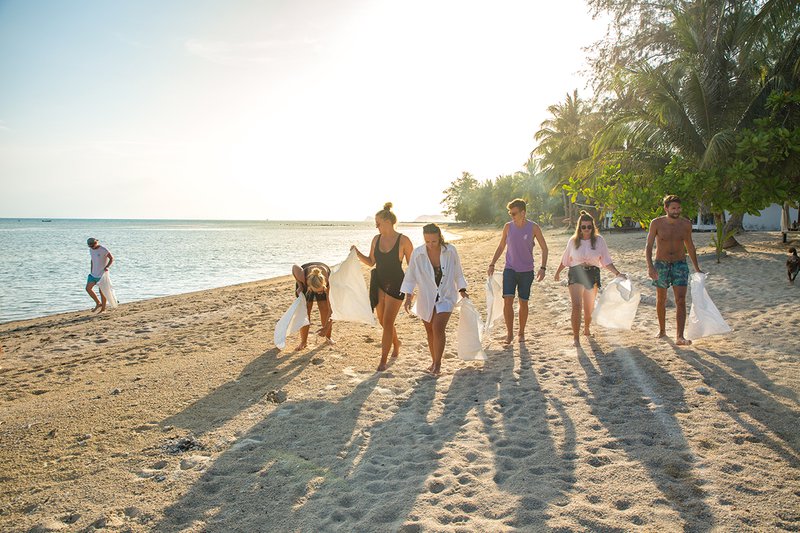 RESPECT THE ENVIRONMENT 
LEAVE NO TRACE
It's unfortunate to see piles of rubbish in areas of otherwise pristine natural beauty, so leave no trace and take any trash with you. Bonus points if you take any extra rubbish and leave the place even better for future visitors!
BE CAREFUL IN DELICATE ENVIRONMENTS
Whether snorkelling in Thailand, exploring Angkor Wat or hiking through the jungle, avoid stepping on fragile landscapes. Look, don't touch - take only photos, leave only footprints.
MINIMISE SINGLE-USE PLASTICS
It takes hundreds of years for plastic to degrade, and unfortunately, we still waste millions of tonnes each day. The best way to reduce your waste output is to produce less, so our number one travel essential is a reusable water bottle! With most accommodations and restaurants providing free water refills, you can fill these up and remove your need to buy plastic bottles on the go! If you're a coffee fanatic, a reusable keep cup is a great thing to have handy. Without realising it, the amount of plastic we use when travelling adds up - think shampoo, conditioner, sunscreen bottles, etc. Making small changes with your products can go a long way, and many brands now have shampoo and conditioner bars that are perfect for travelling as they're lighter, small, and last for ages. Win-win! Other easy swaps include packing a reusable shopping/tote bag to use on your travels rather than plastic bags, a bamboo toothbrush, and reusable face wipes. 
CONSERVE WATER
Long showers are tempting but water is a scarce commodity. While you may always have access to fresh water back home, not everyone does, so limit your showers and don't leave the tap on when brushing your teeth or washing dishes.
TURN IT OFF
Whether you're staying in a hostel, hotel or Airbnb, make sure to turn off all lights and aircon before you leave to conserve energy.
PROTECT OUR REEFS
Sunscreen is important, but some products contain ingredients that damage corals and contribute to bleaching. To protect the ocean and all of its wonderful creatures, try switching to sunscreen that's labelled as 'reef-friendly', i.e. not containing the toxic chemicals and perfumes that unnecessarily damage the ocean. 
REDUCE YOUR MEAT INTAKE
You don't have to become a vegetarian, but the simple act of reducing your meat and dairy consumption, even for just one meal or day a week, has a positive impact on the environment. Livestock production around the world contributes to a huge percent of global greenhouse emissions and supports animal cruelty, which we do not. Plenty of cuisines are very well catered to veggie diets, so why not give it a try and find a new favourite?
FEWER PLANES, MORE TRAINS
Obviously, we need to fly to get to some countries, but whenever possible opt for overland travel. Trains and buses are cheaper, better for the environment and way more interesting as they're a great way to meet locals and check out the landscape.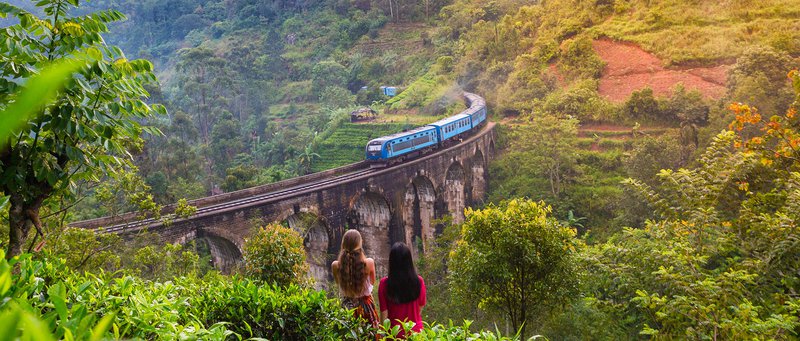 WALK EVERYWHERE
Speaking of getting around, we all know someone who is insistent that everywhere is only a 20-minute walk away. In their defence, discovering a new place is best done on foot. It's good for the environment, good for your body, and good for your wallet!
OFFSET YOUR CARBON EMISSIONS
Airline travel has never been more popular, but plane emissions represent 2% of the world's total carbon emissions. One way to counteract your carbon footprint when you need to fly is to offset your emissions by donating to projects aimed at reducing carbon in the atmosphere. Some airlines can even help you offset your emissions directly when booking.
SEEK OUT SUSTAINABLE ACTIVITIES
As you explore new places, opt for activities that don't pollute or use energy, such as kayaking, biking, or hiking. Not only will you create zero carbon emissions, but you'll discover unique sights from the beaten path. On our group tours we are huge advocates for these kinds of activities, including many on our itineraries.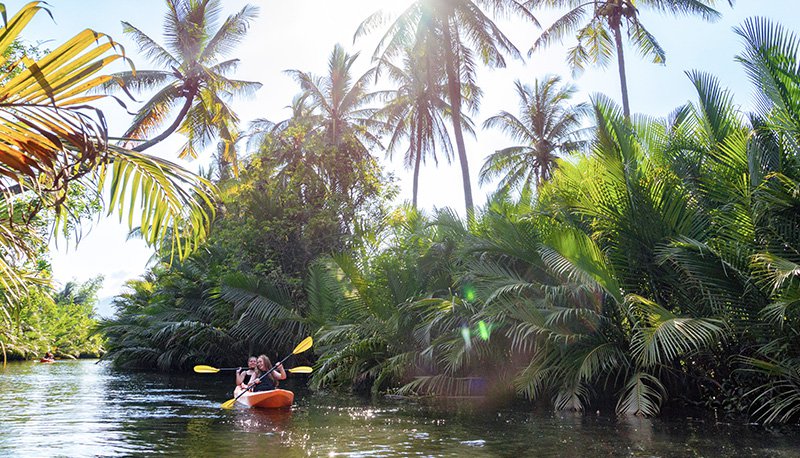 REMEMBER YOU'RE A GUEST 
LEARN SOME OF THE LANGUAGE
You don't have to be an expert, but a few phrases of the local language will go a long way in producing positive relations with locals as you prove that you're trying. Good phrases to learn are hello, goodbye, thank you, cheers and sorry, and your group leader will go over these at the start of your trip to help you out!
BE A GOOD PERSON
This might sound obvious, but treat everyone with kindness. Don't be a whinger, don't argue over pennies, don't roll your eyes at people or treat service staff with impatience. Start with a smile and you'll be amazed at the kindness you receive in return!
DRESS APPROPRIATELY
It's important to consider the local dress code before you touch down in a new country to avoid any unwanted attention or embarrassment. Some countries are very modest when it comes to the clothing they wear, and wearing things like shorts and singlets might not just be inappropriate, but also offensive. Do your research on what is normal to wear, and if in doubt, just look at the locals.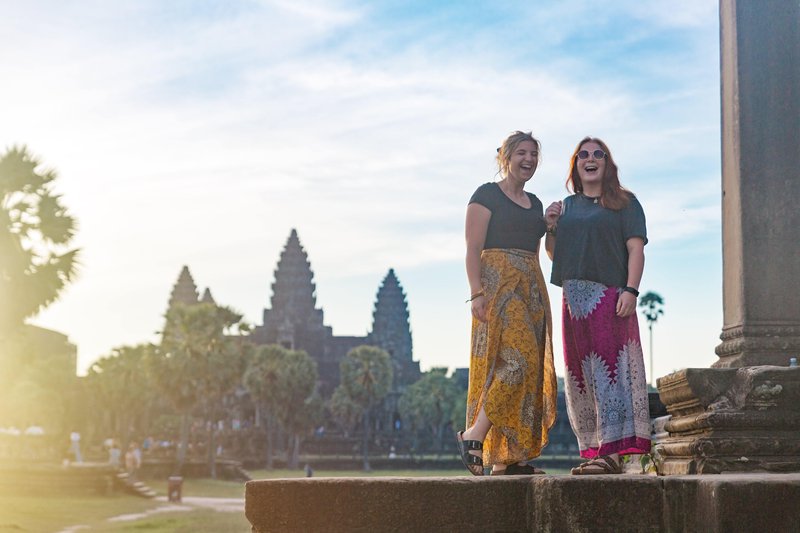 AVOID GIVING MONEY TO BEGGARS
This is a hard one, but don't give money to beggars, especially children. In the long run it feeds into the cycle of begging culture and robs children of time in school. If you want to donate there are NGOs and charities you can support that work to end the cycle of poverty. 
ASK BEFORE TAKING SOMEONE'S PHOTO
Remember that people are just trying to live their lives and usually don't want to be photographed. If you'd like to take a photo of somebody, make eye contact, smile, and gesture towards your camera then towards the person. If they are ok with it, they'll happily pose for your shot. If they're not, respect their privacy and put the camera away. Always try to engage with locals rather than just seeing them through a lens.
DO YOUR RESEARCH BEFORE VOLUNTEERING
Unless you have the actual skills to look after kids in an orphanage or build a school, you might accidentally do more harm than good. Successful volunteering empowers a local community to grow from within, not to swoop in and 'fix' a place in return for a good photo. Instead, look to support ethical non-profits.
WHEN IN ROME...
It's tempting to stick with your group of friends, but you can learn so much from locals, including getting great recommendations for things to do. Remember that everyone has something to teach you and keep an open mind when listening to others.
SUPPORT LOCAL BUSINESS
SHOP SMALL
Supporting local businesses allows you to directly feed into the economy, and smaller companies usually have better sustainability practices than big chains. Making conscious buying decisions has a positive impact everywhere, and when you travel remember you are voting with your money. Avoid the 7/11, get fruit from a local stall instead of a supermarket, and buy from local craftsmen to support them directly instead of picking up the same souvenir everyone else has. 
EAT LOCAL
Forget the familiar and dive headfirst into the delicious abyss of local food when travelling. Choose to support local restaurants serving fresh - not imported - food, cutting down on the long carbon-intensive supply chains used to import other stuff. You didn't travel all this way just to eat McDonald's and drink Starbucks, did you? Trust us, as long as the food seems fresh and the establishment is busy, you can surprise yourself with something new.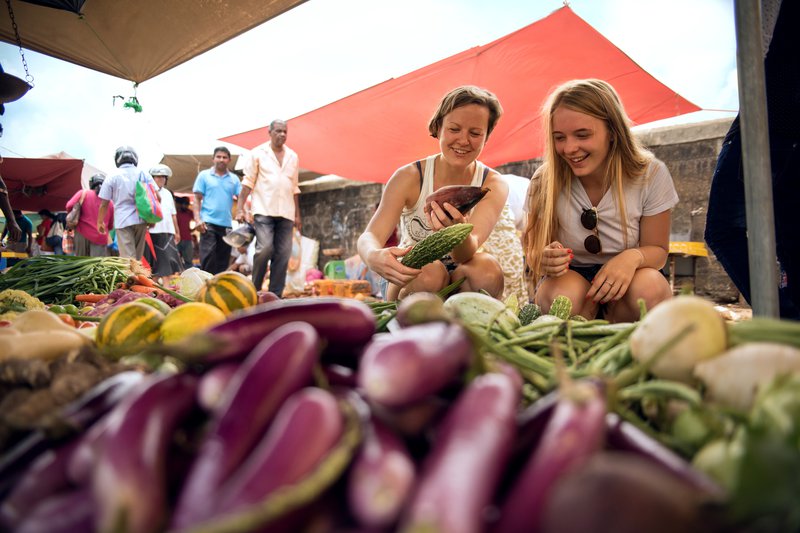 DRINK LOCAL
Why drink a beer shipped from halfway across the world when you can try the local stuff? There's never been a better way to support the economy… cheers to that!
LIVE LOCAL
Homestays are a great way to experience local life and have an authentic travelling experience. They're usually run by families who are eager to get to know you and treat you like royalty, often by cooking delicious meals! Owners of homestays also tend to be more eco-conscious. We use many homestays on our group tours and it's been amazing to watch their businesses grow.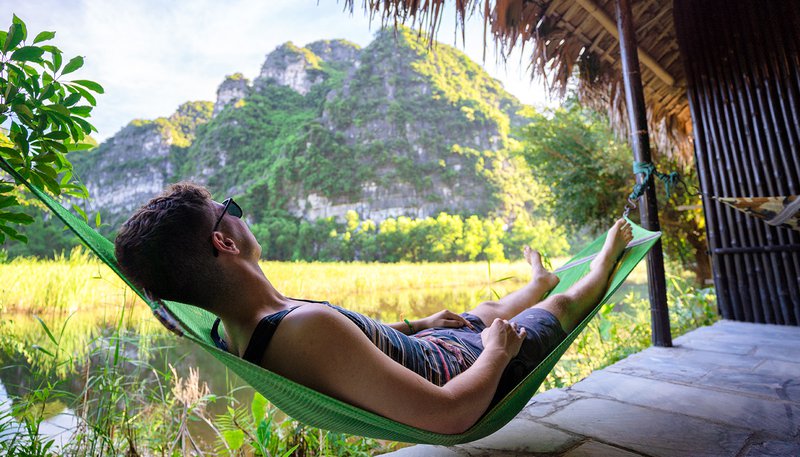 BARGAIN RESPECTFULLY
Bartering in busy marketplaces is all part of the fun of travelling. Remember to have fun, do it with a smile, and be fair. What seems like a game can mean the difference between a full day's wage and a terrible day of work for the seller you're bartering with. Think of the bigger picture when arguing over pennies!
TRAVEL DURING THE OFF-SEASON
Travelling out of peak months means fewer tourists and lower prices, more flexibility and options, plus it's better for destinations that are historically overrun during the busy season. You're also more likely to experience a place as the locals do—with only a few more people than the locals, too.
WILDLIFE IS MEANT TO BE WILD
AVOID ANIMAL TOURISM
Animals should be allowed to live as free from human interference as possible. Unless you're seeing them in their natural habitats or a sanctuary, pretty much any animal experience you pay for is negative. This includes riding elephants, tiger temples, hunting, animal performances, etc. If you are keen to see animals there are plenty of ways to encounter them in the wild, such as on a safari in South Africa, snorkelling in the Philippines or on a dolphin-spotting trip in Bali.
SPREAD THE WORD!  
Now that you're filled in on the basics of travelling responsibly, you can use these tips on your travels and spread the word! Responsible travel isn't a phase or trend, but is about making serious decisions that can have small but positive impacts on locals, the economy and our environment. None of us are perfect, but what matters most is that we travel with an open mind and keep learning about how we can make better decisions when travelling and in our lives generally.
---
Ready to make a difference? Travel is set to return better than before with people choosing holidays that don't just look good on Instagram but have a positive impact. Find out more about our Small Change initiatives here.
RETURN TO BLOG
NEXT ARTICLE