OUR (RE)COMMITMENT TO YOU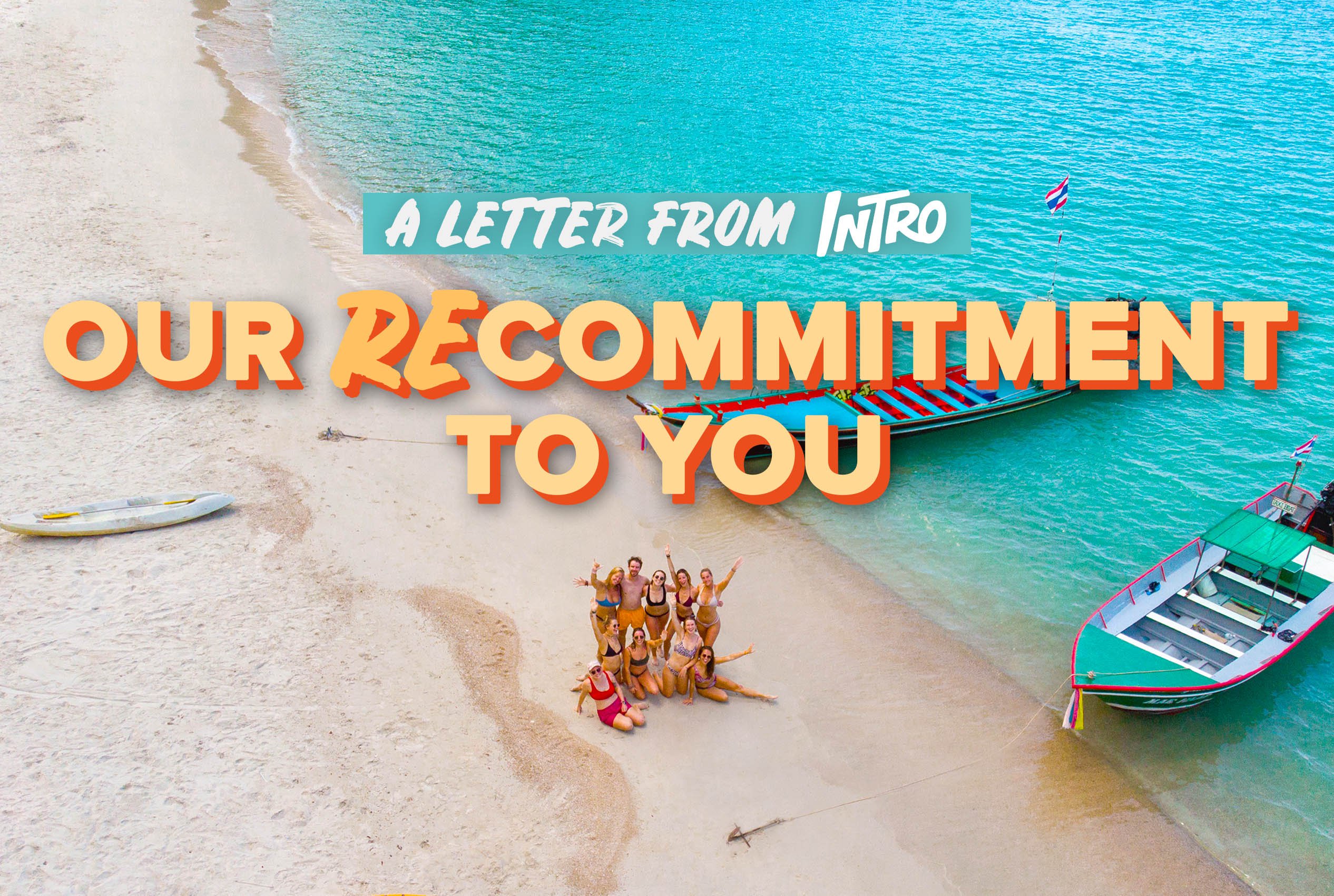 Published 20th September, 2020
As borders open and we step out into the world again, what will things look like? Where will we go? How will we stay safe? How will we explore our beautiful planet responsibly? These are all important questions. And I'm sure you may have many more. 
We don't have all the answers, but we are in a unique position to provide the peace of mind you might be looking for.
Before you take off on your next adventure, we want you to know that we take your decision to travel with us very seriously. Life is precious and the time we spend discovering there's more to it is the most special of all. And that's why we're committed to making your experience the best it can possibly be. 
Our mission has always been to encourage those who dreamed of changing and improving their lives through travel, but didn't know where to start. And to make that happen for them in the easiest, most worry-free way. And in a post-COVID world, we are so happy that the fundamental principles of what INTRO was built on will continue to serve you so well moving forward. 

INTRO began in 2005 with the goal of creating life-changing travel experiences, all with a unique level of end to end support that differs from your standard tour company. By end to end support we mean from the initial excitement and planning stage, to personally meeting you at the airport, to a dedicated group leader with you 24/7 throughout your trip, who will not only guide you through your journey but be your best friend, travel companion and help plan and organise any of your onward travel after your trip is finished. 
Our world is vast - meaning the options can be overwhelming - which is why we create and provide the full experience for our travellers. Our trips are designed to help you connect, explore, taste, and give back to the world, all whilst making great friends along the way. We've spent years working to curate the perfect day, every day, meaning you can simply kick back and enjoy the best of each destination, whether that be unique local cultures, adventure, nightlife, authentic cuisine, and much more.
We find (or create) what we believe are the best accommodation and experiences possible, and unlike other tour operators, we don't pad our itineraries with endless 'free' time or expensive optional activities. On an INTRO trip, all your experiences are included, plus a few extra surprises thrown in, all with plenty of time to do your own thing. 
We're proud of what we do, but don't just take our word for it. Over 15 years of operation INTRO has grown from humble beginnings to run tours across 10 countries, win multiple awards, including Worldwide Tour of the Year four years in a row, and gain over 10,000 5 star reviews in the process. 
All of this is possible due to the dedication of our experienced behind-the-scenes crew, amazing group leaders, and passionate local legends. We pride ourselves on having a knowledgable crew of experts that fully understand the ins and outs of travel and genuinely care for you as a family member. 
Travel is our passion, but guiding you through the adventure of a lifetime so you can truly relax is where our real expertise comes in. And given the world we're living in, our experience and commitment - to both safety and our customers - is more important than ever. 
Our hearts go out to all who've been impacted by this unprecedented pandemic, we certainly have not been immune. But rest assured we remain as dedicated as ever to supporting you through this difficult time, and your health and safety will always remain our top priority. 
Over these past few months, INTRO safety procedures have evolved to reflect current circumstances and align with the World Travel & Tourism Council's Global 'Safe Travel' Protocols. These include working with our trusted operators to ensure all hygiene and social distancing protocols are met and extensively training our staff to be experts in the new procedures that travelling requires for now. 
We know that you're eager to travel again but we also understand you might be nervous about booking right now. To ease your nerves, we've made our policies as flexible and secure as ever. From easy deposits and free changes to payment plans and open-dated bookings, you can always book through INTRO with confidence. Whatever happens, we'll be there every step of the way.
Things will likely not return to exactly how they were, and we're okay with that. As we strongly believe the new 'normal' can be so much better. We can be more appreciative of this amazing planet, more conscious of its incredible wildlife and local communities, and return to travel and adventure with a fresh perspective and passion for life.
That's why we've doubled down on our commitment to Small Change, our socially conscious initiative. Yes, we plant 10 trees for every booking we receive, yes we donate a portion of our profits to the underprivileged local communities that are so special and important to us, yes we have a range of other initiatives across all 4 pillars of Small Change's responsible travel ethos, but this is our chance to ramp up our efforts even more and have an even greater impact on the travel industry and planet as a whole, which all of us at INTRO are genuinely passionate about achieving. 
And our mission to create the ultimate travel experience will never change. Whether you're a first time or solo traveller looking for travel buddies, or a couple or bunch of mates who want an instant group of friends to share your experience with, you can be confident that INTRO is committed to delivering you an unforgettable experience through and beyond the COVID era.
We are so excited to share our beautiful world and it's fascinating people with you once again.
Stay safe, stay awesome and we'll see you in paradise soon.
Much Love,

Trent
INTRO Travel 
General Manager 
RETURN TO BLOG
NEXT ARTICLE