When Can We Travel To The Philippines In 2022?
Published 28th March, 2022
LAST UPDATE: MARCH 28, 2022
Disclaimer: This information is collated from official sources but general in nature. Entry requirements are subject to change at any time. We are a tour operator, not visa specialists. Keep checking for the latest advice from your local government, embassy, or consulate to confirm any visa or entry requirements before travel.
Things around the world are gradually returning to normal as the global vaccine rollout gains momentum. We are monitoring the situation closely and will keep this article updated with any new info. So, can we travel to the Philippines in 2022? Read on for the latest updates.
AM I ALLOWED TO TRAVEL TO THE PHILIPPINES?
GOOD NEWS! As of February 10 2022, the Philippines will grant entry to fully vaccinated visitors from countries that are permitted visa-free travel. Countries on that list include the UK, Germany, Canada, Australia, Sweden and the United States, the full list can be found here. 
Fully vaccinated travellers will no longer be subject to facility-based quarantine upon arrival. For more details head to Philippines Tourism.
VISA REQUIREMENTS
Under usual circumstances most nationalities can receive a 30-day visa exemption on arrival in the Philippines for free. 
Travellers who can enter must complete a health form at least 3 days before their arrival in the Philippines. 
NEGATIVE COVID RESULT
Fully vaccinated arrivals are required to have a negative RT-PCR test conducted within 48 hrs prior to departure from the country of origin.

DO I NEED A VACCINE?
Yes. To enter the Philippines as a tourist you will need proof of full vaccination against Covid-19.
PROOF OF INSURANCE
Travel insurance is not mandatory, but highly recommended.
QUARANTINE
Fully-vaxxed arrivals entering the Philippines from Feb 10 will not need to quarantine! However they must self-monitor for any sign or symptom for (7) days with the first day being the date of arrival and shall be required to report to the local government unit of destination upon the manifestation of symptoms.
COVID TRACKING
Travellers are required to download and register an account in the TRAZE Contact Tracing App prior to entering the airport. Find out more here.

RESTRICTIONS & OPEN TOURIST ATTRACTIONS
The Philippines has implemented a range of internal Covid measures throughout the country which change regularly. These measures are different in each local province, and travel between provinces remains complex. Masks must be worn in public places. National parks and nature attractions i.e. beaches, hikes and parks, are open.
RETURNING HOME
Each country has different restrictions for travellers arriving from abroad. For information relevant to your situation, keep up to date with local government announcements.
Find out more about UK travel restrictions here. 
---
Travelling in the Philippines is an epic adventure, and joining one of our group tours in the Philippines is the best way to experience it when the country reopens to tourism with minimal restrictions. Whether you're on a short holiday, travelling on a gap year or anything in between, on our 13 day Philippines Island Explorer we'll show you the best of this tropical paradise with a new bunch of friends. 

NOTE: This information is general and restrictions are subject to change, so keep in touch with the latest official advice from your local government and Filipino authorities. 
WHEN IS THE BEST TIME OF YEAR TO TRAVEL TO THE PHILIPPINES?

Like many other South-East Asian countries, the Philippines experiences warm tropical weather year-round but has two distinct seasons - wet and dry. 
The dry season starts in November and goes until June, and this is considered the best time to travel to the Philippines. December to March are a little cooler, whereas April to June are the hottest (and busiest) months. Weather-wise, these months are perfect for beach-goers.
July to October brings the wet, off-peak season, but this season still has some perks! While the volume of rainfall increases, heavy downpours don't tend to last long and are usually followed by the swift return of the sun. Flights, accommodation, and activities are cheaper, however, storms during this season can be a threat and potentially disrupt your travel plans.  Please keep in mind that we don't operate our tours during the main typhoon season (July, August, September). Once the borders are open and the sun's out, you can guarantee we'll be on the first flight to the Philippines!
WHY VISIT THE PHILIPPINES?
A tropical haven just next door to mainland Asia, it's no surprise the Philippines is one of the hottest new destinations to explore. You've got beaches and waterfalls, mountains and jungles, megacities and epic caves, all sprawling over 7000 beautiful islands. Despite decent tourist infrastructure and a large English-speaking population, the Philippines doesn't receive anywhere near the number of visitors as neighbouring Thailand or Vietnam. For all you need to know about this incredible country, check out our Ultimate Guide to Backpacking the Philippines here!
SOAK UP THE SUN WHILE ISLAND HOPPING
The ultimate way to lap up the laid-back lifestyle and beautiful scenery of the Philippines is on an island-hopping expedition of Palawan. Travelling via boat is the best way to sight-see, swim, sunbathe and snorkel your heart out. With so many islands, it's not hard to find your own secluded beach off the beaten track. After a day of adventuring, you can watch the sun sink below the horizon, dine on the catch of the day, and snooze under the stars in traditional Filipino accommodation.

SNORKEL THE SARDINE RUN
This natural phenomenon allows you to snorkel in crystal clear water surrounded by millions of sardines. Moalboal is a marine sanctuary and the fish swarm here naturally, so it's a completely ethical animal encounter! The fish sometimes attract dolphins, sea turtles, and you might even have a whale shark join you.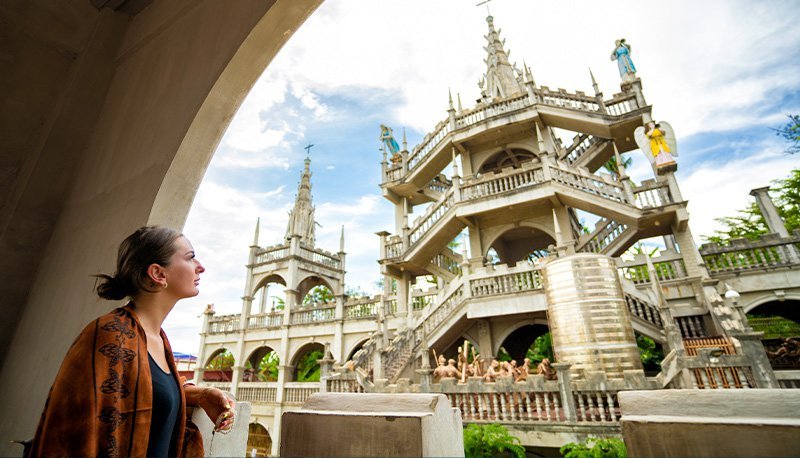 GIVE CANYONEERING A GO
The Philippines has no shortage of adrenaline-pumping activities! At Kawasan Falls the adventurous can try canyoneering, scrambling through thick jungle to jump into the bright blue pools from heights of up to 20 metres!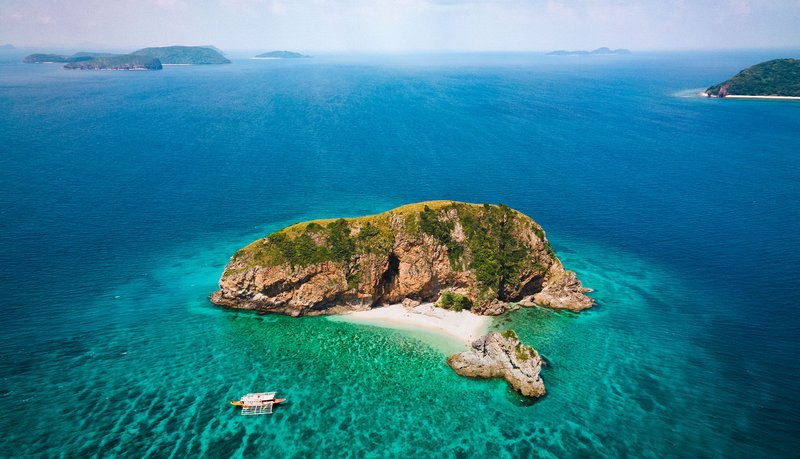 WORLD-CLASS SCUBA DIVING
The Philippines hosts incredibly diverse marine life, so it is naturally becoming a popular destination for avid divers. Cebu, Bicol, Anilao, Boracay, and Apo Island are the best hotspots for beginner and experienced divers alike.

LEARN ABOUT INDIGENOUS FILIPINO CULTURES
A little off-the-beaten-track, the island of Siquijor is known for mystical mountain villages and healing shamans who brew traditional ointments good for all kinds of ailments... maybe even hangovers! Just about every bit of this island's coastline hosts great snorkelling, and the inner island has beautiful waterfalls and caves to explore.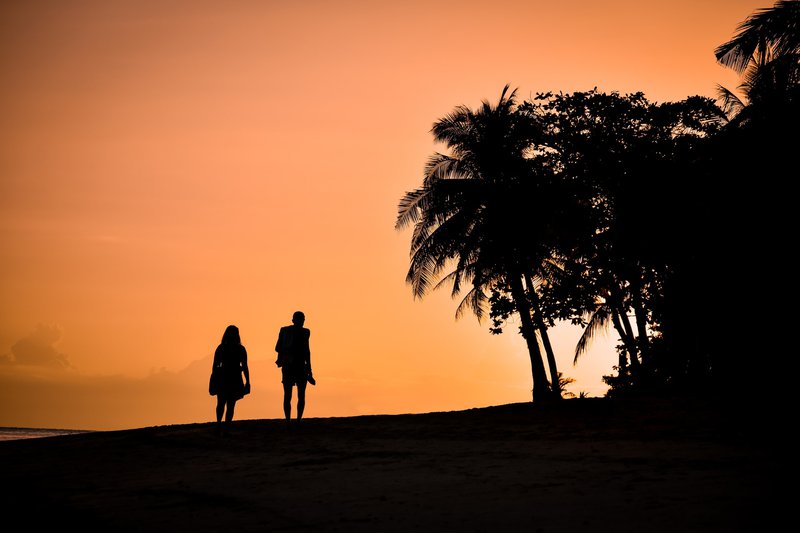 ---
Travel restrictions are beginning to ease and tourism will return with a surge in demand, so now is the time to get planning, especially if you want to backpack through paradise in the Philippines.
If this beautiful island nation sounds like your kind of destination, click through to check out our Philippines small group tours here! With expertly crafted itineraries, the guidance of a knowledgable group leader, full end-to-end support, and a new group of friends to make memories with, our trips are the ultimate way to discover a new country! Oh, and did we mention that all of the activities on our itineraries are included? You heard right - everything we mention is included in the tour - no extra payments required. Travel with a group and enjoy the best of the Philippines, stress-free. 
With flexible booking policies and complete support during this uncertain time, you can be confident when booking with INTRO. See you in El Nido! 

RETURN TO BLOG
NEXT ARTICLE