When Can We Travel To Thailand In 2022?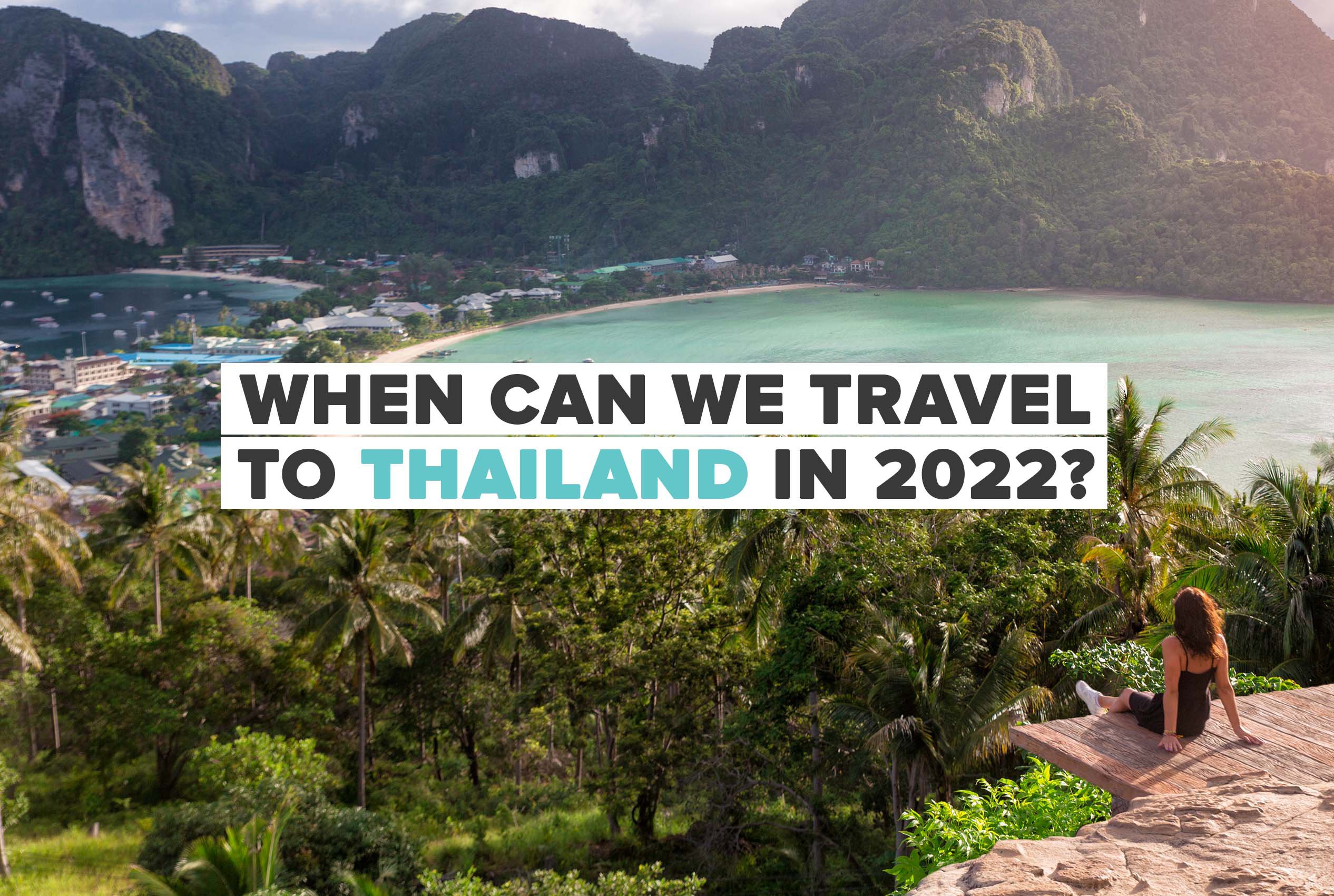 Published 31st March, 2022
LAST UPDATE: MARCH 31, 2022
Disclaimer: This information is collated from official sources but general in nature. Entry requirements are subject to change at any time. We are a tour operator, not visa specialists. Keep checking for the latest advice from your local government, embassy or consulate to confirm any visa or entry requirements before travel.
THAILAND IS OPEN for tourism and we have kicked off our Thailand group tours! Read on for the latest info about travel to Thailand in 2022.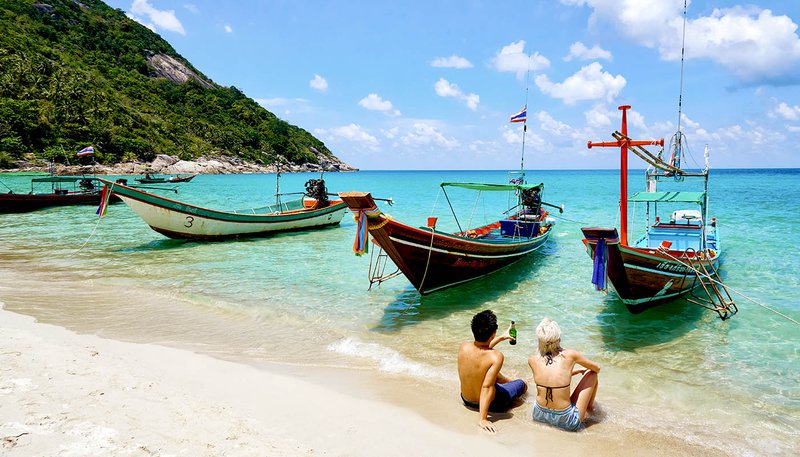 AM I ALLOWED TO TRAVEL TO THAILAND?
THAILAND IS OPEN FOR TOURISM
From November 2021, fully vaccinated travellers have been allowed to enter Thailand easily via the Test & Go Thailand Pass. This scheme was temporarily suspended between December 2021 and January 2022 due to the Omicron variant, but from February 2022 this has been reinstated!
Since being reinstated in February 2022 there have been a few updates to the Test & Go scheme, more info on the requirements below.
---
ENTERING THAILAND
Every traveller heading to Thailand must register for a travel certificate through the Thailand Pass system. Approval takes up to 3-7 business days, so ensure the application is submitted with ample time before departure. Once fully registered in the system, travellers will receive a Thailand Pass QR code to present at airport check-in and at immigration on arrival. 
Note: do not apply for the Thailand Pass via a third party - this is a free process and https://tp.consular.go.th/ is the only official site.
TEST & GO
This scheme allows fully vaccinated travellers to arrive in Thailand without a strict quarantine. People from all countries are eligible to apply.
Currently, Test&Go Thailand Pass applications must submit proof of prepayment for 1 PCR test, 1 ATK rapid self-test and government-approved hotel accommodation on Day 1 as well as a prearranged airport transfer on Day 1. Anyone travelling on an INTRO Travel tour in Thailand in the immediate future will be contacted directly with information on how to arrange the PCRs and hotel bookings if required for their trip. We are currently asking people to aim to arrive into Bangkok the day before the tour starts to complete the 1 night Test&Go process.
At the moment all travellers must have the following documents for entering Thailand:
A Thailand Pass, which can be applied via https://tp.consular.go.th/ (to upload documents the system prefers JPGs not PDFs, so convert your files before uploading).
An insurance policy with coverage no less than USD $20,000. We recommend that travellers make sure to check the small print of any COVID-19 insurance policy before purchasing. The policy should cover the cost of treatment and other medical expenses associated with being infected with COVID-19, including hospitalisation, hotel isolation, or related quarantine. The policy should also cover the whole duration that travellers are planning to stay in Thailand, plus 10 extra days as a precautionary measure in the event that the traveller's second swab returns positive.
A proof of prepayment for 1 night accommodation at a government-approved hotel on Day 1 and the expenses for 1 RT-PCR test on Day 1. The prepayment for Day 1 must include an accommodation, a test and a prearranged transfer from the airport to the hotel. Travellers must stay within the room for the RT-PCR test results (approx 6 hours).
A Certificate of COVID-19 Vaccination: Must be fully vaccinated for COVID-19 with an approved vaccine at least 14 days before travelling to Thailand. 
Passport with at least 6 months validity. 
If testing negative for COVID-19 after the first night, travellers are free to go anywhere in Thailand. However, they must undergo a self administered rapid Covid test on day 5 in Thailand. Once this second test comes back negative, travellers are all good to continue exploring Thailand! 
BLUE ZONE SANDBOX
International travellers can also travel to Thailand under the Sandbox programme, and can choose to undergo a mandatory 7-day stay in either Krabi, Phang-Na, Phuket, or Surat Thani (Ko Samui, Ko Pha-ngan, and Ko Tao). This is not a strict quarantine, as you are allowed to explore the region for the 7 days. For travellers who have the time, this is just an extra week exploring a beautiful part of Thailand!
However, all travellers must make sure that they arrange everything in order before applying for the Sandbox Thailand Pass. This can include, but not limited to, a vaccination certificate, a pre-arrival negative RT-PCR test result, prepaid 7-night's accommodation in an approved hotel, prepaid RT-PCR tests for when in Thailand, and an insurance policy with coverage no less than USD $20,000.
Travellers must stay at least the first 7 nights within a Sandbox destination if planning to continue the journey to other destinations in Thailand. If staying less than 7 nights, the traveller must leave Thailand to another country immediately.
ALTERNATIVE QUARANTINE
From 11 January, 2022, international travellers from any country around the world, regardless of their vaccination status, can enter Thailand under the Alternative Quarantine entry scheme. This is a hotel quarantine which involves:
At least a 7-day hotel quarantine for travellers who have a Certificate of Vaccination for have been fully vaccinated for COVID-19 with an approved vaccine – or at least 1 dose for travellers under 18 years of age – at least 14 days before travelling to Thailand.
At least a 10-day quarantine for travellers who do not have a Certificate of Vaccination.
Along with needing these documents for the Thailand Pass, all required documents, including those in digital format, should also be printed before travelling to be presented to immigration authorities. More information about these schemes can be found on the Tourism Authority of Thailand's website.
VISA REQUIREMENTS
Many nationalities including the UK, Europe, Australia, NZ, Canada, USD, Scandinavia and Brazil can receive a 30-day visa exemption on arrival for free. If you would like a longer tourist visa or are not eligible for the visa exemption, you can apply for a visa at your nearest Thai consulate prior to travel. However this is subject to change, so always check visa requirements with your relevant embassy.
NEGATIVE COVID RESULT
As of April 1st 2022 travellers do not need evidence of a negative RT-PCR test before departure.
DO I NEED A VACCINE?
It's not mandatory, but if not vaccinated against Covid-19 you will need to hotel quarantine for 10 days on arrival in Thailand. Vaccinated travellers can arrive via Test&Go or or do the Sandbox program.
Arrivals will need to provide certification of being fully-vaccinated at least 14 days before travelling. For travellers from the UK, the NHS COVID Pass or vaccination record is accepted as proof of COVID-19 vaccination. Travellers from Ireland can obtain and present the EU Digital COVID-19 Certificate. 
PROOF OF INSURANCE
Travellers must present a travel insurance policy with coverage clearly identified as no less than USD$20,000, which should cover the cost of the treatment and other medical expenses associated with being infected with COVID-19, including in-patient hospitalisation for the duration in Thailand.
COVID TRACKING
Travellers must download an alert application called Morchana, and must wait within the first night's accommodation for their Covid test result, which should be available within 6-12 hours.
RESTRICTIONS & OPEN TOURIST ATTRACTIONS
Tourist attractions like museums and temples are open with distancing measures in place. National parks and beaches are open, along with restaurants and bars. Masks are encouraged in public spaces, along with standard hygiene practices.
RETURNING HOME
Each country has different restrictions for travellers arriving from abroad. For information relevant to your situation, keep up to date with local government announcements.
In the UK, international travel restrictions apply under a two-tier system. From October 11 Thailand is on the 'green' list, so Thailand is GOOD TO TRAVEL! Find out more about UK travel restrictions here. 
---
Thailand is OPEN and we have been running our Thailand tours since January 2022!
So... what are you waiting for? You could be sipping on cocktails at sunset, hanging with elephants, or sleeping on floating bungalows. We can't wait to welcome you back to some of our favourite places in the world, and with COVIDsafe operations in place you can jump back on that plane with full peace of mind. Whether you're on a short holiday, travelling on a gap year or anything in between, on our 9 - 18 day Thai trips we'll show you the best of this extraordinary country with a new bunch of friends. Make 2022 the year of travel and be the first of your friends to get back to somewhere tropical, exotic, cultural and new! 


NOTE: This information is of a general nature and restrictions are subject to change, so keep in touch with the latest official advice from your local government and Thai authorities.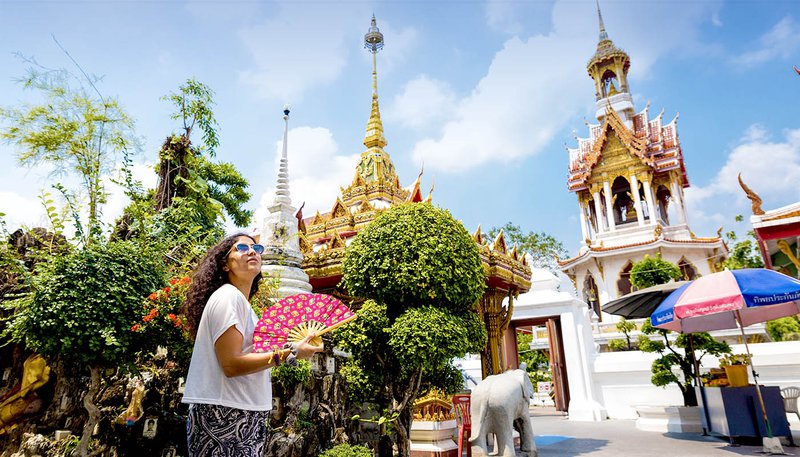 WHEN WILL THAILAND FULLY REOPEN TO TOURISM?
Like many countries in Southeast Asia, Thailand has been eager to revive the crucial tourism economy. The Sandbox pilots in Phuket and Samui from mid 2021 fine-tuned things for the country-wide reopening. Part of this preparation involves having at least 85% of the Thai population in tourist-heavy areas vaccinated, and acceleration of country-wide vaccination rates. 
Now that the Test&Go scheme has been reinstated, we predict that entry restrictions will continue to ease over the coming months, making travelling to Thailand even easier!
WHEN IS THE BEST TIME OF YEAR TO TRAVEL TO THAILAND?
The great thing about Thailand is that the country experiences pretty amazing weather year-round. The cooler, dry season between November and April brings pleasant temperatures, sunny skies, and is usually regarded as the best time to go, but even in the rainy season (July - October) the downpours rarely last long and most activities are still on offer. The climate varies through the country, so while the islands go through tropical heatwaves it can be chilly up in Chiang Mai, so pack layers. Needless to say, when Thailand safely reopens for international travel we won't care what month it is - get us to the Land of Smiles ASAP.
WHY VISIT THAILAND?
Why visit Thailand? Why NOT! Thailand has long been the traveller's gateway to South East Asia. Known for welcoming people, spice-laden cuisine, gorgeous landscapes and idyllic beaches, there are plenty of things to see and do in the Land of Smiles.
EXPLORE ANCIENT TEMPLES & VIBRANT CITIES
From Bangkok to Chiang Mai, Thailand is covered in cities where traditional culture and modernity clash. There are over 40 000 beautiful temples to explore, tuk-tuks to ride, markets to browse, and bars to drink at when travelling through Thailand.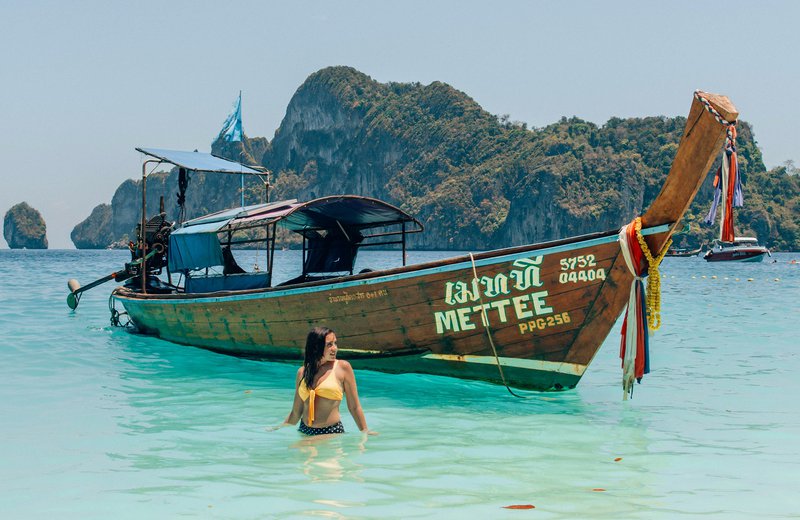 IMMERSE YOURSELF IN MOTHER NATURE
Thailand's iconic limestone inlets and stunning beaches aren't limited to islands like Koh Samui and Koh Phi Phi. Hidden gems like Khao Sok National Park - a landscape of mountains and ancient rainforests - exist throughout the country, waiting for the intrepid traveller to find.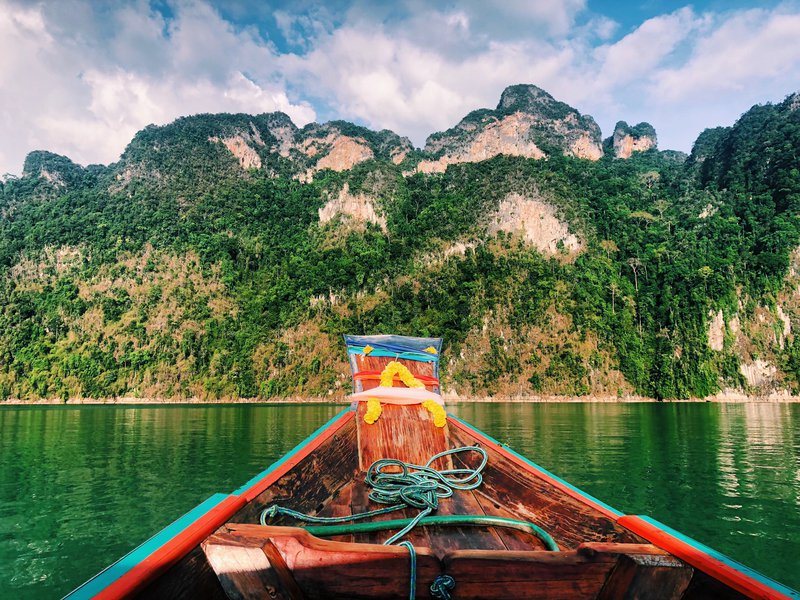 HIT THE BEACH
Of course, there's nothing wrong with Thailand's famous island beaches! Snorkel, sun-bake, sip a drink, there's fun in the sun for everyone. For more inspiration about things to do in the Phi Phi islands, check out our blog here.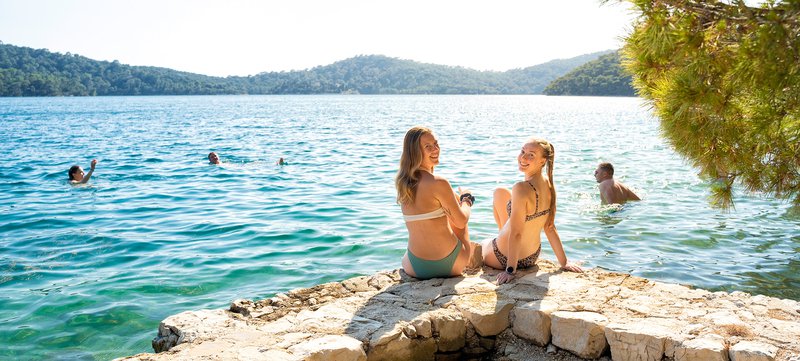 INDULGE IN DELICIOUS CUISINE
We're probably biased, but Thai food might be the best in the world. Backpacking in Thailand is like being in noodle, curry, and stir fry heaven. The tastiest bites are found at street carts in exchange for loose change in your pocket. If you want to learn about the ingredients, culture, and pick up some practical tips along the way, sign up for a traditional cooking class and add a new dish to your repertoire. Read more about our top dishes to try in Thailand here!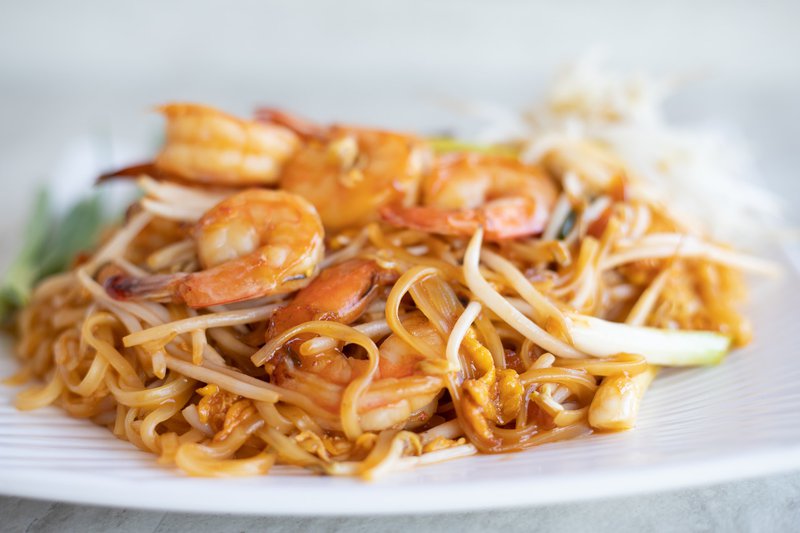 GET AMONGST THE NIGHTLIFE
Bored of the dank pub down the road? In Thailand, you can drink at bars on the street, dance on the beach, and party in the pool. There are not many places in the world where you can dress in your brightest colours, order a cocktail bucket, and celebrate on the sand til' the sun comes up. The first Full Moon Party back in Koh Phangan will be a night to remember.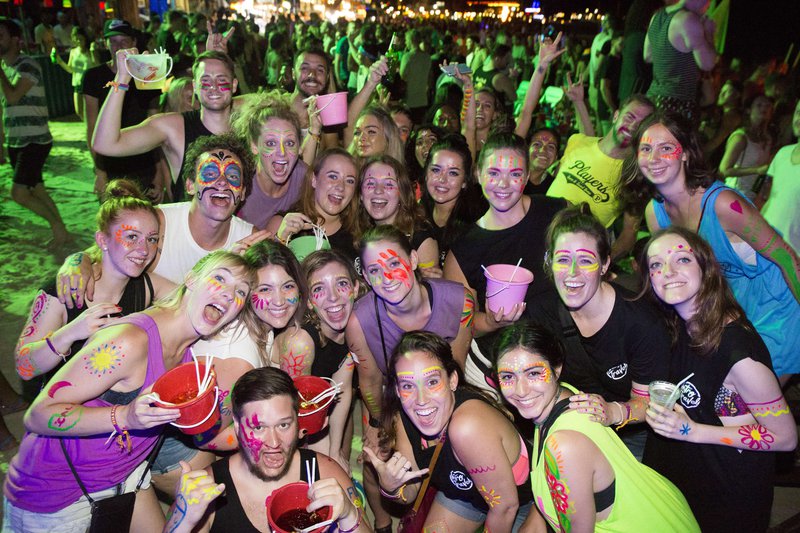 MEET RESCUE ELEPHANTS
If elephants aren't your favourite animal yet - they will be once you meet them. An integral part of Thailand's history and culture, these gentle giants are friendly, intelligent and adorable. Elephants should only ever be interacted with in an ethical context at a legitimate sanctuary, never ridden. The fight against animal cruelty in Thailand is ongoing, so it's important to do your research and make sure any elephant experience while travelling Thailand is socially responsible. 
---
THAILAND IS OPEN and we have kicked off our Thailand trips! Travel restrictions are easing and tourism has returned with a surge in demand, so now is the time to get planning.
If travelling Thailand sounds like your kind of adventure, click through to check out our 9 - 18 day Thailand small group tours. With expertly crafted itineraries, the guidance of a knowledgable group leader, full end-to-end support, and a new group of friends to make memories with, our trips are the ultimate way to discover a new country! With flexible booking policies and complete support during this uncertain time, you can be confident booking with INTRO. Just imagine that first sip of an airport beer… aren't you deserving of a holiday by now?

RETURN TO BLOG
NEXT ARTICLE