Ultimate Guide To Backpacking The Philippines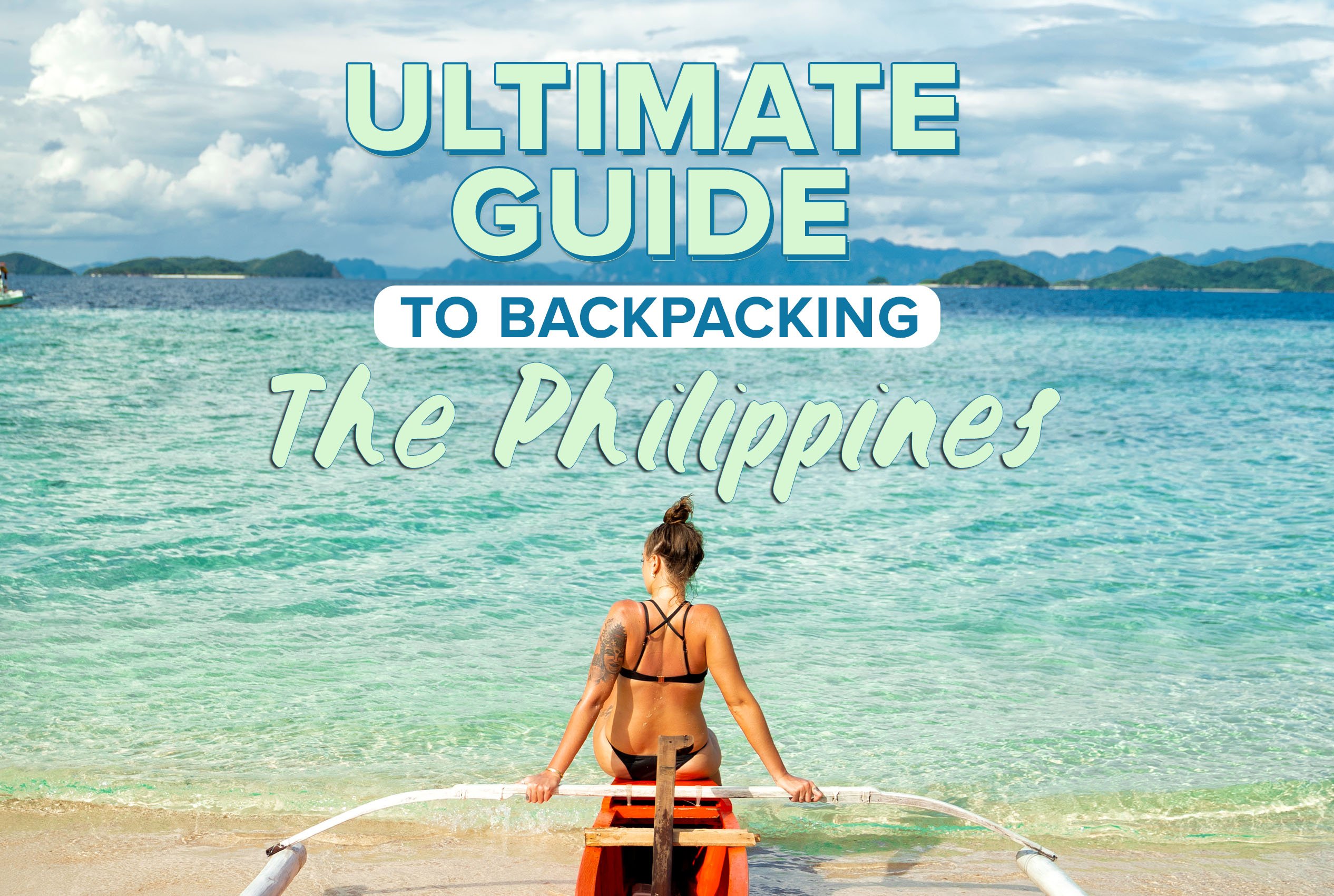 Published 25th September, 2023
Craving to travel somewhere new? A tropical haven just next-door to mainland SE Asia, it's no surprise that the Philippines is becoming one of the hottest new destinations to jet off to. From beaches to waterfalls, caves to culture, mountains to cities, this nation sprawls over 7000 islands with impeccable natural beauty at every turn. Despite decent tourism infrastructure and a large English-speaking population, the Philippines doesn't receive anywhere near the number of visitors as neighbouring Thailand or Vietnam, making now the perfect time to visit before word catches on. If you're ready to hop around paradise, get your adrenaline pumping, and immerse yourself in a captivating culture, we've put together this travel guide full of everything you need to have the ultimate adventure backpacking the Philippines.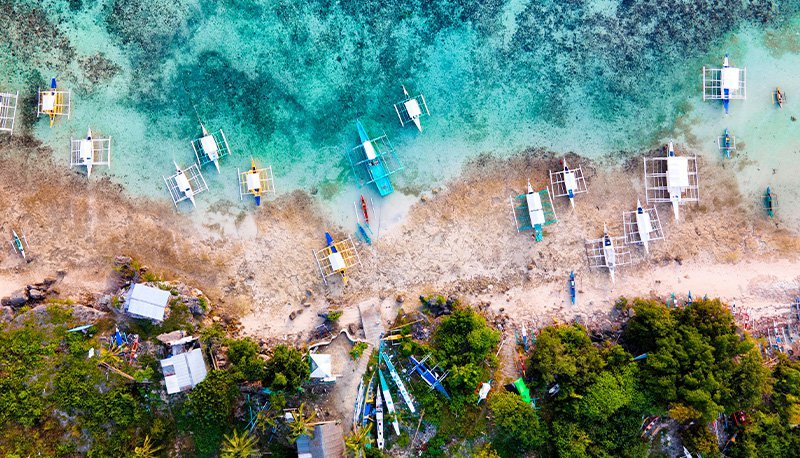 GENERAL INFO
Language: Tagalog and English. The Philippines has many dialects that vary according to region, but English is also spoken, especially in tourist hot spots. 
Visa Information: Nationals from 151 countries, including the UK, USA, Canada, Australia and Europe can enter the Philippines without a visa for free for a maximum of 30 days, but must present an outward bound ticket. Requirements always change, so make sure to check official government advice about your country's requirements before travelling. 
Money: The local currency is the Philippine 'peso'. Approximate conversion rates as of writing are:
$1 AUD = 36 Pesos
£1 GBP = 69 Pesos
$1 USD = 56 Pesos
€1 EURO = 60 Pesos
You can use credit cards in shopping malls and restaurants, but once you get out to the islands cards are not often accepted. There are ATM's on most islands, but can be few and far between. Cash is king, so always have some on you! 
Power Sockets: The Philippines generally uses a 2-pin flat socket the same as North America, or a 2-pin round socket the same as most of Europe. Grab a travel adaptor before you travelling in the Philippines if needed! 
Wifi: Most accommodation in the Philippines has free wi-fi, but the national network quality will be lower than you're used to. However, don't bet on wi-fi when island hopping around remote locations. Utilise the chance to disconnect and let island time take over.

Travel Insurance: We always recommend getting travel insurance before going abroad. You never know you might need to rely on it, and peace of mind is worth the price! Check out World Nomads who provide different levels of insurance that covers medical expenses, lost luggage, and missed flights. 

THINGS TO SEE IN THE PHILIPPINES
The Philippines is a HUGE country, so it can be difficult to decide where to travel and what to do. Below are our shortlists of top places to go and best things to do when travelling around the Philippines. 
MANILA - Most travellers begin in the bustling capital, a chaotic city shaped by the unique influences of the Spanish, Chinese, and Americans who've inhabited the city alongside native Filipinos. Manila is the cultural centre of the Philippines, full of markets, museums, churches, theatres, bars, and nightclubs to check out before heading off to the country's paradisical islands.
CEBU ISLAND - One of the Philippines' more touristy islands, Cebu is known for white sands and pristine waters. The island is home to Kawasan Falls, one of the country's most popular waterfalls, and Moalboal's Sardine Run. 
SQUIJOR ISLAND - A little off-the-beaten track, this island is known for mystical mountain villages and healing shamans who brew traditional ointments, good for all kinds of ailments... maybe even hangovers! Just about every bit of coastline hosts great snorkelling, and the inner island has beautiful waterfalls and caves to explore.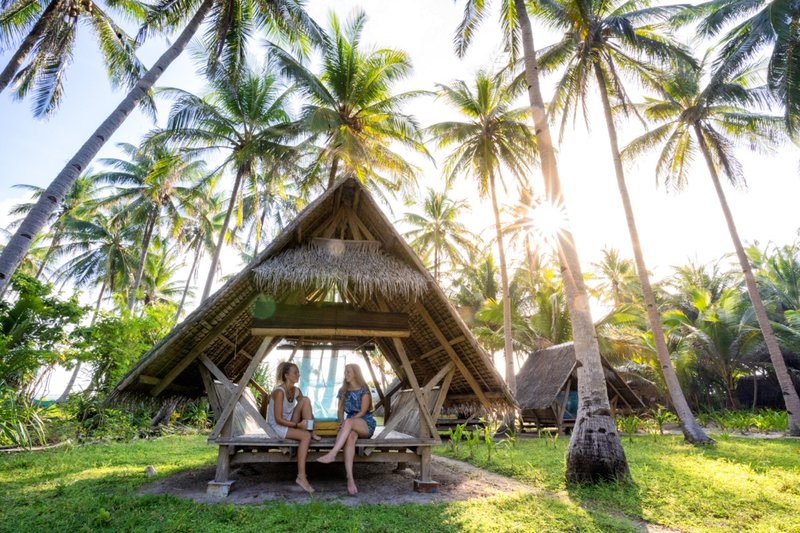 PALAWAN ISLAND - This island stretches over 400km north to south and is a must-visit in the Philippines. From Coron to El Nido, Palawan is the gateway to paradise where you'll find jade lagoons, weathered limestone cliffs towering from the water, powdery sands like on Nacpan Beach, and plenty of other backpackers! It's been voted the World's Best Island for a reason. Check out our blog on our top things to do in El Nido here!
BANAUE RICE TERRACES - These rice terraces were carved into the mountains by the indigenous people over 2000 years ago, and are a mighty sight to behold. Watered by ancient irrigation systems, these rice terraces are surrounded by lush greenery and are the perfect place to go hiking. 
BOHOL ISLAND - Bohol is famous for beautiful countryside and odd landscapes known as the 'Chocolate Hills' - conical mounds that resemble lumps of chocolate. Indigenous to the island are Tarsiers, adorable tiny primates with huge eyes that you can visit at one of the island's many sanctuaries.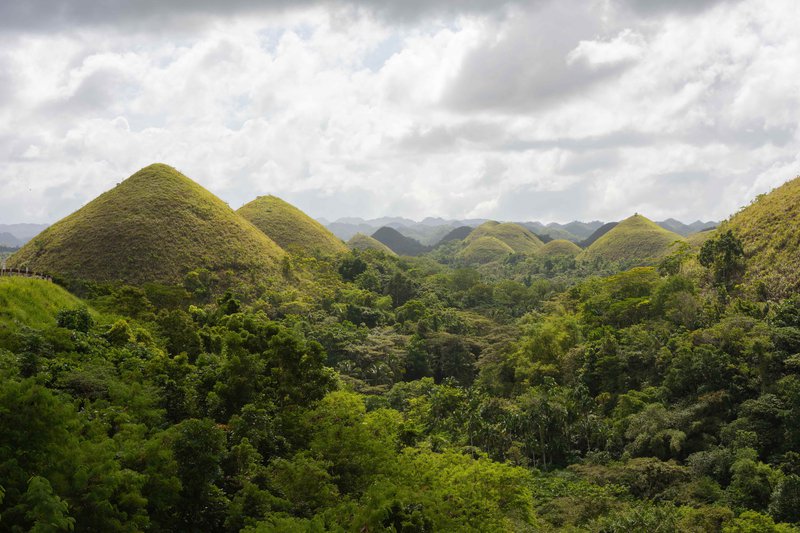 BORACAY ISLAND - Although known to be very touristy, Boracay is still charming. The beaches are pure white, there are plenty of activities like kiteboarding and windsurfing on offer, the tequila costs pennies and the beach bars are happy to let you party all night. 
For more info on island hopping in the Philippines and tips on places to see, check out our blog on islands in the Philippines you shouldn't miss here! 
THINGS TO DO IN THE PHILIPPINES
GO ISLAND HOPPING - The ultimate way to lap up the laid-back lifestyle and beautiful scenery of the Philippines is on an island-hopping expedition. Travelling via boat is the best way to sight-see, swim, sunbathe and snorkel your heart out. With over 7000 islands, it's not hard to find your own secluded beach off the beaten track. After a day of adventuring you can watch the sun sink below the horizon, dine on the catch of the day, and snooze under the stars in traditional Filipino accommodation.
WITNESS BREATH-TAKING SUNSETS - The west-facing beaches of the Philippines, especially on Palawan and Siquijor, are great places to watch the sky change colour as the sun sinks below the horizon. Grab a beer or smoothie from a nearby beach bar and watch Mother Nature do her thing!
TRY CANYONEERING - The Philippines has no shortage of adrenaline-pumping activities! At Kawasan Falls the adventurous can try canyoneering, scrambling through thick jungle to jump into the bright blue pools from heights of up to 20 metres!
FEAST ON FILIPINO FOOD - Bored of the same old noodles? Filipino cooking involves a mix of influences from China Spain, India, Malaysia, and the US. Keep reading to find out more about Filipino cuisine.
SNORKEL THE SARDINE RUN - This natural phenomenon allows you to snorkel in crystal clear water surrounded by millions of sardines. Moalboal is a marine sanctuary and the fish swarm here naturally, so it's a completely ethical animal encounter! The fish sometimes attract dolphins, sea turtles, and you might even have a whale shark join you.
RELAX ON BEAUTIFUL BEACHES - Want to kick back, relax, and work on your tan, preferably with a coconut or cocktail in hand? With thousands of islands and even more beaches, the Philippines has got your back. Check out our guide to the best beaches in the Philippines here!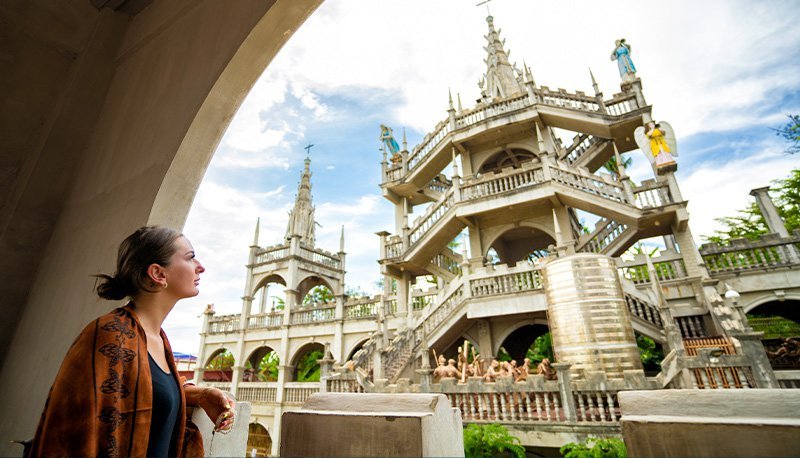 SCUBA DIVING - The Philippines hosts incredibly diverse marine life, so is becoming a popular destination for avid divers. Cebu, Bicol, Anilao, Boracay, and Apo Island are the best hotspots for beginner and experienced divers alike.
GET A TRADITIONAL FILIPINO MASSAGE - Experience the healing power of Hilot, an ancient Filipino technique used to relieve tension and stress from the body. The practitioners of Hilot identify pressure points and use coconut oil with medium strokes to massage the body, leaving you completely relaxed.
Some of these epic activities are included on our 13 Day Philippines Island Explorer! Check out the small group tour's epic itinerary and included activities here. 
For more ideas, check out our blog 'Top Ten Things to do in the Philippines'! 

BEST TIME TO VISIT
Like many other SE Asian countries, The Philippines experiences warm tropical weather year-round, but has two distinct seasons - wet and dry. 
The dry season starts in November and goes until June, and is considered the best time to travel. December to March are a little cooler, whereas April to June are the hottest (and busiest) months. Weather-wise, these months are perfect for beach-goers, but expect most accommodation to be booked out in advance and for tourist spots to be full of visitors. 
July to October brings the wet, off-peak season, but still has its perks! While the volume of rainfall increases, heavy downpours don't tend to last long and are usually followed by the swift return of the sun. Flights, accommodation, and activities are cheaper, however, storms during this season can be a threat and potentially disrupt your travel plans.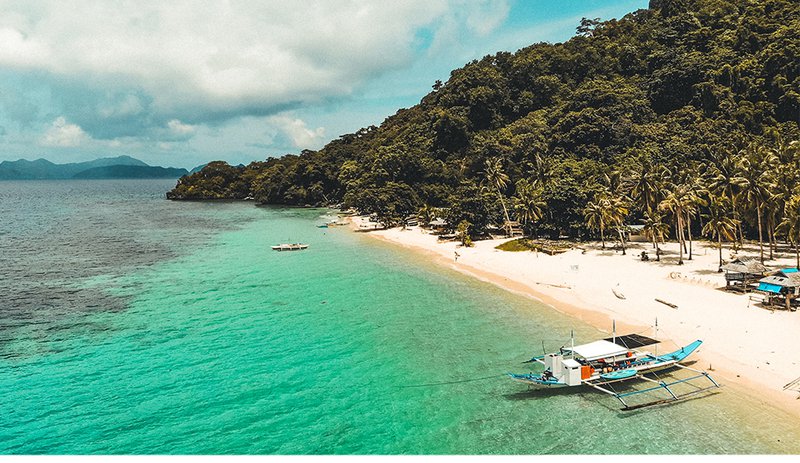 GETTING TO THE PHILIPPINES
Flying into South East Asia is usually the most expensive part of your adventure, but absolutely worth it once you get there. The Philippines' main international airport is in Manila (Ninoy Aquino International Airport), which is around 20km from the centre of the city. Booking flexible flights, avoiding peak holiday times, and flying on weekdays can all give you cheaper rates. Larger airlines, like Emirates, can provide direct flights but will be more expensive, while the most affordable options will involve several connections that can make for a long travel day. 
Flight prices vary greatly depending on the season and airline, but expect a return flight to cost you between $750 and $1000 USD. The best way to reduce flight fares is by booking as far in advance as possible and finding deals on websites like Skyscanner, Expedia, and Kayak.
ARRIVING IN THE PHILIPPINES
As mentioned above, your trip backpacking the Philippines will likely begin when you fly into Manila. Like any metropolis, Manila can be overwhelming, but facilities at the airport can provide you with useful information for your trip. 
NAIA has four terminals that are not connected by a subway system, but if you have connecting flights you can catch a bus or taxi between them. Terminal 1 serves all international flights to and from Manila except from Philippines Airline (Terminal 2), Cathay Pacific, Air Asia, Emirates, Cebu Pacific, KLM, Delta, Nippon Air, and Singapore Airlines (all Terminal 3), while Terminal 4 serves domestic flights from CebGo, AirSwift, and Skyjet. 
We highly recommend getting a SIM card to make getting around and staying connected a breeze, and thankfully Globe and Smart (major Filipino telecommunications companies) offer free SIM cards at airport terminals that can be topped up in convenience stores like 7-11. 
It's best to take a Visa or Mastercard debit, credit, or travel money card with you when travelling the Philippines. In all airport terminals and most cities/towns there are money exchange stands and ATMs that accept foreign cards, but be careful of extortionate transaction fees. We highly recommend having some Philippine Pesos in cash before flying, at least enough to cover your first few days. You can usually get Pesos at the bank, post office, or currency exchange in your home country. Keep reading to find out how much money we recommend bringing.
All Manila airport terminals have taxi stands, where you can catch a pre-booked airport arrival service, jump in a metered yellow taxi, catch a Grab (Asia's answer to Uber), or shuttle bus that will take you to the nearest metro station.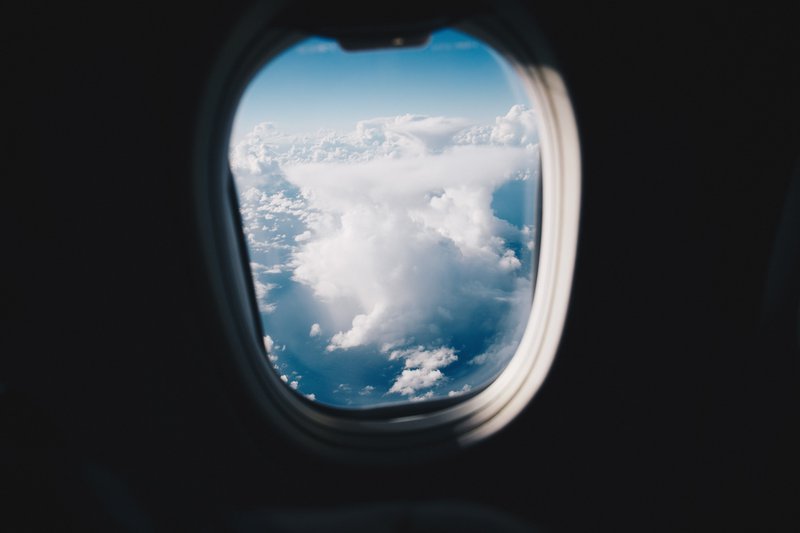 GETTING AROUND THE PHILIPPINES
The Philippines is spread out over 7000 islands, so it pays to do some research about travelling around before you go. The main way to backpack through the Philippines is via bus, plane, or ferry. Boats are great for hopping short distances between islands, otherwise flights are recommended for their ease and safety. The biggest domestic carriers are Philippine Airlines, Cebu Pacific, and Air Asia, and depending on when you visit, flights can be super cheap! We highly recommend you check out boat and flight schedules ahead of time to have a rough idea of how you'll travel. 
If you want to see the highlights of the Philippines without the stress, why not consider a small group tour? Our Philippines Island Explorer will take you around the best of the country from east to west, with all internal transport, accommodation, and activities included. Check out the trip here! 

Manila is the only city with a metro system, so within towns, you'll get around via bus, tricycle (similar to a Thai tuk-tuk), or jeepneys - iconic minibusses famed for their kitsch, colourful decorations. You can also get around cities via taxis or the Grab app.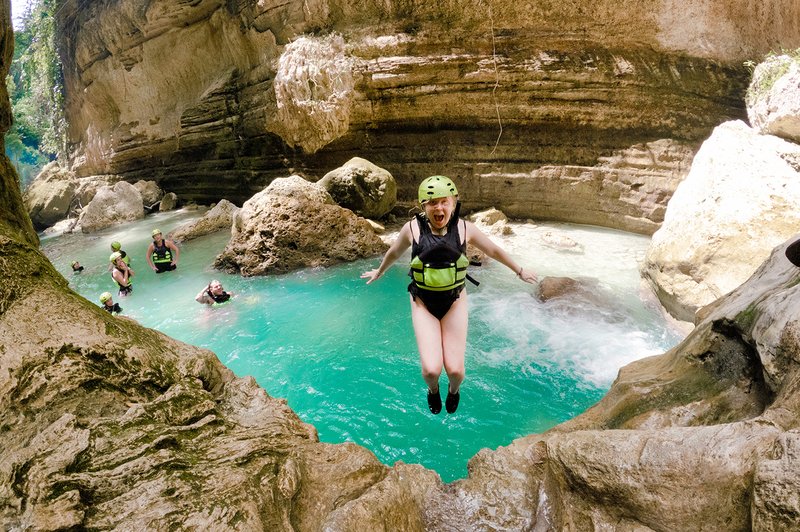 TRAVELLING SAFELY IN THE PHILIPPINES
You're probably asking yourself, is the Philippines a safe place to go travelling? Like travelling in any part of the world it's important to stay safe and avoid dangerous situations in the Philippines. Here's a brief list of best practices to follow when backpacking Asia in general:
Get travel insurance - Although you hopefully won't need it, it's always best to have insurance coverage. The peace of mind is worth it! As the saying goes, if you can't afford travel insurance, you can't afford to travel. World Nomads offers comprehensive policies to cover all the essentials. 
Share your itinerary - The more people who know where you are, the better. Check-in with friends and family as you travel so they know you're safe, plus it gives you the chance to brag about how much fun you're having.
Notify your bank - Let your bank know you're travelling so your card doesn't get frozen when you use it overseas. It's smart to bring a couple of different cards in the event that one is frozen or stolen. 
Stay street smart - In Manila, like any big city, you should avoid walking alone at night and carrying all your valuables with you. Try not to be too flashy, and avoid scams and beggars.
Secure valuable items - Leave your valuable items locked in your luggage or in a hotel safe when out and about.
Don't keep anything in your back pocket - It's easy to get your phone or wallet taken from your back pocket, especially in busy streets. Try to keep these items secured at all times and at the very least in your front pocket.
Write down emergency numbers & accommodation addresses - You may not have service all the time so it's important to have a physical copy of important information handy, i.e. your hotel's business card. 
Watch out for traffic - Traffic, especially in the cities, is haywire! In the Philippines, traffic lights are really just suggestions of when to go, and road markings are mere decorations, so keep your wits about you when crossing the road.
Stick to bottled water - It is not advised to drink the tap water in the Philippines, so stick to bottled or treated water. If you have a reusable water bottle you can use refill stations whilst reducing your plastic waste. Ice served with drinks in restaurants is usually fine as it's made in factories, but check with your waiter. 
Avoid Mindanao - There are some areas in the southern island of Mindanao that are best avoided by tourists due to political instability. Thankfully there's plenty to do and see in the other regions!
Travel in a group - While you can definitely backpack the Philippines on your own, a good solution to many of your travel concerns is to go with others! Scammers and other dangerous people are less likely to target big groups of people travelling together than they would a solo traveller. INTRO's group tours allow you to travel with an experienced group leader who can help you out 24/7, plus an instant crew of new mates. So if you're interested in travelling the Philippines solo, but not alone, check out our Philippines Island Explorer here!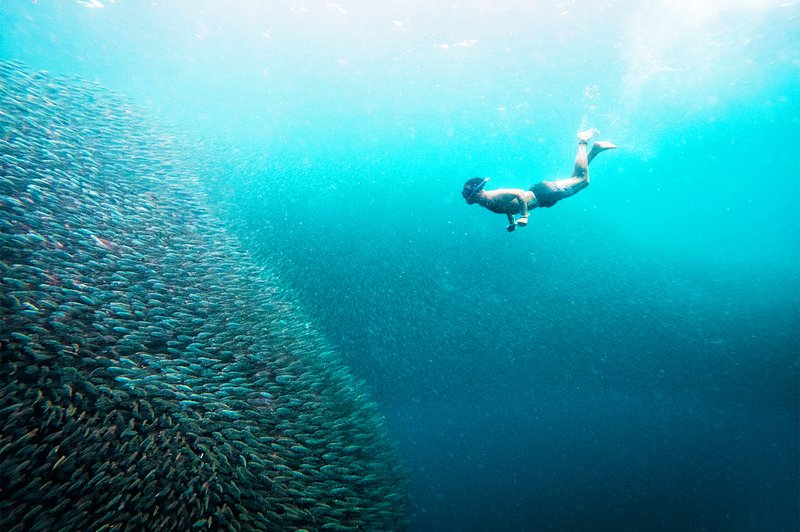 HOW MUCH MONEY DO I NEED FOR THE PHILIPPINES?
Travelling in the Philippines is inexpensive compared with other destinations around the world. Still, daily expenses can add up faster than you'd expect when travelling, especially if you're indulging! It is important to budget your money appropriately to avoid overspending and be able to enjoy your trip from start to finish without worrying about running out of money. Cash is king in the Philippines, so always have some on you as remote islands often won't accept payment by card. Below is a chart giving you a rough idea for how much things cost. On our 13 day Philippines Island Explorer we include all internal transport, accommodation, activities, and some meals, but recommend you bring £300 / $500 for other expenses.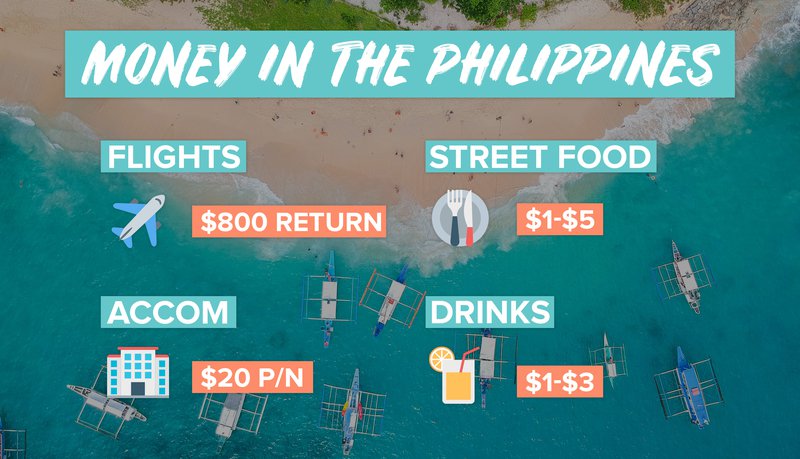 ACCOMMODATION IN THE PHILIPPINES
It's not hard to find places to rest your head in the Philippines. The price of accommodation varies depending on where you are and what season you're travelling in, and top destinations offer everything from 1 to 5-star hotels. A bunch of good hostels have recently opened in Manila, but apart from some in Boracay and Palawan, they're not very common. Thankfully you can get a basic beach bungalow for around $10USD/night, or an air-conditioned room for a little more. Note that budget accommodation like home-stays are less likely to have hot water or wifi. We highly recommend booking at least one night in advance, especially during peak season on popular islands like Palawan or Cebu. Read our full guide to styles of accommodation in the Philippines here!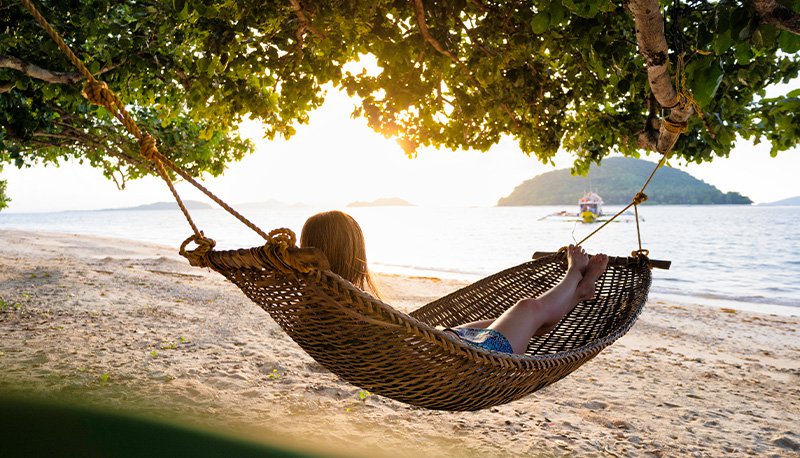 CULTURE IN THE PHILIPPINES
Nervous about bridging the language barrier? Running into different dialects in a single country is daunting! Luckily, most of the Philippines is used to English speaking tourists. However, it is important to be respectful of the cultures you encounter. The culture of the Philippines is a unique blend of traditional Filipino and Spanish Catholic traditions, with influences from America and other parts of Asia. This mix of traditions was created primarily as a result of pre-colonial cultures, colonial influences, and foreign traders intermixing and gradually evolving together. This is evident in Filipino cuisine, music, and arts. With a strong sense of national pride, the Philippines has retained a strong Asian heritage without abandoning its unique external influences.
Filipino people are warm and friendly, renowned for their hospitality, resilience, smiles, and love of karaoke. Traditions within the home are of foundational importance, but Filipino people also love a good fiesta filled with food, singing, and dancing! Something to keep in mind is that Filipinos tend to have a collectivist mindset. People are very polite to one another and always share with their families. Be observant of how this plays into having meals.
Also be aware that the disparity between rich and poor is quite vast, and you'll definitely notice it when contrasting modern parts of Manila to more traditional villages. Wherever the locals you meet are from, treat them with respect and a smile and they'll respond with the same. 
FOOD IN THE PHILIPPINES
While you might become an expert on local food when backpacking countries other South East Asian countries like Thailand and Vietnam, Filipino food isn't nearly as understood as these cuisines. Trying to for yourself is a must! Filipino cooking is a diverse melting pot of influences from China (rice, noodles, stir fry), Spain (stews, potatoes), Malaysia (shrimp paste, tamarind, banana leaves), India, and the US. From tasty marinated meats to seasonal tropical fruits, fish soups to Pancit - Filipino Pad Thai - this country's cuisine is bold, with sweet, sour, and salty flavours to appease all tastebuds. 
It may sometimes be a little difficult for small, independent restaurants to cater to vegan or vegetarian diets, but there are always options available. The brave can also try some more adventurous dishes, from Balut (a boiled duck foetus still in the egg) to Tamilok, a worm from the sea. Delish.
Drinking is a vital part of culture in the Philippines, and bars, pubs and restaurants in the Philippines serve a variety of beverages to quench your thirst. You've got classic beers like San Miguel and Redhorse, and liquors like rum and gin are always an option. For a potent local kick try lambanog, a local coconut-based spirit produced in Quezon province. Travelling north, the preference for alcohol changes to basi, a fermented alcoholic drink made from sugarcanes. A Visayan counterpart of alcohol made from coconuts is tuba, similar to lambanog but made by mixing the bark of a mangrove tree with coconut sap, resulting in a red colour. Fresh fruit in the Philippines is unbeatable, so drink as many juices, coconuts and smoothies as you can get your hands on.
TRAVELLING THE PHILIPPINES SOLO
The Philippines is a great place for solo travellers due to the warmth of the locals, popularity with backpackers, and the variety of things to do. The country's beaches, cities, and villages are rewarding to visit, even when by yourself. You'll probably feel more at ease travelling around the islands than the busy cities, but finding a Filipino who's willing to help you is possible in every part of the country. Always practice vigilance as a solo traveller, and avoid dodgy areas of Manila or Mindanao. 
Just like backpacking any country in South East Asia, street smarts and common sense go a long way. If you'd like to make friends, staying at a hostel with a common area is a good place to start to meet other backpackers. If you're a female solo traveller, most hostels offer female-only dorms for your comfort. Other ways to meet people when solo are by joining a pub crawl or walking tour, taking a day tour, or joining a local meetup or cooking class. 

WHAT TO PACK FOR A TRIP TO THE PHILIPPINES
The Philippines is a warm, tropical country, so packing light is recommended. It's never fun hauling massive suitcases down beaches and through the jungle, so stick to weather-appropriate clothing and essentials. Here's a checklist of some basic items you'll want to bring whether you're just visiting the Philippines or going on a longer backpacking trip in South East Asia.
Passport: Your key to getting around! Don't forget it, and keep it safe!
Debit/Credit Card: You can't travel without some cash. Most of the Philippines allows easy access for international ATM's, so a card is a must.
Phone + Phone Charger: To stay connected! Make sure your phone is unlocked if you plan on getting a local SIM card. 
Backpack: Make sure it's sturdy, this will be coming everywhere with you.
Toiletries (Shampoo, Conditioner, Soap): Personal hygiene is still important when travelling!
Toiletry/Shower Bag: To make your trip to the shower easier.
Compact Microfibre Towel: Avoid wasting backpack space with a small towel.
Laundry Bag: A mesh bag is perfect to keep your clean clothes separated from dirty ones.
Sunglasses: Cheap will do, but ensure your shades have UV protection to protect your eyes.
Universal Adapter: So you can charge up anywhere.
Reusable Water Bottle: Save money while keeping plastic out of the ocean.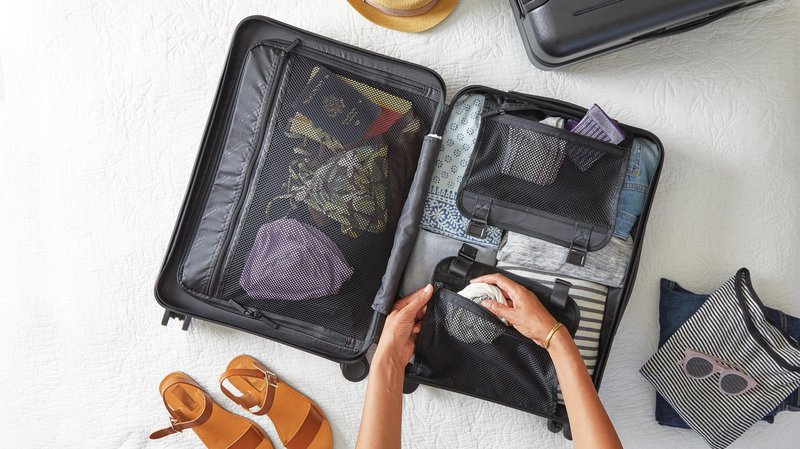 CLOTHES
A few outfits: Don't overdo it, less is more.
Comfortable "going out" outfits: For those nights when you want to dress a little fancy.
Underwear: Of course.
Bathing suit: A MUST!
Walking shoes: Make sure your shoes are broken in to avoid blisters. 
Sandals: For the beach and everyday comfort.
Rain jacket: Even if you're going in the middle of the dry season always have something to layer in case it rains or gets chilly.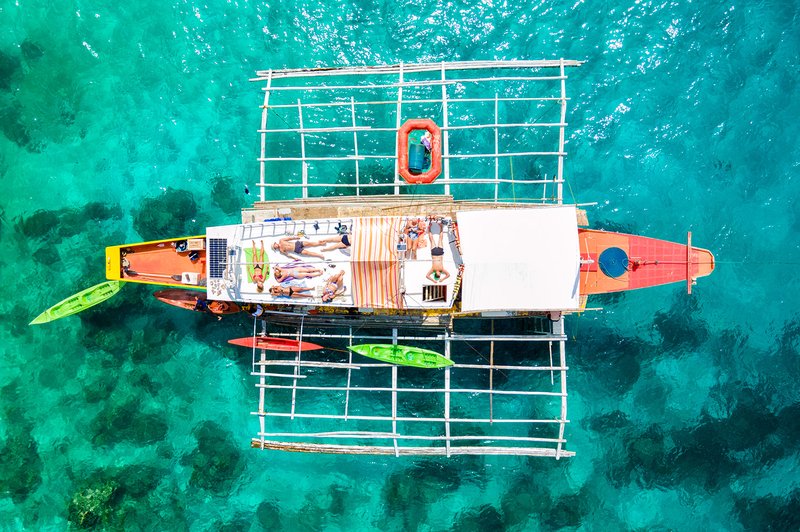 BACKPACKING PHILIPPINES ROUTE
Due to its sprawling size, creating an itinerary for the Philippines is overwhelming for first-time visitors. Here's a suggestion for a two-week itinerary backpacking the Philippines that will maximise your time.
If you have longer in the Philippines, you should check out these destinations, all accessible by short internal flights, overland buses, or island hopping via ferry:
Port Barton, a quieter, more relaxed, and cheaper version of El Nido, further south on Palawan
Sabang, host to the incredible subterranean river on Palawan
Boracay for its white sands, windsurfing, and party scene
Bohol for the countryside, hiking, dolphin watching, and Tariser sanctuaries 
Siargao for surfing and rockpools
Negros for amazing ruins, waterfalls, and hot springs
If you're planning an extended backpacking trip around South East Asia, the Philippines is a great place to start or end. For more information about backpacking in this beautiful corner of the world, check out our Ultimate Guide to Backpacking South East Asia here!
If the Philippines is en route to your adventure or working holiday in Australia, also check out our Backpacking Guide to Australia that tells you everything you need to know about travelling Australia.
Ready to pack your bags and travel to the Philippines? It's an amazing country to explore, and with so much to do and natural beauty at every turn, the Philippines should definitely be at the top of your travel bucket list. Take the plunge to discover it's beauty for yourself, and remember to interact with the locals, soak in the incredible sights, and relish every experience that comes your way. You'll be wondering why you waited so long to visit! 
---
If hopping around the highlights of the Philippines with accommodation, internal transport, activities, and a bunch of meals included, plus an experienced group leader and instant crew of new mates sounds like the trip of a lifetime, check out our Philippines Island Explorer small group tour. From mystical mountain villages to island hopping expeditions, this 13-day trip has you covered from east to west!

RETURN TO BLOG
NEXT ARTICLE