When Can We Travel To Japan In 2022?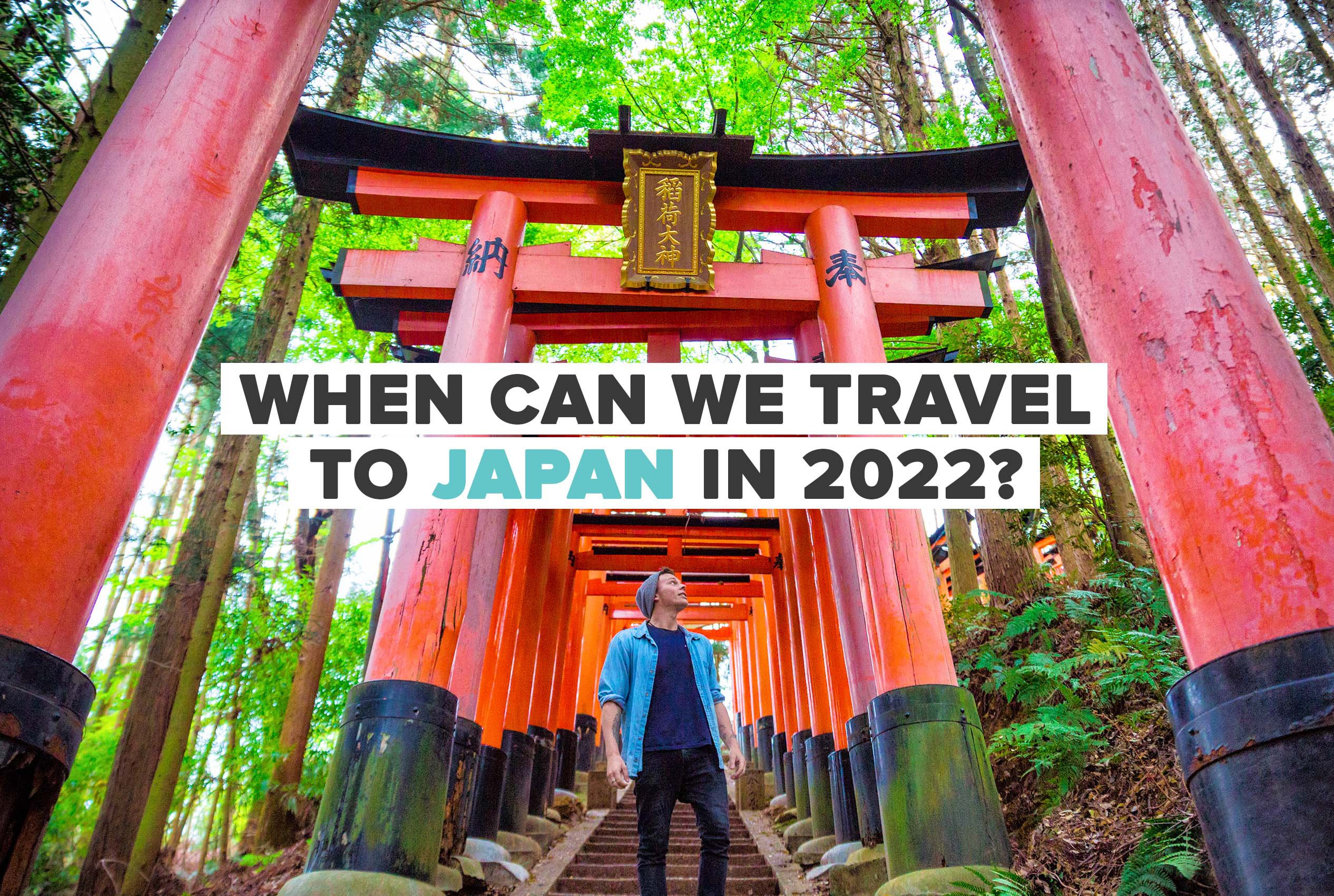 Published 26th February, 2022
LAST UPDATE: FEBRUARY 26, 2022
Disclaimer: This information is collated from official sources but general in nature. Entry requirements are subject to change at any time. Keep checking for the latest advice from your local government, embassy, or consulate to confirm any visa or entry requirements before travel.
Things around the world are gradually returning to normal as the global vaccine rollout gains momentum. We are monitoring the situation closely and will keep this article updated with any new info. So, can we travel to Japan in 2022? Read on for the latest updates.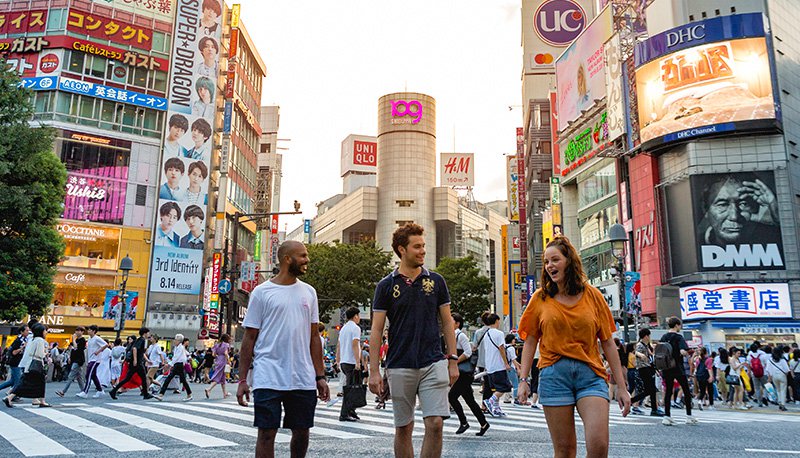 AM I ALLOWED TO TRAVEL TO JAPAN?
ENTERING JAPAN
Japan has suspended the entry of all non-resident foreign nationals, so travel to Japan for tourism is not possible just yet. You can only enter Japan if you're a Japanese citizen or have a valid Japanese residence card with a re-entry permit. All arrivals, including those who are fully vaccinated, must quarantine (length of quarantine depends on a variety of factors).
For full details and exemptions, see Japanese Ministry of Foreign Affairs.
VISA REQUIREMENTS
Under normal circumstances most nationals from countries including the UK, Europe, Australia, NZ, Canada, USA, Scandinavia and Brazil would receive a 90-day visa on arrival for free, but this exemption has been temporarily suspended due to the pandemic. 
Travellers who can enter Japan must present a written pledge form and quarantine questionnaire to officials on arrival.
NEGATIVE COVID RESULT
Travellers entering Japan must present a negative Covid PCR test taken within 72 hours before departure.

DO I NEED A VACCINE? 
When tourism returns to Japan, proof of vaccination is likely to be necessary to enter.
PROOF OF INSURANCE
Travel insurance is not necessary for citizens, residents, or immediate family members entering Japan. 

QUARANTINE
Travellers to Japan, including Japanese nationals, are currently required to quarantine on arrival in Japan between 3 to 10 days at a location designated by the quarantine station chief. Most travellers are also required to take 1 to 3 COVID-19 tests while they stay at the quarantine station. Travellers who test negative are still required to continue self-quarantine at home till passing 14 days after entering Japan. The quarantine length and the number of tests required during quarantine depend on the countries visited in the last 14 days. Quarantine may also depend on the region or province of some countries of departure.
COVID TRACKING
In addition to quarantine, travellers must pledge to keep their location information in a Japanese Covid contact-confirming application (COCOA).
OPEN TOURIST ATTRACTIONS
Supermarkets and stores in Japan are open, but depending on the area, bars and restaurants are asked to close by 9pm. Masks and social distancing measures are required in public. Most tourist attractions in Japan remain closed for now.
RETURNING HOME
Each country has different restrictions for travellers arriving from abroad. For information relevant to your situation, keep up to date with local government announcements.
In the UK from October 4 2021, international travel restrictions will apply under a simplified two-tier system. Good news is Japan is on the green list, so once the country opens to tourism we will be ready to restart our trips in Japan! Find out more about UK travel restrictions here. 
---
Travelling Japan is an epic adventure, and joining one of our group tours in Japan is the best way to experience it when the country reopens to tourism! Whether you're on a short holiday, travelling on a gap year or anything in between, on our 13 day Japan Adventure we'll show you the best of this extraordinary country with a new bunch of friends. 
We will update this article and our COVID page as official news breaks about borders opening and when we can recommence our trips in Japan.
NOTE: This information is general and restrictions are subject to change, so keep in touch with the latest official advice from your local government and Japanese authorities. 
WHEN WILL JAPAN FULLY REOPEN TO TOURISM?
Like many countries, Japan is eager to reopen to tourism when safe but is being cautious about reopening. As populations around the world continue to get vaccinated and the situation stabilises, Japan will likely loosen entry restrictions so travel to Japan can restart in mid-2022.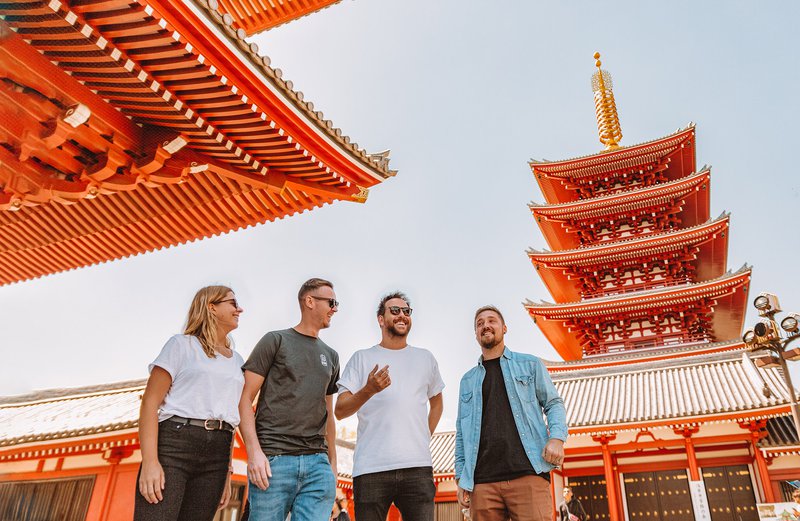 WHEN IS THE BEST TIME OF YEAR TO TRAVEL TO JAPAN?
Unlike countries in SE Asia that are located in tropical regions, Japan has very distinct Northern Hemisphere seasons. The best time of year of travel to Japan totally depends on what you want from your experience! The Winter months (December - March) are definitely cold, but you'll get views of snow-capped mountains, be able to enjoy the ski season, and just generally experience a winter wonderland like nowhere else in Asia. Spring (April - June) is known for the famous cherry blossom season, and Summer (June - August) is HOT, humid and full of outdoor festivals. Autumn (September - November) is cooler, less crowded, and brings stunning scenes of fall foliage, making for great photos. There isn't really a bad time to travel to Japan, so whatever season you jet off in, you're bound to have an amazing time. Good news for us eager to visit the Land of the Rising Sun as soon as the world reopens!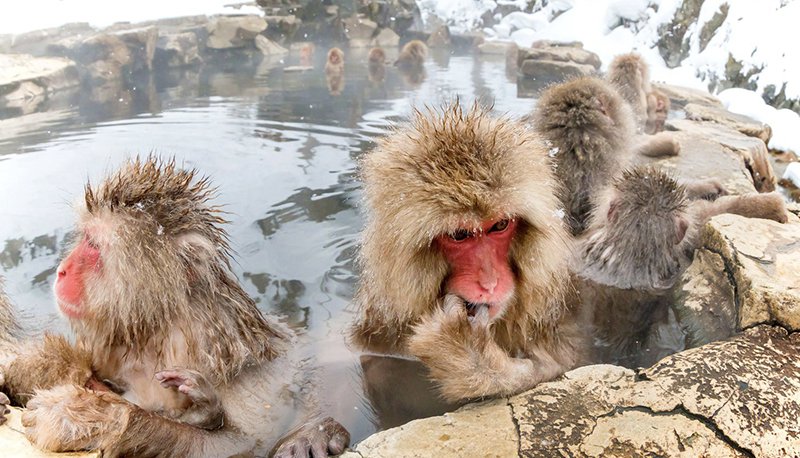 WHY VISIT JAPAN?
From the buzzing neon lights of the world's most futuristic cities to ancient temples nestled on top of snowy mountains, travelling Japan is an experience you won't get anywhere else on the planet! It's a place where the future and past coexist in harmony, creating an endlessly fascinating cultural immersion that's also a truckload of fun. Combine this with some of the friendliest locals around and some of the tastiest food in the world, and you've got a country that should 100% be on your bucket list. Ready to say konnichiwa to Japan? 
LEARN THE ART OF THE SAMURAI
Although the Samurai gave up their swords about 150 years ago, you can still visit ancient Samurai sites or watch traditional sword dancing in a theatrical performance. If watching ninjas on stage isn't enough, you can put on a traditional kimono and hakama and participate in a performance for yourself. You can even learn to wield one of these traditional swords in the Samurai experience on our Japan Adventure tour!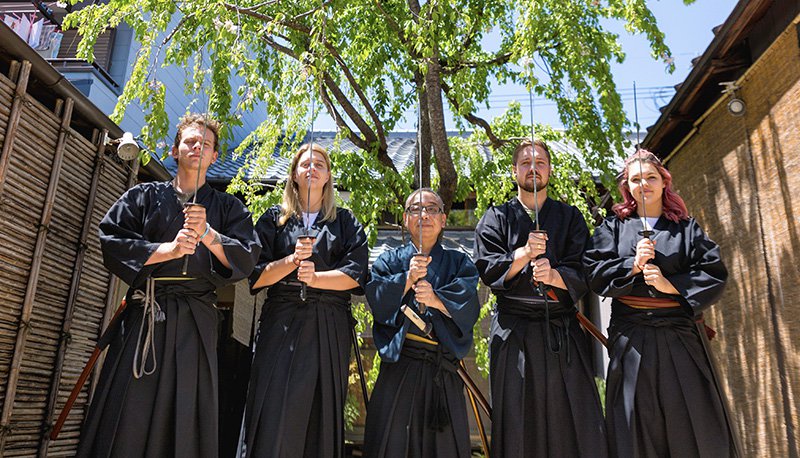 EXPLORE THE NEON STREETS OF TOKYO
Definitely take a wander around Akihabara, a buzzing shopping hub in Tokyo, when travelling Japan. Here you'll find classic arcade games, Japanese photo booths, anime stores and some insane VR experiences! You'll soon see why it's known as 'Electric City'... it's like nowhere else on earth.

ZOOM ACROSS THE COUNTRY ON A BULLET TAIN
Japan's Shinkansen, aka bullet trains, reach speeds of up to 320km/h. They zoom between cities, passing snowy peaks and forested valleys, and are hands-down one of the best ways to travel in Japan.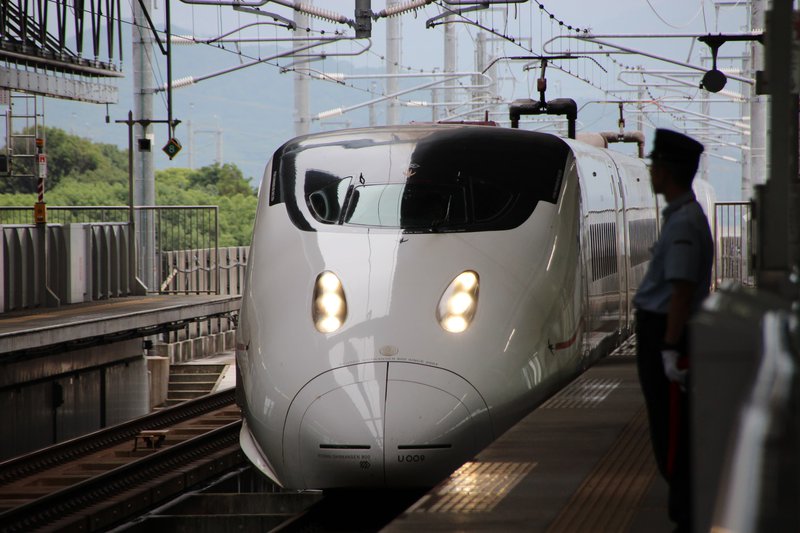 WANDER THROUGH THE TORII GATES 
I'm sure you've seen plenty of insta shots of the famous red Torii Gates, but nothing compares to seeing their epic scale in real life. Of course, make sure you grab your own snap for the gram while you're there... you can't backpack Japan without seeing them!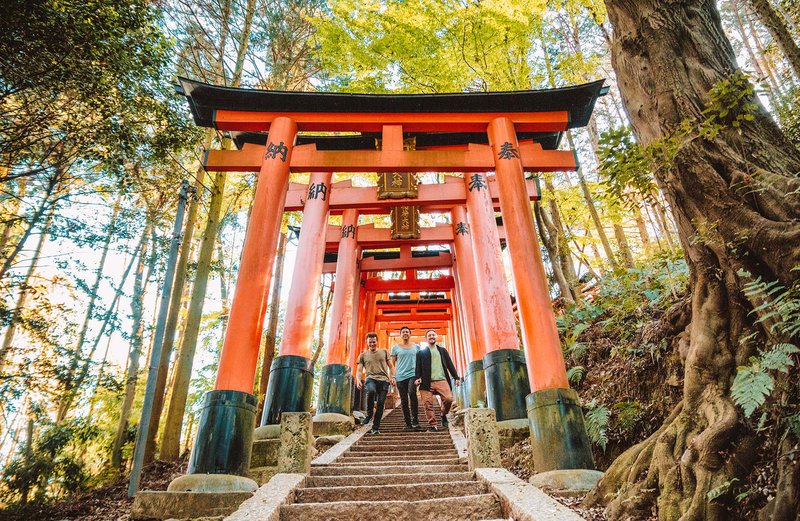 STAY IN A BUDDHIST TEMPLE
If you're looking for a meditative and relaxing escape, a night in a Buddhist temple is perfect for you. Temple lodgings, or shukub?, are once-in-a-lifetime experiences for pilgrims and curious travellers alike. Similar to a traditional Japanese ryokan, expect your quarters to be simple and minimal. You won't have a bed but will have a comfy futon, and monks will make up your room for you in the evening. During your stay, you can participate in a meditation service and observe various sacred rituals performed by a priest in the temple. We think this experience is so unique that our Japan Adventure Tour INCLUDES a one-night stay in an ancient Buddhist Temple in Koyasan!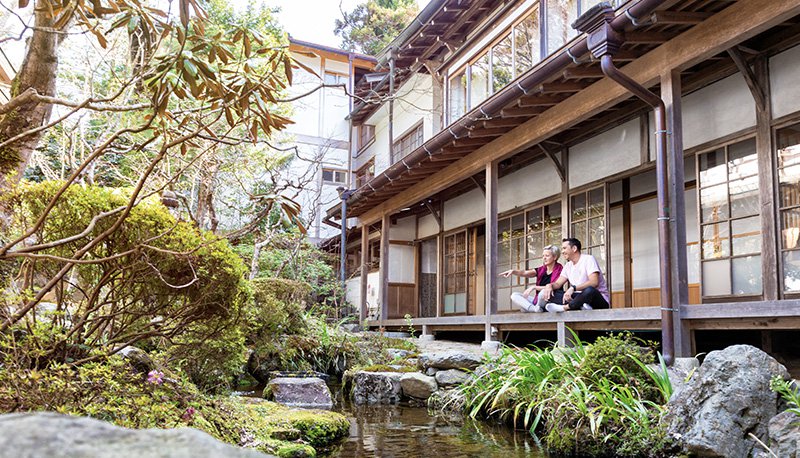 CHASE VIEWS OF MOUNT FUJI
Finally, no trip to Japan is complete without taking in the wonder of one of its most iconic landmarks, Mount Fuji! You'll find one of the best views of Japan's tallest mountain in Hakone. If you're up for it you can even hike up the mountain itself.... but we'll settle with a view of Fuji from a 'pirate ship' on Lake Ashi.

---
Although we can't travel to Japan just yet, things are looking hopeful for the not-too-distant future! Travel restrictions are beginning to ease and tourism will return with a surge in demand, so now is the time to get planning.
If travelling in Japan sounds like your kind of adventure, click through to check out our Japan small group tours here! With expertly crafted itineraries, the guidance of a knowledgable group leader, full end-to-end support, and a new group of friends to make memories with, our trips are the ultimate way to discover a new country. Oh, and did we mention that all of the activities on our itineraries are included? You heard right - everything we mention is included in the tour - no extra payments required. Travel with a group and enjoy the best of Japan, stress-free. 
With flexible booking policies and complete support during this uncertain time, you can be confident when booking with INTRO. 

RETURN TO BLOG
NEXT ARTICLE