Where To Travel in 2022 if You've Missed Tropical Beaches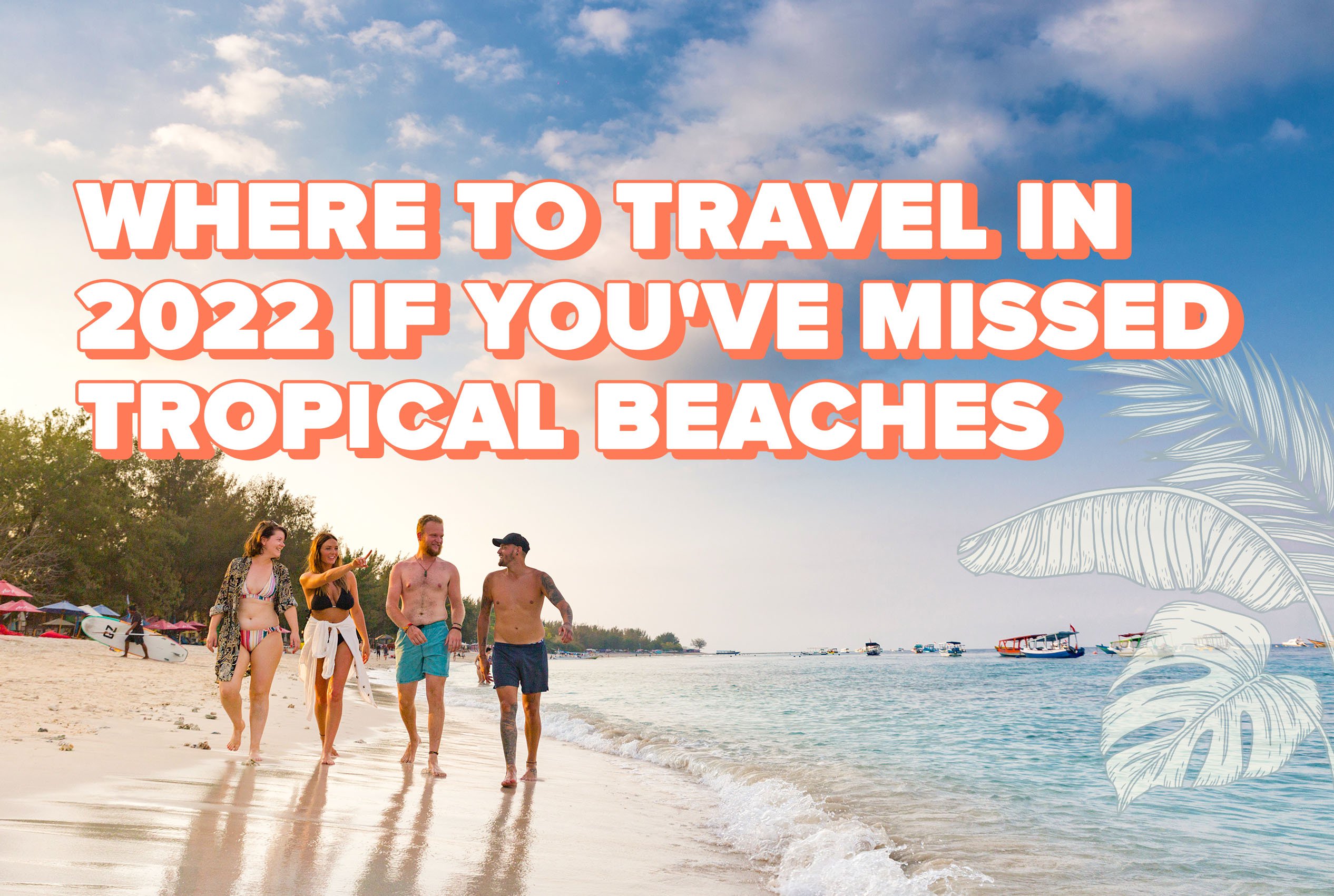 Published 29th November, 2021
All abroad! International travel is making a comeback, baby. Off the back of our recent announcements about our group tours in Thailand and Sri Lanka recommencing in January 2022 - and with more destinations soon to follow - we're here to lend a hand in choosing where to travel first! 
Dreaming of warm days and long nights, salty hair and wearing nothing but your swimmers? When most people think of paradise, chances are they're imagining tropical, far-flung corners of the world. Sipping from coconuts, snorkelling with turtles, topping up your tan, finally reading that new Sally Rooney novel… after the years we've had, a bit of sun-soaked R&R is just what the doctor ordered.
If you're feeling the same, here is our pick of where to travel in 2022 if you've missed tropical beaches. 

1) BALI
The beaches are plentiful, the surf is amazing, the food is delicious, the parties are hectic, plus it's cheap, the locals are friendly, there are waterfalls to seek, temples to visit, and even a volcano to climb. This island in Indonesia really does have it all. Thanks to the volcanoes that call the region home, Bali has both white and black sand beaches that you can explore as you make your way around the coast. And if kicking back with a drink and listening to good music while watching the sunset sounds like your version of an ideal evening, Bali's beach clubs are unparalleled. 
The nearby Gili Islands, which we visit on days 6 - 9 of our Bali Intro group tour, are a separate bunch of islands where you can snorkel, cycle and swing to your hearts' content. Bali's economy is heavily dependent on tourism, so once it fully reopens to travel in 2022 things will quickly kick back into gear! 
2) THAILAND
One thing about Thailand that's simply indisputable? THE BEAUTIFUL BEACHES. Known as the backpacker's gateway to Southeast Asia, from the Gulf to the Andaman Sea the country is full of coastlines with bathtub-warm water and fine sandy shores. Whether your travel style is tranquil getaways, hedonistic parties or soaking up the local way of life, travelling in Thailand has something for all beach bums.
The beaches in tourist hubs like Phuket tend to get crowded, so get out of the bigger towns to explore the islands. Don't miss Koh Phi Phi, Koh Samui, and Koh Phangan, where the hidden beaches require a bit more effort to find but are 100% worth it. If you want to explore the best of Thailand's cities, rainforests and beaches, check out our award-winning range of group tours in Thailand!
3) MEXICO
Mexico's Yucatan Peninsula borders the Caribbean coast and is full of gorgeous beaches and cenotes (AKA natural subterranean swimming holes - you've seen 'em on Instagram). We adore Mexico for its colourful towns, spicy eats and vibrant culture, so when you add in lovely locals and year-round sunshine you've got yourself the ultimate tropical getaway. 
For these reasons, Mexico is a hugely popular travel destination with students, backpackers, digital nomads, and couples. Tourists are well catered for in beach towns like Tulum and Playa del Carmen, where diving, sailing, snorkelling, water sports and peaceful luxury are all on the holiday menu. While you indulge in the tropical beaches, don't miss visiting the ancient Mayan ruins in Chichen Itza! Interested in seeing the best of Mexico, from Mexico City to Playa del Carmen? Check out the itinerary of our new 13 Day Viva Mexico group tour.
4) SRI LANKA
Sri Lanka welcomes travellers with its ancient past, storied history and stunning natural beauty - including great beaches. Aussies and Kiwis have been surfing Sri Lanka's southern coast for years, but word is spreading: this island may be the ideal tropical adventure destination.
Coastal havens like Talalla, Weligama and Mirissa, all of which we visit on our premium Sri Lanka Experience trip, have divine warm waters and beaches lined with palm trees. Whether you're keen to learn how to surf (or at least try to stand up on a board), snooze in the sun, or embrace the serenity with a bit of yoga, Sri Lanka will have beach lovers satisfied. Hop on the next flight, put on your SPF and grab a coconut - it's time to chill.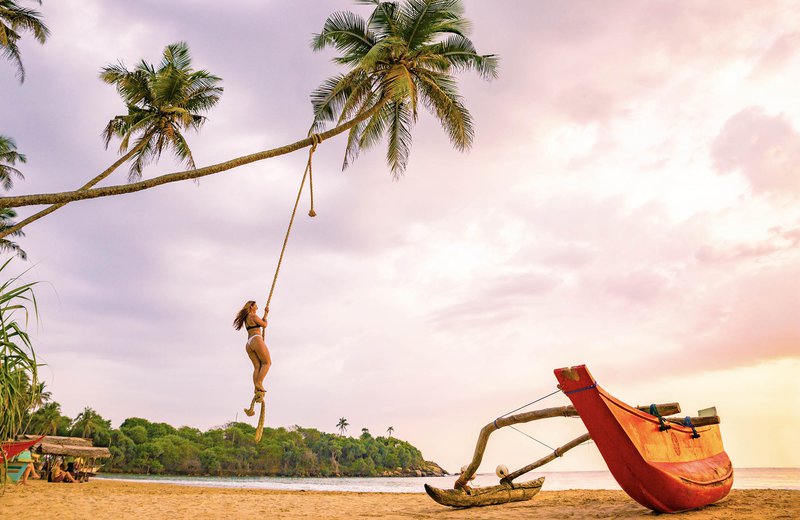 5) THE PHILIPPINES
With a backdrop of towering limestone cliffs and crystal clear seas, there's no better way to travel off-grid than with an island-hopping expedition through Palawan, a jaw-dropping archipelagic region of the Philippines. The town of El Nido alone is home to around 50 beaches—it's impossible to pick which one to lay your towel on. The water is so blindingly blue it even makes Aussie beaches look dull in comparison. And the sunsets? They'll ruin you. 
Boat trips, snorkelling, canopy walks, SCUBA diving... pick your poison, there is plenty to do! The Philippines is basically one big screensaver brought to life, which is why we are so excited to finally run our long-awaited Philippines backpacking tours in 2022. 
This is by no means a comprehensive list of all the best tropical destinations in the world, but each is a paradise in its own right. You'll be hard-pressed to find more beautiful surroundings than in these countries. But don't take our word for it. Book a flight and experience a slice of paradise yourself! OH TRAVEL, WE'VE MISSED YOU.
---
Ready to travel in 2022? Our group trips have COVIDsafe protocols in place to ensure your safety is our number one priority and to put your mind at ease as you re-INTROduce yourself to the world. We're here to remove the hassle of travelling so you can focus on having the time of your life! And with flexible booking policies and end to end support, you can be confident booking with INTRO. 

Read more about what it's like to explore with group travel tours on our travel blog. 

RETURN TO BLOG
NEXT ARTICLE