Ultimate Guide To Backpacking Sri Lanka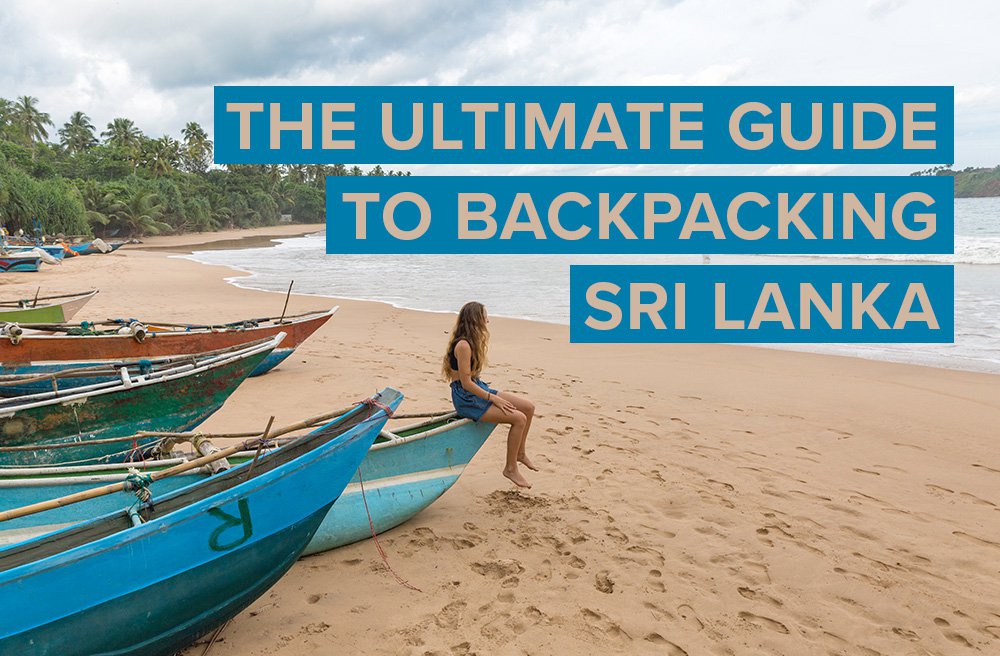 Published 01st January, 2023
From the bustle of Colombo to the endless, palm-fringed coastline, Sri Lanka is a nation of kind-hearted people, warming curries, rich colonial history, misty mountain towns, inspiring ancient heritage, and breathtaking natural beauty. While beach bums will love the island's coastal offerings, hip cafes and pumping surf, the ancient towns and rolling hills of the centre will have nature lovers and history buffs absolutely charmed. This exotic island packs a punch! 
Thinking about starting your adventure backpacking Sri Lanka? Here we've put together the ultimate Sri Lanka travel guide to introduce you to this tropical nation. So sit back, relax and read on to get all the info you need to plan a trip to the pearl of the Indian Ocean! 
CONTENTS:
General info
Best time to visit Sri Lanka
Weather in Sri Lanka
Flights
Best places to visit in Sri Lanka
Best things to do in Sri Lanka
Travelling around Sri Lanka
Accommodation in Sri Lanka
How much money to bring
Sri Lankan food & drink
Sri Lankan history
Sri Lankan culture
What to pack for Sri Lanka
Travelling Sri Lanka alone
Safety while travelling Sri Lanka
Sri Lanka travel guide: itinerary suggestions
First time backpacking?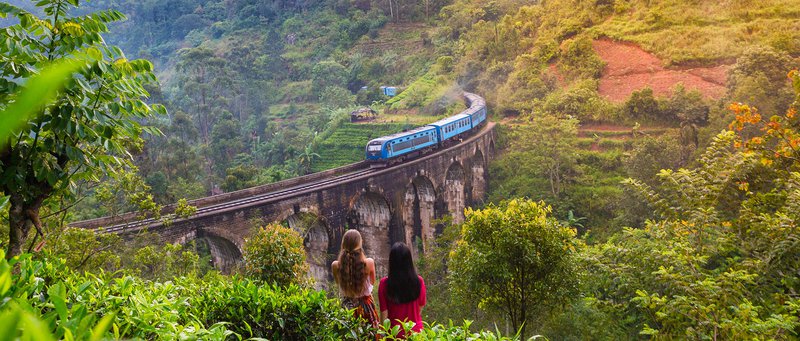 GENERAL INFO
Language
The official languages of Sri Lanka are Tamil and Sinhala. Sinhala is the native language of the Sinhalese people, who make up approximately 70% of the population. Due to centuries of colonial rule in Sri Lanka, Sinhala has many Portuguese, Dutch and English influences, as well as cross over words from Tamil. Sinhala is widely spoken in the southern, central and western parts of the island.
Tamil is the second official language, mostly spoken in the northern and eastern parts of Sri Lanka by about 15% of the population. Tamil has existed in Sri Lanka for centuries, brought by ancient settlers, tradesmen, invaders and immigrants from mainland Asia. 
Languages spoken on the island are deeply influenced by various languages in India, Europe and South East Asia. There are many minority languages that are also spoken by small communities including Veddah, Arabic versions of Tamil, and Creole Malay.
Most Sri Lankans have a basic/conversational understanding of English and learn it as a second language in school, so communication isn't a problem when backpacking Sri Lanka! 
Visas for Sri Lanka
Most nationalities (Europeans, Americans, Australian and UK nationals) require a visa or ETA (electronic travel authority) to enter Sri Lanka as a tourist. This visa is typically for 30 days and can be done online. It costs approx. 35USD, but some nationals are exempt to the ETA processing fee. If you don't prearrange your ETA, you can still obtain it on arrival for an extra charge. 
Always make sure to double check entry requirements with your local government or Sri Lankan embassy before you travel as requirements are prone to change. Ensure your passport is valid for at least 6 months from the date of arrival, and it's recommended to carry proof of leaving the country. Also pay attention to the date your visa expires, as you may be fined if you overstay. 
Currency
The local currency in Sri Lanka is the Sri Lankan Rupee (LKR). Approx. conversion rates as of writing are:
$1 AUD = 131 LKR
£1 GBP = 241 LKR
$1 USD = 185 LKR
€1 EURO = 218 LKR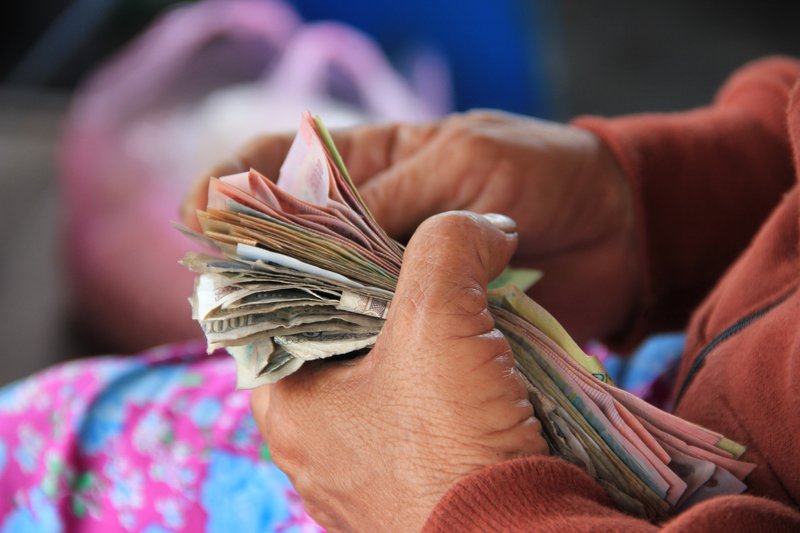 ATMs
It's best to take a Visa or MasterCard debit, credit or travel money card with you when travelling Sri Lanka. There are ATMs scattered throughout Sri Lanka for you to get cash, and money exchanges in major cities/towns. Bank of Ceylon and People's Bank - two of the biggest banks - do not charge for withdrawals. Hotels and major shops will accept credit cards, but from tuk tuk drivers to grocery stores, the country mostly runs on cash!
ATMs often issue R5000 notes, so try to break them as soon as possible as small vendors will struggle to accept large notes.
Read on to find out how much money we recommend bringing!
SIM CARDS
We highly recommend getting a SIM card to make getting around Sri Lanka and staying connected a breeze. The three main phone companies in Sri Lanka are Dialog, Mobitel and Airtel. You can head into any phone shop in Sri Lanka with your passport and they will get you sorted - data is super cheap and you can top it up via vouchers purchased from the supermarket.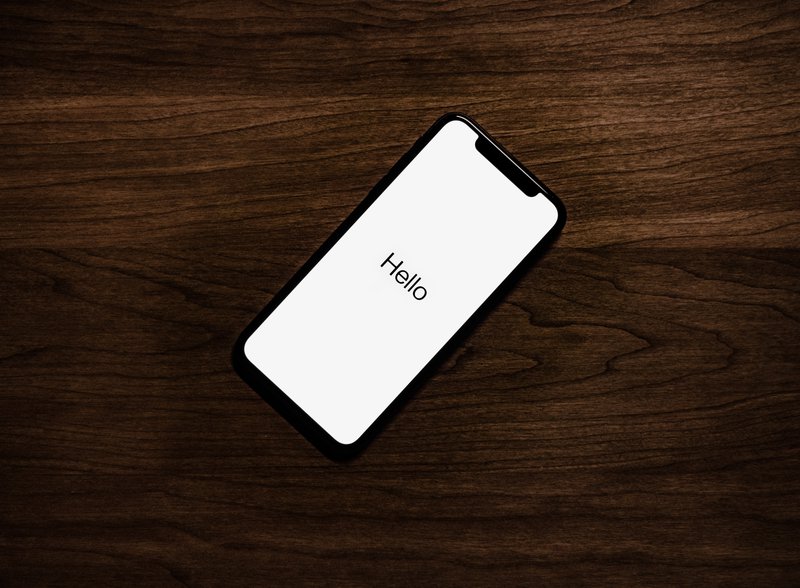 WIFI
Wifi in guesthouses, hotels and hostels is the norm, although it may be slower than you're used to back home. You might not get signal in rural areas, but otherwise you should be able to connect and do basic stuff when travelling Sri Lanka. 
POWER SOCKETS 

Sri Lanka generally uses type D and G sockets. Plug type D has three round pins in a triangular pattern, and type G has three rectangular pins in a triangular pattern. If you're from the UK, this means you'll find standard UK plugs in most places! Make sure to bring an appropriate electric travel adapter/universal adapter before you go if you need, or pick one up at the airport.

TRAVEL INSURANCE
We highly recommend getting comprehensive travel insurance for any international travel. Your policy should cover all overseas medical costs, including emergency medical evacuation. You know the saying... if you can't afford travel insurance, you can't afford to travel!! Peace of mind is priceless. Check out World Nomads, who offer flexible, affordable policies that cover all the important things.

BEST TIME TO VISIT SRI LANKA
The great thing about travelling Sri Lanka is it's usually quite warm and sunny all year round, so there's hardly a bad time to go! December to April have slightly lower average temperatures and less chance of rain, so these months are considered to be peak season, but the 'best time' to travel Sri Lanka really depends on the purpose of your visit.
If you're travelling to the west or south coasts for beach time, or to the hill country, your ideal time to travel is between December and March. If you're intending to go to the east or north coast, the best time to visit will be April to September due to reasons we go into below.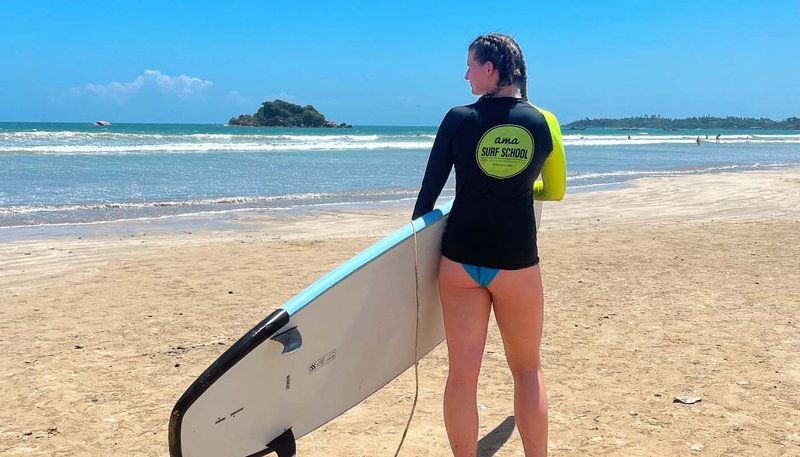 WEATHER IN SRI LANKA
The seasons vary quite a lot across the country, with the chance of rain possible at anytime of year. You might experience downpours in the dry season, and perfect days during the monsoon… the weather is notoriously impossible to predict! The good thing is that tropical rains are generally finished in a few minutes or hours, rarely ruining an entire day. Temperatures are fairly constant all year round, with coastal regions enjoying average temperatures of 25-30 degrees, and the highlands 15-18 degrees, though it can get a lot cooler at higher altitudes.
Sri Lanka has two separate monsoon seasons, affecting different parts of the island. The monsoon season lasts from April to September on the western and southern sides of the island, but during this time the weather will be tropical and warm on the east and north coast. North-eastern monsoons from December to March switch it up, making it clearer and sunnier in the southwest during these months. If travelling during monsoon seasons, be flexible with your travel plans in case of flooding and landslides. 
On our Sri Lanka Experience small group tour we cover a large part of Sri Lanka, so you're sure to get plenty of beautiful sunshine with a possible chance of rain all year round.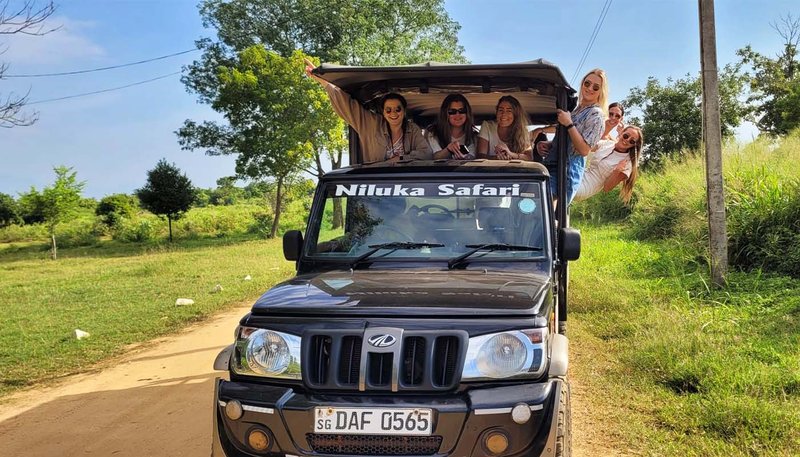 FLIGHTS TO SRI LANKA
Sri Lanka is right in the middle of the Indian Ocean, so you're going to have to fly to start your adventure backpacking Sri Lanka. While flying will likely be the most expensive part of your adventure, it's worth it to get there!
SriLankan Airlines flies direct from London Heathrow and Melbourne to Colombo. Major international airlines including Singapore Airlines, KLM, Air New Zealand, Delta, Emirates, Qatar and Swiss also fly in to Colombo. Depending on where you are flying from you will probably require a stopover in Kuala Lumpur, Singapore, Hong Kong, or Bangkok if not flying directly.
Colombo is the capital and largest city on the island, and Bandaranaike International Airport (CMB) is the main hub serving the country. CMB is actually 30km north of Colombo city centre, but it's easy to travel to the centre or other touristy coastal areas on the West Coast from CMB. 
Mattala Rajapaksa International Airport (MRIA) is the second international airport in the south of Sri Lanka, 18km from Hambantota. It's much less used though, so you probably won't fly into this airport.
Airfares remain fairly consistent year round, but the further in advance you book your flight, the better the chance you have at getting a good deal. Also try to avoid peak holiday times, and fly on weekdays if you can! Sites like Skyscanner can help you get the best prices, especially if you set up price alerts to find the best deals.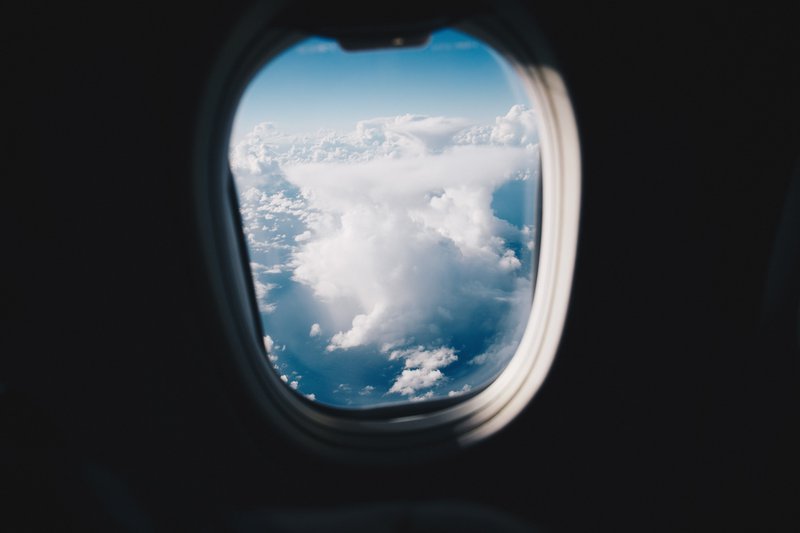 BEST PLACES TO VISIT IN SRI LANKA
Sri Lanka's got it all! Whether you want an insight into Buddhist culture, are keen to hike misty mountains, explore verdant tea plantations, or follow herds of elephants, figuring out where to go can be quite the task. Thankfully, you can fit quite a lot in in one trip due to the country's size. Here we've gathered our top places to visit.
Negombo: Most visits to Sri Lanka will begin on the West Coast as you'll land at the airport just outside of Colombo. Colombo is a typical Asian city - sprawling and hectic - so instead of spending time here why not head straight to the West Coast's beach towns? Negombo, Beruwala, and Bentota are all beautiful and well-developed for tourists.
Kandy: The cultural capital for the Sinhalese, Kandy is home to sites including the Big White Buddha, Temple of the Tooth, and the Royal Botanic Gardens. Spend the rest of your time walking the stunning city lake, meandering through colourful streets, and exploring bustling markets. It's also from Kandy where you can take the world's most scenic train ride to Ella.
Sigiriya: This is a must visit, home to the famous Lion's Rock - an epic mountain with an ancient fortress atop it. Often referred to as the eighth wonder of the world, so this interesting site needs to be on your bucket list when travelling Sri Lanka.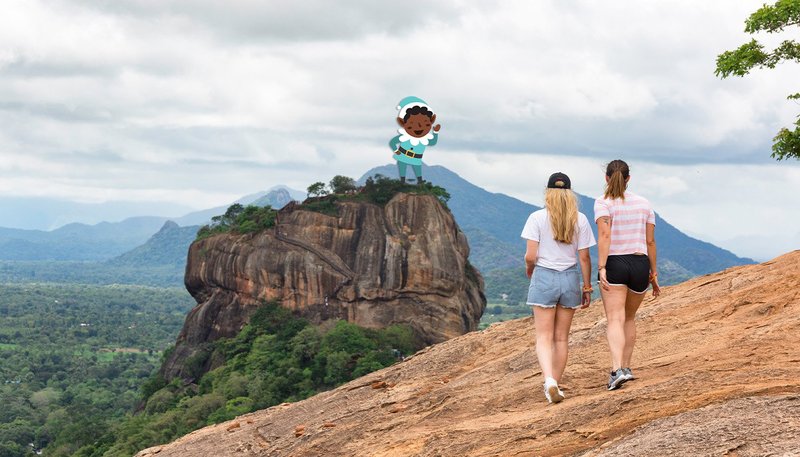 Ella: Up in the idyllic Sri Lankan highlands sits Ella, a charming small town with great hiking opportunities such as Little Adam's Peak. It's one of the most popular spots for backpackers inland, with a great atmosphere, lots of bars, pubs and coffee shops. 
Nuwara Eliya: This town sits right in the middle of the island, and is the centre of the country's tea industry. It's a great base for exploring the gorgeous plantations, wilderness and waterfalls.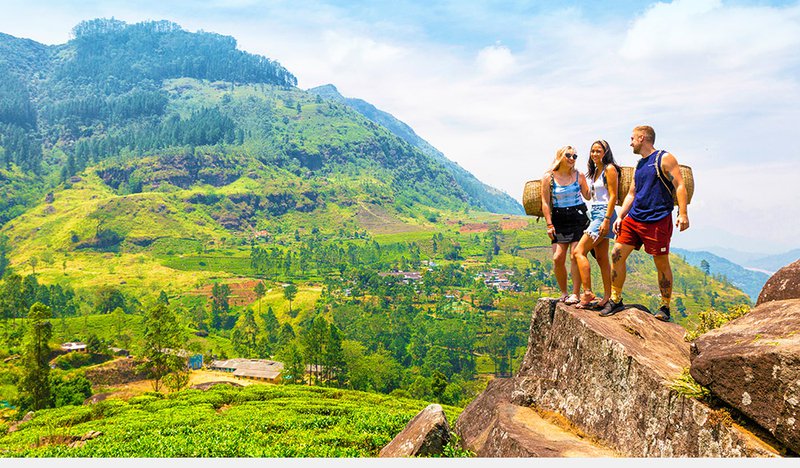 Anuradhapura: This is one of the ancient capitals of Sri Lanka, Anuradhapura is famous for its well-preserved, timeless ruins of an ancient Sinhala civilisation. One of South Asia's most evocative historical sites, this is a must-visit for culture-vultures. 
Arugam Bay: Full of pubs, clubs and incredible surf, Arugam Bay is one of the most popular spots on the East Coast. Think quirky cabanas, mangrove lagoons and hammocks. Whether you're a surfing pro or just want to learn, there's waves here for you. April/May is the best time to head here if surfing's what you're after!

Welligama: The gentle sandy-floored surf breaks off Welligama's bay is also great for those learning to surf, with loads of surf schools located right on the beach. 
Mirissa: On the south coast, Mirissa is known for it's golden beaches and surfing, and is a great spot to relax, party and surf with no cares in the world. From here you can also go on day trips to other national parks, or even go on a whale watching cruise. 
Unawatuna: A popular holiday spot, this is full of stunning beaches and opportunities for snorkelling, and, you guessed it, surfing. At the main beach, you can rent a sun-bed to relax, or take an afternoon stroll up to the pagoda at the north end of the beach for sunset. 
For more info, check out our article on why NOW is the best time to visit Sri Lanka!
BEST THINGS TO DO IN SRI LANKA
The teardrop isle has boomed onto the tourism scene in the past decade, partly because there's just so much to do! To help you discover this beautiful island, here's some of our suggestions for the best adventurous, cultural and natural experiences to have in Sri Lanka. 
Tour via tuk tuk: There's no better way to see a town that by tuk tuk! Glide through the hustle and bustle of Sri Lanka's hubs the local way. 
Jump on a rope swing: The southern beaches of Sri Lanka have become a haven for instagrammers due to their stunning tropical settings and rope swings. The best swings can be found at Dalawella and Mihiripenna beaches, but many can be found all the way along the coast. Sure, they're a little gimmicky, but a lot of fun! Find out more about our best insta-spots in Sri Lanka here and do it for the gram.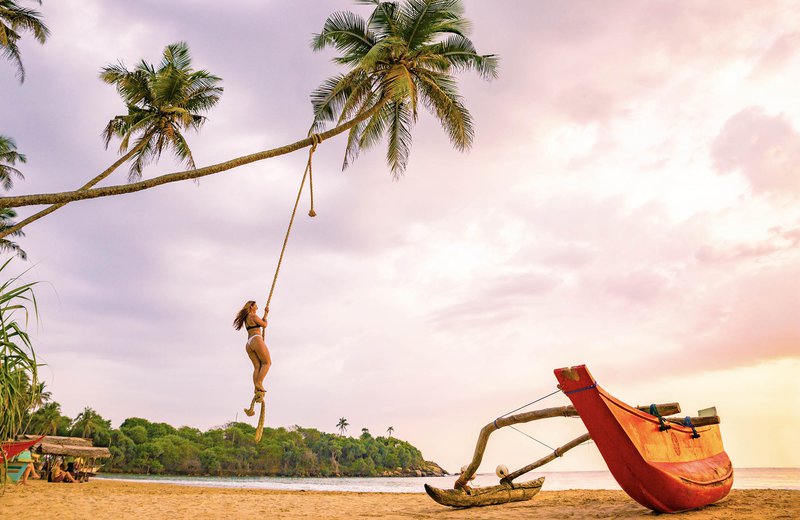 Visit the Temple of the Tooth: This ornate, golden temple houses the most important Buddhist relic in Sri Lanka, a tooth from Buddha that was brought to the island in the 4th Century. The Temple has long been a place of spiritual importance for Sri Lankans and international pilgrims, and is a must-do in Kandy, the cultural capital of Sri Lanka. 

Chase waterfalls: Ignore TLC's advice - some of the waterfalls in Sri Lanka are absolutely spectacular! Check out our list of the best waterfalls to visit here.
Ride the Ella train: The train ride from Kandy to Ella is perhaps the best thing you'll do in Sri Lanka. Winding through misty jungle, rolling tea plantations and gushing waterfalls, the scenery and vibe of this train journey make it one of the best in the world. Vendors rush through selling chai, local boys play the drums, tourists stare out the window in amazement. Expect the train to be crowded during peak season and book your travel in advance to make sure you get a spot!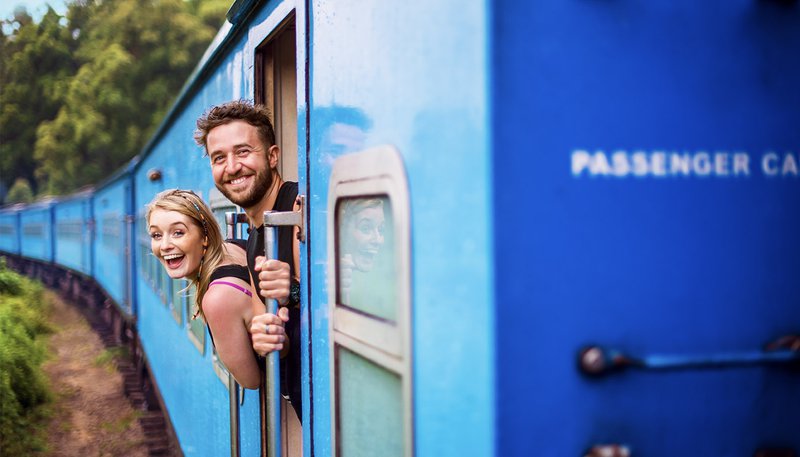 Hike Adam's (or Little Adam's Peak): Rising from the rolling hills, the summit of Adam's Peak is iconic and of religious significance to those from Buddhist, Islamic, Hindi and Christian faiths. Adam's Peak hike involves a colossal 5000 steps and takes few hours of tough hiking, but less enthusiastic hikers can try Little Adam's Peak, a smaller hike with a similar shape that will still reward you with great views. 
Chill on the beach: Soak up the sun and have some me-time when travelling Sri Lanka! Check out our guide to Sri Lanka's most unmissable beaches.
Explore the ancient rock fortress of Sigiriya: Right in the heart of Sri Lanka, Sigiriya, aka Lion Rock, is an ancient palace and fortress built in 480AD atop a rock island that rises from the jungle. It's one of the country's most visited cultural heritage sites, and the hike up is steep but awe-inspiring. The Fortress will reward you with abandoned gardens, waterways and frescoes depicted the island's turbulent history. However, there's debate as to whether the steep entrance fee (USD $30) is worth it, so if money's tight you can instead hike Pidurangla Rock, an adjacent site that offers similarly spectacular views. We recommend going early to be the first ones up, or late afternoon in time for sunset.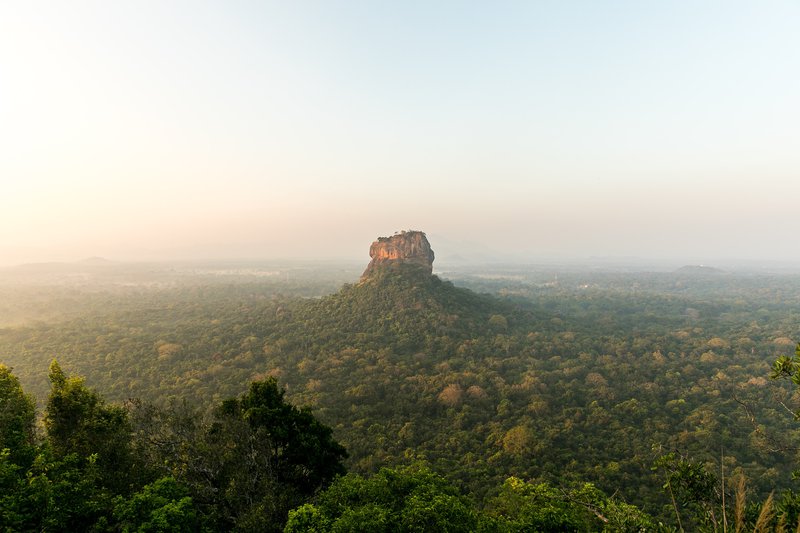 Check out Nine Arch Bridge: Sri Lanka has a well-connected railway system due to British influence. The picturesque Nine Arch Bridge is a must-see, spanning over 90 metres across lush forests and tea plantations to create one of the most beautiful scenes in Sri Lanka. 
Spot elephants in Udawalawe National Park: With herds of Asian elephants, wild buffalo and plenty of other fauna roaming in abundance, Udawalawe is one of Asia's finest national parks. Going on a safari tops countless bucket-lists, so why not do it in Sri Lanka? Sprawling across the southern lowlands, this park actually surpasses many of the famous East African parks in terms of elephant spotting! For more info on this enthralling corner of the world, check out our article about why Udawalawe is a must-visit. 
Visit tea plantations: Sri Lanka's most famous export, you'll definitely want to visit a tea plantation to learn how the famous drink is made. The central highlands have the perfect climate for brewing world-class tea, and many famous brands like Dilmah and Lipton source the goods here. Don't leave without having a cuppa yourself - it'll surely be the finest tea you'll ever consume. 
Learn to surf: The whole southern coast is a surfer's paradise, and is an especially great place to learn when travelling Sri Lanka. Cheap boards, easy waves, warm waters, and enthusiastic local instructors mean you'll be a pro in no time. If surfings not your style, how about bodyboarding?

Check out local markets: Given the range and quality of fresh produce on the island, it's understandable why there are markets on every corner! Whether you want to grab a bargain souvenir or simply snack on tasty fruit, markets are the best place to soak up the intoxicating atmosphere of Sri Lankan life. 
For more inspiration about things to do in Sri Lanka, check out our list here! Want to know what else you can do in Sri Lanka that you might not have expected? Read this!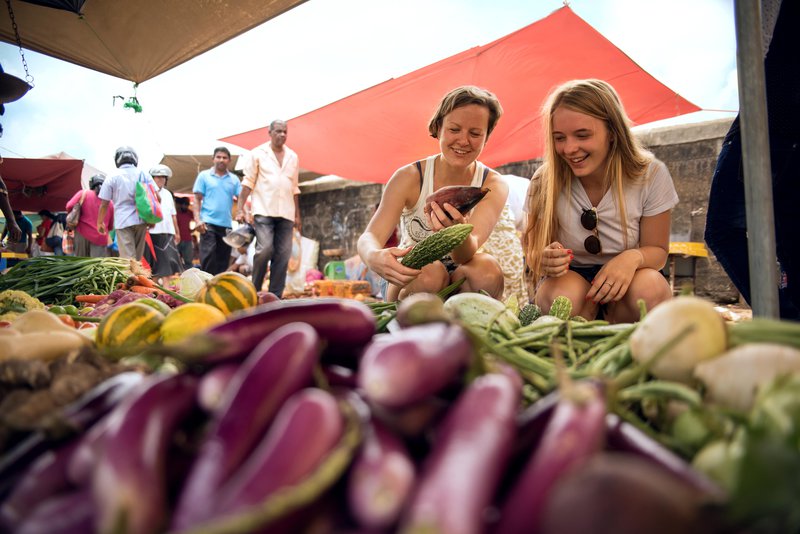 Sound like an adventure in the making? Check out our Sri Lanka Experience 12-day small group tour, which has a bunch of these activities included and so much more! 

TRAVELLING SRI LANKA
Sri Lanka is fairly straightforward to travel around, if a little time-consuming. The public transport system is basic but cheap, so don't be shocked by delays! It's all part of the experience. 
BUS
Travelling by bus is a whole level of authentic in Sri Lanka, with blasting music, chatty locals, colourful decorations and flashing lights adding to the journey. Air-conditioned express buses run from Colombo Central Bus Stand to Colombo Airport through the day. Private and state-run buses cover short and long distances, and usually you don't need to prebook your journey. Buses may jolt you around a bit on bumpy roads, but they'll get you where you need to go! For the best advice about bus routes feel free to ask your hotel, hostel or guide.
TRAIN
Trains in Sri Lanka are old school, but travelling on them is a unique, scenic, and affordable experience. The Kandy to Ella train trip is even thought to be one of the most beautiful in the world! Some trains have air-conditioned first class cabins, but second and third class sections do not have air-con, and non-reserved coaches do tend to get crowded. The Kandy to Ella journey will require pre-booking tickets due to its popularity, otherwise you generally don't need to book train travel in advance.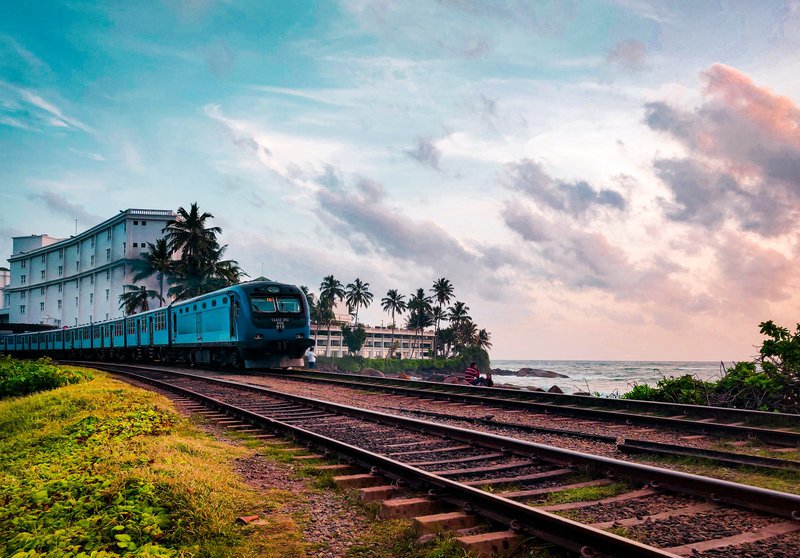 TUK TUK
To travel short distances, grab a tuk tuk. But be warned... it's common for the drivers to try and rip off unsuspecting tourists. The standard rate for 1km is 60 LKR, and make sure to agree on a price before riding or use a tuk tuk with a meter. If a driver becomes aggressive, simply walk away.
Ride-sharing apps like Uber and PickMe are also available if you prefer something more direct! And if public transport isn't your thing, you can arrange private transfers (though they're pricy for the average backpacker).
When travelling Sri Lanka you do have the option to rent your own motorbike or tuk tuk, but to do this you will need an international driver's license. However we do not recommend this option due to the general chaos of the roads. Vehicles aren't well maintained and driving standards are poor, so if you do insist on driving make sure you learn local traffic laws and practices, drive carefully, wear a helmet, and don't drink.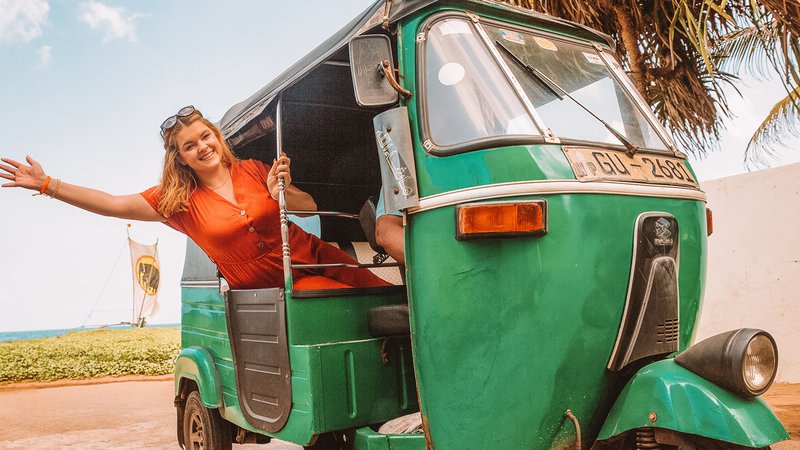 SRI LANKA ACCOMMODATION
A few decades ago, quality accomodation was rare on the island. Now the country has an excellent range of accommodation in all price ranges, from basic beach shacks to five star resorts. 
Backpackers on a budget tend to stay in family-run guesthouses or hostels. Today Sri Lankan hostels are incredibly backpacker friendly, with communal vibes, modern aesthetics and quirky perks.
For those looking to spend a little more whilst backpacking Sri Lanka, hotels can come in all shapes and sizes - from restored colonial buildings to chic modern establishments. Sri Lanka boasts great eco-oriented hotels and lodges, such as bungalows on the beach or cabins in jungle forests. Most accommodation comes with a private bathroom, and at minimum a ceiling fan to help you cool off on hot days. 
Sites like booking.com, HostelWorld, hotels.com, Agoda, and Tripadvisor are great search tools for finding the best deals. Prices can be subject to seasonal variations, especially along the coast or during major festivals like Sinhalese New Year.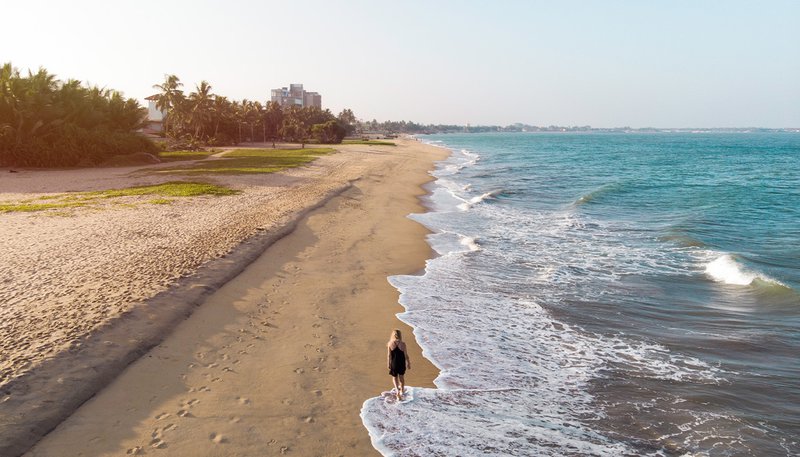 HOW MUCH MONEY DO I NEED FOR BACKPACKING SRI LANKA?
Sri Lanka is an affordable destination, but still more expensive than India, Nepal or other countries in SE Asia. A lot of goods on the island are imported, which hikes up the prices of liquor and certain foods (i.e. western food). It's important to budget your money to avoid overspending so you can enjoy your trip fully from start to finish without stressing! 
To cut down on costs while travelling Sri Lanka - stick to public transport, eat local cuisine, and shop from small businesses or market stalls. The price of food in sit down restaurants is usually higher than fast food/street food prices, so do as the locals do and save some cash.
A bed in a dorm can be anything from approx. $USD8/night to $25/USD, a local meal around $USD1-5, a beer from $1USD, but often more if it's imported or a cocktail, and activities $USD10-30. If you want to stay in lux accommodation, buy plenty of souvenirs, or party hard, then you will need a bigger budget to accomodate your travels.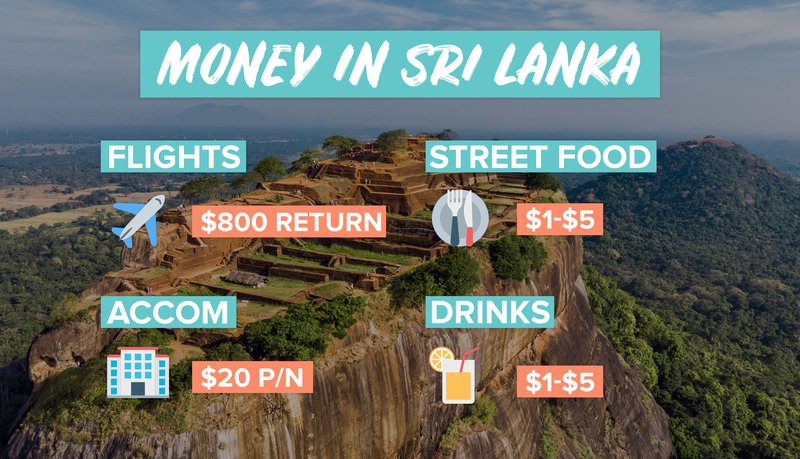 Unless you're shopping at a place with fixed prices, remember to bargain! If someone quotes a price, half it and haggle from there, but keep it fun. Bartering should be enjoyable, done with a smile on both ends.
A great way to keep track of your expenses is by doing a group tour! Tours are the ultimate way to explore the best of a country with a group of likeminded people, and ease the stress of planning by having all your accommodation, transport, a bunch of meals and plenty of activities included. Having all the nitty gritty taken care of means you can truly relax and focus on the important things, like what type of cocktail to order. If that sounds up your alley, check out INTRO Travel's Sri Lanka Experience group tour here!

SRI LANKAN FOOD & DRINK
Welcome to the home of cinnamon and spice. And Sri Lankan food sure is SPICY! There's no shame in politely asking for 'less' or 'no spice' when ordering in restaurants, and restaurants in tourist hubs will know to serve more watered down versions of traditional dishes so as not to set fire to the tongues of unassuming tourists. 
Sri Lanka's staple meal is rice and curry, which should be consumed the local way - by hand! Like most other Sri Lankan dishes, rice and curry has roots from Southern India, but with it's own twist. Rich in aroma and flavour, curries can be found at both street food vendors or high end restaurants. While chicken, beef, pork and seafood are popular accompaniments, vegetarian and vegan curries prepared with coconut milk aren't hard to find. Due to the predominantly Buddhist population, Sri Lanka caters well to vegetarian and vegan diets.
TIP: When backpacking Sri Lanka eat ALL the street food you can! Look for spots packed with locals and you're in for a treat. 
A popular breakfast or dinner option are hoppers, a bowl-shaped pancake that comes in savoury or sweet varieties. Koththu is a pioneer of the street food scene - sliced roti mixed with eggs, vegetables, cheese or meat that you can grab at most hole-in-the-wall eateries for a local experience. Colombo is the street food hub of Sri Lanka, where you're bound to find the best koththu. You'll also find coconut symbal, a popular side dish made from ground coconut, chilies, fish and lime juice, and lampreys, a dish from from rice, cooked in curry sauce, served with meatballs and baked in a banana leaf. 
Sri Lanka's coastline is full of restaurants spruiking fresh seafood, and backpacker hubs usually have hip cafes serving insta-worthy brekkies. Also, try to make sure you don't order pork in a Muslim restaurant!
Like most countries in SE Asia, plastic waste is a huge problem, so do your best to carry a reusable water bottle so you can reduce your single use plastic waste. Thankfully, filtered water is available in most hostels and hotels for free. 
For a refreshing, iconic drink, why not order a king coconut/thambili? These are native to Sri Lanka and the perfect beverage to sip on the beach while you desiccate in the sun. 
Of course, if you love a good cuppa then Sri Lanka is the place for you. Despite it's size, Sri Lanka is the world's fourth largest tea producer, a legacy left behind by English colonial times. Sri Lankans are proud of their tea heritage, and Ceylon tea is revered by tea drinkers all around the world.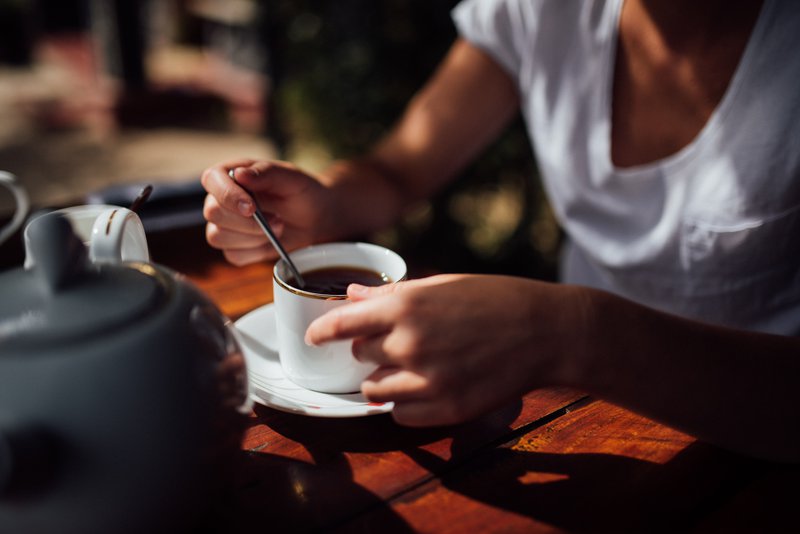 SRI LANKAN HISTORY
Previously known as Ceylon, Sri Lanka was under heavy British influence until 1972, and you'll see evidence of this throughout the country i.e. tea plantations and architecture. Before British rule, Sri Lanka was also colonised by the Portuguese and Dutch. A civil war took over the country from 1983 to 2009, fought between the government and the Tamil Tigers (Liberation Tigers of Tamil Eelam) who desired independence, ending in the defeat of the Tamils. The war is still fresh in memory, but locals will share their stories with you as long as you're courteous and polite. 
Sri Lanka has been continuously inhabited for thousands of years, with the original inhabitants descending from Stone Age hunter gatherers. Sri Lanka's civilisation has been shaped largely by the Indian subcontinent, with the Sinhalese and Tamil ethnic groups, along with Buddhism and Hinduism, making their way from India. Despite connections with India, Sri Lanka nevertheless developed its own identity and is proud of it! The power of the nation's ancient kingdoms can be seen today in many UNESCO protected ruins like Sigriya and Anuradhapura that dot the country. This tiny fertile island was an important trading hub along the Silk Road Route, and the woody spice of the native cinnamon bark was desired the world over. Today Sri Lanka is a democratic republic governed by a president and prime minister.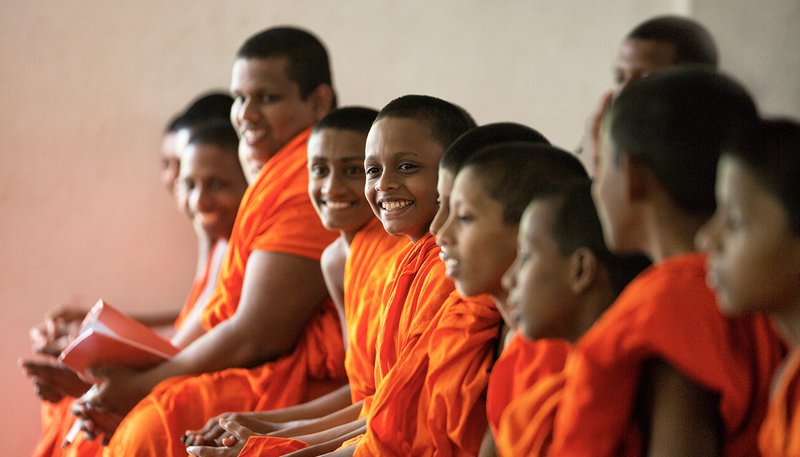 SRI LANKAN CULTURE
The culture of Sri Lanka mixes modern elements with traditional aspects influenced from the heritage of major religions that came across from the mainland. The major belief systems in Sri Lanka today are Buddhist (70%), Hindu (12%), Muslim (7%) and Christianity (7%). The social landscape of the country tends to show an association between ethnicity and religion - Sinhalese generally follow Buddhism, those who identify as Hindu tend to be ethnic Tamils, and those who identify as Muslim are generally Sri Lankan Moors. All four religions have festivities, meaning there are almost 30 public holidays throughout the year. Poya is a public holiday that occurs every month, an island-wide celebration of the full moon!
For many Sri Lankans, life revolves around the family. It is a collectivist culture, and the interests of the family are expected to be those of the individual. Mothers hold household authority and respect, but the father or eldest son is usually recognised as the patriarch. Age is a source of hierarchy, with elders being highly respected. 
When dining out, it's customary to tip 10%, a generosity that can also be applied to drivers and local guides. If people are helping you out in some way i.e. carrying your bags, then a tip of 50 rupees or so is always nice! It is common practice to remove one's shoes before entering a home, and be aware that is it considered to rude to touch someone on the top of their head, as it's seen as the most important part of the human body. Respect the local culture by not mistreating Buddhist images and adhering to conservative standards of behaviour and dress, especially in temples and other sacred sites. 
Sri Lankans are incredibly lovely, warm people who love to welcome tourists. However, avoid drawing parallels between Sri Lanka and India, as Sri Lankans take great pride in being distinct from India. Albeit friendly, Sri Lankans tend to stare out of curiosity, so covering up can help take the edge off attention. 
Don't hesitate to mingle with locals when travelling Sri Lanka, as they have a genuine desire to chat and learn from travellers! Long after your tan has faded and the spices are no longer tickling your nose, the things that will stick with you the most is how lovely the locals are. 

Sri Lanka has a rich artistic tradition, with distinctive forms of music, dance, cinema and art. The country is internationally renowned for it's distinct cuisine, exports like tea, gemstones and cinnamon, and cricket, all of which you'll find out for yourself when backpacking Sri Lanka!
WHAT TO PACK FOR SRI LANKA
Hauling massive suitcases through the jungle and over the beach is the worst. We highly recommend packing light, but simple doesn't have to mean simplistic! To have a comfortable, happy journey backpacking Sri Lanka, we recommend packing the following.
Passport: Your key to getting around. Keep it safe!
Phone: Of course.
Debit/Credit cards: You're going to need money!
Backpack: Reliable and comfortable, this is much better than travelling Sri Lanka with a suitcase, trust us. 
Reusable water bottle: The best investment you'll ever make to reduce your plastic waste. Now more than ever we encourage you to be responsible in reducing your environmental footprint, and you can also do this by bringing a tote bag, reusable straw and reusable coffee cup. 
Toiletries: Remember soap, shampoo, conditioner, deodorant, makeup, sunscreen, sanitary products, insect repellent... whatever usually you need! 
Sunglasses: Protect your eyes from serious UV rays.
Universal adaptor: So you can charge up anywhere.
Power bank: Keep your devices charged, especially when you need to spend so time looking at maps and taking photos.
Camera, memory cards & spare batteries: If you're planning on taking a lot of photos and videos.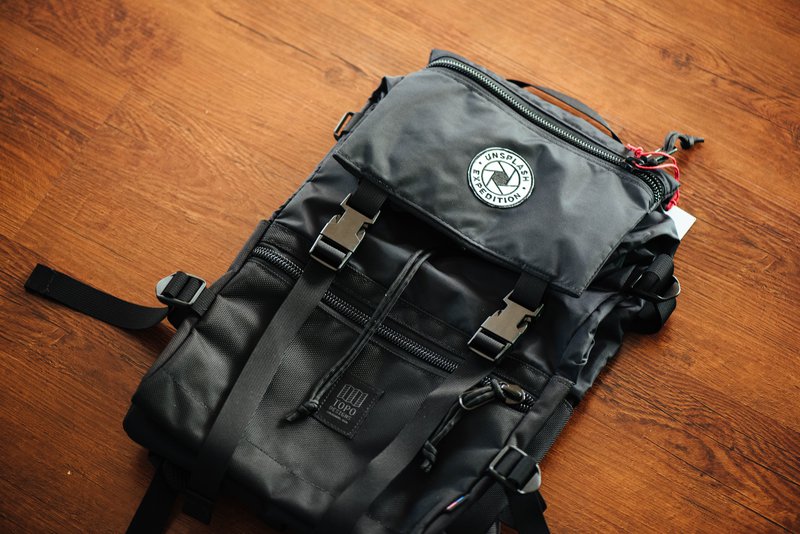 When it comes to clothes, a few casual outfits and a 'going out' outfit is plenty! Sri Lanka is very hot, so avoid synthetic fabrics… they will not help you keep cool. Cotton, linen and rayon are your best bets! Female travellers can wear shorts in tourist hubs and near the coast, but in smaller towns it's recommended to cover your knees and shoulders. A scarf also comes in handy on many occasions! 
Overall you'll mostly need light skirts, shorts, dresses and tops. If heading into the hill country, a jacket is recommended as it's cooler due to the altitude and more likely to rain. Definitely remember swimmers, comfy shoes for walking, and open sandals for hot days. 
For a more detailed Sri Lanka packing list, check out this article! And remember, if you forget anything you'll be able to find most of what you need there. 

TRAVELLING SRI LANKA ALONE
It's definitely possible to have a great time travelling Sri Lanka alone - you're bound to make countless new local and backpacker friends as you go! Locals will do everything they can to make you feel safe and comfortable. If you want to avoid unwanted attention as a solo female traveller, you can even wear a fake wedding ring and try to sit next to other women or families on public transport to avoid unwanted conversations. You should try to avoid venturing out alone at night and take usual safety precautions, keep your wits about you when drinking, etc. For more info about our favourite countries to travel solo, including Sri Lanka, check out this article!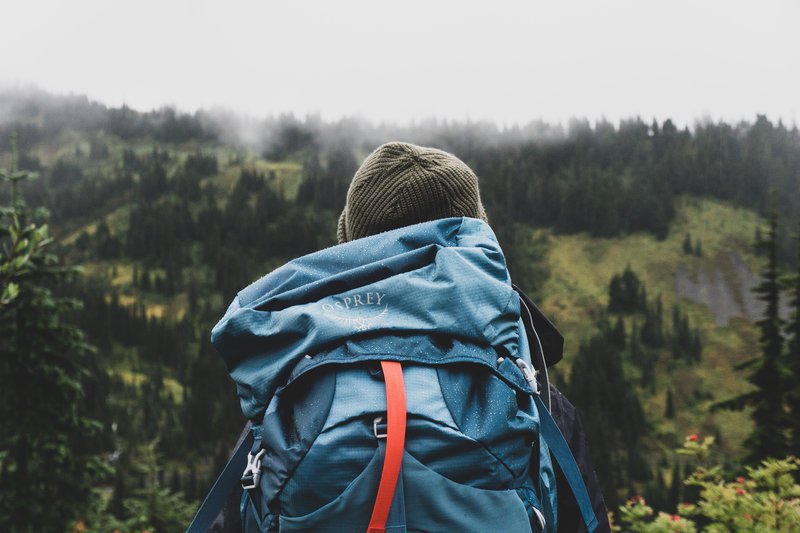 SAFETY WHILE TRAVELLING SRI LANKA
Generally speaking, Sri Lanka is a relatively safe country for travellers. You should still take the same precautions you would anywhere, such as not walking alone at night, not flashing money around, and keeping an eye out for pickpockets. Like anywhere in the world, do your research, keep your wits about you, and don't take unnecessary risks. 
Get travel insurance: Wherever you travel in the world, travel insurance is super important for protection and peace of mind. Check out World Nomads for insurance that covers all the crucial things when backpacking Sri Lanka.
ID: Always carry photo identification. The legal drinking age is 21 and it is illegal to drink alcohol or smoke in public.
Water: Don't drink the tap water in Sri Lanka, stick to boiled or treated water. No need to worry about ice though, it's made using purified water. Make sure to bring a reusable bottle so you don't need to buy plastic ones! 
Food: If you're not used to spicy food, start off with mild spice to let your stomach get used to it!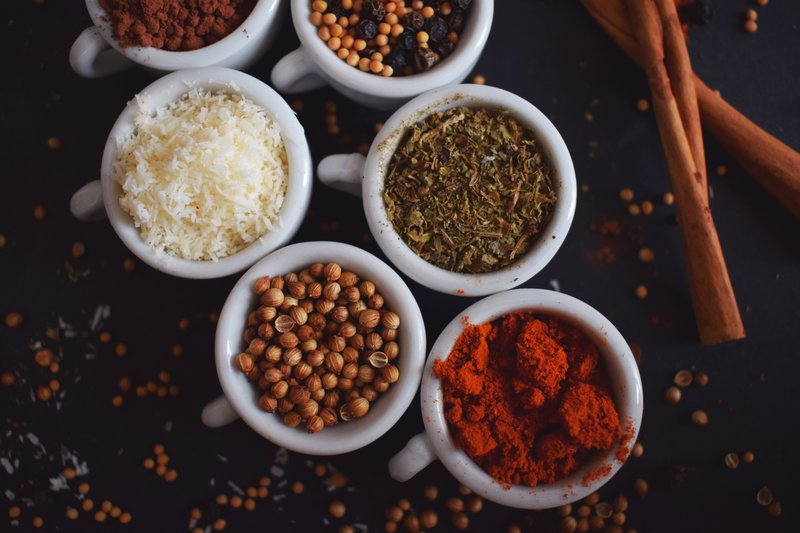 Notify your bank of travel: Do this to ensure your card doesn't get frozen while travelling, and check with your bank to make sure your card will be accepted. It doesn't hurt to get a backup card incase yours is lost or stolen. 
Crimes: Pickpocketing, bag snatching and other petty crimes are risks like in any country, take standard precautions at busy places like markets, events and on public transport. Don't accept drinks for strangers or leave your drinks unattended, and stick with people you trust in bars and clubs. Avoid bringing valuable items out with you, keep the expensive jewellery at home! 
Scams: Tuk tuk drivers may try to overcharge you, so make sure to do some research before your trip to know how much journeys should cost and always confirm the prices beforehand. 
Vaccinations: Before backpacking Sri Lanka, it's recommended you have protection for Typhoid, Hepatitis A, Rabies and Japanese Encephalitis. Sri Lanka is an almost malaria-free zone, but it's best to ask your doctor whether they recommend taking anti-malaria tablets with you. To protect yourself from disease use insect repellent and wear long loose clothing. 
Road travel: Driving in Sri Lanka is hazardous. Vehicles aren't well maintained and driving standards are poor, so we recommend avoiding driving, especially on a motorbike. If you plan to drive make sure you learn local traffic laws and practices, drive carefully, wear a helmet and don't drink. 
Roads: Be careful when walking near busy roads, especially when they're full of buses! Here the traffic signals are mere suggestions, the road markings just decorations. Drinking and driving is not policed strongly, so be extra cautious at night. 
Swimming at the beach: Swimming conditions at some beaches are unsafe due to strong rips, so take appropriate precautions and only venture in the water to your ability. If not confident, stick to shallow areas, and surfers should stay within their limits.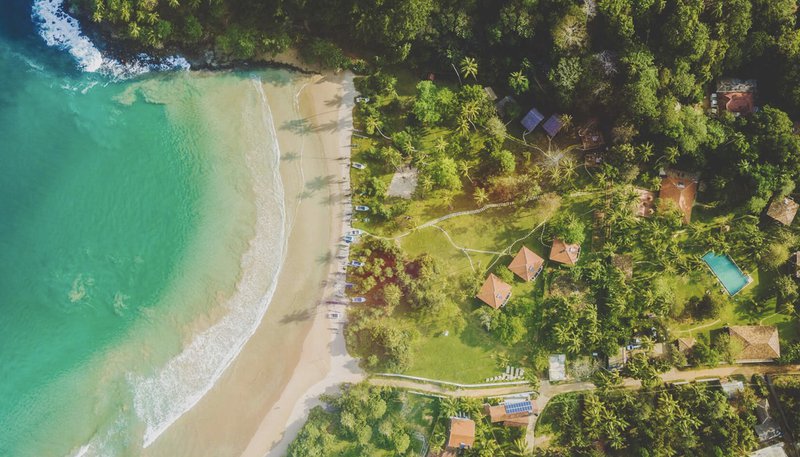 Sun protection: If you're planning on hitting the beach or being outdoors a lot, look after your skin by bringing protection whilst travelling Sri Lanka. It's difficult to find anything over SPF 30 there and local shops sell sunscreen at extortionate prices. Make sure to slip, slop, slap on that SPF regularly, and also wear sunglasses and a hat when out and about. Sri Lanka is HOT, so keep up your water intake as well - don't let dehydration ruin your vacation! 
Dogs: There are more than 3 million stray dogs in Sri Lanka, but they're generally friendly and don't pose a threat. However, it's still not recommended to pet them as you never know how they'll react! Ensure your rabies vaccinations are up to date, and if you do get bitten seek medical advice immediately. 
Emergency contacts: It's handy to have a physical copy of the address you're staying at, just in case you get lost or lose service or your phone.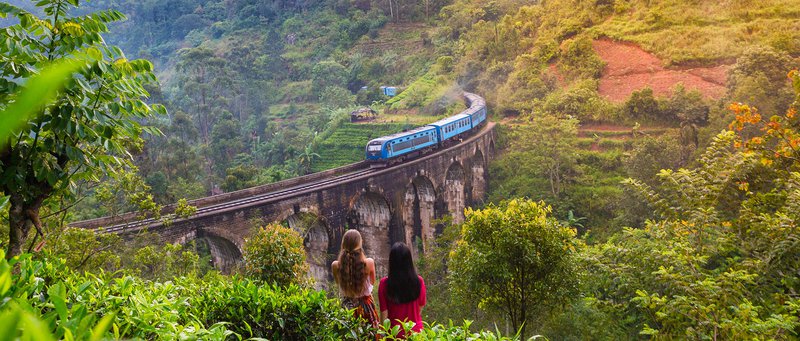 Local laws: When backpacking Sri Lanka you're subject to all local laws and penalties, including those that may seem harsh by the standards of your home country. Penalties for carrying or using illegal drugs are severe and include the death penalty. In Sri Lanka it's illegal to cover your face in a way that prevents identification, and still illegal to engage in same-sex sexual acts. Seek local advice before taking photos of places of worship, and take care around religious traditions to not cause offence. 
Travel in a group: A great solution to many of your concerns is to travel with others! There's safety in numbers, and it helps to have someone who knows about the country travelling with you! 

SRI LANKA TRAVEL GUIDE: ITINERARY SUGGESTIONS
Where do you even start with planning a trip to this incredible, bite-sized utopia? From cultural capitals to luscious hill country and the golden beaches of the south coast, here are our rough itinerary suggestions for a trip to Sri Lanka depending on how much time you have!
One week
While we recommend spending at least 10 or more days in this captivating country, if you're short on time you can still see the highlights of Sri Lanka! 
DAY ONE (COLOMBO): Arrive at Colombo International Airport and spend a day exploring the capital. It's a sprawling metropolis, but isn't without it's charm. Eccentric neighbourhoods and sites like the Red Mosque and Dutch hospital can all be explored in a day before moving on!
DAY TWO (SIGIRIYA): Drive a few hours to Sigiriya, part of Sri Lanka's 'cultural triangle' and home to the magnificent 'Lion's Rock' fortress towering above the canopy. Climb up to the UNESCO-protected fortress in the sky, or Pidurangla Rock just adjacent, for incredible panoramic views. 
DAY THREE (ELLA): Make the journey to Ella, visiting Polonnaruwa - an ancient city full of preserved ruins - on the way. Once in Ella, check in to your accommodation and grab dinner at one of the many available restaurants or street market stalls! 
DAY FOUR (ELLA): Explore Ella, Sri Lanka's enchanting mountain town, by touring a tea plantation, hiking Little Adam's Peak and checking out Nine Arch Bridge for the ultimate insta.
DAY FIVE (UDAWALAWE): Leave Ella and head to Udawalawe in the morning in time for an afternoon safari drive to spot elephants, buffalo and more.
DAY SIX (WELLIGAMA): Head to Sri Lanka's south coast for some well-deserved beach time! Indulge in a little peace & relaxation, soak up the sun on the beach, practice some yoga, learn to surf get a massage or head to a beachside bar for a few drinks. Up to you!
DAY SEVEN (GALLE & AIRPORT): Famous for European architecture blended with South Asian style, Galle Fort is a town on the west coast that you can visit on the way back to the airport! Spend a few hours exploring before heading off to the airport, a journey that should take 2-3 hours from there.
That concludes one week well spent travelling Sri Lanka! 
TWO WEEKS
DAY ONE (COLOMBO): Arrive at Colombo International Airport and spend a day exploring the capital. It's a sprawling, intense metropolis, but isn't without it's charm. Eccentric neighbourhoods and sites like the Red Mosque and Dutch hospital can all be explored in a day before moving on!
DAY TWO (NEGOMBO): Head to the gorgeous city of Negombo, known for long sandy beaches and centuries of fishing. Discover the area by tuk tuk and visit the local fish markets to gain a glimpse into Sri Lankan seaside life! 
DAY THREE (DAMBULLA): Travel to the beautiful, sacred town of Dambulla, a great base for exploring the famous Sigiriya Rock Fortress. 
DAY FOUR (DISCOVER SIGIRIYGA): Discover the intriguing, impressive site of the famous Sigiriya Rock Fortress, then immerse yourself into local life with an authentic village experience and cooking class! 
DAY FIVE (KANDY): Head to Kandy, the cultural capital of Sri Lanka. Check out the amazing Temple of the Tooth and other sites of religious significance in this colourful, vibrant city.
DAY SIX (KANDY - ELLA): Explore Sri Lanka's hill country on a tea plantation tour, where you can learn from the locals how to pick and make world-class tea. This afternoon board the world's most scenic train to travel to Ella.
DAY SEVEN (ELLA): Discover the enchanting town, check out the markets or even unwind with a massage, then hiking Little Adam's Peak in the afternoon to witness spectacular views as the sun goes down.  
DAY EIGHT (UDAWALAWE): Visit the famous Nine Arches Bridge before heading south to the amazing Udawalawe National Park. 
DAY NINE (UDAWALAWE): Tick off the bucket list with a sunrise safari, looking out for herds of roaming elephants, buffalo and even the possible leopard! In the afternoon head to Sri Lanka's beautiful south coast for another psychedelic sunset and drinks on the beach. 
DAY TEN (TALALLA): Go off the grid in the hidden jungle paradise of Talalla and stay in an eco-lodge by the beach. Take the time to chill out, work on your tan or try a spot of yoga. 
DAY ELEVEN (DIKWELLA): Continue travelling along the gorgeous southern coast to Dikwella. Learn to surf like a pro on the gentle waves of Welligama beach, then spend the evening enjoying the coastal paradise. 
DAY TWELVE (MIRISSA): Take part in a cultural exchange by visiting a Buddhist monastery to help local monks with their English whilst learning about their way of life. 
DAY THIRTEEN (GALLE FORT): Famous for European architecture blended with South Asian style, Galle Fort is a town on the west coast first built by the Portuguese. Wander the cute streets and stock up on souvenirs at the bustling local markets!
DAY FOURTEEN (AIRPORT): Head back north up the coast to the airport for your journey home. 
If this sounds like your ideal time frame, check out INTRO's Sri Lanka Experience, a 12 day adventure that roughly follows this itinerary. All your accommodation, internal transport, activities and a bunch of meals are included, plus you get the help of a knowledgable group leader and an instant crew of new mates! If you want to learn more about the trip, check out this article about why Sri Lanka Experience is the best way to travel this amazing country.
ONE MONTH OR MORE
If you're lucky enough to find yourself travelling Sri Lanka with more time, definitely make sure to visit all the above places, with potential additions including:
ARUGAM BAY: Full of pubs, clubs and incredible surf, Arugam Bay is one of the most popular spots on the East Coast. Think quirky cabanas, mangrove lagoons and hammocks. Whether you're a surfing pro or just want to learn, there's waves here for you. April/May is the best time to head here if surfing's what you're after!
ANURAPHADURA: This is one of the ancient capitals of Sri Lanka, Anuradhapura is famous for its well-preserved, timeless ruins of an ancient Sinhala civilisation. One of South Asia's most evocative historical sites, this is a must-visit for culture-vultures. 
UNAWATUNA: A hugely popular holiday spot, this is full of stunning beaches and opportunities for snorkelling, and, you guessed it, surfing. At the main beach, you can rent a sun-bed to relax, or take an afternoon stroll up to the pagoda at the north end of the beach for sunset. It's quite similar to backpacker towns in Thailand if that's your vibe.


FIRST TIME BACKPACKING? 
Ready to pack your bags and travel to Sri Lanka? Check out Sri Lanka Experience, our premium 12 day small group tour that will take you from Negombo to Mirissa in style. A group tour is the perfect way to have fun in the most safe, worry-free way possible, especially if you're off backpacking for the first time! With all of your accommodation, internal transport (including an airport pickup), activities and a bunch of meals included, plus the help of an experienced group leader and instant new crew of mates, it is the ultimate way to go backpacking in Sri Lanka! 


---
We sincerely hope this Sri Lanka travel guide has helped your plan your adventures in this beautiful island nation. Happy travelling!


RETURN TO BLOG
NEXT ARTICLE